By Jon Garelick
"Forgiveness is the key and love is the answer… Have a good Jazz Fest, but also have a good life."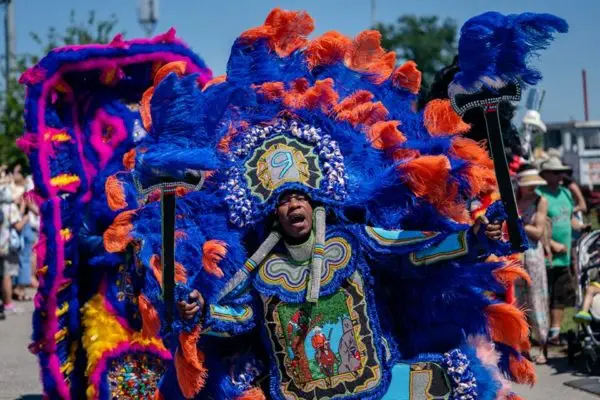 NEW ORLEANS— For its 50th anniversary, the New Orleans Jazz & Heritage Festival wanted to go big — way big. So the organizers added an extra day to the event — which occurs every year during the last weekend of April and the first weekend of May — and booked the Rolling Stones. That also required creating a different ticket-price structure to accommodate the Stones, and some complicated footwork when the Stones cancelled their tour due to Mick Jagger's health. (The reports were of heart problems, which were quickly resolved in a "routine" procedure, and Mick is said to be recovering nicely.)
No Stones, no matter. Their anticipated presence was acknowledged in all sorts of ways — hastily painted portraits of the core quartet in the Royal Street galleries, Stones-related books in the gift shops, even a corner window display of the band in venerable Canal Street clothiers Rubenstein's (Mick, Keith, and Woodie in natty blazers and sneaks, Charlie Watts in a trim suit and tie with pocket square.) On the Fair Grounds Race Course, where the festival is held, you might see band t-shirts and even a pair of tongue-logo yoga pants. But perhaps the most impressive souvenir was a shirt from a May 2018 gig in Dublin. This guy was serious.
The Stones' replacement was at first said to be Fleetwood Mac, but their name was quickly scratched. As I write this (the Tuesday after the first weekend), Widespread Panic had filled the Stones' May 2 slot. During the weekend there were at least a couple of allusions to the band from the various of the 11 festival stages (plus kids stage). Dwayne Dopsie and the Zydeco Hellraisers introduced an arrangement of the Stones' "Beast of Burden" that they said they were about to record with the band. And, of course, Irma Thomas could not sing "Time Is On My Side" without mentioning — "for all you youngsters"— that she recorded the song before the Stones had a hit with it. "You could look it up," she said (both 1964, but the Stones later, with Mick even lifting Irma's spoken-word interlude). Nonetheless, she wished Mick a speedy recovery. As a friend of mine said, it was the most gracious of humble brags.
With the sheer tonnage and variety of bands performing every day at the Fest between 11 a.m. and 7 p.m., it's difficult for any one band (even the Stones) to tip the balance and recast the event in its own image. So the first weekend this year had the Doobie Brothers, Earth, Wind, & Fire, Al Green, Van Morrison, Bonnie Raitt, Santana, and Katie Perry. Except for Perry, that's a pretty legacy-heavy line-up, and not atypical. Though Perry's glitzy stage show was an anomaly (let's just say: LOTS of pink). And, as in all these things, rising ticket sales lift all boats. As the phenomenal trad-jazz singer and soprano sax player Aurora Nealand told an audience of a hundred or so in the Economy Hall tent during Perry's set: "I'd like to thank Katie Perry for opening for us."
But "legacy" doesn't necessarily mean old. Jazz Fest generally mixes genres and generations at will. So the New Breed Brass Band played Lady Gaga's "Bad Romance" (a perfect fit for this second-line tradition, it turns out). And old traditions themselves are finding new life.
"Trad-jazz" generally has come to mean endless renditions of "Basin Street Blues," "The Sheik of Araby,"  "St. James Infirmary Blues," "When the Saints Go Marching In," and the latter-day Louis Armstrong of "It's a Wonderful World." But these days, trad jazz is going deep.  Band's like Aurora Nealand's Royal Roses and the nonet Tuba Skinny dig into the vaults for vintage Sidney Bechet, Joe "King" Oliver, Jelly Roll Morton, Bessie Smith, Victoria Spivey, and early Ellington.
Pianist Tom McDermott, as part of a history of New Orleans "Piano Professors" tribute, played Morton's "Finger Breaker," which really did sound like a finger breaker as well as being timelessly modern, and later in the day, in a duo with clarinetist Evan Christopher, he explored vintage Brazilian choro, Haitian rumba, a French musette, Jelly Roll Morton's "Shreveport Stomp," a Scott Joplin rag, and apt originals by the pair — "music from multi-cultural port cities around the Americas," as McDermott put it. Christopher's "Waltz for Old Souls" was both old and new. As Christopher said of their lickety-split version of "Maple Leaf Rag," "It's both historical and irreverent at the same time," because it ignored the composer's instruction "not to be played fast."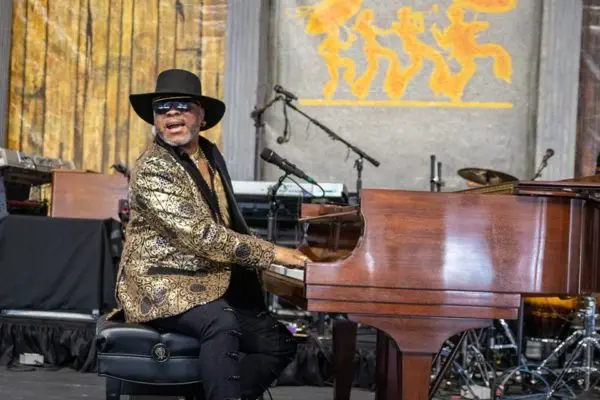 Maybe the precursor to these younger archivists is the Louisiana Jazz Repertory Ensemble, started by saxophonist Fred Starr some 40 years ago.  On Friday, the band, sounding raw and glorious, with a front line of two reeds, two trumpets, and a trombone, and a rhythm section of piano, banjo, sousaphone, and drums, flipped through a variety of "pre-1930s" jazz and blues, most of them tricky compositions and arrangements like the flowing "Languid" by Armand Prion (better known for "I Wish I Could Shimmy Like My Sister Kate") or Morton's "Black Bottom Stomp," which propelled gleefully from one section to the next.
Starr emphasized throughout the show, that this was "dance music," not concert music, and that in its original formulation, "The dancers made the music, and not the other way around." In a "stomp," he pointed out, the dancers really did join the band with an emphatic stomp on big resonant wooden dancefloors. Introducing the New Orleans Rhythm Kings' "She's Crying for Me," Starr recalled that, 40 years ago, old-timers coming to the show would say, "This is our music," as they hit the dance floor. "They're all gone now," Starr said (at his most courtly), "but you can take their place, and we'd be honored for you to do so."
Moving off to the dance floor, stage right, many audience members did. My seat, front and center, was too good to give up and miss any of the band's syncopated switchbacks, splash-cymbal cues, duos for reeds and trumpets, or trombonist Freddie Lonzo's tailgate shout. Someday I hope to see this band with the dancefloor in front of the stage, so I can listen, look, and watch the band respond to the dancers, and make my own lame attempts to do the stomp.
One of the most beautiful presentations of a living heritage that I saw at Jazz Fest was a performance by Kumbuka African Drum & Dance, a local New Orleans educational collective. It began with a woman dressed in a long white dress and headwrap, standing before a quartet of drummers, offering a full-throated invocation over rattling percussion. When she left the stage, the percussion picked up, and four female dancers came dancing out in a line, wearing yellow and red skirts and white caps peaked with black feathers, spinning, throwing their arms and legs in synchronized moves. After a few minutes, two girls joined them from the wings, no older than 14, in the same orange and yellow costumes, stomping and spinning in duo, then breaking into solo improvisations, then coming together and, in perfect sync with a popping cadence from the drums, together thrusting their hips out at the audience. It was a breathtaking move — self-possessed, assured, confident, joyful, fierce.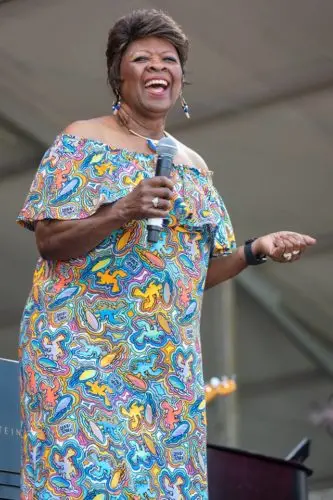 There followed a slow solo dance by a male in white shirt and pants, red cap, and red shoes. His dance seemed intended to tell a story, with very specific gestures – as, at one point, when he wiped his lips once with each hand and threw his arms out. There was another song of praise by the woman in white, with high, arching phrases, and then a natural fade-out as she backed away from the mike and the drummers quieted with her. Then, another line of female dancers, in white blouses and broad blue skirts and headwraps, lifting and waving their skirts, using them as flags. They danced offstage leaving just one solo dancer to sing and offer a benediction, in English: "Forgiveness is the key and love is the answer… Have a good Jazz Fest, but also have a good life."
The unbroken performance, without spoken subtitles or show-business breaks, gave it a dignity and power that is rare to see in the context of what is essentially a pop-music festival. It was extraordinary.
There was history to be found in any number of other noteworthy shows, not to mention the always enlightening interviews with artists that take place in the relaxed quiet of the blissfully air-conditioned grandstand (the DIY modesty and charm of the Subdudes, or Davell Crawford talking about learning piano from Fats Domino). Christine Balfa, of the Cajun band Balfa Toujours, introduced "Eunice Two-Step" in French, a language her father Dewey — one of the progenitors of the Louisiana Cajun music revival — would have been forbidden from speaking in school. The band — fiddles and acoustic guitars, diatonic "button" accordion — played their two-steps and waltzes with their characteristic floating rhythm, as sweet a dance beat as you'll find in any music.
Another Cajun band standout that first weekend were newcomers the Daiquiri Queens, women in red jump suits, singing with high lonesome close harmonies, and also playing "old" music like it was written yesterday.
Meschiya Lake, in patterned sundress that showed off her heavily inked chest and arms, led her sextet, the Little Big Horns, through a repertoire that was part vaudeville razzmatazz and hokum and part loving reverence. ("Here's a little number that will warm your heart," she said, introducing "Electric Chair Blues," aka "Send Me To the Electric Chair.")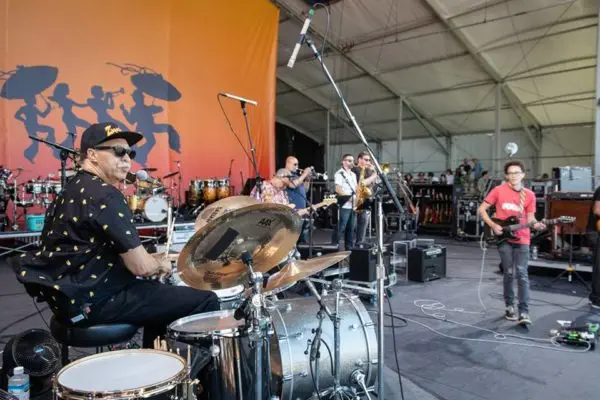 Lake's set-up was modest — just acoustic piano, trombone, guitar, sousaphone, drums, and a player who doubled on clarinet and violin.  But she played huge, singing "Satan, Your Kingdom Must Come Down" (first recorded in 1931 by Blind Joe Taggert) as a swing mock-gospel number, in the manner of Cole Porter's "Blow, Gabriel, Blow," and it took on subversive glee when she turned it into "Donald, Your Kingdom Must Come Down."
There was so much more — Van Morrison's indifferent set, Santana's ecstatic Latin rock (powered by Cindy Blackman's drumming), Foundation of Funk (with original Meters George Porter Jr. and Joseph "Zigaboo" Modeliste), the extraordinary Belgian cellist-singer-songwriter Helen Gillet, Native American DJ dance outfit a Tribe Called Red, and several gangs of mesmerizing Mardi Gras Indians, with their towering multi-colored feathered suits and deep, haunted chants.
And of course, there were the bands outside the Festival, in the clubs on Frenchman Street — the peerless singer John Boutté (covering everything from "Little Red Rooster" and "Indian Red" to "Fly Me to the Moon") and the millennial trad-jazz band Tuba Skinny (who we saw three times, including a busking session on Royal Street).
But maybe Nealand — an exceptional singer as well as a formidable Bechet-style soprano saxophonist — summed up the first weekend best, when she expressed gratitude to be living in a city where she could explore traditional music and "make it new and live in this tradition." There might be a few Fest-goers who miss the Stones this second weekend. But I hope they don't miss what will be all around them.
---
Jon Garelick is a member of The Boston Globe editorial board. A former arts editor at the Boston Phoenix, he writes frequently about jazz for the Globe, The Arts Fuse, and other publications.