By Sarah Osman
The Canadian sports comedy Shoresy works as its own series, but it doesn't match the sharp wit of its predecessor, Letterkenny.
Shoresy, streaming on Hulu.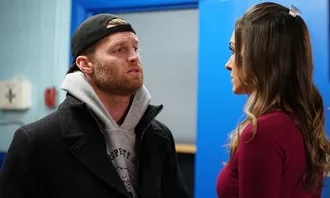 Let's face facts, most spin-off series fail in comparison to the original (remember Joey?) Still, there are the rare occasions where the spin-off is as good as, or in some cases even better, than its celebrated predecessor. Shoresy, a sequel to the Canadian comedy Letterkenny, doesn't fall into either of these categories. It works as its own series, but it doesn't match the sharp wit of its inspiration, Letterkenny.
Shoresy focuses on the titular character (played by Jared Keeso, who also starred in and co-created Letterkenny), the foul-mouthed, never seen hockey player who taunted Reilly and Jonesy with jabs about their mothers while he was sitting on the toilet. It's odd that, out of all of the residents in Letterkenny, Shoresy is the one who landed his own series. Ironically, the fact that we knew so little about Shoresy the first time around works: we don't have any preconceived notions of the character. There is much to learn about him, and by the end of the first season Shoresy has been fleshed out as a character, which includes an interesting backstory. The hilarious fourth episode contains a number of revelations: Shoresy has a foster family he cares a great deal about and, surprisingly, he can be very gentlemanly towards ladies he likes.
The series follows Shoresy as he moves to Sudbury to join a triple A-level hockey team (hockey fans, feel free to explain to me the significance of that to me in the comments). The biggest problem for Shoresy is that the team constantly loses and, if there's one thing he hates, it's losing. Shoresy makes an ambitious deal with the owner, Nat (Taysa Teles). He swears he will whip the team into shape so that it will never lose again. He brings in new players (whom he calls "sluts"), a fresh coach, and fires up a determination in all concerned to get butts into seats, which is all that Nat cares about.
Unlike Ted Lasso, Shoresy isn't a feel-good sports comedy. There are endearing moments, but the series is full of snarky one-liners and Shoresy's trademark insults. There are a few hilarious running gags, such as the trio of "Jims" on the team (who refuse to go by anything other than Jim), a feud with a player about pooping in the lake, and the hockey players' deep love for drumsticks (the ice cream).
As in Letterkenny, the women are the ones who really run the show. Nat and her coworkers Miigwan (Kelani Elizbeth Rose) and Ziigwan (Blair Lamora) are in charge. They roll their eyes (begrudgingly) whenever Shoresy saunters into their office, each woman putting up with his boorish machismo in her own way. The joke is that men are led to think they are in charge when it is the females who are really turning the screws that matter. All three characters are of Ojibwe descent, and it's refreshing to see Indigenous women given so much autonomy and power.
So, why isn't this series as delightful as Letterkenny? Two major reasons: it lacks the other's rapid fire jokes and rich chemistry. Other issues that hold Shoresy back: it is saddled with a conventional plot, it is new, and I'm just not Canadian enough to understand all of the jokes. The show has potential, but it hasn't quite found its footing — yet. Perhaps it will take Shoresy time, a second season if it comes, to attain the cult classic status of its predecessor.
---
Sarah Mina Osman is a writer residing in Wilmington, NC. In addition to writing for the Arts Fuse, she has written for Watercooler HQ, Huffington Post, HelloGiggles, Young Hollywood, and Matador Network, among other sites. Her work was included in the anthology Fury: Women's Lived Experiences in the Trump Era. She is currently a first year fiction MFA candidate at the University of North Carolina Wilmington. When she's not writing, she's dancing, watching movies, traveling, or eating. She has a deep appreciation for sloths and tacos. You can keep up with her on Twitter and Instagram: @SarahMinaOsman