As the age of Covid-19 finally wanes, Arts Fuse critics supply a guide to film, dance, visual art, theater, author readings, and music. Please check with venues when uncertain whether the event is available by streaming or is in person. More offerings will be added as they come in.
Film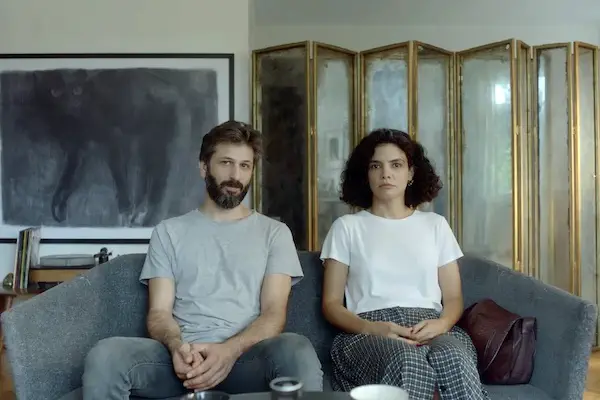 The Boston Turkish Film Festival
Online, April 15 through 28.
Turkish cinema is known for drawing on stories that are intimate, imaginative, and provocative. And Turkish directors have won awards from national and international film festivals for their efforts. This year's BTFF features an excellent representation of the country's films, including debut works of mostly young directors. A few examples:
Ferit Karahan's award-winning Brother's Keeper is set in an isolated snowbound boarding school. It is a tense drama, filled with unexpected twists. The plot centers on a quiet child who, while caring for his sick friend, comes up against the stasis of institutional bureaucracy. In Ali Tansu Turhan's Dialogue, an actor and actress fall in love during the production of a film. But, as they rehearse with the director, working to become their fictive characters, the couple is driven to the verge of separation. Corridor revolves around a pair of isolated older sisters who are painfully different from each other. They live together, but they can't stand each other  — or anyone else. They attempt to settle accounts with their hopes, their past, and their family. If you are a student, you save 20% on your festival pass or ticket purchase: Link Complete Listings
The DocYard presents Three Shorts from Morgan Quaintance
Brattle Theater, Cambridge
April 4 at 7 p.m.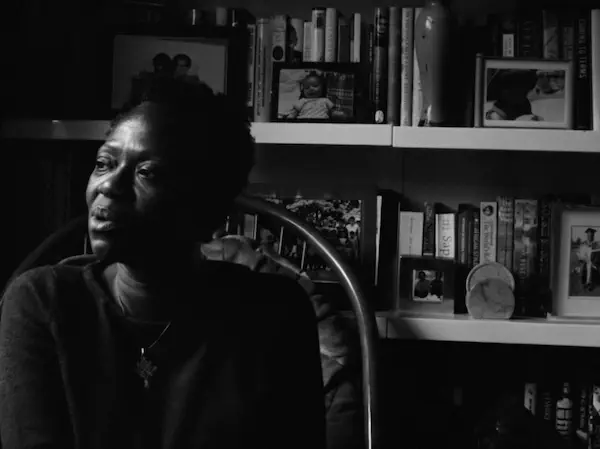 Surviving You, Always Psychedelic drugs as a means of escape is pitted facing the violence of metropolitan living: that's the central conflict in this view of adolescent urban life, told through still images and written narration.
Missing Time examines the interconnections among amnesia, concealed histories, state secrecy, alien abduction, Cold War history, and Britain's colonial history,
South takes two antiracist and anti-authoritarian liberation movements in South London and Chicago's South Side as a point of departure for an expressionistic investigation of the power of individual and collective voices.
Discussion with the director to follow the screening.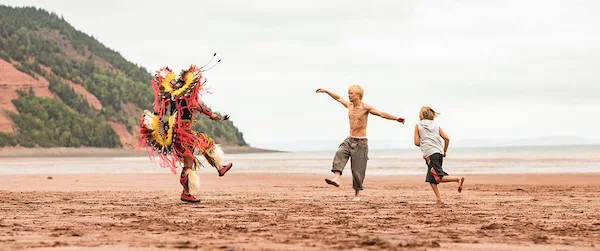 WICKED QUEER 2022
Brattle Theater, Bright Screening Room, ICA
April 7–17
The longest-running and largest LGBTQ festival showcases a roster of films that strive to foster a greater sense of awareness and community among LGBTQ and LGBTQ-friendly audiences. Ten days of premieres, shorts, and feature screenings will be held across three venues and on Xerb.tv.
For a complete listing and schedule visit the Wicked Queer Website
Paul Robeson: I'm a Negro, I'm an American
Coolidge Corner Theatre, Brookline
April 9 at 1 p.m.
The Goethe Institute Series presents this German production about the American singer, actor, and civil rights activist Paul Robeson. At the height of his fame, Robeson's career was cut short by Cold War anticommunist hysteria. This documentary includes historic footage of the US civil rights movement; clips of Robeson's speeches, performances and visits to East Germany (GDR) and the Soviet Union; and interviews with his son, Paul Robeson Jr., along with activists Harry Belafonte, Pete Seeger, and Earl Robinson. A discussion will follow.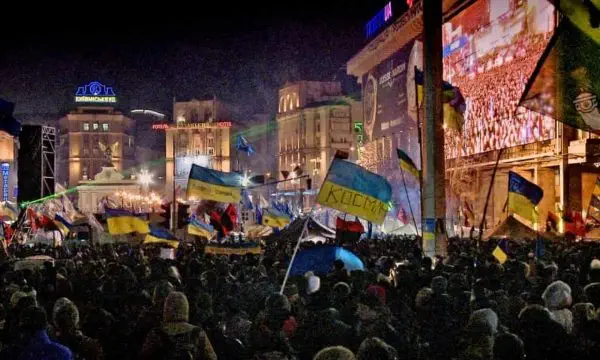 Maidan
Harvard Film Archives, Cambridge
April 10 & 11 at 7 p.m.
Maidan documents the so-called "Euromaidan" protests in Kyiv's Maidan Square that began in November 2013 in opposition to Viktor Yanukovych's decision not to sign a trade agreement with the European Union. His widely condemned efforts to seek closer ties between Ukraine and Russia culminated in his overthrow in February 2014. The doc contains invaluable you-are-there footage of what was happening in the streets as well as long takes of the expansive action from a mostly static camera. (Archive Notes)
Belmont World Film 2022
through May 16
Virtually and at the Majestic 7 Cinema in Watertown and West Newton Cinemas.
The BWF Spring Screenings will take place mostly on Sundays, with the discussions to take place on Mondays by Zoom. The festival works with local and international organizations to heighten awareness and encourage people of all ages to think about making a difference in the world. BWF has also provided a forum for organizations to raise money for and awareness of many causes.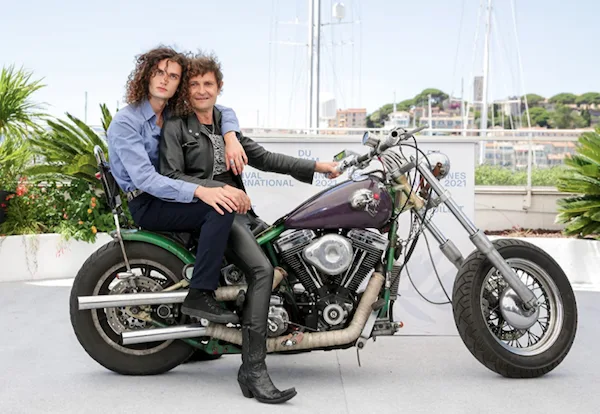 The Heroics
through April 4
Online as part of Belmont World Film
Beginning Tuesday is this French feature about 53 year-old Michel coming out of 22 years of methadone dependence. Life is finally catching up with him. He has been clean for four months, but his wife just left him and they have a 10-month old baby for whom he must be responsible. He also has a teenage son. Written by and starring François Creton, the film is based on Creton's own story and he gives a chillingly real performance. Zoom discussion on addiction on Monday April 4. Link for tickets
Bootlegger
April 8–10 Online
At the West Newton Cinema
April 10 at 8 p.m.
Mani, a law student in Montreal, returns to her Algonquin home, a native reserve in northern Quebec. She is immediately drawn into a conflict with the father of her childhood friend, who holds Mani responsible for the death of a a white woman who traffics in bootleg liquor. Local officials turn a blind eye to make a profit. The story is a look at the effects of alcohol on a small underrepresented community as well as the challenges of taking charge of one's destiny. Q&A with producer Catherine Chagnon Monday April 11 at 7 p.m. Tickets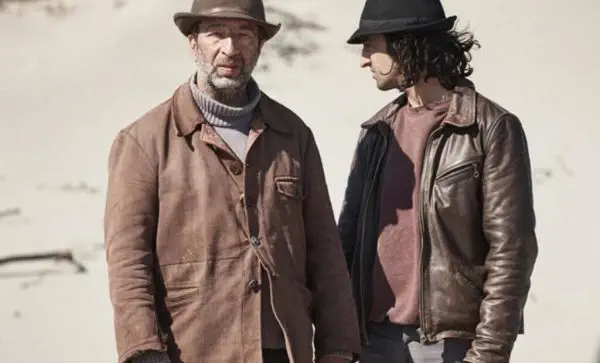 Tom Medina
April 12-18 Online only
Director Tony Gatlif (Latcho Drom, Exils) returns with a semi-autobiographical Western. Drifter Tom Medina returns to the dusty Southern France region of Camargue to serve probation for a mysteriously unmentioned crime. Here he meets up with bighearted farm owner Ulysse. Medina's dream is to reach Spain and become a bullfighter. This sounds like a conventional setup, but Gatlif brings a poetic eye to the landscape: "Light seems to bounce off of the surroundings, shimmering around the character like a dream. This becomes more than suggestive when a magical bull walks into Medina's room at night, glowing like one of Apichatpong Weerasethakul's apparitions of a past life." (Cannes Festival notes)
Tickets
PICK OF THE WEEK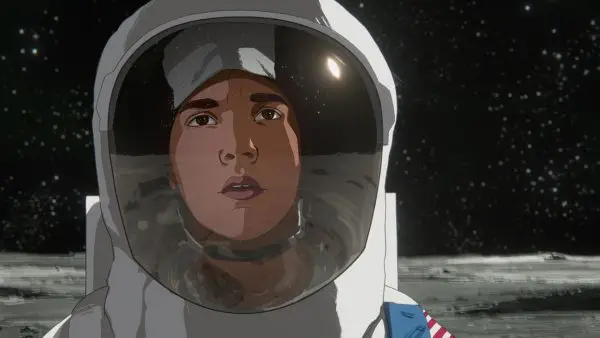 Apollo 10 1/2: A Space Age Childhood
Streaming on Netflix
This is Richard Linklater's first rotoscoped feature since Waking Life (2001) and Scanner Darkly (2006). Created during the pandemic, it is a magical and nostalgic look at how the '60s space race influenced the director's youth in Texas. The narrative revolves around a 10-year-old boy's dream of going to the moon with the coming of the 1969 Apollo 11 landing. Here is how the director explained his intent: "My big idea here was while we have a lot of movies about astronauts and their big missions, what about a film that really captures what it was like to be alive? What was it like to be adjacent to all that?" The beautiful images are voiced by Glen Powell, Jack Black, Zachary Levi, and Josh Wiggins.
— Tim Jackson
---
Roots and World Music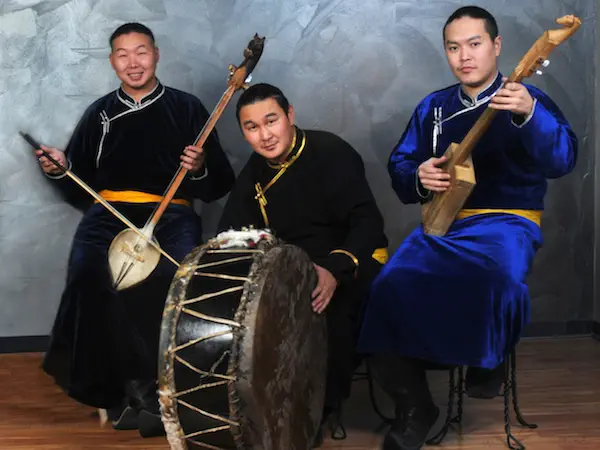 Alash
April 7
Club Passim, Cambridge
One of the great musical marvels of the universe is Tuvan throat singing, where vocalists seemingly produce multiple notes at once. The Tuvan trio Alash have managed to overcome significant visa and travel hurdles and will be sharing their culture at Passim.
Bettye LaVette Duo
April 7, Jimmy's Jazz Club, Portsmouth, NH
April 8, TCAN, Natick
The incomparable soul music diva Bettye LaVette is finally getting to tour behind Blackbirds, her 2020 album that celebrates some of the other great Black women who have made music. For these shows she'll be joined by pianist Evan Mercer for an intimate journey through a career that started in the early '60s and shows no signs of slowing down.
Les Filles de Illighadad
April 9
Crystal Ballroom at the Somerville Theater
In recent years the spare, hypnotic sound of Saharan desert blues artists like Bombino and Tinariwen have had a high profile. But this tradition isn't just limited to male guitar slingers, as proven by this all-female ensemble from Niger. They recently released an excellent live disc recorded in Brooklyn — it proves they can captivate an audience far from their home. The show is presented by Global Arts Live, who will also be hosting Ukrainian punk/folk masters DakhaBrakha the same night in the Somerville Theater's main room. A top draw even before the world's attention shifted to Ukraine, the band's show is sold out, but a return engagement has already been set for September 18 at the Berklee Performance Center.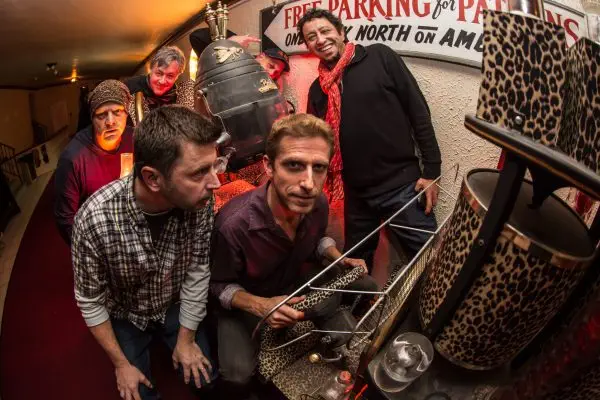 Club d'Elf
April 9, Columbus Theater, Providence, RI
April 10, The Music Hall, Portsmouth, NH
April 13, Bayside Bowl, Portland, ME
April 15, Soundcheck Studios, Pembroke, MA
NOTE: The April 9 and 10 shows have been postponed.
Boston bassist and sintir player Mike Rivard has really outdone himself with the sterling new double album from his long-running Moroccan-tinged rotating ensemble Club d'Elf. You Never Know (Arts Fuse review) is a perfectly recorded showcase for one of the most versatile and consistently excellent bands around. They're celebrating with a tour that includes keyboardist John Medeski and oudist Brahim Fribgane as well as d'Elf regulars David Fiuczynski (guitar), Mister Rourke (turntables), and Dean Johnston (drums). With longtime d'Elf haunt the Lizard Lounge still closed, the tour is playing multiple shows within an hour of Boston as well as some farther flung locales, all of them listed here. The Portsmouth show will be opened by Vapors of Morphine, so expect to see baritone saxophonist Dana Colley sit in with d'Elf as well.
Lee Fields and the Expressions
April 15
The Sinclair, Cambridge
The only artist to gain fame on both the chitlin' circuit and the soul revival circuit (not to mention the dance music circuit), past ArtsFuse interviewee Lee Fields recently announced that he's returning to Daptone Records, for whom he recorded early in his career. The first single is a fine vehicle for Fields, who always brings it live.
Zakir Hussain, Jayanthi Kumaresh, Kala Ramnath
April 17
Somerville Theater
As the foremost living ambassador of Indian classical music, tabla icon Zakir Hussain's Boston visits are always an event. This evening he'll be joined by two other virtuosos: veena player Jayanthi Kumaresh and violinist Kala Ramnath, for a night of traditional but still groundbreaking music.
— Noah Schaffer
---
Theater
COVID PROTOCOLS: Check with specific theaters; requirements often include proof of vaccination or a negative Covid-19 rapid test. Also, companies are requiring masks at indoor performances.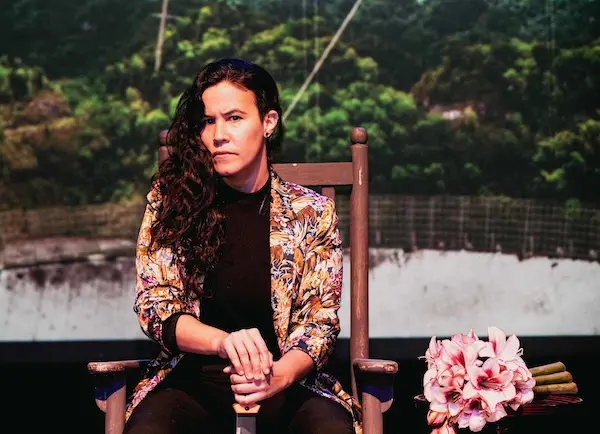 AntigonX, a queer, Latinx interpretation of Sophocles's classical Greek tragedy created by Shey Rivera Ríos. Directed by Jackie Davis. Staged by Wilbury Theatre Group at the WaterFire Arts Center, Providence, Rhode Island, through April 10. After this run, the show will travel to the world renowned Magdalena Festival produced by Double Edge Theater in Ashfield, MA, for performances through April 24.
Set in Puerto Rico, this adaptation "blends ritual and myth in a poetic meditation on seeking out hope during dark times…. In this version of the classic story, Antígona is a non-binary person and Teresias, a guide throughout the show, is a trans, non-binary spiritual guide."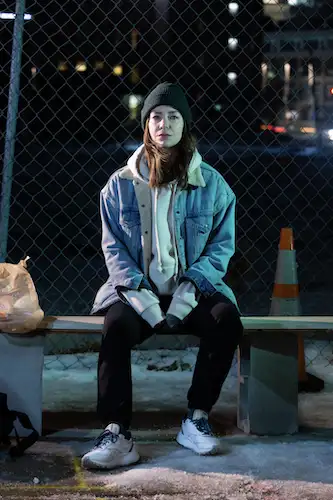 Ironbound by Martyna Majok. Directed by Rachel Walshe. Staged by the Gamm Theatre, 1245 Jefferson Blvd., Warwick, RI, through April 10.
"At a bus stop in a run-down New Jersey town, Darja, a Polish immigrant who gets by on a cleaning job, pragmatism, and sheer will, is done talking about feelings. It's time to talk money. Over the course of 22 years and three relationships, Darja negotiates for her future with men who can offer her love or security, but never both. Award-winning playwright Martyna Majok's play is a portrait of a tough woman for whom love is a luxury — and a liability — and survival is the only measure of success."
The Bluest Eye, an adaptation of Toni Morrison's novel for the stage by Lydia Diamond. Directed by Awoye Timpo. Staged by the Huntington Theatre Company at the Calderwood Pavilion at the Boston Center for the Arts, 527 Tremont Street, South End, Boston, through March 26. (Digital access to the filmed performance is available until April 9.)
The play, like the novel, tells the story of Pecola, a young Black girl who believes the world would be wonderful if she could have blue eyes. Arts Fuse review.
Chorus Boy by Tarell Alvin McCraney. Directed by Christopher D. Betts. Staged by Yale Rep at the University Theatre, 222 York Street, New Haven, through April 23.
"For half a century, the Charles R. Drew Prep School for Boys has been dedicated to the education of strong, ethical Black men. One extraordinary student, a gifted singer, has been waiting to take his rightful place as the leader of the legendary school choir. But can he make his way through the hallowed halls of this institution and still sing in his own key?"
A Gentleman's Guide to Love and Murder, music and lyrics by Steven Lutvak and book and lyrics by Robert L. Freedman. Directed by Spiro Veloudos with musical direction by Matthew Stern and choreography by Larry Sousa. Staged by the Lyric Stage Company, 140 Clarendon Street, 2nd Floor, Boston, from April 15 through May 22.
The Tony Award-winning musical comes to Boston: "Charming and ambitious, Monty Navarro is in line for an earldom in the lofty D'Ysquith family. Eighth in line, that is. With a few tricks up his sleeve, he plots to speed up the line of succession all the while juggling the affections of two beautiful women, dodging suspicions, and relying on fortunate twists of fate. Neil A. Casey brings to life all eight members of the D'Ysquith family including a pious clergyman, a pompous bodybuilder, an aging actress, and a misguided philanthropist."
Our Daughters, Like Pillars by Kirsten Greenidge. Directed by Kimberly Senior. Staged by the Huntington Theatre Company at the Huntington's Calderwood Pavilion at the BCA, 527 Tremont Street, Boston, April 8 through May 8 with digital access to the filmed performance available until May 22.
Billed as the "epic and funny saga of one whirlwind week in the life of a contemporary Black family from Boston. The story begins when Lavinia brings her sisters and mother on a much-needed family vacation. She has planned the week to the smallest detail — antiquing in the afternoons, grilled steaks for dinner, absolutely no cellphones allowed — and if Lavinia gets her way, they will stay forever. What will her sisters have to say? This script by an Obie Award-winning dramatist asks about the ties that bind us to our families. How do sisters hold each other up and hold each other back? Will togetherness split this family apart, or can it bring them together?"
Pilgrims of the Night by Len Jenkins. Directed by Wes Savick. Staged by The Suffolk University Theatre Department at the Modern Theatre, 525 Washington Street, Boston, April 7 through 10.
"Stranded at a ferry terminal during a dark, stormy, seemingly endless night, seven fellow travelers journey to the most fantastical places without ever leaving. Inspired by Boccaccio's The Decameron, Pilgrims is a celebration of imagination in times of adversity, community in times of isolation, and hope in times of despair. This is the 20th-anniversary performance of the Boston premiere with an all-new student production."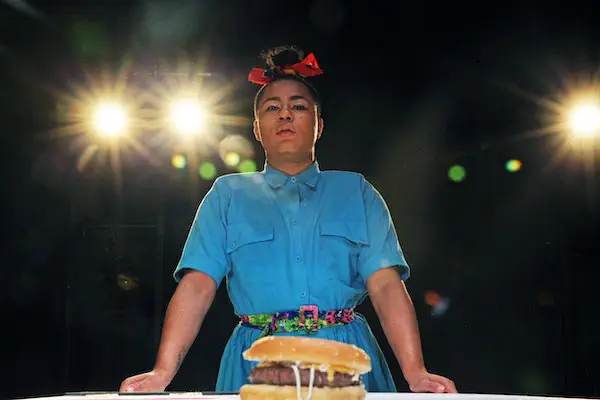 Burgerz, written by and starring Travis Albanza. Directed by Sam Curtis Lindsay. Produced by Hackney Showroom. Presented by ArtsEmerson at the Emerson Paramount Center, Jackie Liebergott Black Box, 559 Washington Street, Boston, April 13 through 24.
This is "a trans reclamation story; after transphobic slurs — and a hamburger — are thrown at theater artist Travis Alabanza, a newfound passion is ignited. They became obsessed with hamburgers: How they are made. How they feel and smell. How they travel through the air. How the mayonnaise feels on your skin. This show is the climax of their obsession."
Beasts by Cayenne Douglass. Directed by Kelly Galvin. Staged by Boston Playwrights' Theatre, 949 Commonwealth Ave., Boston, April 7 through 17.
"The drama centers on the relationship between sisters — and on the secrets that are unearthed — when artist Judy pays a surprise visit to pregnant suburbanite Fran." Playwright Douglass says that "she was moved to write this play because she found herself at the center of many conversations with friends regarding feelings around pregnancy."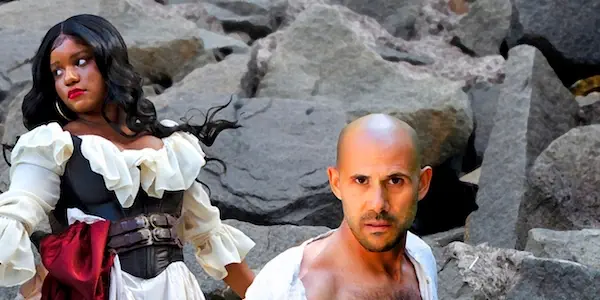 Sueño, translated and adapted by José Rivera. A version of Pedro Calderón de la Barca's La vida es sueño (Life Is a Dream). Directed by Tatyana-Marie Carlo. Staged by Trinity Rep at 201 Washington Street, Providence, April 7 through May 8.
"A humorous and haunting metaphysical story peppered with intentional anachronisms, Sueño is a contemporary English-language reimagining of Life Is a Dream, considered one of the jewels of the Spanish Golden Age. Years after a Spanish prince is imprisoned at birth based on astrological predictions, the young man is released to test the prophesies. Once freed, his actions could either earn him the throne or return him to a lifetime of isolation to question the very nature of reality and humanity."
Everyday Life and Other Odds and Ends by Charlotte Meehan. Directed by Tara Brooke Watkins. Choreography by Peter DiMuro. Staged by Sleeping Weazel at the Emerson Paramount Center, Jackie Liebergott Black Box, 559 Washington St, Boston, through March 27. Footage of a final version will be available for online viewing from 12 p.m. ET on April 1 to 10 p.m. ET on April 10.
The world premiere of a play that "introduces three very different couples, each of their relationships uniquely impacted by Parkinson's disease, in a bold multimedia experience that delves into the intimate experiences that take place between heartbeats.
"Striving for unconditional love, each pair responds to the avalanche of advice heaped on them with a mix of hilarity, pain, and love. Meanwhile, every mundane daily pattern, interlude of absurd bickering, and moment of human connection takes on emotional urgency." Arts Fuse review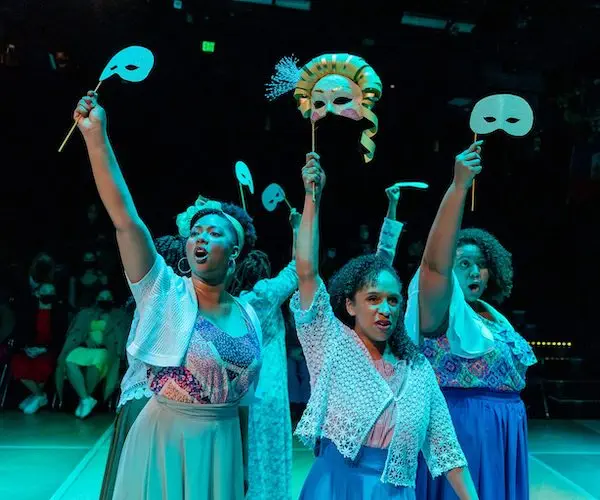 Once on This Island, Book and lyrics Lynn Ahrens, music by Stephan Flaherty. Directed by Pascale Florestal. Staged by SpeakEasy Stage Company, at the Stanford Calderwood Pavilion at the Boston Center for the Arts, 527 Tremont Street, Boston, through April 16.
The award-winning musical "tells the epic story of Ti Moune, a fearless peasant girl who, guided by the mighty island gods, sets out on a remarkable journey to follow her heart and find her place in the world." The musical is based on the novel My Love, My Love by Rosa Guy, and features a score by Tony Award-winners Lynn Ahrens and Stephen Flaherty (Ragtime, Seussical, A Man of No Importance, Anastasia). Arts Fuse review
— Bill Marx
---
Visual Arts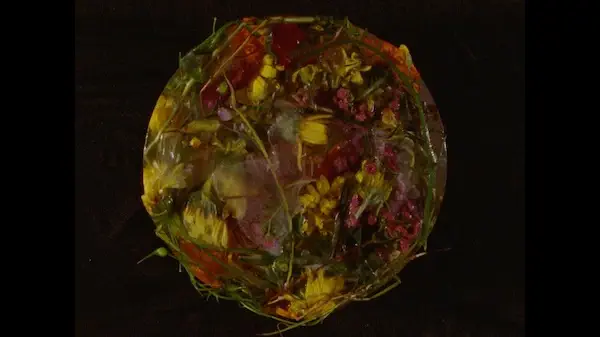 The New England Triennial 2022 opens April 8 at the deCordova Sculpture Park and Museum in Lincoln, and the Fruitlands Museum in Harvard, both institutions now operated by the Trustees of Reservations. The Trustees have announced that the show will feature 25 artists from Connecticut, Maine, Massachusetts, New Hampshire, Rhode Island, and Vermont. The exhibition is a retread of the old deCordova New England Biennial that the deCordova began organizing in 1989.
Lincoln's de Cordova Museum and its 30-acre park opened in 1950, after two years of renovations that converted a private suburban estate to the only museum to focus on art produced by living artists in the six New England states. Over the seven decades that followed, the museum expanded, developed, and moved in various new directions, changing its name and sometimes veering into controversy. In 2019, the deCordova's operations were absorbed into the Trustees of Reservations, a long-established organization that manages parks, conservation lands, and historic estates throughout Massachusetts.
The concept of New England art has also remained fluid, never quite coalescing into a widely recognizable regional movement, like the New York school or the Hudson River school. Despite being home to numerous art colonies and distinguished art schools, New England has been a place where artists who were established elsewhere —  John Singer Sargent, Augustus Saint-Gaudens, Alexander Calder, John Marin, Andrew Wyeth, Robert Indiana, among many others — worked for the summer months or for parts of their careers. Or where artists grew up or spent part of their childhoods before moving on to a larger stage — Frederick Church, Marsden Hartley, Milton Avery, Frank Stella, and Carl Andre, for example. This first Triennial, organized as the region and the world emerges from the disruptions of the long Covid-19 pandemic, seems to focus on themes favored by contemporary  art, including identity, social justice, and cultural transformation.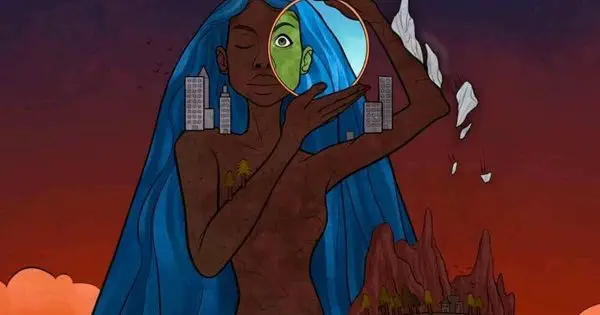 The 30 artists in Climate Action: Inspiring Change, which opens at the Peabody-Essex Museum in Salem on April 16, are also mostly based in New England, including 10 award-winning "youth artists" who participated in the Climate Hope: Transforming Crisis international student art contest in 2020.
Organized in cooperation with New York's Climate Museum, the first museum in the United States dedicated to the climate crisis, and including "hands-on experiences" as well as contemporary art, the show is designed not so much to raise awareness as to combat the feeling of powerlessness in the face of the tremendous economic, social, and technological forces that threaten the future of the planet. "The goal," says the museum, "is for each of us to move beyond our fear and feelings of helplessness and make informed choice to take positive steps forward."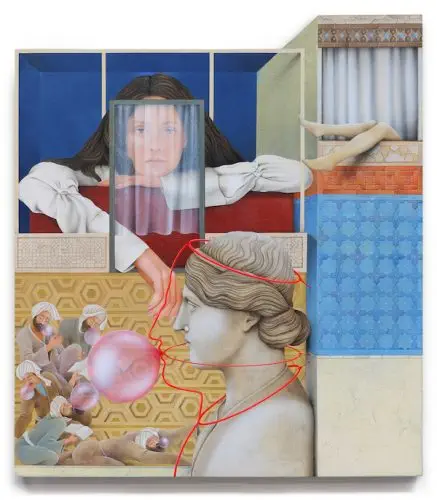 Iranian-born artist Arghavan Khosravi's first museum exhibition opens at the Currier Museum of Art in Manchester, NH, on April 14. Khorsavi, who paints in a polished naturalistic, magic realist style full of personal symbols and symbolic references, not unlike that of American surrealists of the '30s, combines a variety of influences — ancient Western sculpture, contemporary fashion magazines, Persian miniature paintings, Islamic patterns and textiles — to explore autobiographical themes of exile, freedom, empowerment, and the condition of women.
The Worcester Art Museum celebrates a Spring Community Day on April 3 from 10 a.m. to 4 p.m. Events include Japanese street theater, a spring-themed concert performed by Holy Cross students and faculty, and a traditional Vietnamese Lion Dance, Admission is free.
— Peter Walsh
---
Jazz
Jazz World Trio
April 3 at 7 p.m.
Zuzu Music Room, Cambridge
JazzBoston kicks off its new weekly Jazz All Ways series at Zuzu with esteemed drummer and bandleader Guillermo Nojechowicz's Jazz World Trio with bassist Ron Mahdi and pianist Witness Matlou. Reservations at JAW@JazzBoston.org.
The Why Not
April 6 at 6:30 p.m.
Lilypad, Cambridge
Pianist and composer Bert Seager describes the Why Not as a chamber-jazz ensemble that combines jazz improvisation with global traditional dance rhythms in a way that "makes one wonder what Schubert would have sounded like had he lived in Peru and played odd meters, or if Ravel had lived in Ghana and had been able to improvise over chord changes." The band includes the excellent saxophonist and clarinetist Rick DiMuzio, bassist Max Ridley, drummer Dor Herskovits and, for this performance, singer Lili Shires.
Arlington Jazz Festival
April 7-10
Various locations, Arlington
The headline event for the 11th Annual Arlington Jazz Festival is trumpet master Randy Brecker appearing with drummer Mark Walker's World Jazz Ensemble (see April 10), but the lineup leading up to that show is equally hefty and impressive: the Jesse Williams Group with singer Cassandre McKinley (April 7 at 8 p.m., Menotomy Grill); El Eco with Guillermo Nojechowicz (April 8 at 8 p.m., Arlington Center for the Arts); and an afternoon and evening of bands at the Arlington Center for the Arts on April 9, including Morningside Music Studio Jazz Ensembles (3 p.m.), Tom Ferrante's Saxafras (5:30 p.m.), and the Samba Jazz Project (8 p.m.).  Each event is ticketed separately.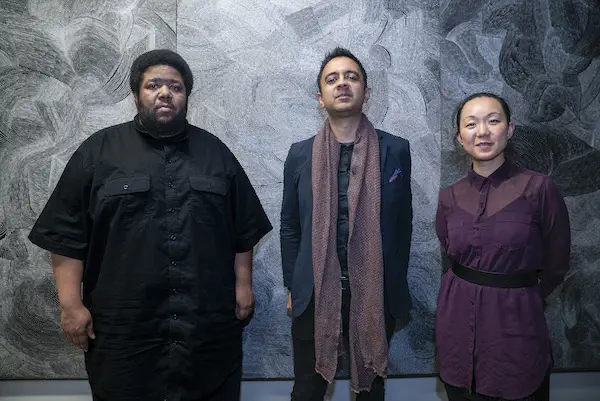 Vijay Iyer Trio
April 7 at 8 p.m.
ICA, Boston
Uneasy (ECM), the debut recording by pianist and composer Vijay Iyer's superb trio with bassist Linda May Han Oh and drummer Tyshawn Sorey, was one of the best of 2021. (Arts Fuse review) They play the ICA's harbor-facing Barbara Lee Family Foundation Theater.
SFJAZZ Collective
April 8 at 8 p.m.
Berklee Performance Center, Boston
The ongoing SFJazz Collective, originally born in 2004 out of the San Francisco Jazz Festival (now the year-round organization SFJAZZ), is a supergroup with a rotating cast of players who work together over the course of a couple of seasons. In a departure from the past practice of honoring specific composers, this year's tour is called "New Works Reflecting the Moment," described as "a collection of pieces written in response to the unparalleled social and global issues faced over the past year." The players (and composers) include saxophonists Chris Potter and David Sánchez, trumpeter Etienne Charles, vibraphonist Warren Wolf, pianist Edward Simon, bassist Matt Brewer, drummer Kendrick A.D. Scott, and singers Gretchen Parlato and Martin Luther McCoy.
Loston Harris
April 9 at 8 p.m.
Scullers Jazz Club, Boston
The pianist and singer Loston Harris does Great American Songbook swing, counting Geri Allen and Billy Taylor among his teachers, and has helmed the house band at New York's venerable Bemelmans Bar in the Carlyle Hotel.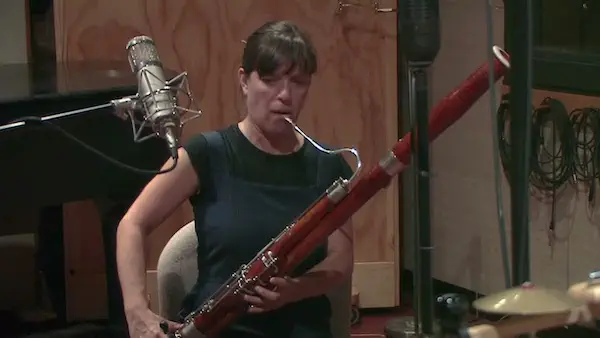 Sara Schoenbeck & Wayne Horvitz
April 9 at 8 p.m.
Hope Central Church, Jamaica Plain
Bassoonist Sara Schoenbeck's self-titled debut disc was one of the highlights of 2021 — a collection of duets with the likes of flutist Nicole Mitchell, guitarist Nels Cline, saxophonist Roscoe Mitchell, and pianist Matt Mitchell. One of her partners on that disc was pianist and composer Wayne Horvitz, a key player in the '80s downtown NYC scene. Schoenbeck and Horvitz (now long-based in Seattle) had previously released their own duo recording, Cell Walk (2020). These are two player-composers who interact beautifully as composer-improvisers, and Schoenbeck exploits the full range of her instrument freely, from deep basso lows to floating clarinet highs.
Mark Walker's World Jazz Ensemble with Randy Brecker
April 10 at 7 p.m.
Regent Theatre, Arlington
The 11th Annual Arlington Jazz Festival (see April 7) closes out with Grammy Award-winning drummer/composer Mark Walker joined by esteemed fellow Grammy winner and trumpeter Randy Brecker (7 Gs and counting). Walker's band includes saxophonist Edmar Colon, pianist Alain Mallet, bassist Oscar Stagnaro, and percussionist Ernesto Diaz. The music will include "a combination of Walker's originals from his album You Get What You Give and jazz repertoire reimagined with an Afro-Latin sensibility." Besides working with Brecker, Walker has a resumé that inclues Paquito D'Rivera, Michel Camilo, and the Caribbean Jazz Project, so he knows whereof he speaks.
John Kordalewski Quartet
April 10 at 7 p.m.
Zuzu, Cambridge
The pianist and composer John Kordalewski is perhaps best known in the Boston area for the Makanda Project, the ensemble he leads dedicated to the music of the late, great Makanda Ken McIntyre. Tonight, as part of JazzBoston's Sunday night Jazz All Ways series at Zuzu, he leads a quartet with saxophonist Kurtis Rivers, bassist John Lockwood, and drummer Yoron Israel.
Allan Chase Septet featuring Sheryl Bailey
April 10 at 6:20 p.m.
Lilypad, Cambridge
The multireed player, flutist, and composer Allan Chase always puts something special together for his Lilypad appearances. For this show, in addition to his own compositions, he offers original arrangements of pieces by Prince Shell, Benny Golson, Gigi Gryce, Duke Pearson, Eddie Harris, and Sun Ra. The featured guest is guitarist Sheryl Bailey, joining tenor saxophonist Joel Springer, trumpeter Dan Rosenthal, trombonist Randy Pingrey, bassist Andrew Schiller, and drummer Austin McMahon.
Aaron Parks
April 15 at 8 p.m.
Scullers Jazz Club, Boston
The inventive and wide-ranging pianist and composer Aaron Parks, who first made his bones playing with Terence Blanchard's band and later was Kurt Rosenwinkel's wingman, comes to Scullers with guitarist Greg Touhey, bassist Matt Brewer, and drummer Tommy Crane.
— Jon Garelick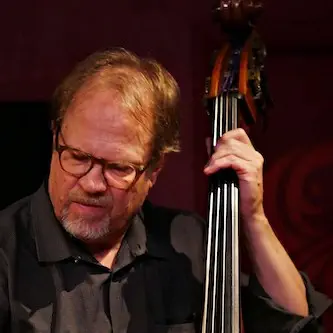 Bruno Råberg Tentet
April 13 at 7:30 p.m.
David Friend Recital Hall, Boston.
Bassist/composer Bruno Råberg presents an evening of original compositions for a 10-piece constellation. One of the evening's stars is the busy saxophonist Allan Chase (See April 10), but he has Råberg and eight others at his side: Fernando Brandāo, flute, Nish Manjunath, tenor sax/ clarinet, Peter Kenagy, trumpet/flugelhorn, Randy Pingrey, trombone, Angel Subero, bass trombone, Nate Radley, guitar, Anastassiya, piano/B3 Organ, and Gen Yoshimura, drums.
— Bill Marx
---
Dance
Highland Dance Boston and Guests
April 9 at 7 p.m.
The Sanctuary Theatre, Cambridge
Looking for a new experience? Enjoy various styles of Scottish Highland dance from Broadswords to Sailor's Hornpipe to Cape Breton Step. Live music with fiddles, guitars, pipes, and songs accompanies this event, complete with a Ceilidh Dance that invites audience participation.
Same But Different
April 9 & 10
The Dance Complex, Cambridge
A collaboration between Christal Brown and Lida Winfield, Same But Different explores the similarities and differences between these two movers through a cultural commentary on race, age, and gender. Join Lida and Christal as they explore through dance the trials of being artists, professors, educators, and "survivors of life."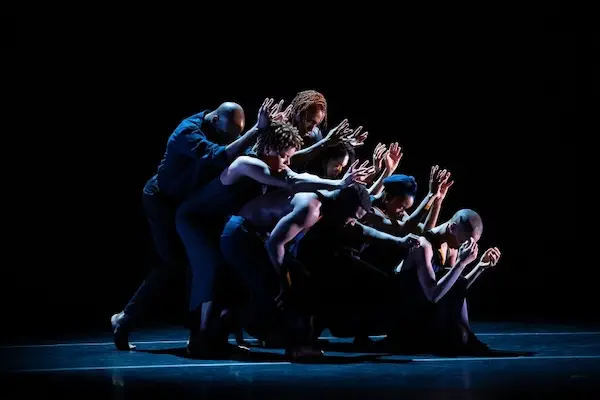 A.I.M by Kyle Abraham
April 15-17
Institute of Contemporary Art/Boston
A.I.M by Kyle Abraham presents several evocative works at the ICA this month, including: Our Indigo: If We Were a Love Song, a series of solos, duets, and trios set to Nina Simone's most intimate songs; The Quiet Dance, a quintet set to Bill Evans's touching rendition of the Leonard Bernstein classic "Some Other Time"; and Studies on a Farewell, a group work set to classical music by Sebastian Bartmann, Ludwig van Beethoven, and Nico Muhly. Note to viewers: Face coverings and proof of vaccination or a negative PCR test are required to attend.
goodTHANGpassing
April 15 from 10 a.m. to 4 p.m.
Arts at the Armory, Somerville
THANG brings dance, music, and poetry to Somerville's Armory twice a year. Join a medley of exciting artists as they premiere new works that draw on music played on invented instruments and mix performance art with dance. Conventional music, dance, and poetry will be present as well.
Svadba
Ongoing, online viewing
Engage in a cinematic opera experience with Svadba, the story of a bride-to-be on the eve of her wedding surrounded by friends and family helping her prepare for the big event. Sung completely a cappella, Svadba's entrancing music by Serbian composer Ana Sokolović merges with dance-led visuals from film director Shura Baryshnikov and screenwriter Hannah Shepard. Slovenia-born Daniela Candillari conducts.
The Time Traveler's Lens
Ongoing, online viewing
Hailed as "groundbreaking" (MidJersey News) and a "unique interdisciplinary work" (Town Topics), The Time Traveler's Lens combines dance, film, technology, and history to engage viewers in a 360-degree virtual reality performance that is amazingly intimate — the viewer is placed in the center of the action. Experience five virtual reality works unfolding spherically around you on your own mobile device. You are the time traveler, you control the lens — Luminarium Dance Company provides five worlds of illusion.
— Merli V. Guerra
---
Popular
Speedfossil with The Ghost Truckers and The Gravel Project
April 7 (show at 7:30)
Sally O'Brien's, Somerville, MA
There are few better excuses for going out on a work night than a triple-bill of local bands setting up camp at a local venue for the evening. Luckily, that is what will happen on Thursday night at Sally O'Brien's in Union Square. Then and there, Speedfossil will celebrate their new album, No Anesthesia, on the literal eve of its street date. Their festive set will be sandwiched in between ones by The Ghost Truckers and The Gravel Project, the latter of whom released its latest record – Many Miles Ahead – in February.
No Anesthesia is Speedfossil's third album and its first on the Boston-based Red on Red Records. Over the course of its eleven entries, lead singer/guitarist Garret Vandermolen, bassist Michael Scotti, lead guitarist Dan Jordan, and drummer Hector Saint-Hilaire employ Cars-y synths, hooky, energetic, and sometimes deliberately amateurish riffs, and horn and harmonica adornment. Lyrically, they mix in clever rhymes ("I'm gonna watch and learn/As you crash and burn"), local color ("Bobby's out on Mass. Ave, somewhere close to Route 2"), and quotes from two Smithereens songs on one track. If you're on a budget that can accomodate a $10 cover charge, you're unlikely to find a better bargain than this one.
Sue Foley
April 9 (doors at 6, show at 7:30)
Haymarket Lounge (City Winery), Boston, MA
Now in her 30th year as a recording artist, singer, songwriter, and guitarist Sue Foley still has her foot firmly on the gas.
Since 1992, the Ottawa native has won a Juno (aka Canadian Grammy), a Blues Music Award, and 18 Maple Blues Awards. Last year's Pinky's Blues was her 15th album and will be in contention for Album of the Year and Traditional Blues Album at the Blues Music Awards in May, when Foley will also be up for a second Traditional Blues Female Artist trophy. (Pinky, by the way, is what she calls her signature paisley guitar.)
Long a resident of Austin, TX, Foley offers interpretations of songs composed by Lone Star State blues legends Lavelle White, Frankie Lee Sims, and Clarence "Gatemouth" Brown – whom she once said she aspired to be the female version of – on Pinky's Blues.
Unsurprisingly, her Saturday night show at Haymarket Lounge has been flagged with a low ticket alert on the City Winery website.
— Blake Maddux
---
Classical Music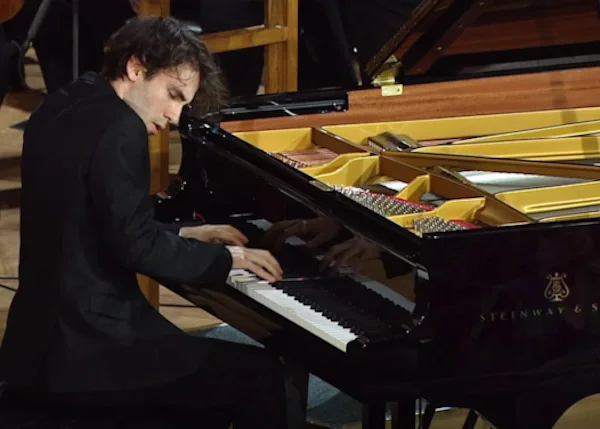 Rakitina conducts Tchaikovsky, Reid, and Sibelius
Presented by Boston Symphony Orchestra
April 7-9, 8 p.m. (1:30 p.m. on Friday)
Symphony Hall, Boston
The Boston Symphony's highly regarded assistant conductor makes her subscription series debut leading Tchaikovsky's rarely heard Piano Concerto No. 2 (with the excellent Alexandre Kantorow as soloist) alongside pieces by Ellen Reid and Jean Sibelius.
Zander conducts Mahler's Third
Presented by Boston Philharmonic Orchestra
April 8, 8 p.m.
Symphony Hall, Boston
Benjamin Zander and the BPO conclude their season with Gustav Mahler's epic Symphony No. 3. They're joined by mezzo-soprano Susan Platts, Chorus Pro Musica, and the Choristers of St. Paul's Choir School. Zander's typically thorough and enlightening spoken introduction to the work can be heard here.
Ellen Taaffe Zwilich Portrait Concert
Presented by Boston Modern Orchestra Project
April 8, 8 p.m.
Jordan Hall, Boston
BMOP celebrates the acclaimed American composer Ellen Taaffe Zwilich with a survey of relatively recent pieces of hers, including the Concerto Elegia (featuring flautist Sarah Brady) and Commedia dell'Arte (with violinist Gabriela Diaz).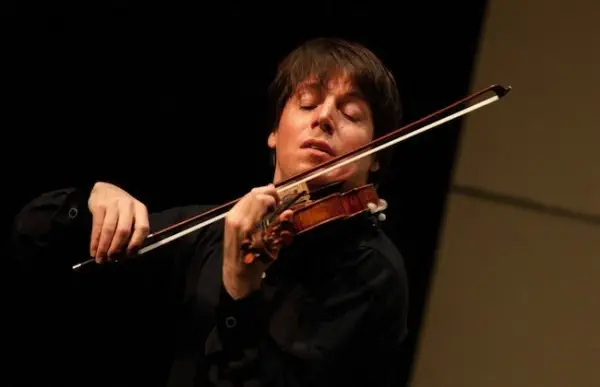 Joshua Bell plays Beethoven
Presented by Boston Symphony Orchestra
April 14-16, 8 p.m. (1:30 p.m. on Friday)
Symphony Hall, Boston
The popular violinist joins the BSO for Beethoven's much-loved Violin Concerto. Also on tap is the American premiere of Bernard Rands's Symphonic Fantasy and Debussy's iridescent La mer. Alan Gilbert conducts.
— Jonathan Blumhofer
---
Author Events
Virtual Event: Maud Newton with Casey Cep – Porter Square Books
Ancestor Trouble: A Reckoning and a Reconciliation
April 4 at 6 p.m.
"On her eponymous blog, Maud Newton wrote brilliantly on a variety of literary topics. She also explored her unconventional Southern roots: grandfathers she never met, known for marrying 13 times and killing a man with a hay hook; her mother, who started a holy-roller church in their living room; and her father, who was proud that their forebears had enslaved people.
Because of family history, her grandmother warned her to be on the alert for signs of mental illness. Her ninth-great-grandmother was accused of being a witch in the 17th century. In her memoir Ancestor Trouble, Newton shares the story of her family and her newfound belief in 'the transformational possibilities' that come from reclaiming and reckoning with our ancestors. Don't miss her insight and discussion with Casey Cep."
Virtual Event: Devon W. Carbado – Harvard Book Store
Unreasonable: Black Lives, Police Power, and the Fourth Amendment
April 5 at 7 p.m.
Free with $5 suggested donation
"In this crucially timely book, celebrated legal scholar Devon W. Carbado explains how the Fourth Amendment became ground zero for regulating police conduct — more important than Miranda warnings, the right to counsel, equal protection, and due process. Fourth Amendment law determines when and how the police can make arrests, and it determines the precarious line between stopping Black people and killing Black people.
A leading light in the critical race studies movement, Carbado looks at how that text, in the last four decades, has been interpreted by the Supreme Court to protect police officers, not African Americans; how it sanctions search and seizure as well as profiling; and how it has become, ultimately, an amendment of life and death."
Virtual Event: Andie Tucher – Harvard Book Store
Not Exactly Lying: Fake News and Fake Journalism in American History
April 6 at 7 p.m.
Free with $5 suggested donation
"Early American journalism was characterized by a hodgepodge of straightforward reporting, partisan broadsides, humbug, tall tales, and embellishment. Around the start of the twentieth century, journalists who were determined to improve the reputation of their craft established professional norms and the goal of objectivity.
"However, Tucher argues, the creation of outward forms of factuality unleashed new opportunities for falsehood: News doesn't have to be true as long as it looks true. Propaganda, disinformation, and advocacy―whether in print, on the radio, on television, or online―could be crafted to resemble the real thing. Dressed up in legitimate journalistic conventions, this 'fake journalism' became inextricably bound up with right-wing politics, to the point where it has become an essential driver of political polarization. Shedding light on the long history of today's disputes over disinformation, Not Exactly Lying is a timely consideration of what happens to public life when news is not exactly true."
Ladette Randolph with Joan Wickersham – Porter Square Books
Private Way
April 13 at 7 p.m.
Free
"In 2015, when cyberbullies disrupt her life in Southern California, Vivi Marx decides to cut her cord with the internet and take her life offline for a year. She flees to the one place where she felt safe as a child — with her grandmother in Lincoln, Nebraska. Never mind that her grandmother is long dead and she doesn't know anyone else in the state.
"Even before she meets her new neighbors on Fieldcrest Drive, Vivi knows she's made a terrible mistake, but every plan she makes to leave is foiled. Despite her efforts to outrun it, trouble follows her to Nebraska, just not in the ways she'd feared. With the help of her neighbors, Willa Cather's novels, and her own imagination, Vivi finds something she hadn't known she was searching for."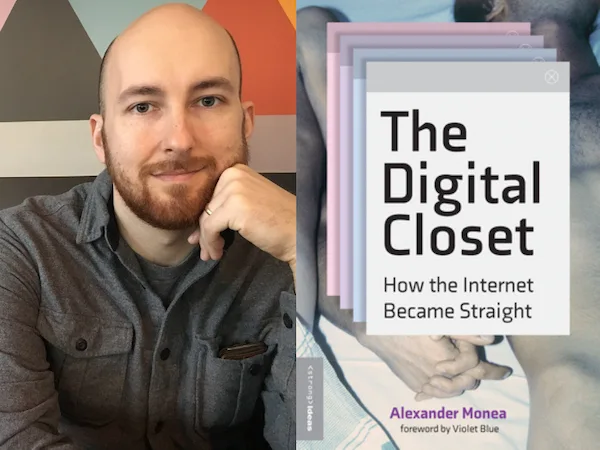 Live at Brookline Booksmith! Alexander Monea — brookline booksmith
The Digital Closet: How the Internet Became Straight
April 14 at 7 p.m.
Free
"In The Digital Closet, Alexander Monea argues provocatively that the internet became straight by suppressing everything that is not, forcing LGBTQIA+ content into increasingly narrow channels — rendering it invisible through opaque algorithms, automated and human content moderation, warped keywords, and other strategies of digital overreach.
"Monea explains how the United States' 30-year 'war on porn' has brought about the over-regulation of sexual content, which, in turn, has resulted in the censorship of much nonpornographic content — including material on sex education and LGBTQIA+ activism. In this wide-ranging, enlightening account, Monea examines the cultural, technological, and political conditions that put LGBTQIA+ content into the closet."
Virtual Event: Ben Shattuck – Harvard Book Store
Six Walks: In the Footsteps of Henry David Thoreau
April 19 at 7 p.m.
Free with $5 suggested donation
"On an autumn morning in 1849, Henry David Thoreau stepped out his front door to walk the beaches of Cape Cod. Over a century and a half later, Ben Shattuck does the same. With little more than a loaf of bread, brick of cheese, and a notebook, Shattuck sets out to retrace Thoreau's path through the Cape's outer beaches, from the elbow to Provincetown's fingertip.
"This is the first of six journeys taken by Shattuck, each one inspired by a walk once taken by Henry David Thoreau. After the Cape, Shattuck goes up Mount Katahdin and Mount Wachusett, down the coastline of his hometown, and then through the Allagash. Along the way, Shattuck encounters unexpected characters, landscapes, and stories, seeing for himself the restorative effects that walking can have on a dampened spirit." Shattuck will discuss the book with the great Nick Offerman, of Parks & Rec fame.
— Matt Hanson