By David Greenham
This staging is a reminder that theater magic is fickle and time-bound — it's hard to dependably catch lightning in a bottle.
Once on This Island by Lynn Ahrens and Stephen Flaherty. Directed by Pascale Florestal. Music direction by David Freeman Coleman. Choreography by Jazelynn Goudy. Scenic design by Erik D. Diaz. Costume design by Chelsea Karl. Lighting design by Aja M. Jackson. Sound design by Andrew Duncan Will. Produced by Speakeasy Stage at the Boston Center for the Arts, Tremont Street, Boston, through April 16.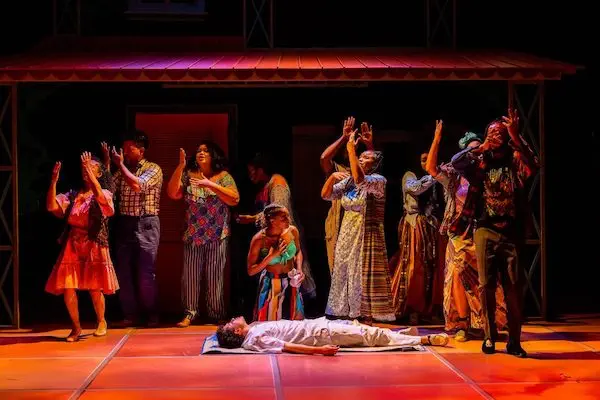 SpeakEasy Stage Company founder and artistic director Paul Daigneault has a soft spot for the musical Once on This Island. The Lynn Ahrens/ Stephen Flaherty one-act enchanted audiences when it debuted on Broadway just over 30 years ago. The show had a nice little run, but it didn't really catch on. At least for most people. Daigneault was an exception. He saw the production a dozen or more times. In his program note, he writes, "whenever I needed a little pick-me-up, I would treat myself to a $20 standing room ticket and bask in the warmth of this wonderful tale." Later, in Boston, it was the first book musical Speakeasy ever produced. The show still remained under the radar. 2017 changed all that. A glorious revival of Once on This Island opened on Broadway and suddenly it became a must-see, nabbing a Tony Award for Best Revival of a Musical. A national tour soon followed. Sometimes revivals work.
The sweet but sad tale at the center of this musical will seem familiar. Based on a story by Trinidad-born American writer Rosa Guy, it features star-crossed lovers who are manipulated by a quartet of gods. Sort of like Romeo and Juliet meets Jason and the Argonauts — a romance with supernatural trimmings. The action is set in the French Antilles, where the company sings of the island in the sparkling sea where there are "Two different worlds, never meant to meet. The peasants labor. The grands hommes eat!"
The story begins when "the gods decide to send a hurricane." The very young Ti Moune (Reagan Massó) is tossed in the seas and orphaned. She ends up clinging to a tree, barely alive, and the gods decide to intervene. Asaka, mother of earth (Yewande Odetoyinbo); Agwe, god of water (Davron S. Monroe); Erzulie, goddess of love (Christina Jones); and Papa Ge, demon of death (Malik Mitchell) gather around to determine Ti Moune's fate. They decide that her journey will test the strength of love against the power of death.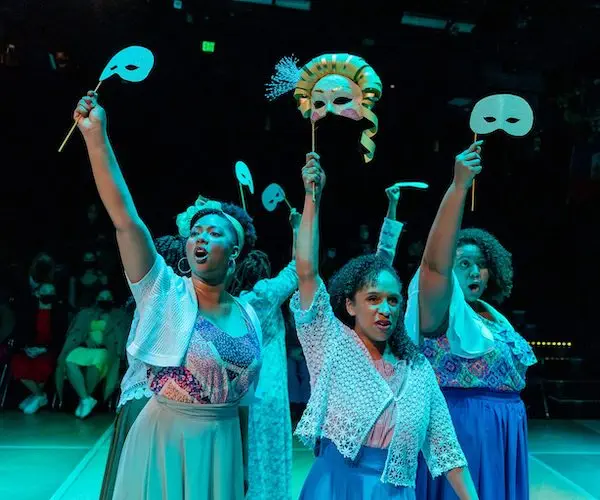 Ti Moune is adopted by a loving peasant family, Mama Euralie (Lovely Hoffman) and TonTon Julian (Anthony Pires Jr.). The grown-up Ti Moune (the promising Peli Naomi Woods) is content to celebrate the wonder of her adopted world and family. But then she catches a glimpse of the island's cushier world in Daniel (Kenny Lee), a light-skinned son of the "Grand Hommes" as he recklessly drives his car around the island. Again, the gods hurl up a storm, and Daniel crashes. Against the advice of her family, Ti Moune decides she will risk everything to save the injured man and nurse him back to health. It's clear that only sorrow and tragedy will follow.
For this Speakeasy revival, director Pascale Florestal has set the story in Haiti, an island that suffered a terrible earthquake in 2010 in its capital city, and another one in 2021 that devastated rural communities. Haiti is also the poorest country in the Western Hemisphere, so any glorification of this country's rich culture is truly welcome.
When it comes to revving up the requisite joy, this talented ensemble delivers all that is demanded. Odetoyinbo's Asaka, Jones's Erzulie, Hoffman's Mama, and Lee's Daniel all boast sumptuous voices. Berklee senior Woods helps carry the narrative with her well-trained voice and infectious energy.
However, at least early on in the Speakeasy run, the enthusiasm and talents of the cast struggle to overcome fundamental challenges presented by Florestal's staging. The performance space has been reconfigured to provide a three-quarter thrust stage, which permits a more intimate exchange between actors and audience members. Given how much we've all missed this kind of interaction over the past two years of pandemic isolation, it's a powerful choice. But it can't overcome Erik D. Diaz's set, which features a representational island house along with a large tree, which plays an important part in the plot. The problem is that this background is confined upstage — well, more like crammed upstage. One moving set piece, a large rolling gate, promises variety. The gate represents the class separation between Daniel's wealthy family and Ti Moune's peasant life. But it's also pretty much kept upstage: at a key dramatic moment Ti Moune's sorrow is played more to the gate than to the audience members.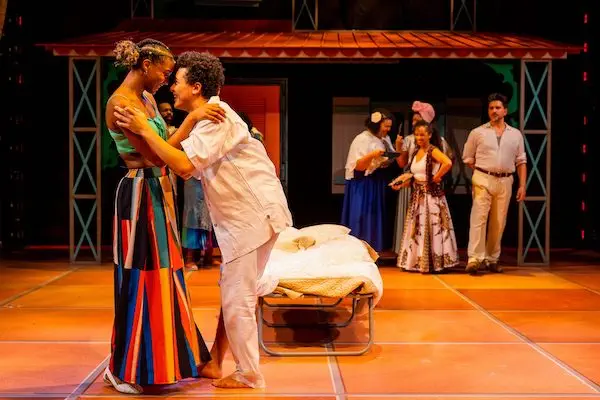 Placing all the set pieces upstage also creates a secondary challenge. Jazelynn Goudy's lively choreography is asked to fill the rest of the wide open stage. The dancing is consistently engaging but, because it is always slotted in the same area, the movement begins to feel repetitive as the evening moves from song to song.
There are glimpses of possible solutions during the production. A steel drum appeared now and again; it was never brought downstage, and that might have broken the monotony. An even better idea: music director and conductor David Freeman Coleman and his band are nearly hidden from view above the playing area. Bringing them onstage and in costume would add an immediacy to the music and drama.
And for all of Florestal's good intentions — she is a Haitian American — setting the musical in Haiti has not been used to significantly transform the production. Yes, the cast proudly waves Haitian flags during the rousing final number, "Why We Tell the Story," but that is about it, except for the program notes.
Daigneault's long-lived passion for the play and the previous production at Speakeasy led to this revival, which is part of the company's belated 30th anniversary. I'm confident that, as the show's run continues, the staging's storytelling and music chops will become stronger. But this Once on This Island is also a reminder that theater magic is fickle and time-bound — it's hard to dependably catch lightning in a bottle.
---
David Greenham is an adjunct lecturer of Drama at the University of Maine at Augusta, and is the executive director of the Maine Arts Commission. He has been a theater artist and arts administrator in Maine for more than 30 years.