By David D'Arcy
If you've never seen a French film with a PG feel, the well-meaning Gagarine might be the one for you.
Gagarine, directed by Fanny Liatard and Jérémy Trouilh. Screening at the Kendall Square Cinema.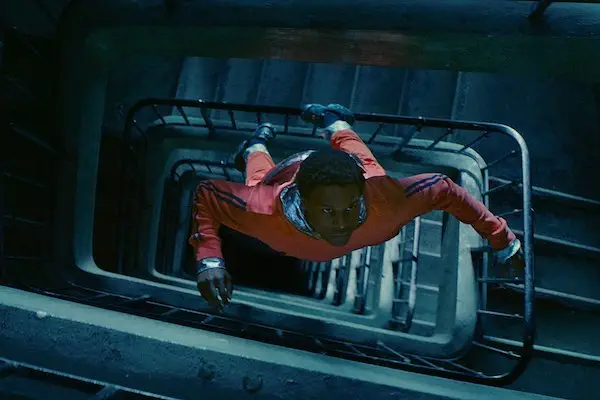 Cité Gagarine, named for the celebrated Soviet cosmonaut Yuri Gagarin, was a massive hulk built in 1963 in Ivry-sur-Seine, a bleak suburb bordering the southeast edge of Paris run by the French communist party.
Almost anyone there would say that the huge edifice made the town of high-rise projects look even bleaker, which may explain why it was neglected for decades to the point that officials decided to tear it down.
That's where we enter the story in this first feature directed by Fanny Liatard and Jérémy Trouilh, who wrote the script with Benjamin Charbit. (The directors entered the project by interviewing residents of the building and making a short version of the film in 2015.)
Youri (Alseni Bathily), 16, who is named after his home, is determined to save the behemoth, not just by halting its planned demolition, but by making the building livable again.
There you have Gagarine: an idealistic young Black man on a quixotic mission, trying to enlist cynical layabouts of his own age, comforting fearful adults with no place to go, and resisting compliant state functionaries who have orders to follow.
That face-off is only part of the movie's drama. The filmmakers have also given Youri's quest an imaginative dimension. The elevator to his apartment may not work, but his telescope does. As crews prepare the explosives, he builds a survivalist-futurist lair seven floors above ground, a place where he grows vegetables under lights and muses cosmically as he ponders the heavens and the inevitable. There's even the hint of a love life here, but more about that in a moment.
I was in Ivry a number of times as a student in the '70s. Constructed with all the forced luster of a world's fair, though with even less personality, Ivry showed the communist party trying to put its best foot forward — with money from the French government. Its endless apartment blocks gleamed for a week or two, its look following and then undermining a Corbusian model of urban height and density. Calling the massive building Cité Gagarine reflected the hope that it would remind citizens that the Soviets had once led the world in the space race. And there was high culture available. Antoine Vitez, head of France's drama conservatory, ran the town's theater, although I doubt that he lived there. Everyone at the performances that I attended (which were great) seemed to have come from Paris.
Archival scenes show crowds applauding Gagarin when he visits his namesake building and plants a tree in the sterile new landscape. All the elation seems real. In France, people weren't punished for not celebrating official visits.
But the buildings of Ivry seemed built to deteriorate, and they did, especially after five decades of wear, tear, and budget cuts. Still, young Youri is not the only one who clings to the place. There is Diana, a girl from a Roma family, whose relatives set up a camp there. And there are others with no place to go.
We've seen this dramatic you-can't-fight-city-hall confrontation many times before. People struggle to remain in place, to inhabit homes that officials have ruled unlivable, a crusade this time led by a teenager who lives alone because his single mother, with a new lover, is too busy to visit. Problems like that could lead lots of people to consider heading to outer space.
With a whimsy that seems more rooted in Sundance than in Paris, Liatard and Trouilh give you a feel for a community under stress. Though there are a few characters who seem as if they've been taken off the rack of urban living clichés: a neighborhood drug dealer given to long harangues, a nutty old man who fences property for cash, and an irascible Arab father who's waited for years for a new apartment.
Bathily, in his first feature role, and Lyna Khoudri, as Diana, are appealing as our protagonist treads gently with a Roma family and she discovers the apartments that Youri has transformed into a spaceship interior. The improvisational decor of the rooms seem to have been inspired by the no-budget films of Michel Gondry, their wholesomeness by Ron Howard. If you've never seen a French film with a PG feel, the well-meaning Gagarine might be the one for you. Although be warned, the kids in the street do curse up a storm.
Gagarine is about hope and about the dreams created to sustain that hope. It's a far cry from the "banlieu" (suburb) films set in similar locations from almost 30 years ago, such as Matthieu Kassovitz's La Haine ("Hate") of 1995, in which there was enough raging youthful anger to tear anything in its vicinity down. In contrast, Liatard and Trouilh's tone is gentle and earnest. And bear in mind that when everything is failing, it can be reassuring to take a deep breath and look at the sky. Just don't stand near a building slated for demolition.
---
David D'Arcy lives in New York. For years, he was a programmer for the Haifa International Film Festival in Israel. He writes about art for many publications, including the Art Newspaper. He produced and co-wrote the documentary Portrait of Wally (2012), about the fight over a Nazi-looted painting found at the Museum of Modern Art in Manhattan.