By Bill Marx
Everyday Life and Other Odds and Ends is admirable because it takes contemporary theater into fresh territory — the slow paralysis of the body and the demands this decline makes on caregivers.
Everyday Life and Other Odds and Ends by Charlotte Meehan. Directed by Tara Brooke Watkins. Choreography by Peter DiMuro. Staged by Sleeping Weazel at the Emerson Paramount Center, Jackie Liebergott Black Box 559 Washington St, Boston, through March 27. Footage of a final version will be available for online viewing from 12 p.m., ET, on April 1 to 10 p.m., ET, on April 10.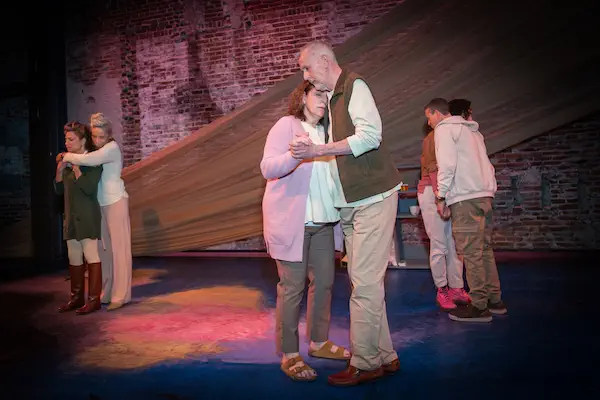 I was looking forward to seeing Everyday Life and Other Odds and Ends for a couple of reasons. One of them was personal: my mother died of Parkinson's, as did Arthur Friedman, my mentor as a theater critic. Also, given what is going on in the world today, from the horrendous war in Ukraine and accelerating climate change to the frazzled state of American democracy, I am increasingly drawn to dramas that explore the idea of human fragility. The homages to empowerment have become all-too-routine in the theater, the huzzahs to overcoming setbacks (usually with a rockin' song) a bit too easy. There have been far fewer dramas probing the tenuousness of things, especially the razor-thin veneer of civilization.
Charlotte Meehan's all-too-brief evening looks at the impact of Parkinson's, "that whole going downhill thing," on the lives of three loving couples, homing in on the mental as well as physical toll the disease exacts. The trials of each middle-aged pair highlights a painful issue raised by PD: Tom (Bruce Kaye) and Greta (Veronica Anastasio Wiseman) go into bankruptcy because Tom had to retire early; Jo Jo (Evelyn Holley) and Wan (Mal Malme) grapple with Wan's quixotic desire to always be moving, even though they frequently become lost or even injured as they wander; the lesbian couple Mag (Gloria Crist) and Lil (Dayenne CB Walters) not only have to deal with a hostile system, but Lil's growing depression.
The Sleeping Weazel cast is generally nimble, particularly Kaye, Malme, and Walters, who infuse their afflicted characters with a spirited orneriness that anchors the predictable spectrum of emotion, moving from denial and irritation to longing and self-pity. Each pair handles Parkinson's in a distinctively embattled way. There is also, via Wiseman and Malme, some skillful bits of humor inspired by exasperation. Tara Brooke Watkins's direction is efficiently personable, though when all three couples are interacting at the same time the effect is not so much ordinary life as out-and-out confusion. So Everyday Life and Other Odds and Ends is intermittently moving, admirable because it takes contemporary theater into fresh territory — the slow paralysis of the body and the overwhelming demands that this decline makes on others.
The drawback is that Meehan has not written a drama but a 70-minute sketch, "A Multimedia Play With Dance." The script touches on, rather than takes deep dives, into the struggles of caregivers to do right by themselves and their loved ones. The psychological and social challenges that need to be faced are never probed deeply — or critically. At times it feels as if we are cruising through a checklist (love, angst, despair). But significant elements have been left out, probably because they are too political or discomforting. For example, there is some talk about meds, but little about (in some cases) their exorbitant expense, either in the ArtsEmerson program or elsewhere. Big Pharma has a very problematic record here and it should be underlined. For many, undergoing treatment undercuts dignity and economic security. I mention dignity because the play indicates that numerous patients suffer from hallucinations, but Meehan doesn't confront how extreme (and disruptive) these visions can be — or how delicate and laborious a balancing act it can often be to arrive at the proper dosage.
Perhaps to reflect the rhythms of the prosaic, Everyday Life and Other Odds and Ends isn't organically structured; it just hops from topic to topic. In terms of society's assistance, the performers hold brief (and awkwardly staged) interchanges with various professionals on a video screen, including a Voice Therapist, a Psychopharmacologist, and a Parkinson's Counselor, who are treated with (too) gentle skepticism. In an effort to amplify the play's emotional resonance, a pair of "Echo Movers," Christiana R. Chan & Emily Crosta, provide dance commentary. When the pair's movements suggest what is happening inside the minds of the characters, probing a tension between what they are thinking and their outward demeanor, the dancers are valuable. But far too often they live up to their billing — these are unnecessary "echoes." The Sleeping Weazel cast members are quite good — why distract from (or compete with) their articulate faces and revealing postures? At one point, exhilarating video footage of people with Parkinson's dancing is dropped into the staging. Weirdly, it is not integrated into the narrative; the production just moves on without acknowledging this powerful vision.
And then there is the play's length. 90-minute intermissionless plays can be successful, usually as compacted crystallizations via Caryl Churchill or Samuel Beckett. But opportunities are lost when the dramatist makes the choice to fit into the 90-minute groove. There is no longer the potential for what the now-retired Guardian critic Michael Billington calls "polyphonic richness," for presenting opposing points of views and experiences. In this sense, Everyday Life and Other Odds and Ends stands as yet another instance of a depressing trend: a script designed to fit — rather than challenge — American theater's capitulation to our ever-shrinking attention spans. Meehan gives us three caregivers who, despite a moment or two of weakness, are indefatigably loyal, dedicated, and loving. In everyday reality, Parkinson's brings out the best and worst in people: some rise to the occasion and others fail, badly. We hear that the couples have relatives and children — what do they feel about the decisions that have been made? These voices should be given time to be heard, to complicate the valiant picture. To their credit, Tom, Wan, and Lil demand the truth — and our theater artists should take the time to arrive at it.
---
Bill Marx is the Editor-in-Chief of the Arts Fuse. For just over four decades, he has written about arts and culture for print, broadcast, and online. He has regularly reviewed theater for National Public Radio Station WBUR and the Boston Globe. He created and edited WBUR Online Arts, a cultural webzine that in 2004 won an Online Journalism Award for Specialty Journalism. In 2007 he created the Arts Fuse, an online magazine dedicated to covering arts and culture in Boston and throughout New England.