By Sarah Osman
Dear reader, do enjoy a second season of Bridgerton's ornate balls, lush landscapes, and 19th-century flirting.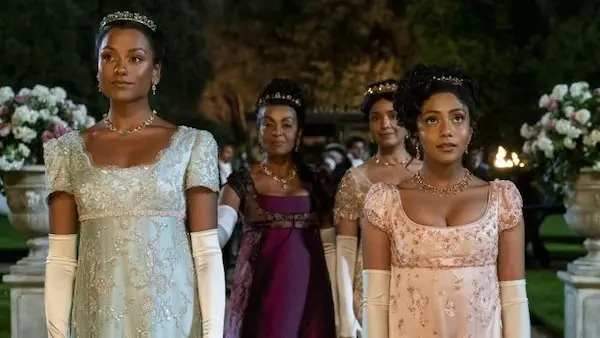 Dear readers: this critic is pleased to announce that, even without the brooding Duke, season two of Bridgerton is still great fun. As you may recall, Bridgerton first aired during the height of the pandemic, and was beloved by all for its quick wit, lustrous outfits, and many salacious sex scenes. The Regency era romance has returned, and whilst the second season isn't as sensual as its predecessor, it is deeper and more emotionally nuanced.
In truth, fans of Bridgerton's bodice ripping moments may find season two to be a disappointment. There is more yearning than action among the characters, though there is one titillating romp in the garden. Generally, the plot is far more in line with traditional period drama fare. Viscount Anthony Bridgerton (Jonathan Bailey) decides that since he's nearly 30, it's high time he settle down and get himself a wife, preferably a pretty and smart one he's not in love with. Meanwhile, sisters Kate Sharma (Simone Ashley) and Edwina Sharma (Charithra Chandran) — sponsored by Lady Danbury (Adjoa Andoh) — arrive in the town from India. Kate is determined to find Edwina a suitable suitor, and Anthony quickly zeroes in on her. However, Kate is not impressed with Anthony's views on love, and takes on the role of a 19th-century cock block.
The exchanges between Kate and Anthony soon develop a very Shakespearean energy, a repartee reminiscent of the lively banter between Benedict and Beatrice in Much Ado About Nothing. The point is crystal clear: their chemistry isn't just physical; it's intellectual. And it never stops as they hurl barbs and counter-barbs at each other while hunting, horseback riding, and dancing. Like the Bard's B & B, they figure out that they do indeed have feelings for each other. But Anthony has set his sights on Edwina, so long lustful looks and much pacing around their respective bedrooms abound.
While Anthony is the central character, the other Bridgertons and Lady Whistledown herself, who was last revealed to be Penelope Featherington (Nicola Coughlan), are beset with their own trials and tribulations. Benedict (Luke Thompson), who is arguably the funnest Bridgerton, begins to take classes at the art academy and revels in painting naked ladies; Eloise (Claudia Jesse) starts to meet some political radicals, and Penelope continues to write her scandalous society rag and pine after Colin Bridgerton (Luke Newton), who is arguably the most boring Bridgerton. These side plots, enhanced by all the other happenings about the town, including lavish balls and ultra-green gardens, kept this critic engaged. But it was the deeper exploration of the characters' emotions that was the most compelling.
In the course of the season we learn exactly why Anthony is the way he is.  He was with his father when he died and found himself suddenly having to take care of the entire family. Watching Anthony grapple with his past is heart-wrenching. And since Kate is put in a similar situation, it makes complete sense that the two would be drawn to each other. As much fun as their banter is, Kate and Anthony are at their most captivating when they discuss, between themselves, the challenges their families pose. Bailey, who was clearly a force to be reckoned with in season one, has fully earned that title in season two. In his portrait of Anthony, the actor manages to hit the right balance between swagger and insecurity. Ashley holds her own against him. The two are not immediately leaping on each other like the two romantic leads in the first season, but their emotional connection is just as sensual.
Given how different this season is from the first, it is safe to assume that each season of Bridgerton will go in a new direction, which will keep this historical drama from becoming stale. There's only so much bosom heaving one can take and, thankfully, the Shondaland team recognizes this truth. According to the order of the books, the next season should focus on the artistic Benedict, which means, based on the man's personality, there is a good chance there will be more raucous parties and sexy meetings. This critic has no complaints about that possibility!
Until we meet again, dear reader, do enjoy Bridgerton's ornate balls, lush landscapes, and 19th-century flirting. Lady Whistledown certainly had a lot on her fine china plate to keep her occupied, especially since she had to go to extra lengths to hide her identity. We will have to wait until season three to see what tea she spills for us.
---
Sarah Mina Osman is a writer residing in Wilmington, NC. In addition to writing for the Arts Fuse, she has written for Watercooler HQ, Huffington Post, HelloGiggles, Young Hollywood, and Matador Network, among other sites. Her work was included in the anthology Fury: Women's Lived Experiences in the Trump Era. She is currently a first year fiction MFA candidate at the University of North Carolina Wilmington. When she's not writing, she's dancing, watching movies, traveling, or eating. She has a deep appreciation for sloths and tacos. You can keep up with her on Twitter and Instagram: @SarahMinaOsman