Immerse yourself in one stage at the New Orleans Jazz & Heritage Festival and you can pretty much block out the others. But dissonance is at the edge of everything you hear — a sound that contains multitudes.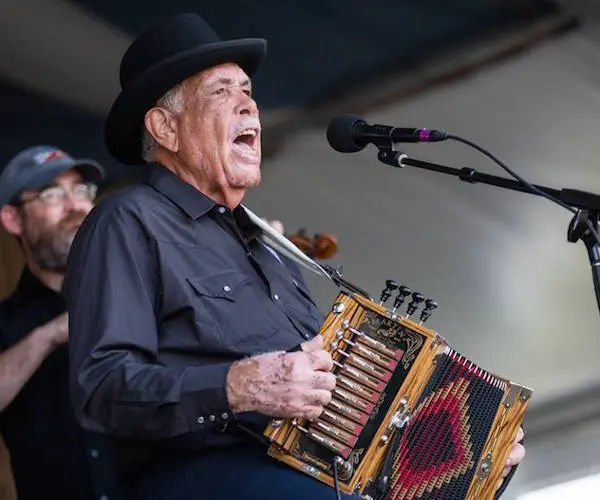 By Jon Garelick
NEW ORELANS —You have only to stand in the center of Jackson Square, presided over by an equestrian statue of the genocidal maniac seventh president of the US, who "saved" the city in 1815, to get a feel for what attracts some people to this place and, specifically, the New Orleans Jazz & Heritage Festival, year after year. From the Mississippi River — across Decatur Street, past the Café Du Monde — you can hear the daily calliope concert from atop the riverboat Natchez, huffing and puffing through "Sweet Georgia Brown," while in front of St. Louis Cathedral at the far end of the square, a brass band blasts "Papa Was a Rolling Stone."
It's all there: the sustaining of tradition, the perseverance (it can't be easy playing a brass instrument, loud, in the 85-degree noonday sun, for tips), and the hot mess sometimes called cultural appropriation but which seems to be the very definition of culture itself. Here, after all, is the place where one of the staunchest traditions of the African-American community is dressing up like "Indians," replete with pigtailed black wigs and feathers, where "world music" seems to describe the multiple hybrids you hear both in a variety of their "pure" forms and in glorious mixes and matches. That calliope, as well as the riverboat it serves, seems to come straight out of Stephen Foster and Mark Twain. The brass band, meanwhile, is hip-hop, R&B, and swing-jazz big band all rolled into one.
So I'm happy to wallow in Bourbon Street, the ultimate tourist trap, that "Disneyland for drunks," as a friend of mine once described it, which easily mingles the trashy and the transcendent, and where my favorite hang is a "European jazz pub," plastered with flags and band stickers from Scandinavian countries and where, in one corner, dimly lit, you can find a portrait of Generalfeldmarschall Erwin Rommel, rockets bursting in the background. ("That's in really poor taste," a friend of mine once complained to me. It was hard to argue with him.)
As for the 47th edition of JazzFest itself — which takes place every year during the last weekend of April and the first weekend of May — there's no end to the mashups for eye and ear. Multiply the dissonance of Jackson Square times four or five, depending on where you're standing on the Fair Grounds Race Course, and that's JazzFest. There are 10 stages in the open air and in tents spread across the grounds, and another couple of stages in the grandstand, so that at a given moment you might hear Pearl Jam blasting away on "Alive" at the Acura Stage while Maxwell thumps along smoothly at Congo Square and the Pocket Aces Brass Band does their thing at the Jazz & Heritage stage. Immerse yourself in one stage and you can pretty much block out the others. But dissonance is at the edge of everything you hear — a sound that contains multitudes.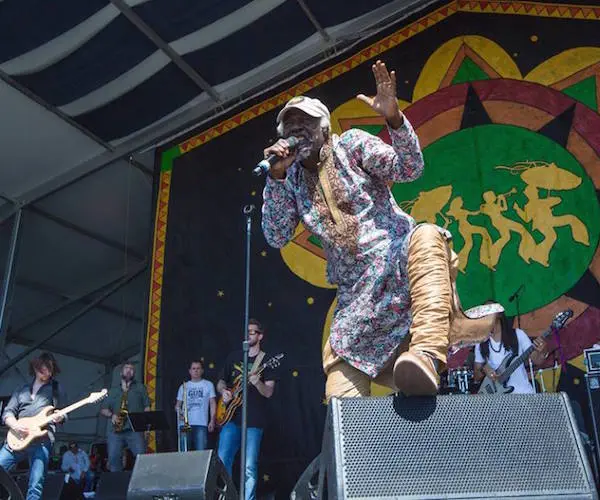 For a taste of the Godhead, consider Alpha Blondy. The 63-year-old Ivory Coast singer and songwriter plays old-school reggae, born in Jamaica of African and African-American R&B roots. Resplendent in a long multi-colored kaftan, white beard, and white baseball cap with a map of Africa on it, he began his set with an invocation, a Hebrew blessing that seemed a nod to Passover, and then a polyglot that mixed French, Arabic, English, and his native Dioula.
The music was killing — Blondy preaching in a strong Marley-inflected tenor, one foot up on a monitor, or staggering with testifying fervor from one end of the stage to the other, female back-up singers trading brassy call-and-response with him, guitar and bass pumping the rhythms, a horn section leavening it all with a bit of ska. He sang about peace, love, and "mah-ree-wanna!," and the massive crowd easily forgave him the 30 or so minutes-late starting time.
You could call the Mardi Gras Indian tradition the purest distillation of New Orleans, but it's also enigmatic and complex. In what other culture do men boast about who is more "pretty"? And then there's the whole Indian thing itself. On the Fest's first Sunday (I attended only this year's first weekend), Creole Wild West staked their claim as the first Mardi Gras Indian tribe, established in 1721, when "101 African-Americans dressed up in turkey feathers" in Congo Square in tribute to Native Americans.
The story goes that Native Americans helped these early African-Americans escape from slavery, guiding them through the Louisiana bayous and backwoods. Or, you could say that Indian garb was also just a handy way to masque.
Be that as it may, today's Mardi Gras Indians are as colorful and charismatic — and integral to the African-American community — as the various "social aid and pleasure clubs" and their attendant brass bands that second-line through the grounds of the festival — and throughout the city at funerals and on Mardi Gras day.
The sewing of giant feathered suits is tied in with the festivals of St. Joseph and Mardi Gras, and it's serious business, as anyone who's seen "Treme" can tell you ("sewed all day and sewed all night!"). These days, some Mardi Gras Indians are de facto rock bands, such as the Wild Magnolias. But I prefer to see tribes in their stripped-down essence — drums, tambourines, cowbell, and chants drawn from the same half-dozen or so songs: "Shoo Fly," "Shallow Water," "Indian Red," "Let's Go Get 'Em," "Golden Crown." The members take turns rapping their stories over the drums, with the crowd supporting them ("hoo-nah-nay!").
And then there are those suits, with their panels of intricate colored beadwork. One apron worn by a member of Creole Wild West depicted what was clearly a brave scalping a government soldier, a pool of red around the supine soldier's head, one blue leg thrust in the air. Big Chief Walter Cook wore an apron that looked like a double-portrait, the elongated male and female figures and the gold beadwork like a Byzantine mosaic. One female Indian ("Queen of the Nation!") wore an apron with a depiction of another Indian woman contained in an oval, arms spread, on whose own apron burned a bright red flame — a woman within a womb, the mother of us all.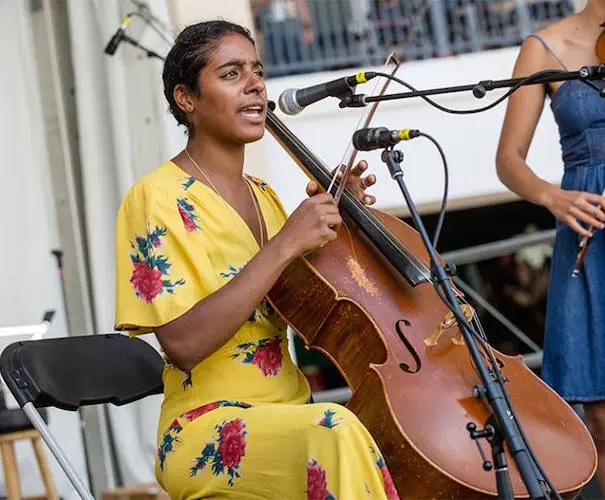 In such ways do the Indians' musically unadorned stage shows cross from performance to sacred ritual — the stage show a kind of facsimile of the ritualized turf wars from which they were born. (A Mardi Gras Indian I once interviewed referred, unabashed, to the tribes as "gangs," and recalled displays in the street that involved shotguns and a swinging axe that struck sparks from the pavement.)
At its best, a Mardi Gras Indian "performance" should be awe-inspiring. As when Big Chief Walter Cook, in full regalia, stands center stage while his Indians chant: "Golden Crown, Golden Crown, my Big Chief wears a Golden Crown!" Cook is a tiny man, but with his feathered arms spread and his headdress towering, he's eight feet tall, and as you behold him you can recall another myth-maker: "I shall be terrible and beautiful as the Morning and the Night!… All shall love me and despair!"
Well, not everything at JazzFest is as subtle and complex as the Creator and Destroyer of Worlds. There are the simpler pleasures. At the Economy Hall tent, which holds several hundred people, you can cool off and listen to trad jazz all day long — and some people do, like Eddie, the king and mascot of the tent, who leads umbrella-carrying second-line dancers through the aisles from opening to closing (roughly 11 a.m. to 7 p.m.).
"Here's a song you don't hear anywhere else — except here, today," said the English-born trumpeter Clive Wilson, before his band, the New Orleans Serenaders, went into the uptempo "Louisian-I-A." Then the band — trumpet, trombone, piano, banjo, bass — played Wilson's arrangement of Jelly Roll Morton's solo piano piece "The Crave," from 1917, "like the Cuban music of that period." Sometimes everything at JazzFest seems drawn from that habanera rhythm — "the Spanish tinge" as Morton called it, which you could also hear in the Afro-Latin clave of Los Po-Boy-Citos and the ubiquitous second-line 3-plus-2 beat, which also underlies New Orleans funk. More appropriation.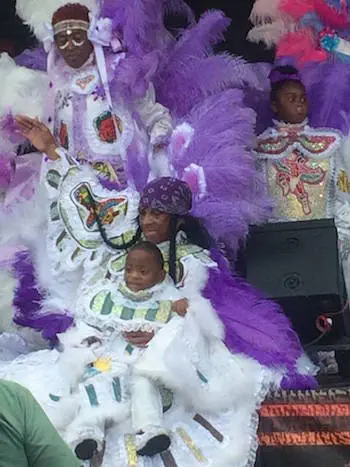 The old ways, the old voices were all around the Fest, in the Creole shouts of accordionist Goldman Thibodeaux or the nasal twang of D.L. Menard, "the Cajun Hank Williams." Each of their bands sported younger-generation players, each sang in French.
In these players you could hear what's called "living history," like the trumpet player Connie Jones, a longtime collaborator of Pete Fountain who, as a teenager, played in Jack Teagarden's band. Jones introduced one song by saying it was "an old tune" and then adding that there "aren't too many new tunes in this field of music." Jones, 82, played soft, beautifully shaped lines throughout his set before announcing – after Louis Jordan's "New Orleans and a Rusty Old Horn" and Louis Armstrong's "Swing That Music" – that this would be his last performance.
One of the standout acts of that first weekend was Leyla McCalla, who mined both Louisiana and Haitian Creole traditions, singing in French and English. McCalla, playing cello and banjo, was joined by guitarist/banjo player Daniel Tremblay and violist Free Fural, who also joined on harmonies. It was chamber folk — lilting, unaffected. There was the habanera again ("Peze Café/Weighing Coffee"), and a calypso, a two-step, a waltz. Standing in a full-length, flared yellow dress with a strawberry pattern and broad half-sleeves, McCalla presided with a serene charisma. (Not even a guest spot by McCalla's Carolina Chocolate Drops star bandmate Rhiannon Giddens could upset the balance.) The calypso was a Creole song her mother had taught her, about a mother trying to care for her sick son, eventually taking him to a voodoo doctor. "It's not a joke," McCalla said, preempting the audience, "it was a real voodoo doctor."
She needn't have explained. Writing about ethnic humor, the critic Margo Jefferson — an African-American who grew up loving Amos 'n Andy — explained that all humor is simply a matter of who is laughing at whom and why. Which is probably why Clive Wilson, a white man, could play "Shine" at JazzFest and get away with it (after all, he didn't sing it). And why I kind of enjoy Rommel's portrait at Fritzel's (he did plot to assassinate Hitler, I told my friend). Culture is a mongrel, and we're all mongrels and exiles, borrowing and learning from each other, when we're not trying to kill each other. Which is why, on a good day, I can put up with the sweet-vomit stink of Bourbon Street, the crowds and heat (and occasional deluge downpour) of JazzFest, the conspicuous consumption and array of trash across the Fair Grounds on a late too-hot Sunday afternoon, or the obstreperous drunk who felt the need to bark a preamble to the Secondhand Street Band set on Royal Street: "I was BORN… by the RIVER!"
---
Jon Garelick is a member of The Boston Globe editorial board. A former arts editor at the Boston Phoenix, he writes frequently about jazz for the Globe, The Arts Fuse, and other publications.