Jazz groups of eight to eleven often make fascinating and unusual music, but they rarely survive, for two simple reasons: they are uneconomical and unwieldy.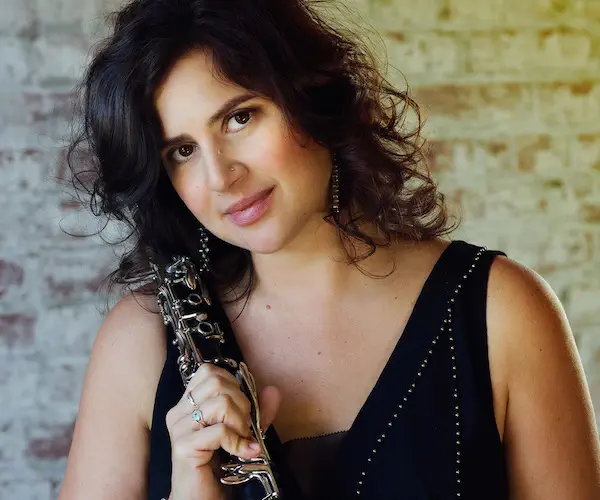 By Steve Elman
The center almost never holds in jazz, but Anat Cohen and the SFJAZZ Collective are making some mighty efforts to secure that elusive middle ground.
The nooks between the extremes of "combo" and "big band" aren't often explored. The few middle-sized jazz ensembles that have existed for more than a minute usually have sprung from a leader's concept, an inspiration to explore special combinations of instruments or to tap sonorities not possible in smaller contexts. Jazz groups of eight to eleven often make fascinating and unusual music, but they rarely survive, for two simple reasons: they are uneconomical and unwieldy. To make the most of an in-between band, a leader has to find players good enough to handle complicated written parts and to make effective statements as soloists, and the leader has to pay them what they're worth. But finding gigs that return a profit on that investment, and putting together enough of those dates to keep the chosen players working consistently, are headaches sufficient to vex a manager on a full-time basis.
So a round of applause, please, for clarinetist Anat Cohen. She and her musical partner Oded Lev-Ari have just debuted a ten-piece band in New York, and on first hearing, they've set out in some promising new directions. And a resounding cheer once again for the SFJAZZ Collective, an octet defying the odds and working on their twelfth year as a going concern, who just played a triumphant gig to a full house at Boston's Berklee Performance Center, presented by the Celebrity Series of Boston.
Anyone who's seen the SFJAZZ Collective doesn't need to be told how good they are. From the stage, saxophonist David Sanchez described playing with the band as like joining the X-Men, and the comparison is apt; each one of them is a superhero in his own right, and their combined firepower is monstrous. Their 2013 date here was as solid and satisfying as a gig can be, and the April 24 performance at Berklee was remarkable, not only for upholding that very high standard, but by doing it with very different material.
Because fewer Fuse readers may know about Anat Cohen, I'll start with her new Tentet. Cohen and music director / arranger Lev-Ari have put together a combination of ingredients that is almost unprecedented in jazz. They built the new band using familiar twin pillars of trumpet and trombone, erecting them on the time-honored foundation of piano, bass, and drums. But the Cohen Tentet augments this dependable architecture with a Frank Gehry-like collection of curves and swoops: clarinet, baritone sax doubling bass clarinet, cello, vibraphone, and electric guitar, plus some miscellaneous percussion and accordion as special circumstances require. Lev-Ari, who spent some of his student years at the New England Conservatory working with Bob Brookmeyer, must be pinching himself with delight to have so much tone color to work with.
So far, this group is primarily a showcase for Cohen's talent. I first saw her in 2012 at a Berklee concert where she played Lev-Ari's arrangements of some Iberian-American pieces and provided the gliss introduction to Gershwin's "Rhapsody in Blue." I knew from her first note that night that she had something special, and her gig at the Jazz Standard in Manhattan on April 13 showed how richly that promise has been realized. The clarinet, with its tricky embouchure and distinctive timbres in different registers, is one of the most vocal instruments available to a player, and Cohen has turned it into her own personal voice. She is bright and sure at the very top of the range, where reeds often squeak, and dark and sensuous in the chalumeau (bottom) register, where you want to hear earth and wood. In between, she is flawless. She can even turn on a "dirty" New Orleans sound whenever she wants to. In short, she's one of the most compleat technicians ever to play jazz clarinet, and she is a delight to hear.
It's no slight to the other nine members of the Tentet to say that Cohen is the centerpiece and the star. Her soulful interpretation of Benny Goodman's theme song, Gordon Jenkins's "Goodbye," has been part of her repertoire for a number of years; when she did it with this group, there was never a hint that it was anyone's tune but her own. Her spots on the other tunes always started confidently, and she got better as the set unfolded. In the last of the original tunes, she built a thrilling solo, growing in intensity and power second by second.
Her new band is not quite the army of seasoned generals that the SFJAZZ Collective is, but it represents a cross-section of stellar New York-based players in their twenties, thirties, and forties, none of whom I'd had the chance to hear live before. Especially impressive in the first set were Australian trumpeter Nadje Noordhuis, who's contributed to Maria Schneider's orchestra; Brazilian pianist Vitor Gonçalves, who also played accordion; vibist James Shipp, who brings along an arsenal of other percussion instruments; and guitarist Sheryl Bailey, a Berklee alumna and veteran leader in her own right. Noordhuis has a beautiful sound on flugelhorn, and her one solo on that instrument was as warm as Clark Terry's work in his mellowest mood. Gonçalves's accordion was an ideal foundation for a choro by Severino Araujo called "Espinha da Bacalhau," which he also recorded with Cohen on her recent album,Luminosa; they ripped through the unison arpeggios even more brilliantly than they do on the CD. Shipp showed off some notable harmonic intelligence in his polytonal vibes solo on Mary Lou Williams's "Roll 'Em." And Bailey is a significant timbral asset to the band, contributing everything from Claptonish distortion to a classic jazz sound reminiscent of Herb Ellis.
No doubt the other players got their chances to show off in subsequent sets and other nights of the gig. They are: trombonist Nick Finzer; Owen Broder, who played baritone sax and bass clarinet; Albanian composer-cellist Rubin Kodheli; Israeli bassist Tal Mashiach; and a very versatile drummer, Anthony Pinciotti.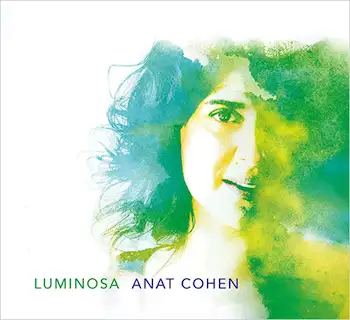 It will take time for these disparate elements to forge a common identity. It will also be interesting to see if Bar-Levi and Cohen challenge themselves to make the most of this unusual instrumentation, to mix and match the players, to test what they can really do and to push them to stand up to Cohen's authority as a player. I wish them many gigs to come, and a Boston date soon.
If the Cohen Tentet can survive as a group, they will have to work very hard to reach the pinnacle of performance that the SFJAZZ Collective already inhabits; the older band has fully realized the promise inherent in the word "supergroup," while freely accommodating the personalities of eight very diverse performers. The Collective's instrumentation is more straightforward than that of the Tentet – four lead instruments, vibes, piano, bass and drums – and its personality may be seen as less adventurous, an extension of the great Blue Note sessions of the sixties and seventies. But the band does so much so well, and performs so brilliantly within its chosen milieu, that it hardly seems possible for it to improve on itself. If you have not heard the Collective live, all I can say is: do not miss them when they return to Boston, as they surely will.
In a nutshell, here's how (and probably why) the band works so beautifully: each year, eight accomplished jazz artists suspend their own projects for a limited tour sponsored by the San Francisco-based nonprofit SFJAZZ. Over the course of time, the personnel has shifted gradually; only one of the original members – reedman Miguel Zenón – remains. But the instrumentation has remained stable; if they wanted to, this year's band could play any of the 150-plus pieces created by the previous editions.
Each year's repertoire consists of just sixteen new pieces of music; each player contributes one original tune and one new arrangement of a work by a particular composer. Past seasons have been devoted to examining jazz masters – John Coltrane, Ornette Coleman, Wayne Shorter, McCoy Tyner, Horace Silver, Chick Corea, and Joe Henderson. In 2011 and 2012, the group opened up to more contemporary material, playing Stevie Wonder's songs, and this year it branched out further, playing a series of tunes associated with Michael Jackson, only three of which were actually written by Jackson himself.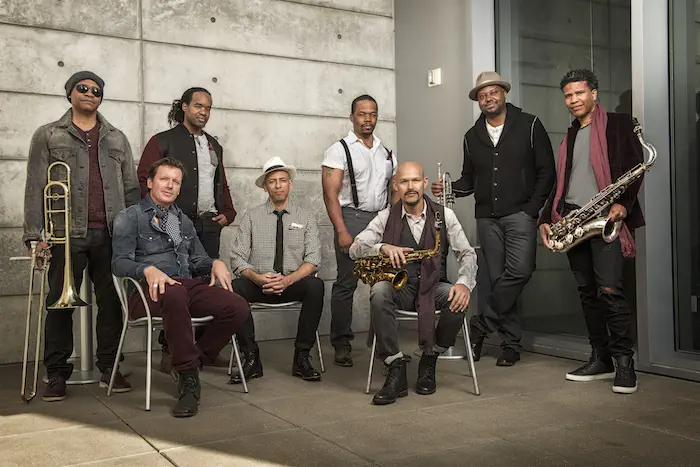 I confess that I was apprehensive when I heard about this year's concept. Had they sold out? Would the inventiveness and creativity they'd applied to Wayne Shorter's music even make sense in the reinvention of pop hits? Well, shame on me for my doubts. Despite a couple of arrangements that are relatively close to the originals — "Thriller" and "Human Nature" are immediately recognizable — in this edition, the members of the band have engaged honestly with popular music that they seem to respect and enjoy. They're not compromising their own creativity or talking down to the audience, and they have a very good time playing this repertoire.
Each tune features two players at most in the solo roles. By limiting each person's feature spots, this format encourages each one to give extra effort when the spotlight shines on him or her (usually him; Renee Rosnes is the only woman who has been a member). In the Berklee show, bassist Matt Penman had relatively few turns out front, but he contributed mightily from behind. Robin Eubanks led off the solo spots with a trombone-and-electronics tour de force on "The Love You Save," a tune from the Jackson Five days. Drummer Obed Calvaire was remarkable, playing with extraordinary taste on the quiet tunes and going full force on his own arrangement of "Thriller." Edward Simon was more often supporting than soloing, switching between Berklee's big Steinway and electric keyboards as the arrangements dictated, but he got a fine spotlight as a composer; his tune "Beauty of Space" is one of this edition's best originals. David Sanchez not only played fierce tenor but contributed some quite respectable conga on "Don't Stop 'Til You Get Enough." Berklee's own Sean Jones was in fine form throughout, but especially playing muted trumpet on "Human Nature," evoking Miles Davis's spirit without imitating him. Miguel Zenón has impressed me every time I've seen him, as a leader and with this band; he sparkled on alto during "Blame It on the Boogie," interpolating a sly quote from "Moody's Mood for Love," and showed his compositional skill with "Fall Prelude," a far more profound tune than its title might imply.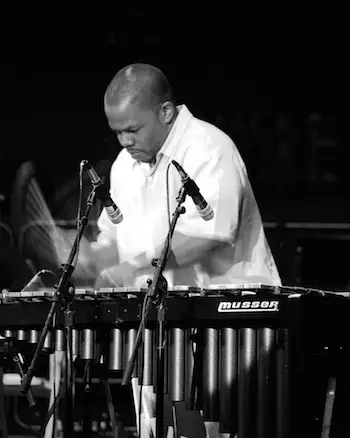 And then there's Warren Wolf. The Collective has had only three vibraphonists – grand master Bobby Hutcherson from the beginning through early 2007; Stefon Harris from summer 2007 through the end of the 2013 tour; and now Wolf. Harris was brilliant and assured when I saw him in 2013, but Wolf is more than his successor; he takes the tradition of two-mallet soloing to new places while keeping his feet firmly laced in Hutcherson's big shoes. As for his writing, an original dedicated to the family of Freddie Gray ("Gray Skies in Baltimore") was profound, and his arrangement of "Human Nature" featured one small harmonic shift that expanded the emotional range of the tune enormously.
The CD that accompanies the current Collective tour (The Music of Michael Jackson and Original Compositions) was recorded early in the run, and the band plays the repertoire expertly throughout. Still, the concert performance at Berklee, which was near the end of this year's tour, was looser and more searching.
Two sumptuous gigs in just eleven days. I can't pay these ensembles any better compliments than to say that I wish them much success and that I'm already hungry to hear them again.
---
Steve Elman's four decades (and counting) in New England public radio have included ten years as a jazz host in the 1970s, five years as a classical host in the 1980s, a short stint as senior producer of an arts magazine, thirteen years as assistant general manager of WBUR, and currently, on-call status as fill-in classical host on 99.5 WCRB since 2011. He was jazz and popular music editor of The Schwann Record and Tape Guides from 1973 to 1978 and wrote free-lance music and travel pieces for The Boston Globe and The Boston Phoenix from 1988 through 1991.