The members of the Collective seem to have an understanding that their job is to make music that reflects a group identity as well as their individual personalities.
By Steve Elman (photos by Kristophe Diaz)
Something different is going on in San Francisco. It may be a model for other cities, and it may just be something that could only happen there. Whatever the case, the city's jazz ambassadors are on tour again, and anyone interested in good music should take notice if they pass your way in March. On March 8, the SF Jazz Collective kicked off their tour at Boston's Berklee Performance Center and delivered a package of richly satisfying performances that showed how much can happen when you aim high.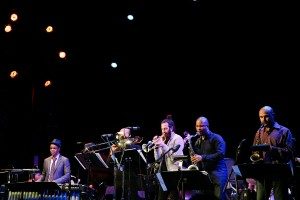 Maybe you don't know who they are and what they do. If so, it'll take a few paragraphs to fill in the backstory.
The San Francisco Jazz Organization, known universally by its informal moniker SF Jazz, is a non-profit that's been sponsoring concerts and education programs in the City by the Bay since 1983. In 2013, it doesn't look or behave like a "local jazz" organization—and yet, that's how it began.
You have to admire its director, Randall Kline. He's a native of Swampscott, Massachusetts who took his ability and ideas to San Francisco as a music student, became a concert promoter in the hope of making a little extra cash, and over the past 30 years, in partnership with publicity veteran Clinton Gilbert, nurtured SF Jazz and pushed it to the forefront of the music scene internationally. The organization sponsors an annual jazz festival for the city, of course. It offers clinics and workshops and education programs. So far, much like other "city jazz" organizations—not unlike JazzBoston, for example.
But Bostonians can only drool at what else SF Jazz has accomplished. In January, the organization opened its new physical home—a built-from-the-ground-up concert center and executive office building that cost $64,000,000. SF Jazz claims that it's the country's first free-standing structure created specifically for jazz.
In a New York Times piece celebrating its opening, Nate Chinen compared the new building to Rose Hall in New York, the home of Jazz at Lincoln Center (JALC). But, as Chinen pointed out, SF Jazz has different goals from those of JALC; for one thing, it's not a vehicle for a particular esthetic. Let me add that it also seems to embody a generosity of spirit reflecting the vibe of its home base and an openness to a world of musical and educational possibilities. In that way, SF Jazz resembles John Cumming's Serious in London, another remarkably successful organization of international stature (minus the grand building), the sponsor of the London Jazz Festival every fall and UK concerts throughout the year.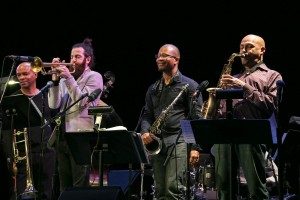 But, to the point, there's one thing SF Jazz does that no other organization seems to have thought of: it sponsors and commissions an all-star band of the brightest talents in jazz, who tour once a year as ambassadors for the non-profit and proponents of their own music—The SF Jazz Collective.
The processes of this band have remained the same since 2004: the personnel are chosen on the strength of their abilities as composers as well as improvisers; the forces are balanced between lead and support instruments (four of each) to maximize the sonic and creative possibilities; in a typical year, each member is expected to contribute one original composition and one arrangement of a composition by a major figure in music; the band undertakes a limited tour to perform and refine these pieces; the tour is recorded, and the best performances are issued each year on CD.
So far, they've spotlighted the work of Ornette Coleman (2004), John Coltrane (2005), Herbie Hancock (2006), Thelonious Monk (2007), Wayne Shorter (2008), McCoy Tyner (2009), Horace Silver (2010), and Stevie Wonder (2011). A fall 2012 tour was planned, but it turned into a spring 2013 tour, concentrating on the compositions of Chick Corea.
The current edition of the group is detailed below. These players, along with former members—alumni include Joshua Redman, Renee Rosnes, Dave Douglas, Gil Goldstein, Joe Lovano, Nicholas Payton, and Bobby Hutcherson—testify to the strength of the group's artistic direction and the variety of styles that it embraces.
It seems so simple, so elegant an idea. By making the group a composers' collective and limiting the repertoire, it puts special pressure on each member to make his or her contributions distinctive and deep. By undertaking its own recordings, it maintains artistic control of the permanent record of its achievements. By concentrating on a single composer to reinterpret, it gives audiences familiar touchstones against which to judge its original contributions.
As I've listened to their recordings (truth in labeling: I have not even come close to hearing them all) and in the wake of this live performance, I've noted three more distinctions, two intentional, one maybe not so.
First, probably because Bobby Hutcherson was a charter member of the band, they use vibes as well as piano—and eschew guitar—in the rhythm section. This gives the composers challenges and possibilities that the conventional band doesn't enjoy, and it recalls a great jazz tradition—the adventurous Blue Note recordings of the 1960s and 1970s in which Hutcherson was essential.
Second, they've decided to restrict solo space so that only two or three of the players step out front in each tune. This gives each performance a reasonable time limit, affords each a distinctive arc of development, and avoids unbalancing the composed elements with a long string of solos.
Lastly, defying the expectations of the seasoned jazz listener who's heard many "armies of generals," the composers seem to have come to an explicit or implicit understanding that their job is to make music that reflects a group identity as well as their individual personalities. Each of the eight writers employs techniques that give the repertoire an identifiable collective feel—unusual time signatures, often used as partial elements in an arrangement rather than as constants; Latin rhythms (no doubt, because the band has always included some superlative Latino players); and ostinatos, repeated sequences of notes that establish static harmony for modal flights of fancy and build intensity, especially under the drum solos.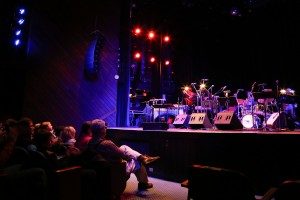 The result, on display at Berklee in the very first concert of the current tour, is a remarkably focused and cohesive experience. The Boston crowd only heard half of the current repertoire—the other tunes will be on display in a four-night stand at the Jazz Standard in New York, beginning March 14, a two-night run at the Smith Center for the Performing Arts in Las Vegas (March 22 and 23), and another four concerts that conclude the tour in the auditorium-centerpiece of SF Jazz's new home (March 28–31). Along the way, they'll do one-nighters in Minneapolis, Phoenix, and two Colorado venues. (Here's the full tour schedule).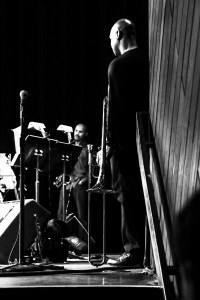 The tunes at Berklee included some must-play Corea compositions ("Spain," "La Fiesta," and "Crystal Silence") plus two that are not so well-known ("Space Circus" and "Matrix"). There were also three originals (see below for the set list).
In lieu of a blow-by-blow of the entire performance, let me give you a detailed rundown of one tune. Corea's "Crystal Silence" is so strongly identified with the duet recordings he made with vibist Gary Burton—and the Boston venue, after all, was home turf for Burton for decades—that one might have expected the vibes to be downplayed as a way of giving the tune a fresh look. But tenor player David Sánchez worked against expectations in his arrangement. He began by giving pianist Edward Simón and vibist Stefon Harris a duet spot, and they immediately established their own paths through this very familiar maze. Simón is (approximately speaking) out of Herbie Hancock, and Harris carries on the great two-mallet tradition of Milt Jackson and Bobby Hutcherson. These are approaches that offer tartness and spine, as opposed to the Corea-Burton combination, which emphasizes the misty and ethereal qualities of the tune.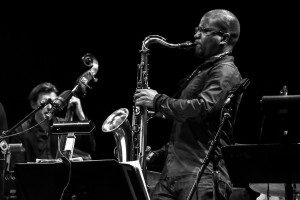 Out of the duet, Sánchez called for Harris to solo as rhythm and horn figures came in under him. This was one of the loveliest moments of the night, and, again it was nothing like what Burton would have done. Sánchez then set up a modal foundation (very "Spanish" in feel, with Calvaire's mallets maybe a touch too loud), over which he fired off a strong, meaty improv. The theme was reestablished, and Simón took things out with an elegant, solo piano coda.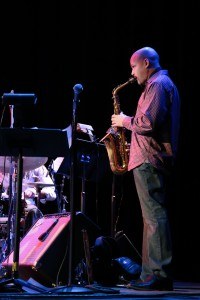 Other highlights, in no particular order were some nice written ensembles in the center of Simón's arrangement of "Spain"; trumpeter Avishai Cohen's quirky half-valving over Simón in the coda to his tune "Home Is"; the title and appropriate jollity of bassist Mark Penman's original "Vegan Las Vegas"; alto saxophonist Miguel Zenón's multirhythmic restructuring of "La Fiesta" and his fluid negotiation of those very tricky rhythms in his own solo; Robin Eubanks's misterioso use of live electronics during his trombone solo on "Space Circus," over what I think was a 17/8 foundation; adept drumming throughout from Obed Calvaire that belied the fact that this was his first live performance with the band; and Stefon Harris's genial spot as the band's first MC, showing off a grace and style that warmed up the BPC right away.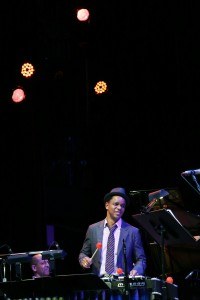 Although it may be unfair to single out any one of these musicians, the most valuable players for me are Simón and Harris. They are the harmonic heart of the band, and their generosity to their colleagues as supporting musicians lifts all the boats. As soloists, they are both assured and elegant.
As I've noted before in posts for the Fuse, I have some problems with Chick Corea as a composer, so I approached the evening's program with a little bit of trepidation. Don't misunderstand; Corea has created a wealth of very substantial music, especially at the beginning of his career (for example, "Tones for Joan's Bones," one of his first sessions as a leader). But his forays into fusion and his eagerness to write prettily have made a lot of his subsequent music less satisfying to me. I had hoped that the SF Jazz Collective would reharmonize "Spain" and "La Fiesta" to give them a little more substance, and unfortunately, that didn't happen. But the choice of "Matrix" as one of the tunes they're exploring during the tour was admirable, and Cohen's arrangement of it was every bit as good as I'd hoped.
You have the rest of March to see them live. If they're not coming your way in 2013, wait for the CD . . . or make a mental note to watch for next year's tour.
SF Jazz Collective (2013 edition):
Avishai Cohen, trumpet
Robin Eubanks, trombone
Miguel Zenón, alto saxophone
David Sánchez, tenor saxophone
Stefon Harris, vibraphone
Edward (Eduardo) Simón, piano
Matt Penman, bass
Obed Calvaire, drums
Set list at Berklee Performance Center, March 8, 2013, 7:47–9:22 p.m.:
"Spain" (Chick Corea, arranged by Simón)
"Space Circus" (Corea, arranged by Eubanks)
"Let's Take a Trip to the Sky" (Harris)
"Home Is" (Cohen)
"Vegan Las Vegas" (Penman)
"Crystal Silence" (Corea, arranged by Sánchez)
"La Fiesta" (Corea, arranged by Zenón)
[encore] "Matrix" (Corea, arranged by Cohen)
The group's recordings are available from many sources, but I'd point you first to SF Jazz's own site, which offers long-form versions of some releases not available anywhere else (I especially recommend the 3-CD set from 2010, featuring music by Horace Silver), their first DVD, and attractive prices on other releases. Regrettably, no one source I've been able to find allows you to conveniently review all the titles on all the CDs.
In addition to the group releases, each of the current members of the collective, with the exception of Obed Calvaire, has a substantial discography as a leader.