While Freda Payne still sings "Band of Gold" on soul package revues, she has recently rekindled the jazz side of her career with the album Come Back to Me Love.
By Noah Schaffer
From her impassioned vocals on "Band of Gold," listeners might have thought that Freda Payne had been recruited right out of the nearest gospel choir.
In actuality, Payne was an established jazz vocalist by the time she hit the charts in 1970, having been a label mate of John Coltrane on Impulse!. She had also recorded with Phil Woods and Hank Jones and been a vocalist for the Duke Ellington and Quincy Jones big bands.
While she still sings "Band of Gold" on soul package revues, Payne has recently rekindled the jazz side of her career thanks to a lush Bill Cunliffe-arranged 2014 LP Come Back to Me Love, a touring tribute to Ella Fitzgerald, and gigs at jazz venues like Scullers, where she appears for two shows on Friday night. (It'll be one of the last in the original Scullers space, as the venue prepares to move one flight downstairs to a larger and obstruction-free room in the DoubleTree Suites Hotel in Brighton, MA early this summer.)
Recently Payne spoke to The Arts Fuse from her Los Angeles home about working both sides of the jazz/soul spectrum and about how her mother kept her off of Motown.
---
Arts Fuse: Anyone who thinks that your current release and the Ella tour makes you an R&B star trying their hand at jazz or standards is very wrong.
Freda Payne: Very, very wrong! My first recording was done in 1963 in New York. I was signed to ABC Paramount and they put out a single called Slightly Out of Tune, which owed a lot to the old hit "Desafinado," which Stan Getz had a hit with. Then I was on Impulse!, which was a legendary label right up there with Blue Note and Verve. After that I had some albums that were more middle-of-the-road/pop. I didn't get into R&B until I signed with Invictus in 1969.
AF: What made you want to venture into soul and R&B?
Payne: It was a career move strategy. I wanted to get a hit. I grew up in Detroit and saw my peers that started at the same time — people on Motown like Diana Ross and Martha Reeves and Mary Wells. I saw them having all these big hits and I wanted to get a hit! I was working supper clubs. I never worked the chitlin' circuit. I was mostly working white high-class supper clubs in places like the Catskills, Miami, and Puerto Rico, although I did work some black clubs like the Club Harlem in Atlantic City where Sammy Davis Jr. and Sam Cooke would perform. I did pretty good — I worked the Playboy Club circuit as well.
AF: Invictus, which released "Band of Gold" and your subsequent hits like "Bring The Boys Home," was owned and led by the Motown songwriting team Holland-Dozier-Holland. Did you know them when they were at Motown?
Payne: I knew them before there was a Motown! I was in high school with Brian Holland at Central High. I went to middle school with Lamont Dozier and I knew Eddie Holland before that. I was Berry Gordy's first female protégé when I was a teenager. He wrote three songs for me and recorded me in Detroit, pre-Motown, around 1958. I understand they're just in the archive. They were never released, because my mother wouldn't let me sign a contract. She didn't agree with his business terms. He never gave in and she never gave in! I first met Eddie (Holland) when Berry brought him over to our house. But then I went to New York when I was 18, so when I signed with them at 27 they had become big stars and famous songwriters.
AF: "Band of Gold" was your second release for Invictus. Did you know when you recorded it that it would be a huge smash?
Payne: No. In fact, at first I thought the song was a bit immature. It was kind of a teeny bopper song to me. I was in my twenties and I thought "this song is for a 15-year-old." They said don't worry, just sing it and I did!
AF: A lot of soul fans think the records that came out on Invictus and its sister label Hot Wax were just as good as anything that came out on Motown. Why didn't the label last as long?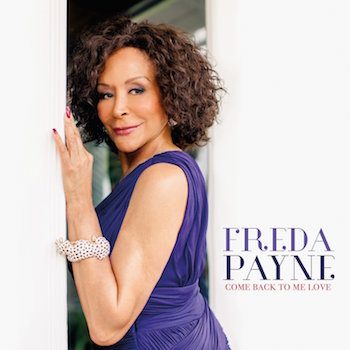 Payne: Well, first of all Motown had a much bigger structure, a much larger roster, and they had more employees. Berry employed some very good, talented, and skillful promo men; a a lot of it had to with Berry and his ability to lead and be a president and chairman. He was very good at that. Of course, he made huge mistakes as well — like he never liked [Marvin Gaye's] "What's Going On" and look what happened with that!
AF: How did you end up back in the jazz world?
Payne: When Ella passed in June 1996 I started focusing on doing more jazz, going back to my roots, and doing tributes to her in concert. Then I took on the task of portraying her in the theater. I performed in Ella First Lady of Song by Lee Sommers ,which was directed by Maurice Hines, first in New Jersey in 2004 and then we did it again in 2014 at MetroStage, where it earned a rave review in the Washington Post. I worked the jazz club owned by [Detroit jazz patron] Gretchen Valade. She wanted me to do an album that would include some of her songs. Her label Mack Avenue recorded me at Capital Studios with Bill Cunliffe arranging a big band and strings.
AF: From a vocalist's perspective do you approach a jazz tune differently from a soul track?
Payne: Singing R&B is like being an actress. When I sing "Band of Gold" my voice becomes younger and more pop. I acclimate myself to the genre of what I'm doing — I work within those confines. When I sing jazz I go into a whole other place. It's like being with a lover. There's somebody that you really truly love, and that's different than being with someone you don't like, that you're just tolerating. Wow — I've never put it like that before. I'm in trouble now! … At Scullers I'll be doing mostly jazz, since it is a jazz club, but I know some people come to hear me sing "Band of Gold" and when I do audiences enjoy it.
AF: You've kept in great shape both vocally and physically — what's your secret?
Payne: I've done yoga for 40 years. I started with Bikram Choudhury, now I go to Equinox and take yoga there. Vocally, I always do warm-ups in the dressing room before the show to keep my pipes warm.
---
Over the past 15 years Noah Schaffer has written about otherwise unheralded musicians from the worlds of gospel, jazz, blues, Latin, African, reggae, Middle Eastern music, klezmer, polka and far beyond. He has won over ten awards from the New England Newspaper and Press Association.