As the age of Covid-19 finally wanes, Arts Fuse critics supply a guide to film, dance, visual art, theater, author readings, and music. Please check with venues when uncertain whether the event is available by streaming or is in person. More offerings will be added as they come in.
Film
What We Leave Behind
May 9  at 7 p.m.
Brattle Theatre, Cambridge
Docyard and CineFest Latino present the winner of the 2022 SXSW Fandor New Voices Award.
"At the age of 89, Julián takes one last bus ride to El Paso, Texas, to visit his daughters and their children — a lengthy trip he has made without fail every month for decades — he's been forbidden from taking the bus alone. After returning to rural Mexico, he quietly and proudly starts building a house in the empty lot next to his home." Over seven years, director Iliana Sosa filmed her grandfather's work: the result was this "patient, present-tense observational film, where her conversations with Julián bring up previously unspoken memories."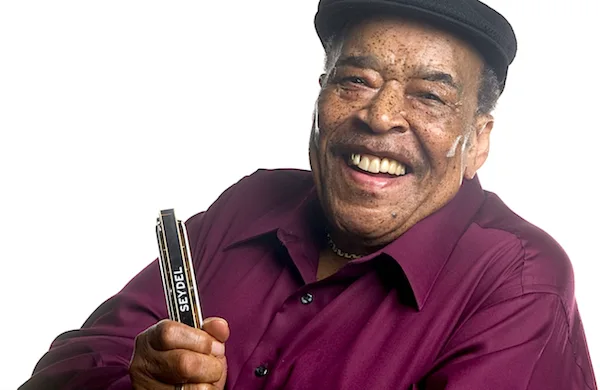 Independent Film Festival Boston
through May 4
Somerville Theatre, Brattle Theatre, City Space
The area's best Independent film festival, made up of savvy selections from global and local cinema, will present screenings in three theaters. This year the festival is back live and in person, though vaccination cards are required. Screenings can sell out — so order tix in advance.
There are four days left of terrific independent films to see at IFFB. These include local director Lucia Small's Girl Talk: the compelling and timely story of five girls on a top-ranked Massachusetts high school debate team as they strive to become the best debaters in the United States. (Today at the Somerville Theatre at 1 p.m.)
Dos Estaciones is a slow-burning drama featuring the winner of the Best Actress Award at Sundance.  "At the helm of the plant reigns Maria Garcia, heir to the family business and beacon to the townspeople she employs." (Today at 1 p.m. at the Brattle Theatre)
Local director (and Boston Society of Film Critics citation winner) Bester Cram's film Bonnie Blue: James Cotton's Life in the Blues is the story of harmonica powerhouse James Cotton, whose music shaped blues and rock. (Monday at the Somerville Theatre at 7:30 p.m.)
The Janes at Boston's Cityspace: Using code names, fronts, and safe houses to protect themselves and their work, seven women in the '60's built an underground service for women seeking safe, affordable, illegal abortions. (Tuesday at 7 p.m.)
The Fest closes with Marcel the Shell With Shoes On:  Marcel (voiced by Jenny Slate) is an adorable one-inch-tall shell who ekes out a colorful existence with his grandmother Connie (voiced by Isabella Rossellini) and their pet lint, Alan. (Wednesday at the Coolidge Corner Theatre at 8 p.m.) Full schedule and Tickets
Belmont World Film 2022
through May 16
Virtually and at the Majestic 7 Cinema in Watertown and West Newton Cinemas.
The BWF Spring Screenings will take place mostly on Sundays, with the discussions to take place on Mondays via Zoom. The festival works with local and international organizations to heighten awareness by encouraging people of all ages to think about making a difference in the world.
The Man in the Basement
Online though May 2
Q&A on Zoom on May 2, at 7 p.m.
Bérénice Bejo, Jérémie Renier, and François Cluzet star in a domestic thriller. When a Parisian couple decides to sell an unsanitary basement in their building, a very ordinary man shows up to buy it. When the man moves into the cellar and makes it his permanent residence, the couple tries desperately to cancel the sale to no avail.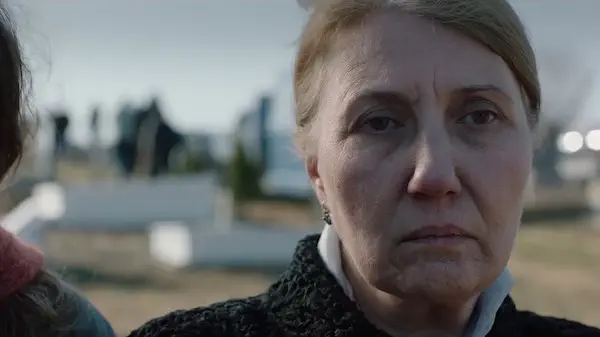 Vera Dreams of the Sea
(online only) May 3 through 9
"Vera is a middle-aged sign language interpreter, as well as a wife to a renowned judge, a supportive mother, and a caring grandmother. When her husband unexpectedly commits suicide, an unwelcome parade of relatives come calling, claiming to have ownership of the family's village home and pressuring her to give it up in increasingly menacing ways. An intimate yet universal portrait of the power imbalances in a culture in which patrilineal inheritance is the norm."
Free online Zoom discussion with director Kaltrina Krasniqi, moderated by BU International Relations Professor Veska Garcevic on May 9, at 7 p.m.
This Much I Know to Be True
May 11 at 8 p.m.
Brattle Theatre and the Kendall Square Cinema
This concert film documents Nick Cave and Warren Ellis's distinctive creative relationship as they prepare live performances of the songs from their last two studio albums, Ghosteen (Nick Cave & the Bad Seeds) and Carnage. This look at their  interaction, filmed in spring 2021 ahead of their UK tour, features the pair working with a number of musicians, including a string quartet. The film includes a special appearance by close friend and long-term collaborator Marianne Faithfull.
Pick of the Week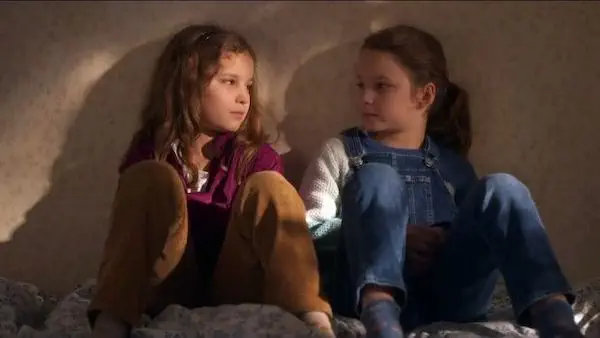 Petite Maman
Kendall Square, Brattle Theater, AMC Boston Common
A beautiful film by Céline Sciamma (Portrait of a Lady on Fire). Eight-year-old Nelly (Joséphine Sanz) has just bid adieu to her beloved grandmother for the last time. Nelly and her mom (Nina Meurisse) clear out grand-mère's room at the nursing facility before trekking to mom's childhood home to do the same. Nelly is quickly bored and goes off to play in the woods, where she meets another eight-year-old, Marion (Gabrielle Sanz). They hit it off immediately: that is understandable because Marion and Nelly look shockingly alike, and Marion's house looks exactly like grand-mère's house, and Marion's own mom looks exactly like Nelly's grand-mère in her 50s. By the strangest coincidence, "Marion" is Nelly's mother's name, too, and "Nelly" is young Marion's own grand-mère's name. This is a marvelously delicate fable  — beautifully shot — that takes a deep dive into a child's imagination.
— Tim Jackson
---
Popular Music
Destroyer with Rosali
May 8 (doors at 7, show at 8)
The Sinclair, Cambridge, MA
Destroyer's previous album, Have We Met, had the somewhat unfortunate street date of January 31, 2020. Luckily, Dan Bejar and company managed to fit in some live dates — including one at The Sinclair — between late February and mid March. Footage of this trek was released last November as a documentary.
Destroyer's 13th album, Labyrinthitis, arrived in March. The 10-track collection's mixture of groovy, synth-based textures and Bejar's dependably inscrutable lyrics (e.g., "You have to look at it from all angles says the Cubist judge from Cubist jail") and sophisticated instrumentation was met with the high praise that his work typically receives from critics.
The Sinclair will once again host the band when it arrives there on May 8. (Click here for my 2018 Arts Fuse interview with Bejar.)
Jonah Tolchin
May 11 (doors at 8, show at 8:30)
Atwood's Tavern, Cambridge, MA
The fourth studio album by Jonah Tolchin, Lava Lamp, is set to arrive on July 15 via Yep Roc Records .
Previous efforts, also released by Yep Roc, were rich in elements of blues, folk, and country and included covers of Skip James and Little Feat. Lava Lamp was influenced by Tolchin's rediscovery of bands whom he embraced as a youngster, including The Pixies, The Strokes, and Gorillaz. However, it also includes his version of a Tom Petty song, which indicates that he hasn't completely left behind the more Americana side of his sound.
Moreover, 2016's Clover Lane and 2019's Fires for the Cold both featured numerous players and guest appearances by members of Los Lobos and Deer Tick on the former and Rickie Lee Jones (click for my 2021 Arts Fuse interview) and Jackson Browne on the latter.
For Lava Lamp, however, Tolchin says of himself, bassist/producer Nic Coolidge, and drummer Kevin Clifford, "The three of us are the only musicians on the entire album."
The Princeton, NJ-based musician is wasting no time in building momentum in advance of the record's unveiling. He released the lead single, "Never Giving Up", on May 3 and has 10 live appearances scheduled from May 10 until the day the record drops.
After finishing up the first of these at Woodbury [CT] Brewing Company, Tolchin will set his GPS for Atwood's Tavern in Cambridge.
Dry Cleaning with Fake Fruit
May 15 (doors at 7, show at 8)
Crystal Ballroom, Somerville, MA
In his 2002 AllMusic review of Interpol's Turn On the Bright Lights, Andy Kellman wrote, "One might go into a review like this one wondering how many words will pass before Joy Division is brought up."
20 years later, one could justifiably begin a critical assessment of Dry Cleaning's New Long Leg by writing, "One might go into a review like this one wondering how many words will pass before the phrase 'post-punk' appears."
But as Gabbie Nirenburg professes in her No Ripcord review, "It's not wrong to compare Dry Cleaning to post-punk bands. It's unavoidable."
A perusal of this and other appraisals of the South London quartet's debut LP (following two EPs) will reveal the names of post-punk artists of numerous varieties. Florence Shaw's more-spoken-than-sung delivery has drawn comparisons to Laurie Anderson and Kim Gordon, while the band names that get dropped include Gordon's Sonic Youth, The Fall, Magazine, The Raincoats, and Gang of Four.
So there is agreement on the unavoidability of mentioning that specific subgenre. However, there is at least one instance of a difference of opinion that brings to mind the "it's a sandal/it's a shoe" spat in Monty Python's Life of Brian.
According to aforementioned Nirenburg, "Hell, you could pluck the bassline from 'Leafy' and drop it right into Marquee Moon," referring to the revered 1977 album by the NYC band Television. However, Heather Phares of AllMusic writes of "Lewis Maynard's nagging, Wire-ish bassline on 'Leafy'," referring to the highly influential London group of the late '70s and various times onward.
If I might be so bold, I would suggest that "Scratchcard Lanyard" – bassline and all – is perking up the ears of Joy Division's surviving members.
If you like Dry Cleaning's influences and think that they offer an interesting and fresh take on their sound, then you will like them. If not, then you probably won't be at their Sunday night show in Davis Square.
— Blake Maddux
---
Theater
COVID PROTOCOLS: Check with specific theaters; requirements often include proof of vaccination or a negative Covid-19 rapid test. Also, companies are requiring masks at indoor performances.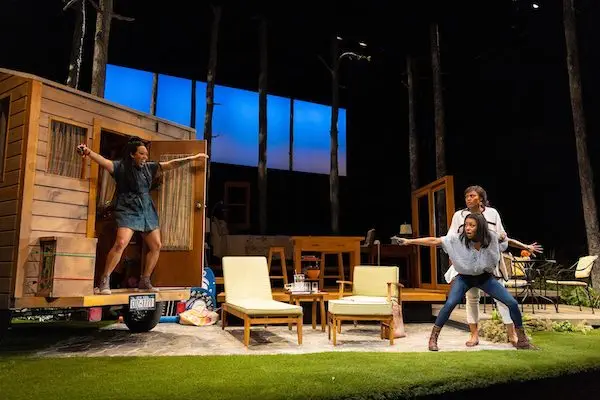 Our Daughters, Like Pillars by Kirsten Greenidge. Directed by Kimberly Senior. Staged by the Huntington Theatre Company at the Huntington's Calderwood Pavilion at the BCA, 527 Tremont Street, Boston, through May 8 with digital access to the filmed performance available until May 22.
Billed as the "epic and funny saga of one whirlwind week in the life of a contemporary Black family from Boston. The story begins when Lavinia brings her sisters and mother on a much-needed family vacation. She has planned the week to the smallest detail — antiquing in the afternoons, grilled steaks for dinner, absolutely no cellphones allowed — and if Lavinia gets her way, they will stay forever. What will her sisters have to say? This script by an Obie Award-winning dramatist asks about the ties that bind us to our families. How do sisters hold each other up and hold each other back? Will togetherness split this family apart, or can it bring them together?" Arts Fuse review
A Gentleman's Guide to Love and Murder, music and lyrics by Steven Lutvak and book and lyrics by Robert L. Freedman. Directed by Spiro Veloudos with musical direction by Matthew Stern and choreography by Larry Sousa. Staged by the Lyric Stage Company, 140 Clarendon Street, 2nd Floor, Boston, through May 22.
The Tony Award-winning musical comes to Boston: "Charming and ambitious, Monty Navarro is in line for an earldom in the lofty D'Ysquith family. Eighth in line, that is. With a few tricks up his sleeve, he plots to speed up the line of succession all the while juggling the affections of two beautiful women, dodging suspicions, and relying on fortunate twists of fate. Neil A. Casey brings to life all eight members of the D'Ysquith family including a pious clergyman, a pompous bodybuilder, an aging actress, and a misguided philanthropist."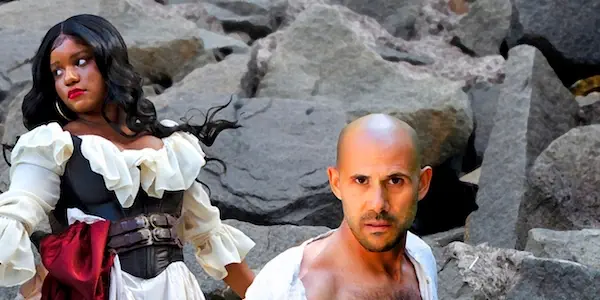 Sueño, translated and adapted by José Rivera. A version of Pedro Calderón de la Barca's La vida es sueño (Life Is a Dream). Directed by Tatyana-Marie Carlo. Staged by Trinity Rep at 201 Washington Street, Providence, through May 8.
"A humorous and haunting metaphysical story peppered with intentional anachronisms, Sueño is a contemporary English-language reimagining of Life Is a Dream, considered one of the jewels of the Spanish Golden Age. Years after a Spanish prince is imprisoned at birth based on astrological predictions, the young man is released to test the prophesies. Once freed, his actions could either earn him the throne or return him to a lifetime of isolation to question the very nature of reality and humanity."
The Inheritance by Matthew López. Directed by Paul Daigneault. Produced by Speakeasy Stage Company, this two-part drama (Part I and Part II will be in rep) will run at the Stanford Calderwood Pavilion at the Boston Center for the Arts, 527 Tremont Street, Boston, through June 11.
Interweaving lives and spanning generations, this 2020 Tony Award Winner for Best Play transposes E. M. Forster's novel Howard's End to 21st-century New York for a look at three generations of gay men attempting to forge a future for themselves amid a turbulent and changing America. A generation after the peak of the AIDS crisis, what is it like to be a young gay man in New York? What is the legacy left to them by previous generations? And what do they owe the future and each other?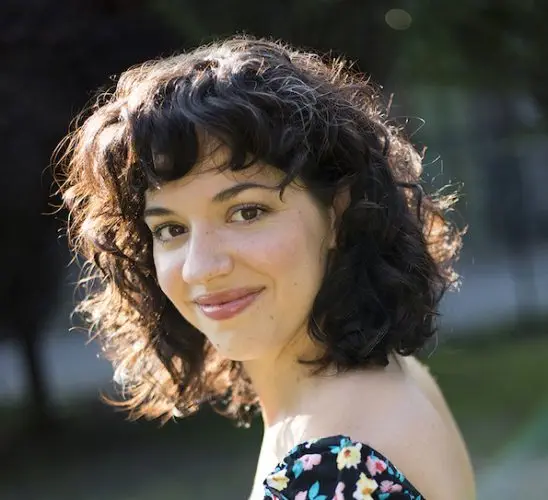 The New Galileos by Amy Berryman. Directed by Megan Sandberg-Zakian. At the Berkshire Museum, Pittsfield, May 1 at 2 p.m.
"In a future not too distant from our own, three female scientists — a marine biologist, a glaciologist, and a soil expert — are being held hostage by their government because of their work fighting climate change. As they are interrogated, the women face the ultimate question: what are they willing to sacrifice to defend the truth? Penned by 'one of the country's hottest playwrights, Amy Berryman,' this script 'explores the interaction of science and capitalism.'" Arts Fuse interview
Black Super Hero Magic Mama by Inda Craig-Galván. Directed by Monica White Ndounou. Presented in collaboration with Company One Theatre, Boston Public Library, and Boston Comics in Color Festival at Rabb Hall, located on the lower level of the Boston Public Library's Boylston Street Building at the Central Library in Copley Square, through May 21.
"In all the books that Sabrina Jackson reads to her son Tramarion, tragedy's just an origin story, something to propel the heroes into wondrous new worlds. When tragedy strikes in her own life, Sabrina launches herself into a fantastical, technicolor universe where she gets to be the hero. A high-flying adventure that refuses to be held down by the gravity at its core."
The Approach by Mark O'Rowe. Directed by Mark Farrell and Tina Packer.  Staged by Shakespeare & Company at the Elayne P. Bernstein Theatre, Lenox, May 6 through 29.
"A play about being human, an exploration of betrayal, and an appeal to listen before it's too late, the script follows the story of Anna, Cora, and Denise as they converse over coffee about their shared childhoods and burgeoning middle-age, with much left unspoken."
Ain't Misbehavin' conceived by Richard Maltby Jr. and Murray Horwitz. Musical adaptations, orchestrations & arrangements by Luther Henderson. Directed and choreographed by Maurice Emmanuel Parent. David Freeman Coleman and Dan Rodriguez, co-music directors. Ilyse Robbins, co-choreographer. Produced by The Nora@Central Square Theater, The Front Porch Arts Collective, and Greater Boston Stage Company at the Central Square Theatre, 450 Massachusetts Avenue,  Cambridge, through May 29.
"The Harlem Renaissance — Jazz arrives at The Cotton Club. Bessie Smith, Billie Holiday, Lena Horne, and the Dandridge Sisters shape an art form alongside men such as — Thomas "Fats" Waller."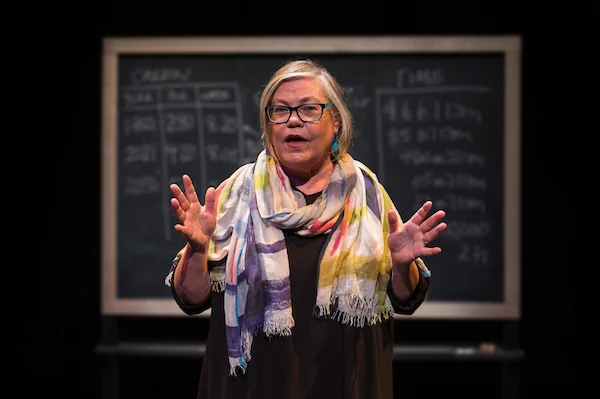 Sea Sick, written by and performed by Alanna Mitchell. Directed by Franco Boni with Ravi Jain. At the Emerson Paramount Center's Jackie Liebergott Black Box, Boston, May 11 through 22 (in person performances). May 20 at 8 p.m. (Virtual Livestream via Artsemerson.org).
"What if you learned something so important that you packed your bags and set out to tell the world? This is the story of acclaimed science journalist Alanna Mitchell's grand adventure into the ocean to learn its secrets, face its demons, and come to grips with the devastating implications of climate change that threaten our world."
Best Summer Ever, written and performed by Kevin Kling. Directed by Steven Dietz. Presented by the Merrimack Repertory Theatre, 50 East Merrimack Street, Lowell,  May 4 through 22.
An East Coast premiere: "The playwright, author, storyteller, performer, recording artist, and longtime contributor to NPR's All Things Considered tells his magical, hilarious, and tender stories through the lens of a proud Midwesterner who was born with a congenital birth defect." Kling is the recipient of the Whiting Award for American Drama and the National Storytelling Network's Circle of Excellence Award.
Boston Theater Marathon XXIV at Boston Playwrights' Theatre, 949 Commonwealth Avenue, May 1.
This venerable event features 50 10-minute plays written by New England playwrights and presented by New England theater companies which donate their time (and talent!) to this annual event. Net proceeds are gifted to the Theatre Community Benevolent Fund, which helps area theater artists and companies in crisis. You can learn more about this annual event here.
"This year's BTM marks the return to our 'in-person' event (having performed via the videoconferencing tool Zoom in 2020 and 2021) and the return of the BTM to our home theater on Comm Ave. (Huntington Theatre Company's Virginia Wimberly Theatre was the BTM's home from 2005-2019.)"
Truth or Consequences by Andrew Siañez-De La O. Directed by Jasmine Brooks. Staged by Fresh Ink Theatre at the Boston Center for the Arts, Plaza Theatres, 539 Tremont St.Boston, through May 14.
A play that confronts "loss, grief, and learning where you belong in the world. Written with a distinct sci-fi bent, the show tackles the erasure of non-white/indigenous cultures in the American Southwest and revolves around reassessing the role as a person of color in recognizing the harm being perpetrated in a white institution, even one as otherworldly and alien as can be."
— Bill Marx
---
Visual Arts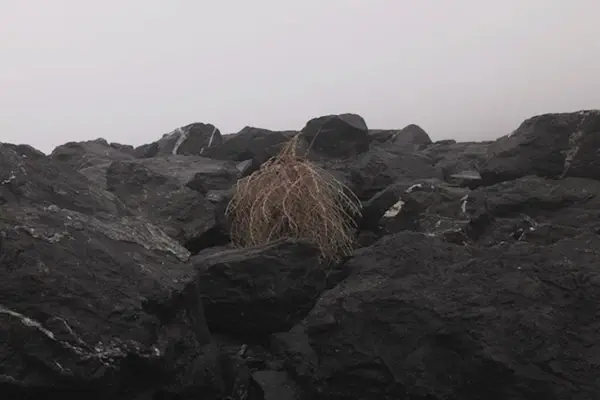 The name Goethe-Institut might suggest a literary association or perhaps a library. Instead, it is a German-language-training and cultural organization, supported largely by the German government, with branches all over the world, including in Boston. The Boston Institut recently opened Studio 170, a new art gallery venue in renovated space at 170 Beacon Street. The idea is to host New England artists in exhibitions, installations, and events with an emphasis on the experimental and on work that might seem too "risky" for more established Boston venues.
The spring 2022 schedule at Studio 170 opens on May 2 with a video and sound installation by artists Liu Wa and Yang Bao, both of whom came to New England as students. Called Savage Confessions, the installation includes an "evolving visual landscape" involving painting, music, and video, which create a narrative designed to call attention to the impact of nuclear weapons on plant life. Don't hesitate to see the show, though, because it closes on May 10.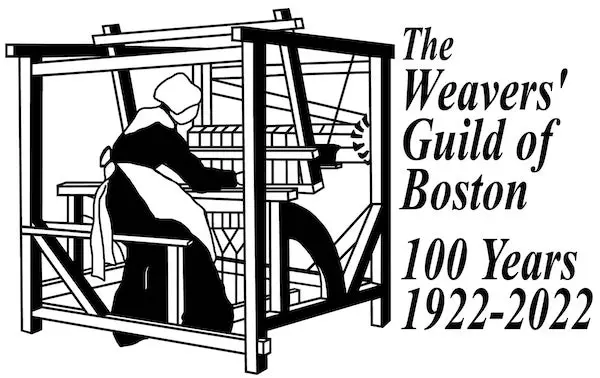 The Weaver's Guild of Boston, the oldest of its kind in the United States, turns 100 this year. To celebrate the milestone, the Guild and the Fuller Museum of Craft have collaborated on the exhibition Interpreting Change: Weaver's Guild of Boston, opening on May 14. The juried exhibition consists entirely of works created specifically for this show and focuses on materials, taste, and process in contemporary weaving.
Recent political and social justice movements, including Black Lives Matter, developments in scholarship, and a shift in the contemporary art world toward more socially engaged work have all influenced the insular world of art museums to take a fresh look at their collections, exhibitions, and policies. The show Re|Framing the Collection: New Considerations in European and American Art, 1475-1875 is a a new installation of the permanent collection. It opens at the Museum of Art, Bowdoin College, Brunswick, ME, on May 14 and continues through the end of next year.
Focusing on the expansion of European power, economic control, and military empire across the Atlantic, Re|Framing the Collections starts with the 15th century and continues through the 19th, the great age of European imperialism. Included is a Netherlandish altarpiece, a 17th-century engraving of an allegorical figure of "America," a Gilbert Stuart portrait of Thomas Jefferson, a Martin Johnson Heade landscape of the Newburyport Marshes, and a Wabanaki birchbark covered box.
The Canadian artist Zachari Logan is featured in the exhibition Zachari Logan: Remembrance opening at the Peabody-Essex Museum in Salem on May 7. The show includes meticulous drawings and sculptures depicting the transformation of flowers, leaves, branches and human bodies over time and as they pass through death. The intention is to reflect on the "power of loss and the healing potential of grief."
During the Cold War, the most frequent epithet American politicians hurled at international Communism was that it was "godless." Although technically allowing the freedom of religion, the Soviet Union was officially atheist and did all it could to repress religion and religious practice. Churches and synagogues were converted to museums or warehouses. Attendance at services, for a time, seemed limited to the elderly.
Images of Atheism: The Soviet Assault on Religion, which opens on May 5 at the Museum of  Russian Icons in Clinton, MA, looks back on a period when Communist leaders waged a "war against religion." The show features posters, educational materials, public art, and other visual propaganda that was aimed, in particular, at children and young people. The shifting strategies of Soviet anti-religion efforts are examined, including appeals to reason and science, efforts to stoke fear and resentment, the use of ridicule, and the promulgation of propaganda about the need to progress to a new, ideal society free of superstition and religious-based injustice. Ironically, in the 30 years since the collapse of the Soviet state, organized religion has continued to decline in the West, while the Russian Orthodox Church has undergone a mass revival, drawing closer to the Russian state than anytime since the age of the Tsars.
— Peter Walsh
---
Jazz
Noah Preminger Quartet
May 1 at 7 p.m.
Zuzu, Cambridge
This edition of JazzBoston's Jazz All Ways Sunday night series at Zuzu is billed as the kick-off for the "Playground Jazz Jam." In this case, leading the festivities will be the fine saxophonist and composer Noah Preminger with a superb quartet that includes the pianist Anastassiya Petrova, bassist Max Ridley, and drummer Dor Herskovits. We're assuming a set by the Preminger quartet followed by guest participants.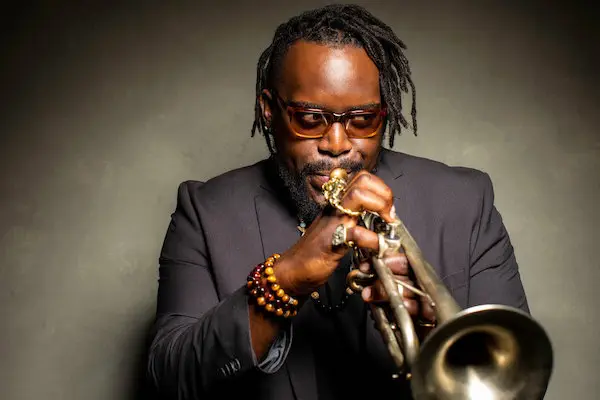 Marquis Hill
May 6 at 8 p.m.
Scullers Jazz Club, Boston
The Chicago-born trumpeter Marquis Hill, 35, a winner of the Thelonious Monk International Trumpet Competition (2014), has broad skills and interests, from jazz to R&B, hip-hop, and Chicago house. His latest disc, New Gospel Revisited, harks back to his 2011 debut, New Gospel, so expect some churchy hard-bop at this show.
Theo Bleckmann & Ben Monder
May 7 at 8 p.m.
Hope Central Church, Jamaica Plain
The incomparable vocalist Theo Bleckmann (he's covered everything from Kurt Weill and Charles Ives to Kate Bush, as well as worked with the jazz composer John Hollenbeck and written his own genre-spanning compositions) and next-level guitarist Ben Monder (these days the latest addition to the Bad Plus, but also a regular with Maria Schneider's orchestra) have been working as a duo of late. They bring it to the Hope Central Church in Jamaica Plain for this Mandorla Music presentation.
Bobby Tynes Quartet
May 8 at 7 p.m.
Zuzu, Cambridge
The multireed player Bobby Tynes is joined by fellow Boston veterans Frank Wilkins on keyboards, bassist Langston "Skip" Smith, and drummer Sergio Bellotti in this edition of JazzBoston's Jazz All Ways series at Zuzu.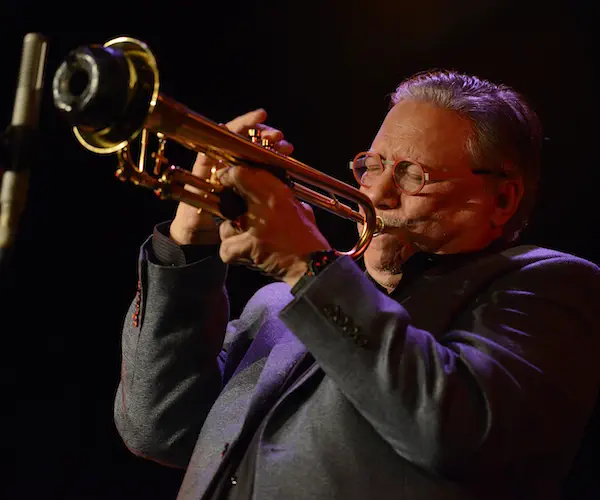 Arturo Sandoval
May 13-14 at 8 p.m. and 10 p.m.
Scullers Jazz Club, Boston
The Cuban trumpet dynamo Arturo Sandoval came to America endorsed by his hero, Dizzy Gillespie, and his energy has never flagged. For the past several years he's included his piano playing along with his trumpet.
Ken Schaphorst Quartet
May 15 at 7 p.m.
Zuzu, Cambridge
The composer and educator Ken Schaphorst (longtime chair of New England Conservatory's Jazz Studies department) fronts a quartet for a performance of his compositions and arrangements — Schaphorst on trumpet and piano, with tenor saxophonist Brian Levy, bassist Bob Nieske, and drummer Austin McMahon.
— Jon Garelick
Boston Jazz United for Ukraine: Jazz Benefit for the People of Ukraine
May 13, 7:30-9:30 p.m.
Multicultural Arts Center/Cambridge Community Center for the Arts, 41 Second Street, Cambridge, and online via Zoom
A concert headlined by Odessa native and Boston pianist Maxim Lubarsky will raise funds to support the people of his embattled homeland. Conceived by Jay Hoffman and Cj Kelley, and presented by JazzBoston, Brookline/Cambridge Community Center for the Arts, and Multicultural Arts Center, the concert will feature top-tier international Boston-based jazz talent, including drummer Mark Walker; flutist Yulia Musayelyan; pianist Nando Michelin and bassist Ebinho Cardoso's Group Engenheiros; saxophonist Tucker Antell; bassist Fernando Huergo; saxpohonist Noah Preminger's Group, and vocalist Annette Philip, as well as Ukrainian Poetry read by poet and co-translator Dzvinia Orlowsky.
–Evelyn Rosenthal
---
Roots and World Music
Music & Art: A Benefit for Ukraine feat. Julian Kytasty, Yaeko Miranda Elmaleh & more
May 1
Swedenborg Chapel, Cambridge
On several occasions the Journeys in Sound series has presented the wonderful Ukrainian-American musician Julian Kytasty to Boston audiences. Now the series is presenting a benefit concert for Razom and the World Central Kitchen with Kytasty, klezmer violinist Elmaleh, a trio of Ukrainian Berklee students, and more.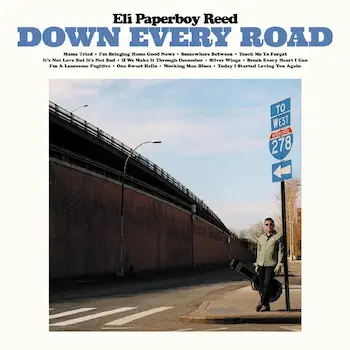 Eli "Paperboy" Reed
May 4
City Winery, Boston
Soul and country have long been close cousins — the list of classic country tunes that soul acts have recorded is only matched by the number of R&B songs that have been done country style. Now Boston-raised soul shouter (and, full disclosure, longtime friend of this writer) Eli "Paperboy" Reed is out with Down Every Road, a wonderfully arranged album of Merle Haggard songs done soul style. The disc continues the tradition that dates back at least to Bettye Swann's version of "Today I Started Loving You Again." (Reed sings that one as a splendid duet with Sabine McCalla.) Paperboy brought his own horn section when he sang Hag at the Grand Ole Opry last month, and he'll have one on Wednesday night as well.
Lakou Mazik
May 6
Arts at the Armory, Somerville
It's nice to see Somerville's Armory picking up its programming with this excellent in-house booking: the Haitian roots collective Lakou Mazik, whose accordion and rara vaksin horns only intimate their wide musical range, which over the years has also included collaborations with electronic and New Orleans musicians. I caught them a few weeks ago at the Big Ears Festival, where their spirited set had the audience on its feet in no time.
Larry Hernández, Kai and Djakout, and Jean Carlos Centeno and Los Inquietos Del Vallenato
May 6-8
Oceanside Events Center, Revere
Mother's Day weekend is always a busy time at Oceanside, Revere's home of international music next to the Wonderland station. This weekend includes Mexican narcocorrido balladeer and hot sauce purveyor Larry Hernández on Friday, Haitian kompas kings Kai and Djakout on Saturday, and Sunday's Colombian double bill of glossy singer Jean Carlos Centeno and the more earthy Los Inquietos Del Vallenato. Take note: a Sunday night show by Brazil's Turma da Pagode was just rescheduled to October.
— Noah Schaffer
---
Dance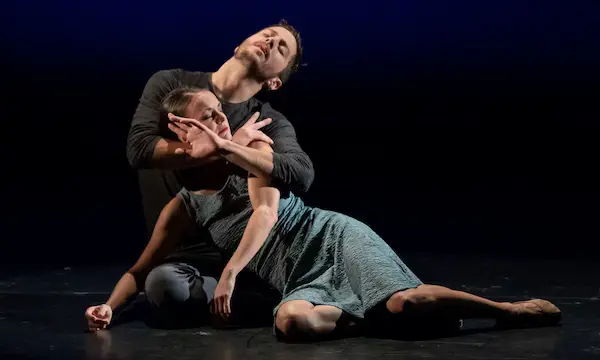 Resonant Visions
May 6 & 7 at 7:30 p.m.
Keats Theatre
Barrington, RI
Travel to Rhode Island for an evening of ballet repertory with Island Moving Company (IMC). Resonant Visions features new works by choreographers Colin Connor, Nicolo Fonte, and Tristian Griffin, with additional works by IMC Artistic and Associate Artistic Directors Miki Ohlsen, and Danielle Genest.
Season 22 Performance
May 7 at 2 p.m. & 7 p.m.
Boston University Dance Theater
Boston, MA
OnStage Dance Company presents its Season 22 performance, featuring an array of new works in jazz, tap, contemporary, pop, and modern by choreographers Shari Atamian, Melissa deFriesse, Rebecca Graber, Jennifer Kuhnberg, Mykayla Marcelino, Brittany McLaughlin, Susan Oziemblewski, Carmen Rizzo, Alexa Romancewicz, Catherine Shortliffe, Erica Thorp. Note: Proof of vaccination is required by the venue and masks must be worn at all times on the premises.
Traka
May 13 & 14 at 8 p.m.
Institute of Contemporary Art/Boston
Boston, MA
Global Arts Live presents Jean Appolon Expressions performing the world premiere of Traka. Traka, which means "Troubles" in Haitian Kreyòl, weaves together stories of Appolon's experiences with immigrants and BIPOC communities across Massachusetts. The work combines modern technique with Haitian folkloric dance, while reflecting on injustice and trauma to investigate how dance, culture, and community can provide "pathways to healing." Celebrated Haitian composer, turntablist, and Afrofuturist Val Jeanty performs live during the performance.
THE QUEEN OF NÖRI
May 13-15
Boston Center for the Arts
Boston, MA
Engage in a creative theatrical dance experience that explores fantasy through ballet with whose dramatic elements include dark magic, parenthood, and the powerful being put to the ultimate test. THE QUEEN OF NÖRI is choreographed and directed by artist Holly Stone with original music by Ian Guthrie. The work strives to showcase characters and voices underrepresented in classical ballet.
Svadba
Ongoing, online viewing
Engage in a cinematic opera experience with Svadba, the story of a bride-to-be on the eve of her wedding surrounded by friends and family helping her prepare for the big event. Sung completely a cappella, Svadba's entrancing music by Serbian composer Ana Sokolović merges with dance-led visuals from film director Shura Baryshnikov and screenwriter Hannah Shepard. Slovenia-born Daniela Candillari conducts.
The Time Traveler's Lens
Ongoing, online viewing
Hailed as "groundbreaking" (MidJersey News) and a "unique interdisciplinary work" (Town Topics), The Time Traveler's Lens combines dance, film, technology, and history to engage viewers in a 360-degree virtual reality performance that is amazingly intimate — the viewer is placed in the center of the action. Experience five virtual reality works unfolding spherically around you on your own mobile device. You are the time traveler, you control the lens — Luminarium Dance Company provides five worlds of illusion.
— Merli V. Guerra
---
Classical Music
Benefit for Ukraine Relief
Presented by Boston Philharmonic Youth Orchestra
May 6, 8 p.m.
Symphony Hall, Boston
The BPYO wraps up its season with an all-Russian program featuring pianist Alexander Korsantia playing Sergei Prokofiev's finger-busting Piano Concerto No. 3, Dmitri Shostakovich's Festive Overture, and Tchaikovsky's Pathétique Symphony. All ticket sales are being donated to Ukraine Tensions: No Child Forgotten program.
Sheku and Isata Kanneh-Mason in recital
Presented by Celebrity Series
May 7, 8 p.m.
Symphony Hall, Boston
The Kanneh-Mason siblings return to Boston with a survey of heavy-duty sonatas – by Beethoven, Shostakovich, Bridge, and Britten – in tow.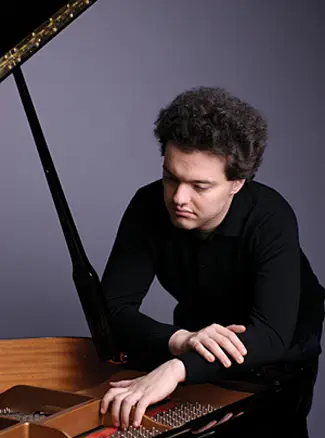 Evgeny Kissin in recital
Presented by New England Conservatory
May 11, 4:30 p.m.
Jordan Hall, Boston
The Russian virtuoso makes a local appearance at NEC's Concert for Ukraine, playing music by Chopin and joining in a conversation with NEC Piano Department Chair Bruce Brubaker. The Borromeo Quartet also performs Kissin's String Quartet.
Mozart and Brahms
Presented by Longwood Symphony Orchestra
May 14, 8 p.m.
Jordan Hall, Boston
The LSO ends their season and bids farewell to music director Ronald Feldman with a parade of favorites by Brahms, Johann Strauss, and Mozart. Rachell Ellen Wong is the soloist in the latter's Violin Concerto No. 5.
— Jonathan Blumhofer
---
Author Events
Grubbie Debuts: Steve Almond with Jane Roper, All The Secrets of the World – Porter Square Books
May 2 at 7 p.m.
Porter Square Books, Cambridge
Tickets free with suggested donation
"Filled with pathos, humor, and a dash of the zodiac, All the Secrets of the World is a shape-shifting social novel that offers an unflinching vision of the powerful and powerless colliding. This long-awaited book is a propulsive tour de force–the sheer scope, moral complexities, and piercing insights mark a writer at the height of his powers." Arts Fuse interview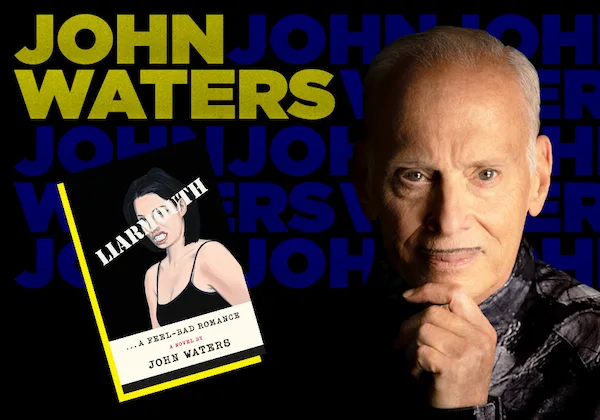 John Waters at the Brattle Theatre – Harvard Book Store
Liarmouth: A Feel-Bad Romance: A Novel
May 3 at 6 p.m. (Doors at 5:30)
Brattle Theatre, Cambridge
Tickets are $27.75 with copy of book
"Marsha Sprinkle: Suitcase thief. Scammer. Master of disguise. Dogs and children hate her. Her own family wants her dead. She's smart, she's desperate, she's disturbed, and she's on the run with a big chip on her shoulder. They call her 'Liarmouth' ― until one insane man makes her tell the truth. John Waters's first novel, Liarmouth, is a perfectly perverted "feel-bad romance," and the reader will thrill to hop aboard this delirious road trip of riotous revenge."
Minnie Driver at the Brattle Theatre – Harvard Book Store
Managing Expectations: A Memoir in Essays
May 5 at 6 p.m. (Doors at 5:30)
Tickets are $29.75 including book
"In this intimate, beautifully crafted collection, Minnie Driver writes with disarming charm and candor about her bohemian upbringing between England and Barbados; her post-university travails and triumphs — from being the only student in her acting school not taken on by an agent to being discovered at a rave in a muddy field in the English countryside; shooting to fame in one of the most influential films of the '90s and being nominated for an Academy Award; and finding the true light of her life, her son. She chronicles her unconventional career path, including the time she gave up on acting to sell jeans in Uruguay, her journey as a single parent, and the heartbreaking loss of her mother."
Live at Brookline Booksmith! Alejandro Varela with Adam McGee
The Town of Babylon: A Novel
May 9 at 7 p.m.
Free
"In this contemporary debut novel — an intimate portrait of queer, racial, and class identity — Andrés, a gay Latinx professor, returns to his suburban hometown in the wake of his husband's infidelity. There he finds himself with no excuse not to attend his twenty-year high school reunion, and hesitantly begins to reconnect with people he used to call friends."
Live with Brookline Booksmith! Don Winslow with Joseph Finder: City on Fire
May 10 at 6 p.m.
Coolidge Corner Theatre, Brookline
Tickets are $10 with ticket, $30 with book
"From the gritty streets of Providence to the glittering screens of Hollywood to the golden casinos of Las Vegas, Danny Ryan will forge a dynasty. Exploring the classic themes of loyalty, betrayal, and honor, City on Fire is a contemporary Iliad, a saga that spans generations — a towering achievement of storytelling genius from Don Winslow, 'America's greatest living crime writer' (Jon Land, Providence Journal)."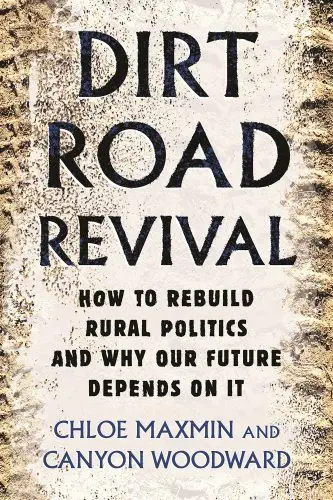 Chloe Maxmin and Canyon Woodward at Harvard Book Store
Dirt Road Revival: How to Rebuild Rural Politics and Why Our Future Depends on It
May 11 at 7 p.m.
Free
"Through two successful elections in rural red districts that few thought could be won by a Democrat, twentysomethings Maine state senator Chloe Maxmin (D-District 13) and campaign manager Canyon Woodward saw how the Democratic Party has focused for too long on the interests of elite leaders and big donors, forcing the party to abandon the concerns of rural America — jeopardizing climate justice, racial equity, economic justice, and more. Dirt Road Revival looks at how we got here and lays out a road map for progressive campaigns in rural America to build an inclusive, robust, grassroots politics that fights for equity and justice across our country.
"Maxmin and Woodward distill their experiences into concrete lessons that can be applied to rural districts across the country to build power from the state and local levels on up. They lay out a new long-term vision for Democrats to rebuild trust and win campaigns in rural America by translating progressive values to a rural context, moving beyond the failed strategies of establishment consultants and utilizing grassroots-movement organizing strategies to effectively engage moderate rural voters."
Virtual Event: Mosab Abu Toha with Naomi Shihab Nye – brookline booksmith
Things You May Find Hidden in My Ear 
May 14 at 12 p.m.
Free
"In this poetry debut Mosab Abu Toha writes about his life under siege in Gaza, first as a child, and then as a young father. A survivor of four brutal military attacks, he bears witness to a grinding cycle of destruction and assault, and yet, his poetry is inspired by a profound humanity.
These poems emerge directly from the experience of growing up and living in constant lockdown, and often under direct attack. Like Gaza itself, they are filled with rubble and the ever-present menace of surveillance drones policing a people unwelcome in their own land, and they are also suffused with the smell of tea, roses in bloom, and the view of the sea at sunset.
Accompanied by an in-depth interview, conducted by Ammiel Alcalay, in which Abu Toha discusses life in Gaza, his family origins, and how he came to poetry."
— Matt Hanson