By Michael Ullman
Even without the new takes, this Rhino reissue would be welcome: Mingus Three is to my mind one of the great trio albums.
Charles Mingus Trio with Hampton Hawes and Dannie Richmond (2 CDs, Rhino)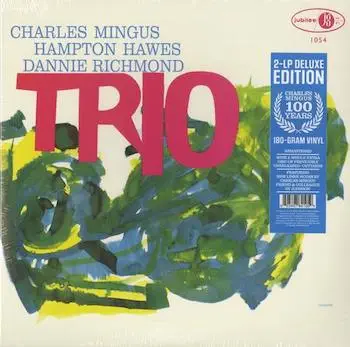 In his autobiography Raise Up Off Me, written "with Don Asher," pianist Hampton Hawes tells a bizarre story about the July 9, 1959 session that is reissued here (with a second disc of outtakes). As Hawes tells it, he was standing under a street lamp at 45th and Broadway when Charles Mingus approached him. After reproving him for his chronic drug use ("you got too much talent to go down the drain"), he invited the pianist to take part in this session: "I've got a record date this weekend. You got it if you can get yourself together."  In fact, the record date took place on a Thursday. According to Hawes, pianist Sonny Clark came along. He may even have contributed. Here is Hawes's version: "Though he isn't listed under the personnel he played the ending on one of the tracks because I was back in the bathroom fixing again. We got paid after the gig — Charles gave Sonny five dollars for his two chords." I'll never figure out which chords those were. The story sounds like fiction.
One of Hawes's sayings was: "You have to wade through a certain amount of mud to get to the pearls." His autobiography emphasizes the mud: the sickening trials of drug addiction, the equally sickening toll of racism, and the neglect that even the most talented jazz musicians faced in America. He also describes moments of grace, as when Thelonious Monk picked him up off a park bench, brought him home, fed him and clothed him and tried to talk him into getting help. He wasn't ready. Though he was the son of a minister, Hawes insists that "the piano was the first secure and honest thing in my life."  Whatever the truth about the details of that Mingus session, I can't think of a better description of Hawes's playing than "secure and honest."
We hear that security in the opening flourishes on "Yesterdays," the first number on Charles Mingus Trio (AKA Mingus Three). At first, Hawes plays a thumping chord staccato, then offers a tense chordal phrase that reminds me of Monk before he goes on an upward run. That's all part of the introduction. When Hawes, still solo, gets to the melody, he seems temporarily to relax. Mingus and drummer Dannie Richmond join him for eight bars, but until Mingus's solo, "Yesterdays" belongs to the virtuosic thirty-year-old pianist, to his big sound and deftly handled runs. Later, Mingus and Richmond, the bassist's long time drummer, exchange fours. The piece ends with Hawes again taking charge. Amongst the newly available out-takes on this Rhino set is a 56 second earlier take of "Yesterdays," which ends with Mingus yelling "hold it." To my ear, the problem may have been that the tempo of the group sections wasn't, to use Hawes's word, secure.
The original recording was made for the independent label Jubilee. The mono recording wasn't an audiophile's dream; the cymbals aren't entirely clear. Mingus's bass is prominent and his ravishing tone front and center this reissue with its repertoire of standards and blues. He certainly sounds better here than on my LPs, which were reissued by Trip Records. Mingus opens the slow, appropriately named "Back Home Blues" with a rich-sounding solo before Hawes eventually takes over. It's a joy to listen to Hawes's blues playing, but there is the additional glory of the accompaniment of Mingus and Richmond. In the notes to his Blues and Roots, Mingus talks about how, as a young man, he absorbed church music and the blues. Sophisticated though he is as a musician/composer/arranger, Mingus sounds deeply at home here, as comfortable with the basic blues as he is supplying scurrying phrases behind Hawes's statement of the "Laura" theme. "Summertime" features a Richmond solo that seems derived from Max Roach: Richmond gets a short break on the cheerfully played "Hamp's New Blues."  Even without the new takes, this Rhino reissue would be welcome: Mingus Three is to my mind one of the great trio albums.
The outtakes are something else. On the first number, "Untitled Blues," Mingus gives what seems to me an incomprehensible instruction: something that sounds like "two bars nothing, the second bar be silent." He then counts off a quick tempo before playing with Richmond, who presumably understands everything he says. It's an almost seven minute excursion into the blues, followed by "Take Two," which Mingus opens, as on "Take One," with an expansively held note. The new version of "Summertime" opens, as with the original, with Richmond on tambourine before Mingus's vigorous pedal point. There are two incomplete takes: of "Yesterdays" and "Back Home Blues". Usually one can tell why the originally issued take was chosen: still, we get new Mingus solos on the blues. Remarkably, nine days later Mingus would record one of his most ambitious early LPs, a different kind of masterpiece: Tijuana Moods.
---
Michael Ullman studied classical clarinet and was educated at Harvard, the University of Chicago, and the U. of Michigan, from which he received a PhD in English. The author or co-author of two books on jazz, he has written on jazz and classical music for the Atlantic Monthly, New Republic, High Fidelity, Stereophile, Boston Phoenix, Boston Globe, and other venues. His articles on Dickens, Joyce, Kipling, and others have appeared in academic journals. For over 20 years, he has written a bi-monthly jazz column for Fanfare Magazine, for which he also reviews classical music. At Tufts University, he teaches mostly modernist writers in the English Department and jazz and blues history in the Music Department. He plays piano badly.