By David Greenham
Kirsten Greenidge's epic comic drama is a spot-on examination of the challenges changing times pose to evolving families. 
Our Daughters, Like Pillars by Kirsten Greenidge. Directed by Kimberly Senior. Scenic design by Marion Williams. Costume design by Sarita Fellows. Lighting design by Mary Louise Geiger. Sound design by Jane Shaw. Produced by the Huntington Theatre Company at the Calderwood Pavilion, BCA, Boston, through May 8, 2022. Available digitally through May 22 on huntingtontheatre.org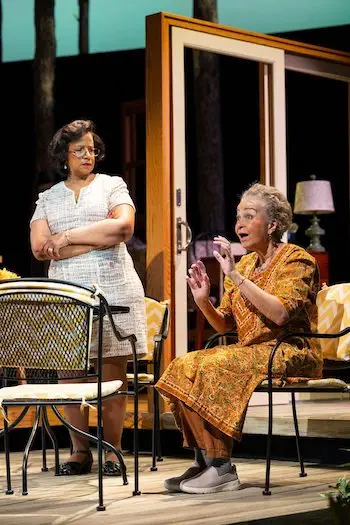 The Shaw sisters have agreed to converge at a rented, idyllic lake house in the woods near Conway, New Hampshire for an entire week. Lavinia Shaw Williams (Nikkole Salter), the eldest sister, has arranged every creature comfort. "Let yourself go, let yourself relax, let yourself unravel," she tells her somewhat skeptical middle sister Octavia Shaw Curtis (Arie Thompson). The notion of unraveling might be key to Kirsten Greenidge's epic comic drama.
The play, which spans three acts, is a spot-on examination of the challenges changing times pose to evolving families. Despite Lavinia's clumsy efforts to "get this family in shape," as she tells her henpecked husband Morris Williams (Postell Pringle), her plan is doomed to fail right from the start.
The matriarch Yvonne Shaw (luminous Lizan Mitchell) has opted out from involving herself in the family dynamics. Save for a tidy — and revealing moment — with struggling writer Octavia, Yvonne watches, chain smokes, and mostly sticks to the proverb that if you don't have anything nice to say, don't say anything at all.
Youngest sister Zelda Shaw (Lyndsay Allyn Cox) literally barrels onto the scene via her newly purchased tiny house on wheels. She brings along Paul King (amusingly flighty Julian Parker), who she's just picked up in a bar. She doesn't even know his last name. Lavinia doesn't hold back voicing her frustration with her free-spirited little sister and her "a cracker-jack box with a human prize in it."
The dysfunctional sisters and their (inwardly) angry and hurt mother would be enough fodder for a festival of plays. And that doesn't even count their male stragglers. But Greenidge ups the ante by bringing in Missy Shaw (quirky and curious Cheryl D. Singleton), the widow of their recently deceased father, a successful author who left his wife and family. Each member of the Shaw clan is nursing — in their different ways — individual scars and open wounds. Missy insists that the Shaw sisters refer to her as "mother," which compounds her status as a mysterious and unwelcome guest. The family has gathered in a private and isolated location, so its obvious that she's not found them by coincidence.
There is an element of familiar sitcom here, given that feuding family members chafe amusingly up against one another. But Greenidge's drama is not content to sit on the surface. There are suggestions of unruly emotions drifting underneath the surface. That depth may come from the fact that all of Greenidge's characters have reached a crossroads, as so many of us have in this moment. Covid probably served as the inspiration for a reset from what a character refers to as "the before times."
Marion Williams' sumptuous set suggests notes of elegance, both indoor and out, that people of privilege would accept as routine. Images of soaring trees and lush green bushes, in combination with Jane Shaw's environmental soundscape and Mary Louise Geiger's effective lighting, present an ironically bucolic picture. It is a sort of peaceful abyss, serving as a sharp contract to the story's prickly action. As she has displayed in previous Huntington Theatre Company productions, director Kimberly Senior makes the three hours' traffic of the stage (with two intermissions) flow seamlessly. Moments of love and tenderness are intermingled with glimpses of deep-seeded frustration. The script is distrustful of accepted order, suspicious of transparency.
The performing ensemble is engaging and strong. As the outsiders, the men — Morris, Paul, and even Octavia's unseen husband, Tim — are overwhelmed by the bursts of energy from the women in their lives. Both Pringle and Parker have their comic timing down; their moments inevitably elicit smiles. Pringle also draws on his wonderful baritone voice as he intersperses bits of popular songs throughout.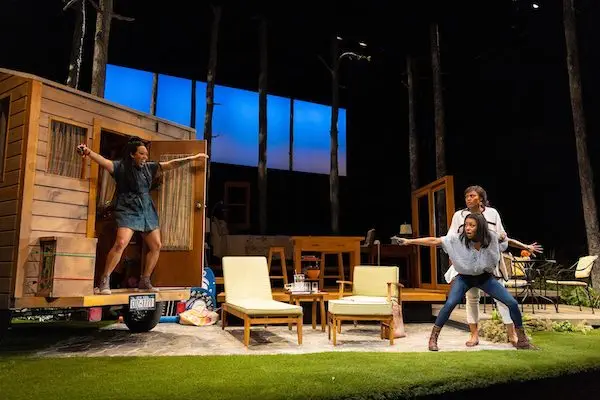 Mr. Shaw's widows — Yvonne and Missy — are both many-sided creations. (I saw parts of my own mother in both of them.) Singleton's Missy is the script's least standard character — this is not a figure you normally see on stage. She's both sneaky and sad, with lovely moments of child-like playfulness. Mitchell's brooding Yvonne is unfailingly charismatic as she sucks at her cigarette and watches each detail of the numerous conflicts. One wonderful highlight: when she and Pringle's Morris sing a soulful version of Sam Cooke's "A Change is Gonna Come."
But the play dramatic weight rests on the broken and irrevocably bonded sisters. Salter, Thomson, and Allyn Cox meet the script's emotional demands. Despite her admonition at the beginning, it's Salter's Lavinia who ends up unraveling. Greenidge leaves us with more questions than answers, but my bet is that the character's future will not be bright. Salter's Lavinia is searching for a clarinet that was lost long ago. The instrument represents the detritus of a broken family — whose unity will never be recovered, if it ever existed in the first place. Like her mothers, she's stuck in the past — her options seem limited. Thompson's Octavia sorrowfully laments, "It's very important to have something of your own." She is close to her goal: a book of hers may soon be published. For Allyn Cox's Zelda, the tiny house has been paid for: the mobile domicile represents freedom, the potential of going madly off in any or all directions.
The title Our Daughters Like Pillars is taken from Psalm 144 ("Our daughters will be like corner pillars, carved like those in a palace…") It is a reference to the strength of family bonds, an allusion to how the architecture of domesticity (the art of keeping a roof over our heads) depends on each member accepting their own load. In this script, Greenidge is interested in exploring what happens when the ground shifts. This is the story of daughters who are trying to acclimate themselves to a world in transformation, to uncertain times and even more uncertain relationships. Covid, and now the war in Ukraine, continues to shift the ground beneath our feet, redistributing the weights that need to be supported. It is no longer simply a question of standing strong, she suggests, but of adjusting our stances in order to better carry the load.
---
David Greenham is an adjunct lecturer of Drama at the University of Maine at Augusta, and is the executive director of the Maine Arts Commission. He has been a theater artist and arts administrator in Maine for more than 30 years.