After a brief respite, we were driven indoors (again) and told to stay there, so we turned to our screens for entertainment.
Peg Aloi
Remember when we briefly started living life again in 2021? The weather was good, folks were getting vaccinated, the 'rona backed off for a little while … and then, boom, it was déjà vu all over again!  Well, fortunately for those looking to hunker down a bit this winter (because what else are we going to do?), there was some excellent television this past year that you can catch up on. I've listed my favorites here, and am already excited about all the fantastic TV coming in 2022.
Succession (HBO) Season 3 gave us so much more intrigue, betrayal, snappy insults and bizarrely tacky bespoke wardrobe choices, it was an embarrassment of riches from an embarrassingly rich family. This series is impeccably cast, written, and directed. There is not an inch of wasted screen space or time: it's all crackling with purpose, suspense, and wildly watchable character motivations. Even the opening credits, which evolve each season, are jam-packed with foreshadowing. Watch for my in-depth review soon, but in the meantime, get caught up before you see a spoiler on social media
Mare of Easttown (HBO) Kate Winslet is terrific as a police detective in a small town in Pennsylvania, trying to solve the murder of a teenage girl. Still, though great at her job, Mare can't quite get her personal life together. Sounds clichéd, but the series is smart, complex, and finely tuned. There's a fascinating cast of characters in her orbit, and this cast (Jean Smart, Evan Peters, Guy Pearce, John Douglas Thompson) is so good it's mind-blowing.
Brand New Cherry Flavor (Netflix) This was the strangest, hippest, most disturbing comedy fare of the year, from the team that made Channel Zero. I loved its energy and originality, and the cast is simply on fire (especially Catherine Keener as the coolest homeless witch in LA). Not for the faint of heart, there's some down and dirty body horror that left even your intrepid TV reviewer fanning herself and reaching for a restorative aperitif.
The White Lotus (HBO) This show is fresh and captivating on many levels. Mike White (Chuck and Buck, The School of Rock, Enlightenment) wrote this arch, almost-excruciatingly-contemporary comedy-drama that follows a number of guests at a high-end hotel in Hawaii along with the harried employees who cater to their needs. The soundtrack draws (almost entirely) on traditional Hawaiian music and it works in an almost magical way to illuminate the story's many emotional trajectories and moods.
Landscapers (HBO) From British director Will Sharpe comes this bizarre true-crime-fiction hybrid starring Olivia Colman and David Thewlis as a couple with a very dark secret. Three episodes in, it's already generating a cult-like following. Of course, I liked Sharpe long before all of you (he created the marvelously weird series Flowers and directed The Electrical Life of Louis Wain). I'm confident he will continue making astonishingly original television.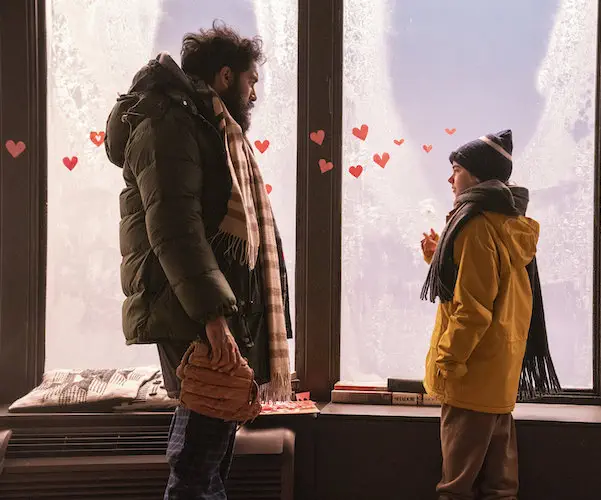 Station Eleven (HBO) Also only three episodes along, this intriguing post-apocalyptic story (based on a best-selling novel by Emily St. John Mandel) moves back and forth in time as it follows a number of characters in the wake of a catastrophic flu pandemic that quickly wipes out much of the earth's population. Yeah, it's timely and disturbing. But also rather alluring because it posits a world we might survive in without our creature comforts and technologies and banal pastimes.
Maid (Netflix) Margaret Qualley plays Alex, a young woman who escapes an abusive marriage with her young daughter and the clothes on her back, unsure what her next moves are. Based on a memoir, this is an engaging and sometimes harrowing story of survival, initiative, and how people tend to keep screwing up no matter how hard they try not to. It also offers a mild indictment of an economy that makes it very hard to make ends meet if you're a single mom, and critiques the assumption that women are expected to rely on men to support them. Andie Macdowell, Qualley's mother in real life, plays Alex's arty, social misfit mom.
The Flight Attendant (HBO) This series follows the misadventures of a flight attendant (Kaley Cuoco) whose life of partying catches up with her on a drunken night in Bangkok. She finds herself caught in a downward spiral after an ill-fated fling with a stranger, and she pulls her co-workers with her into an evolving web of intrigue. This show is clever, sexy, and funny, with plenty of twists and turns.
Scenes from a Marriage (HBO) From Hagai Levi, the showrunner for In Treatment (also well worth watching), this tight miniseries is adapted from Ingmar Bergman's 1972 series of the same name. Oscar Isaac and Jessica Chastain are brilliant as a married couple whose relationship is at an impasse. The series is beautifully directed and photographed, achingly moving yet unsentimental, a pristine homage to Bergman that is also brilliantly visionary in its own right.
Katla (Netflix) The iconic and bold director Baltasar Kormákur (Trapped, Everest) created this darkly moving tale of a village in Iceland haunted by a recent volcanic eruption. When a stranger staggers from the icy tundra into the village, unusual events start unfolding. There's a touch of magic realism to this series, but it's grounded in earthy performances and plausible emotions.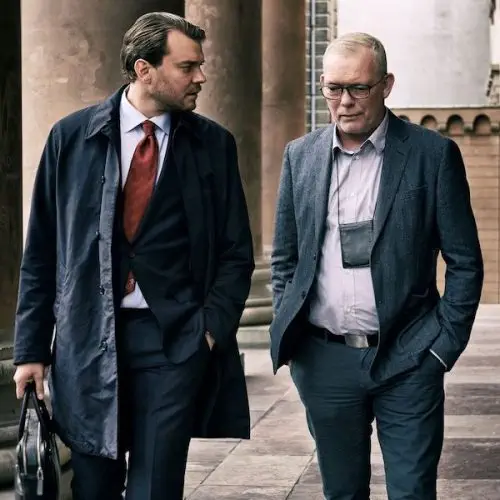 The Investigation (HBO) Another mesmerizing Scandinavian series, but it's quite different from Katla. This true crime story dramatizes the case of a Swedish journalist who went missing in Denmark. Her gruesome murder became the stuff of international news headlines. The series focuses on the police who solve the crime; an excellent cast brings great depth to this unnerving but fascinating story.
What We Do in the Shadows (Hulu) What on earth did we do before this hilarious, insanely clever show? I loved the 2014 quirky mockumentary (by Jemaine Clement and Taika Waititi) from Australia, and the series, set in Staten Island and now in its third season, keeps getting better and better. These vampires are not sparkly or even particularly glamorous or attractive, but they sure are funny (also bloodthirsty).
The Great (Hulu) One of the finest period shows on TV now, this sumptuously gorgeous and wickedly witty series by Tony McNamara (The Favourite) followed its debut season with an even better second one (watch for my in-depth review coming soon). Elle Fanning and Nicholas Hoult have wonderful chemistry as Catherine, the peasant who becomes Russia's most famous queen, and her ambitious and morally corrupt husband.
Midnight Mass (Netflix) This intense miniseries is part horror, part drama, and strikingly philosophical. Created by Mike Flanagan, who brings along some of the cast from his hit series The Haunting of Hill House and The Haunting of Bly Manor, this is another horror story with undertones of existential yearning. What is life? What is death? What is sacred? The characters who populate this remote island community find themselves rather unexpectedly contemplating these questions when a mysterious priest (a brilliant Hamish Linklater, also well worth watching in Tell Me Your Secrets) arrives, determined to bring people back to the abandoned church.
Peg Aloi is a member of the Boston Society of Film Critics. Her film and TV reviews have appeared in Time, Vice, Polygon, Bustle, Orlando Weekly, Crooked Marquee, and Bloody Disgusting. She's writing a book on witchcraft in popular culture. Her blog "The Witching Hour" can be found at https://themediawitch.substack.com/.
---
Sarah Osman
After the complete and utter disaster of 2020, I think it's fair to say that 2021 was not as much of a dumpster fire. We are still in the midst of a pandemic, but we do now have a vaccine and, since some of us have gotten vaccinated, we are beginning to get out of the house now. Even though we can now gather safely (but cautiously) with our friends and family, television continued to be the go-to place for diversion and companionship. 2021 was another peak year, proving (once again) that this is the golden age of the small screen. Like most critics, I had trouble selecting the best given how much material was aired this year. In no particular order, here are what I consider to be the best shows of 2021: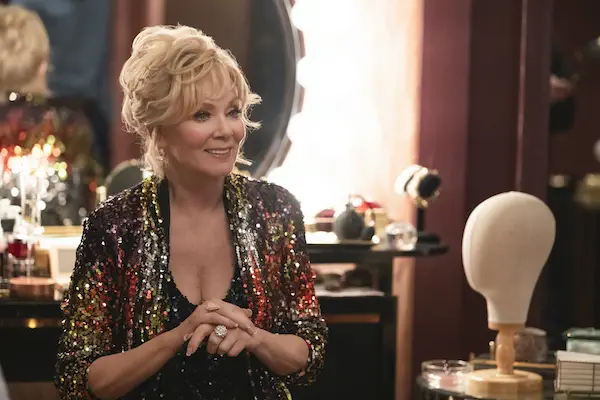 Hacks:  The series proved why Hollywood execs should fight one another for the privilege of working with Jean Smart. In her well-deserved Emmy-winning role, Smart stars as Deborah Vance, a legendary Vegas comedienne inspired by Joan Rivers (or, as the series describes her, your drunk aunt's favorite comedienne). Deborah hires Ava (Hannah Einbinder), an entitled Gen Z comedy writer, to freshen up Deborah's material before her performance dates are cut. Much of the series' humor stems from the chemistry between Smart and Einbinder, particularly when Deborah forces Ava to go on humiliating missions for the sake of the veteran's career. However, the show's deeper themes have barely been this smartly explored, ranging from the blatant sexism that pervades the world of female comedians to the generational divide in popular entertainment. The best scenes come when Ava learns details about Deborah's life and begins to discover more of why she is the way that she is. We'll get to learn more about what makes Vance tick when season two of Hacks premieres sometime next year.
Squid Game: After watching Squid Game, none of us will look at the game Red Light, Green Light the same ever again. The South Korean hit fused friendly children's games with homicide to drive home a powerful message about the viciousness of capitalism and the horror of poverty. The series kicked off by following Seong Gi-hun (Lee jung-jae), a compulsive gambler who is trying to do right by his daughter and his mother. Desperate for money, he agrees to play Ddjakji with a mysterious man (the gorgeous Gong Yoo), who tells him that every time he beats Gi-hun, he will give Gi-hun money, but every time he wins, he gets to slap Gi-hun. Gi-hun is slapped multiple times. Despite this, he wins a fair amount of money and decides to take up the man's offer to earn even more lucre. He unknowingly enters the Squid Game, alongside 456 other players, who are also deep in debt. When the players realize what "being eliminated" means, they react in terror (except for one smiling old man). The games only turn more intense from there. What could have turned into a South Korean version of Saw becomes a complex and nuanced narrative. It's easy to become attached to the show's characters (Ali deserved better!). And be prepared to be surprised by who the real villains are. The series' distinctly vibrant set design — it looks like a child's playhouse — adds to the gauche creepiness, as well as the bright pink uniforms worn by the guards. Will there be a season two of Squid Game? Not clear — but what we have gets better with every rewatch.
Chucky: The Child's Play films, featuring the killer doll Chucky, embrace camp with a vengeance. Chucky may not be as scary as other classic monsters, but that's not really the point of the series, which succeeds as a fun, cheeky (albeit at times scary) ride. What's even more remarkable is that creator Don Mancini has been involved with all of the movies (except for the dreadful reboot). He returned to direct, write, and produce the latest Child's Play iteration, which builds on the plot of Cult of Chucky. The series, aptly named Chucky, may be a little confusing to viewers who are new to the killer doll. But for fans of the films it serves up a bloody good time. Brad Dourif returns to voice the pint-sized serial murderer and Jennifer Tilly is back as his psychopathic girlfriend, Tiffany. (Fiona Dourif is on hand to give a remarkable performance playing a younger version of her own father.). The TV series takes us back to Chucky's hometown, Hackensack, NJ, and into the life of a middle schooler by the name of Jake (Zachary Arthur). He quickly realizes that Chucky is a threat to his town and he sets out, with the help of his boyfriend and eventual friend Lexie, to stop him. Jake is gay, but the series never treats him as a victim, which is a welcome change to how many LGBTQ+ folks are treated in horror films  A hilarious, absurd, and grotesque exercise in black comedy, Chucky will splatter our screens with blood once more when he returns for season 2.
Chad: Only the brilliant Nasim Pedrad could pull off playing an obnoxious 14-year-old Persian boy who is still somehow endearing. That pretty much sums up this series: Pedrad plays a 14-year-old who desperately wants to be cool by downplaying his Persian heritage. Nearly everything Chad says or does will make you cringe, but therein lies the comedy: he's your typical teenager driven by despair. Chad's best friend, Peter (played by Jake Ryan, an actual teenager) is a particular standout — his dry reactions to nearly everything around him pairs well with Chad's over-the-top reactions. Thomas Barbusca (The Mick) plays the popular Reid. Much of the humor stems from Chad's Persian upbringing, particularly when he hangs out with his uncle, Hamid (Paul Chahidi). His attempts to help Chad get a discounted pair of sneakers are priceless. Chad's cringe factor might be a bit too much for some viewers, but for those who love humor rooted in awkwardness, Chad is a must see.
The White Lotus: I initially resisted watching The White Lotus, believing it to be yet another snarky drama about rich white people. However, after my friend (who is from Hawaii) recommended it, I decided to give it a go. The White Lotus is centered around a number of obnoxious rich white people. But at no point are we ever supposed to root for, or dare I say, even like any of these characters. The crowd is hanging out at a luxurious resort in Hawaii and, as the series goes on, they become increasingly insufferable. The employees do their best to interact with them — it's clear that they are very used to these types of people. Sadly, some of them end up getting horribly burned. Director and creator Mike White excels at pointing out the inequities in our society — spotlighting the endemic power structures that keep the one percent at the top. The series could easily have been too melodramatic or depressing, but White brings in enough satire to keep nihilism at bay. The ensemble cast is phenomenal. It's debatable whether or not the entitled characters ever learn anything — just as it is debatable if our society has changed at all, despite the fervor of the chattering classes.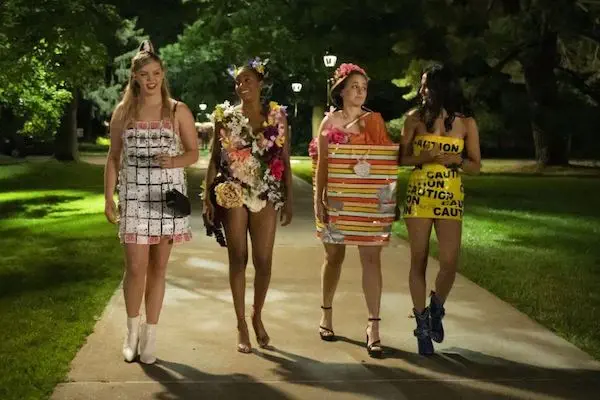 The Sex Lives of College Girls: As I mention in my review of this delectable comedy, there are many TV shows and films about the trials and tribulations of high school, but there aren't that many focused on the college years. The Sex Lives of College Girls remedies that void with an amusingly sympathetic look at four roommates and their adventures during their first semester of college. Each girl has her own distinct personality, problems, and upbringing. But, despite their differences, they become close friends. Even the side characters are treated as more than one-dimensional plot devices. The girls' struggles will be familiar to most college students (and to those of us who survived it). The themes, ranging from feeling like you don't fit in to trying to live up to a parent's impossible standards, are what today's college students face: there is no attempt to have the women solve a murder or some other ridiculous nonsense. Thankfully, we will get to follow the girls' adventures during their second semester because the series was renewed for a second season. Until then, showrunners should take notes from creators Mindy Kaling and Justin Noble on how to draft a funny, heartfelt, and complex look at adolescence.
Reservation Dogs: Remarkably, Reservation Dogs offers a number of firsts: it's the first series to feature only Indigenous writers and directors alongside a mostly Indigenous cast and crew. It's also the first series to be filmed in Oklahoma. The plot is minimal: a group of teenagers desperately want to get off of the reservation. They are determined to get to California. As they do whatever it takes to procure the money to leave, we learn about their everyday lives, their family members, the town they live in, and the death of their friend, Daniel. Each episode builds on the last, but they can also stand entirely on their own: think of a collection of intertwined short stories. There is dry humor mixed with the pathos.  It is insane that a show about the everyday lives of Indigenous teenagers took so long to be made. Of course it is about time because, as co-writers Taika Watiti and Sterlin Harjo note, it's important for people to see their own stories on screen.
Ted Lasso: Ted Lasso has been criticized for being too mushy (yes, the Christmas episode is pretty cheesy, but what Christmas episode isn't?) But its sophomore season pushed against this charge. Yes, its protagonist is always cheery, but he's dealing with some deep inner demons. When a sports therapist played by Sarah Niles arrives to help out the other players on the Richmond team, Lasso (Jason Sudekis) pushes against the idea that he even needs therapy. He constantly jokes with the shrink, and she quickly sees that this is a coping mechanism. The fact that there is a darker side to Ted saved the series from becoming stagnant. We also get to see the inner turmoils of other characters, including Roy Kent (Brett Goldstein, who still has the funniest timing on the show), Jamie Tartt (Phil Dunster), and even the secondary Nigerian player, Sam (Tooheb Jimmoh). It may be all one happy family, but that doesn't mean its members are happy all the time — or that they never face any problems of their own. Ted Lasso is about how these flawed people help each other up when one of them falls down — all except for one crucial character, whose turn to the dark side sets up an intriguing dilemma for season 3.
WandaVision: Despite the fact that WandaVision didn't completely stick its landing, the series was — and currently still is — the best of the Marvel shows to come out of Disney +. The show manages to appeal to both Marvel and non-Marvel fans alike because it tells a story that, at its heart, is about grief and trauma. It helps that WandaVision took the form of a mystery; each episode gave viewers enough clues to attempt to guess the next piece of the puzzle. The show's time-tripping landscapes were also intriguing (I particularly liked '60s Wanda and early 2000s a la Malcolm in the Middle Wanda). But the visuals didn't distract from the narrative's heartfelt dramatic center: the relationship between Wanda (Elizabeth Olsen) and Vision (Paul Bettany). Marvel executives take note: storytelling that focuses on human beings is more rewarding than dreaming up convoluted plots that only make sense to diehard Marvel fans.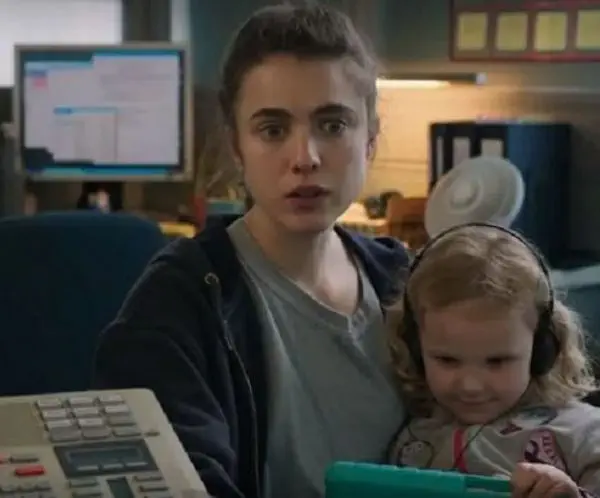 Maid: Inspired by Stephanie Land's powerful memoirs Maid: Hard Work, Low Pay and A Mother's Will to Survive, this series succeeded in serving its source material well. There are differences from the book, sometimes to the show's detriment, but for the most part, wise decisions were made. The narrative follows Alex (Margaret Qualley), a young mother who leaves her abusive boyfriend and has to begin cleaning houses in order to provide for herself and her young daughter. Alex faces many frustrating challenges, most of which stem from how the cycle of poverty is designed to keep the poor in their place on the economic food chain. Make too much money and you lose the state and government support necessary to maintain a basic existence. Along with dealing with the complexities of punitive federal rules and regulations, Alex also has to grapple with her unstable mother (played by Qualley's real life mom, Andie MacDowell), as well as her ex-boyfriend and the father of her daughter, Sean (Nick Robinson). In the wrong hands, Maid could have come across as a Lifetime special, but it succeeded because of its complex writing, nuanced performances, and the care it took to present its subject material.
Honorable Mentions:
I Think You Should Leave: The second season of Tim Robinson's absurd sketch show is funnier than its predecessor.
The Other Two: The social satire became even more biting in the second season of this show about the trials and tribulations of a brother and sister of a teenage superstar.
It's a Sin: This heartfelt look at the AIDS crisis in '80s London reminded us that, even in times of sorrow, there are moments of joy.
Sarah Mina Osman resides in Wilmington, NC. In addition to writing for the Arts Fuse, she has contributed to Watercooler HQ, Huffington Post, HelloGiggles, Young Hollywood, and Matador Network, among other sites. Her work was included in the anthology Fury: Women's Lived Experiences in the Trump Era. She is currently a first year fiction MFA candidate at the University of North Carolina Wilmington. When she's not working on articles, she's dancing, watching movies, traveling, or eating. She has a deep appreciation for sloths and tacos. You can keep up with her on Twitter and Instagram: @SarahMinaOsman