By Peg Aloi
The increased racial and cultural diversity of In Treatment's cast and overall tone are noteworthy and commendable.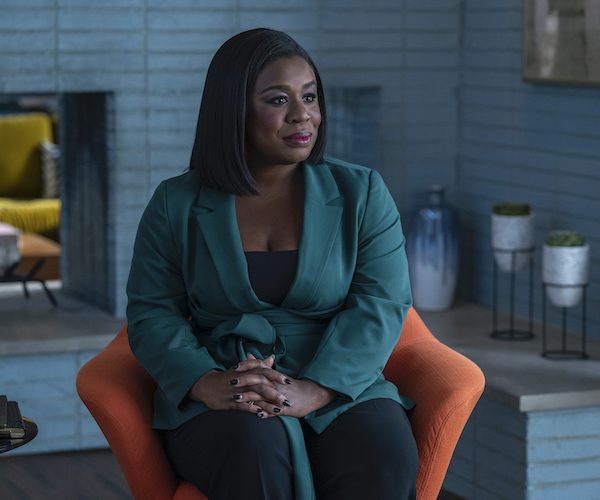 In Treatment, HBO's short form series featuring one-on-one therapy sessions, debuted in 2008, starring Gabriel Byrne as Paul Weston, a therapist based in Washington, DC. Created by Rodrigo García (who also wrote and produced episodes of Carnivàle, Six Feet Under, and Christine), adapted from Israeli TV drama Be Tipul by Hagai Levin (a producer and consultant on the American version), the tight structure and intimate setting of each episode (under thirty minutes and mostly set in Paul's office) set the stage for an intense focus upon dialogue and performance.
Paul is married to Kate (Michelle Forbes of The Killing and True Blood) and their marriage is somewhat rocky. He has three children, two teenagers and one ten year old. His therapy business is busy and his reputation is excellent. His time is devoted almost utterly to his patients. But what drama about psychotherapy would be complete with an exploration of the therapist's own demons, without a turning of the tables? And so Paul turns for professional advice to his previous mentor and colleague Gina (veteran actress Dianne Weist), a therapist whom he sees throughout the series.
Season One was 43 episodes. Aired five nights a week and based on when the patient sessions took place, the series offered an engaging viewing experience that reflected the intensity of Paul's work schedule. There was Laura (Melissa George), a sexually-frank doctor who confesses she is attracted to Paul in the first episode. There's Alex (Blair Underwood), a decorated pilot ordered to undergo therapy after he killed a number of civilians while serving in the Iraq War. Sophie (an impressive Mia Wasikowska) is a suicidal teenage gymnast. Jake and Amy (Josh Charles and Embeth Davidtz) are a married couple on the verge of splitting. Season Two had a similar structure and length. Season Three ran for seven weeks in 2010, with four episodes per week, for a total of twenty-eight. One of the principal directors was Paris Barclay, a distinguished director who also worked on NYPD Blue, The West Wing, ER, and more recent shows like Sons of Anarchy, Empire, and Scandal. In Treatment's first three seasons garnered numerous awards.
Ten years later, the show returns for a fourth season on HBO Max, with a new therapist as the focus. To prepare to review the new season, I binge-watched the first three. There was something rather satisfying about keeping up with the relentless pace set by the show's original broadcast schedule, which seemed to be a harbinger of the binge-watching patterns which would soon become ubiquitous in the streaming television landscape. I found myself deeply invested in character outcomes, and drawn into the cast members' performances.
Season Four continues on a tight schedule (four episodes a week for a total of twenty four) and with another excellent cast. Uzo Aduba (whose portrayal of Suzanne "Crazy Eyes" Warren in Orange is the New Black won her two Emmy Awards and two Screen Actors Guild Awards) is Dr. Brooke Taylor, a former colleague of Paul Weston, who is mentioned in the series but never shown. Choosing to make the protagonist a Black woman instead of a white man opens up intriguing commentaries on gender, race, privilege, and social expectations. There are other notable differences between the two characters.
Paul's a long-married father of three; Brooke is single, with an on-again, off-again boyfriend named Adam (The Killing's Joel Kinnaman). Paul's home is comfortable, high-end suburban, the office full of books, the couch well-worn. Brooke lives in an architectural gem designed by her father, filled with art and contemporary furniture. Paul wears the same rumpled navy jacket every week; Brooke's impeccable wardrobe, full of bright colors and opulent fabrics, is practically its own character. Paul is a listener, who often responds with a nervous laugh to his patients' stories; Brooke is more mercurial, quick with a comment to guide her patients' self-exploration.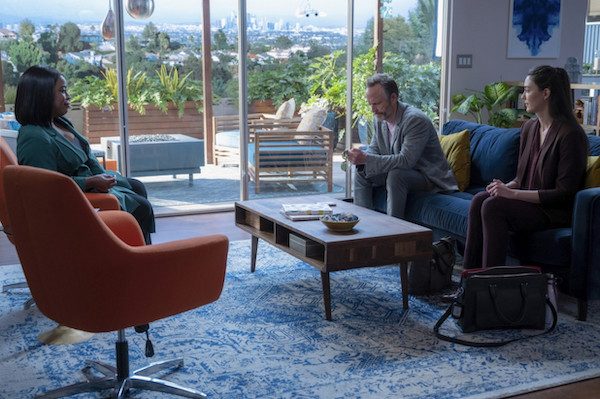 But, for all their considerable differences, there are similarities in the therapists' lives and the way the show dramatizes their individual journeys. Paul struggles with his estrangement from his father and the traumatizing death of his mother when he was a child. He allows inappropriate attachments to occur with his patients. He's not a good patient himself, often being pompous and defensive with Gina and later with Adele (Amy Ryan), another psychiatrist he sees when he is suffering from insomnia. Brooke, on the other hand, struggles with her past alcoholism, which is poised to return as she lets her former lover and primary enabler Adam back into her life. She also grapples between acting on her desire to have a family or to maintain her fiercely independent existence. Her therapist is actually her former AA sponsor, Rita (Liza Colón-Zayas), and when Brooke shows signs of relapsing, the two must part ways.
Brooke's patients are also challenging: a young, exceedingly bright caregiver who feels lonely and exploited (Anthony Ramos), a narcissistic white collar criminal (John Benjamin Hickey), and a privileged but confused college-bound girl struggling with her sexual identity (Quintessa Swindell). All three challenge, in different ways, Brooke's innate empathy. Occasionally, organic revelations take a back seat to characters giving voice to ongoing social movements and issues via via somewhat too-carefully-placed rants. Still, the increased racial and cultural diversity of the show's cast and overall tone are noteworthy and commendable. Also, as with the show's first three seasons, the performances are first rate.
In Treatment's presentation is minimal: single sets, tight shots, very little music, and an almost exclusive focus on the therapy sessions as the sole source of dramatic action. When something else bleeds through, or a different location appears for a moment, we're reminded of the primacy and sanctity of the therapeutic space and its value. Despite their own failings and weaknesses, both Paul and Brooke are very good at what they do, professional and insightful. As their patients inch closer to self-awareness, contentment and/or redemption — and as Paul and Brooke do their best to navigate their own messy lives — viewers are given an immersive experience that is both stimulating and soothingly cathartic
---
Peg Aloi is a former film critic for the Boston Phoenix and member of the Boston Society of Film Critics. She taught film studies in Boston for over a decade. She writes on film, TV, and culture for web publications like Vice, Polygon, Bustle, Mic, Orlando Weekly, Crooked Marquee, and Bloody Disgusting. Her blog "The Witching Hour" can be found at themediawitch.com.