By Peg Aloi
This wholly original period piece crackles with energy, humor, and pathos.
The Electrical Life of Louis Wain, directed and co-written by Will Sharpe. Screening at Kendall Square Cinema.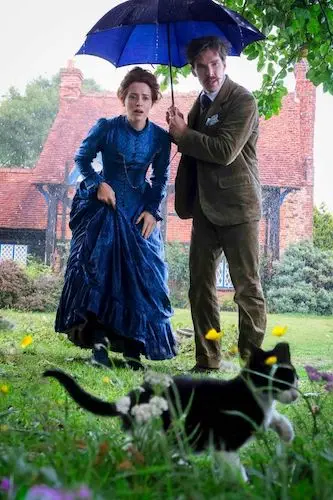 Starring Benedict Cumberbatch, this charming biopic about a man whose quirky paintings of cats made him world famous is also a story about resilience, mental illness, and how the loss of a soulmate lingers for a lifetime. Directed by Will Sharpe, the visionary creator of the film Black Pond and the terrific series Flowers, who co-wrote the script with Simon Stephenson, this wholly original period piece crackles with energy, humor, and pathos.
Do Englishmen dream of electric cats? Louis Wain did. Born into a noble family that falls on hard times, Wain does what any well-bred Victorian gentleman would do to support his five sisters and doting mother: he works odd jobs while chasing his dreams. When the editor of the London Times (First Cow's Toby Jones) offers him a full-time job, Louis, who has trouble sitting still and focusing, is ambivalent. But soon he realizes that working as an illustrator might be the best position he could hope for.
Cumberbatch has a well-honed reputation for playing oddballs and villains, and he gives a tour de force performance as the film's eccentric hero. He portrays Wain's deep sensitivity and social discomfort with breathtaking nuance. When new governess Emily (The Crown's Claire Foy) arrives to care for his younger sisters, Louis is immediately smitten: his attraction to her beauty, warmth, and strangeness flickers across the actor's face like candlelight. Emily's awkwardness is smoothed by her sweet nature. What's more, she sees something special in Louis, who finds himself charmed by her sharp intelligence. Despite the scandalous response to their less than sophisticated behavior in public — and the horror of Louis being romantically involved with a woman of a lower class — they fall into an affair and decide to marry.
Soon after they move into their new home they discover a stray kitten on the grounds and decide to name it Peter. They're both enamored of the cat, doting on it as if it were a child. Louis begins drawing and painting cats obsessively. When a two-page spread appears in the Times of his work, the public goes crazy for cats and for Louis. The film's portrayal of cats is hilarious and inventive, with subtitles provided for their meows and dreamy visuals suggesting these are magical creatures indeed.
But Louis has another obsession: electricity. He's captivated by how electricity works and its physical and psychological implications for our lives. He also believes cats' relationship with electricity is significant. Meanwhile, the respect and love the public feels for Louis's cat illustrations turns into a full-blown craze. The popularity of his drawings makes Louis rich — briefly. He might have become a millionaire if he'd understood anything about copyright law. Also undercutting his period of success is the public's befuddled hostile response to his rambling and bombastic lectures on electricity. He comes off as increasingly unbalanced, possibly because there was scant understanding at the time of his particular mental illness (schizophrenia perhaps). Louis's family is grateful for his hard work, but their financial problems begin to mount, with sister Caroline (the always-excellent Andrea Riseborough, also seen in Nancy and Possessor) doing her best to keep regular order and overcome her frustration with Louis's failure to be a reliable breadwinner. Meanwhile younger sister Marie (Hayley Squires, of In the Earth) succumbs to her own mental health problems. The family finds itself having to weather constant bouts of hardship and heartbreak.
Sharpe's Flowers is an idiosyncratic, funny, and deeply moving series that follows an oddball, troubled family that lives in a rural English village. More than one member of the family is a prolific artist who suffers from mental illness. One of them is struck by lightning in a storm: after that, her creative output becomes even more manic and inscrutable to her collaborators. It is suggested that the lightning intensified both her talent and her illness. Her brilliance and difference are a gift — or perhaps a curse, or both — from nature. Louis Wain, as seen through Sharpe's lens, is similarly blessed and afflicted.
Sharpe creates worlds that mirror the unique magics of his characters, which straddle the divide between genius and eccentricity. They feature beautifully discordant music, riotous colors, and moods that nimbly reflect light and shadow. From the start, Louis is portrayed as a marvelously odd man, peering over the garden walls of normalcy in order to glimpse wondrous vistas. The cats are like, well, familiars, guiding Louis's aesthetic passions and soothing his moments of mental fragility. Sharpe's vision of this brilliant man is suffused with tenderness, but also with moments of terror. We not only wonder but shudder at what it means to live in a surreal dimension that's at odds with the real world.
The Electrical Life of Louis Wain is an impeccably made film, its searing expression of artistic alienation put across by a stellar cast. The movie is more than a judiciously loving homage to its subject: it is an impassioned wake-up call for us to seek out love, art, and companionship wherever we can. Don't miss the delirious and moving end credits.
---
Peg Aloi is a former film critic for the Boston Phoenix and member of the Boston Society of Film Critics. She taught film studies in Boston for over a decade. She writes on film, TV, and culture for web publications like Vice, Polygon, Bustle, Mic, Orlando Weekly, Crooked Marquee, and Bloody Disgusting. Her blog "The Witching Hour" can be found at themediawitch.com.