By Peg Aloi
Director Ben Wheatley has a knack for creating characters whose anti-social behavior is shocking.
In the Earth, directed by Ben Wheatley. Screening at AMC Boston and other screens in New England.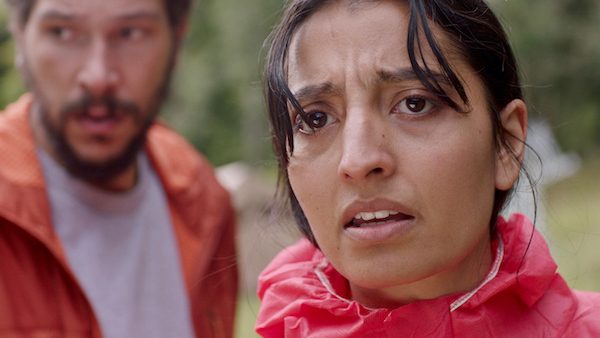 Ben Wheatley is nothing if not versatile in his storytelling and style. But a number of his films have offered a fairly dark view of nature, disturbing enough to place him among the purveyors of contemporary folk horror in English cinema. After some very glossy thrillers (Rebecca, Free Fire, and High Rise), Wheatley has returned, for the moment, to his folk horror roots with his Sundance premiere In the Earth.
For a story to be classified as folk horror, it needs to engage in some way with both nature and folklore and, of course, do so in a way that is disturbing or terrifying. Wheatley's Kill List (2011) concludes with a mesmerizing pagan ritual that resonates with any number of famous English folk horror films, including Robin Hardy's The Wicker Man (1973) and Piers Haggard's The Blood on Satan's Claw (1971). In Sightseers (2012), a couple explores the limits of their relationship and zest for rule-breaking while camping in remote wooded areas. A Field in England (2013) perhaps takes this trope the furthest, combining a brutal tale of rural survival during the 17th century civil war with a strange interlude that features psychedelic mushrooms and strobe lights. In the Earth utilizes strobe lights as well; it also includes disclaimers and warnings for viewers who might be negatively affected by them.
Although it had its world premiere at Sundance, In the Earth already had production backing from Neon, a company known for high quality films, many of them in the horror and thriller genres. Wheatley introduced the movie's initial screening by saying it wasn't clear if shooting would have been able to be completed during the pandemic. He offered heartfelt thanks to the actors and crew for persevering. It may be that the restrictions imposed shaped the size of the story (the cast is small, and most of the action takes place outdoors). Some Wheatley fans might suggest the film is better for it, given the somewhat lukewarm reception of his last two big budget projects.
Although In the Earth doesn't mention Covid-19 by name, a pandemic serves as the framing device for the narrative. It begins with shots of an eerily quiet woodland. Soon we see Martin (Requiem's Joel Fry), a scientist, approaching with a backpack and entering a visitors' lodge in a national park. He is greeted by park employees, who test him to ensure he is not carrying a "virus" that they don't quite refer to by name. Martin is visiting another scientist who's been doing research in the woods for several months. He will be escorted by a park scout, Alma (Midsommar's Ellora Torchia). They have a two day walk ahead of them, deep into the forest to the camp of Martin's colleague Olivia Wendle (Hayley Squires of Call the Midwife). Before they leave, Joel becomes fascinated by artwork and children's drawings in the lodge that depicts a woodland spirit known for centuries in local legend.
Along the route, the scenery is bucolic. Martin and Alma get along fairly well, though both are quiet. They come across an abandoned encampment, with a tent, cooking supplies, and children's books. They surmise a family may have been trying to escape the pandemic by living in the woods. The discovery disquiets them both. That night, the pair are attacked inside their tent by an unknown assailant. Both of them are injured. The next morning they find that their gear has been stolen, including their shoes. As they set out to find Olivia's camp, they run into a man living alone in the woods, in a makeshift camp outfitted with salvage and found objects. Zach (The League of Gentlemen's Reece Shearsmith) has been living illegally in the park and he is fearful of strangers. But Martin and Alma reassure him they mean no harm and he offers them hospitality. Zach also tends to Martin's injured foot, and finds shoes for them.
Soon enough, the quiet pace of the story escalates dramatically and Martin and Alma find themselves in danger. They reach Olivia's camp, where she's been doing experiments with the forest soundscape, using an elaborate technical set-up, as well as studying the hallucinogenic mushroom spores in the area. Both Olivia and Zach's long solitary existence in the forest has adjusted their worldview in some fascinating ways. Zach in particular has embraced pagan spirituality and the lore of the local woodlands to an alarming degree. Things quickly become quite harrowing and trippy, which is to say, Wheatley is back on form.
Still, I found myself wishing there had been more reliance on character drama and less on visual and sound effects, which seemed overdone, given the natural setting. Though perhaps that was the point: we may try to escape society for the healing solace of nature, but we can't stop trying to invent a larger meaning or search for an overarching purpose. Nature, it seems, is not the cure we may hope for. In that sense, the message may be a fitting commentary on our past pandemic year. Wheatley has a knack for creating characters whose anti-social behavior is shocking, and this gives actors plenty to work with. Shearsmith and Squires both give outstanding performances, and there's good support from Fry and Torchia. But the overwhelming onscreen presence in In the Earth is the forest itself, festering with mystery and peril.
---
Peg Aloi is a former film critic for the Boston Phoenix and member of the Boston Society of Film Critics. She taught film studies in Boston for over a decade. She writes on film, TV, and culture for web publications like Vice, Polygon, Bustle, Mic, Orlando Weekly, Crooked Marquee, and Bloody Disgusting. Her blog "The Witching Hour" can be found at themediawitch.com.