By Peg Aloi
What is the problem with this Rebecca? It is stunning to look at and well-crafted, but I sometimes felt as though the actors were striving for a tone more suitable to a film other than the one they were in.
Rebecca, directed by Ben Wheatley. At the Kendall Square Cinema, Cambridge, MA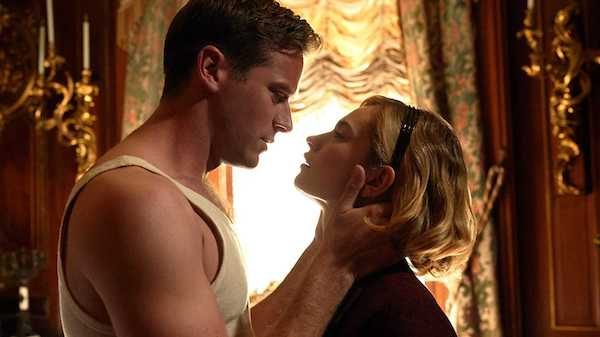 Readers, here I sit, reeking of cheap rosewater, wondering how I might find a job as a lady's companion so that I might travel, meet a handsome divorced millionaire, and spend my days wandering through an enormous castle in Cornwall while servants anticipate my every need. This is not likely to happen, so I shall try my best to describe Ben Wheatley's Rebecca. It is stunning to look at and well crafted but, despite that, it is not the inventive tour de force that a remake of this classic story ought to be, especially given Wheatley's narrative and stylistic gifts. The 1940 film version of Daphne du Maurier's novel, directed by Alfred Hitchcock, stars Laurence Olivier as millionaire Maxim de Winter, Joan Fontaine as the nameless Mrs. de Winter, and Judith Anderson as Mrs. Danvers, the austere manager of Manderley, the grand house at the heart of the story. Wheatley's version stars Armie Hammer (Call Me By Your Name) as Maxim, Lily James (Baby Driver) as Mrs. de Winter, and Dame Kristin Scott Thomas as Mrs. Danvers. The problem is not with the casting, which is first rate, right down to small roles performed by actors with memorable faces and flawlessly executed looks and gestures. Wheatley continues to be a filmmaker whose work with actors (many of them appearing in multiple projects, like Michael Smiley and Robin Hill) is beyond reproach.
The story should be familiar enough: a young woman, in voice-over narration, begins by saying she has dreamt of Manderley, a grand house on the coast of Southern England. She reminisces about meeting "you," her husband-to-be, Maxim de Winter. This young woman has no name, until she marries and becomes Mrs. de Winter. Indeed, the only woman's name that matters here is Rebecca, Maxim's first wife, who died under tragic but mysterious circumstances  (gradually revealed as the film progresses). The future Mrs. de Winter is a lady's companion to Mrs. Van Hopper (played with glorious effusiveness by Ann Dowd), a wealthy Londoner who travels and socializes and does little else. She treats her assistant with cruel condescension (the cheap rosewater comment a cruel reference to her poverty and lack of sophistication), jealously noting the young woman's noticeable infatuation with the glamorous, manly Maxim, whom Van Hopper is trying insidiously to get closer to. But Maxim is charmed by the young woman's lack of social savvy, her fawn-like demureness. A whirlwind courtship is almost cut short after Mrs. Van Hopper decides to leave suddenly on a steamship to America. Maxim impulsively proposes marriage and the newly minted Mrs. De Winter is brought to the imposing mansion by the sea. She is daunted by its size and opulence, the many servants, and the haunting, lingering presence of the previous Mrs. de Winter, made worse by the passive-aggressive comparisons made by Mrs. Danvers, whose obsession with Rebecca brims with a sort of cold fury.
The time to do a remake of a vintage classic had arrived for Wheatley. It was a logical next step for a director whose has put out a number of quirky horror films and thrillers, ranging from the darkly subversive (Sightseers and Kill List) and satirical (Down Terrace) to the just plain wonderful and strange (the medieval, black-and-white ode to psychedelia, A Field in England). He went on to make glossy higher budget projects like High Rise and the rather American crime story Free Fire (his next project is, well, a giant shark thriller sequel, The Meg 2). Wheatley does meet the challenge of this classic revival in some ways; there is a great deal of artfulness in his Rebecca. The screenplay, by The Woman in Black's Jane Goldman along with Seberg's  Joe Shrapnel and Anna Waterhouse, relies on silences as well as words, giving actors ample opportunity to convey nuance and subtlety. The visuals are also notable, with grand expanses of scenery, exquisite details of finery (in particular the planning of a grand ball inspires a whirlwind montage of preparations, featuring delectable shots of food, décor, and decadent costumes). Wheatley's distinctive skill with composition and color palettes is in full  evidence, in tandem with production designer Sarah Greenwood (who worked with Joe Wright on Atonement and Hanna) and cinematographer Laurie Rose (who worked with Wheatley on Free Fire and Kill List). The period furnishings, walls of paintings, and vintage cars are eyefuls. The sumptuous score by Clint Mansell (High Rise, Black Swan, Moon) is appropriately thrilling and quite beautiful.
I enjoyed the performances of the three leads, particularly Kristin Scott Thomas (though I found myself fantasizing about Phantom Thread's Lesley Manville in this subversive role), and smaller turns by excellent actors like Keeley Hawes and Sam Riley. So, what is the problem with this Rebecca? I sometimes felt as though the actors were striving for a tone more suitable to a film other than the one they were in. Indeed, on occasion the movie's emotional/thematic intent was  hard to pin down; sometimes a touch of noir, as with Hitchcock's version, sometimes a slightly erotic period thriller, along the lines of The Libertine or The Forsyte Saga, sometimes a lofty mystery piece, sometimes a Gothic romance. I can't quite say with confidence that Wheatley didn't know what he wanted the film to be — there is a sense of authorial intention — but the scrambling up of genres doesn't quite satisfy. Too much is betwixt and between. Why didn't a director of his stature feel free to reinvent this story, rather than just update its aesthetics to a more opulent, cinematic scale? The characters and story seem to want to break free of the well-upholstered constraints, but can't quite do so. Wheatley's determination to pay homage to the grand ghosts of Hitchcock and Olivier is too strong.
---
Peg Aloi is a former film critic for the Boston Phoenix and member of the Boston Society of Film Critics. She taught film studies in Boston for over a decade. She writes on film, TV, and culture for web publications like Vice, Polygon, Bustle, Mic, Orlando Weekly, Crooked Marquee, and Bloody Disgusting. Her blog "The Witching Hour" can be found at themediawitch.com.