By Tim Jackson
Dan Callahan has crafted an entertaining and illuminating guide to understanding Hitchcock's relationship with some of the most iconic actors of his day.
The Camera Lies: Acting for Hitchcock by Dan Callahan. Oxford University Press, 272 pages, $34.95.
Buy at Bookshop.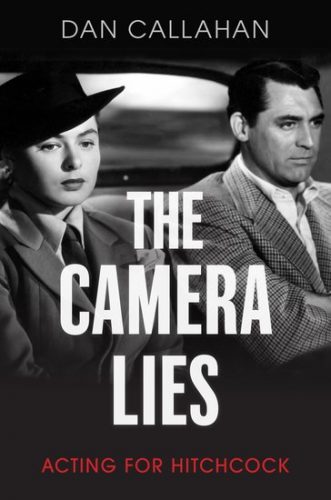 "Actors are like cattle," Alfred Hitchcock famously declared. He later claimed it was merely one of his "Machiavellian quips" and not to be taken seriously. "Let us say, rather, that actors are a necessary evil." Revising his statement further, he said, "Actors should be treated like cattle." Dan Callahan's new book, The Camera Lies: Acting for Hitchcock, is filled with anecdotes that detail the director's fraught relationship with his performers. His research covers all the director's films, from The Pleasure Garden (1925) to his final effort, Family Plot (1976). Callahan, who has published two earlier books on film acting history, has read widely on his subject. There are numerous biographies and critical volumes on the filmmaker's individual films to draw on, particularly François Truffaut's Hitchcock/Truffaut, a series of conversations between the two directors, and Donald Spoto's The Dark Side of Genius, which looks at Hitchcock's work in relation to how it reflects his (numerous) eccentricities.
The Camera Lies focuses on the director's fascinating attitudes about acting and the casting process. It is important to keep in mind that Hitchcock was a highly technical director. From story development (done with the essential assistance of his wife Alma) through preproduction and production, he exactingly calculated his use of camera angles, storyboards, and music. Sometimes even the timing of specific scenes was determined beforehand. His feeling about actors was much less methodical: they merely had to do their job for the camera. Underacting was his mantra. Celebrated as "The Master of Suspense," he favored montage sequences as the best way to involve audiences by building maximum tension. When it came to constructing a scene, Hitchcock often relegated actors to a series of smaller, less essential shots.
"The sense of versatility in a stage actor, of convincingly being or portraying something you are not, was anathema to Hitchcock," claims Callahan. "The externals of a face interested Hitchcock, and certain line readings could be sculpted." Silent film actors, trained for the stage, could often appear artificial and overwrought in the movies. Stanislavski's Method, developed in this country under Lee Strasberg, trained actors to tap into the inner life of their characters in order to emphasize emotional realism. The aim was to create more believable film performances. But when it came to the movies, Method actors risked chewing the scenery, which was just what Hitchcock didn't want. As a result, some actors were a better fit for him than others. With that measurement as his guide, Callahan has crafted an entertaining and illuminating guide to understanding the director's relationship with some of the most iconic actors of the day. Hitchcock knew he wielded the whip hand: actors at all levels of success are pressured by competition, fear of bruised egos, and the tyrannical whims of directors and producers.
In The Lodger (1926), Hitchcock's taste in performance is evident. Of the film's lead actor, Ivor Novello, the author writes, "He is at his best when he silently broods and trusts to presence . . . at his worst when most active." Hitchcock liked actors who "did nothing well." Regarding Herbert Marshall, the male lead in Murder! (1930), Callahan observes that he "is the ideal Hitchcock actor: a little phlegmatic, maybe, but able to suggest that there are fires banked down in him, and with a speaking voice redolent of the plummy but held-back or constipated tones of James Mason." Many of Hitchcock's male leads often come off as somewhat repressed, often sexually inhibited, a characteristic many recognized in Hitchcock himself. Think of the unctuous Bruno Anthony played by Robert Walker in Strangers on a Train (1951), or the coiled madness of Anthony Perkins's magnificent Norman Bates in Psycho (1960). A legendary actor, however, could throw Hitch for a loop. The director could not elicit the performance he wanted from one of the era's finest actors, Charles Laughton, whose repressed homosexuality would seem to make him an excellent fit for a Hitchcock protagonist. About Laughton in Jamaica Inn (1939) Hitchcock declared: "It isn't possible to direct a Charles Laughton film. All you can do is act as a referee."
Some of the greatest Hitchcock performers managed to be both charming and somewhat mysterious: "Cary Grant was an ideal Hitchcock actor because he never settled on one attitude for long." Jimmy Stewart and Henry Fonda, both debonair, naturally folksy, and low key, also served Hitchcock well. As for a great Method actor like Montgomery Clift, Callahan comments that "he was a virtuoso and not a Hitchcock actor. He acts with his cheeks, his mouth, his hands, his eyebrows, his forehead."
The actresses in Hitchcock's films often leave the strongest impression. He preferred women who were smart, cool, sexy, well-coifed, usually blonde, and exuded a tantalizingly restrained sexuality: Joan Fontaine, Kim Novak, Eva Marie Saint, Janet Leigh, Doris Day, Tippi Hedren, and Grace Kelly. Hitchcock's idea of "negative acting" encourages viewers to project onto the character rather than to try to figure out their intentions. "Hitchcock wants us to do the acting most of the time" is how Callahan puts it. Hitch adored Kelly, but he lost her when she became Princess of Monaco: "For Hitchcock, Kelly was a doll that could be molded to his specifications. She is for the movies, a fantasy." Novak "looks, fleshy, solid, and earthy, but her manner is ethereal, spacey, anxious, absent." One note Hitch gave Novak stands as useful advice for all film performers: "If you put a lot of redundant expressions on your face, it's like taking a piece of paper and scribbling all over it." Ingrid Bergman was another favorite: "Bergman's face lives in dreamy uncertainty," comments Callahan. What Hitchcock really liked were faces in transition. He wanted the camera to spotlight the split-second gulf that opened up when one emotion changed into another.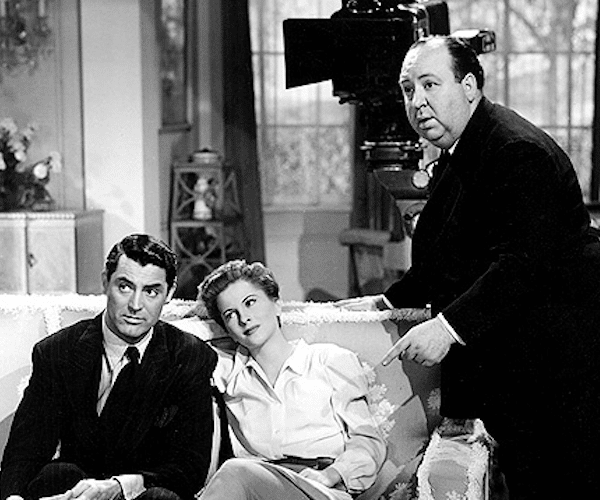 Not all of Hitch's relationships with actresses were rosy. The notoriously salty and sexually forthright Tallulah Bankhead — cast in Lifeboat (1944) — was not his kind of woman. Too overtly aggressive. Sadly, as he grew older, the director's sexual peccadilloes became increasingly apparent. He became abusive and controlling toward Tippi Hedren, the star of The Birds (1963) and Marnie (1964). "Hedren's stories in recent years describe Hitchcock resembling the villain in an old stage melodrama on the set of Marnie, practically twirling his mustache as he demanded sexual access to her."
Despite his personal flaws, Hitchcock's five decades of work remain among the most significant in film history. "Hitchcock deals in dreams, fears, and archetypes," argues Callahan, "but the richness of his work lies in his ability to also charge these non-realistic elements with realistic detail." For actors, the stories in this book should be educational. As contemporary casting agencies, channeling Hitchcock, often advise: "You'd be great for this. Just don't act."
---
Tim Jackson was an assistant professor of Digital Film and Video for 20 years. His music career in Boston began in the 1970s and includes some 20 groups, recordings, national and international tours, and contributions to film soundtracks. He studied theater and English as an undergraduate, and has also has worked helter skelter as an actor and member of SAG and AFTRA since the 1980s. He has directed three feature documentaries: Chaos and Order: Making American Theater about the American Repertory Theater; Radical Jesters, which profiles the practices of 11 interventionist artists and agit-prop performance groups; When Things Go Wrong: The Robin Lane Story, and the short film The American Gurner. He is a member of the Boston Society of Film Critics. You can read more of his work on his blog.