While calling this Ben Wheatley's most violent film may be debatable, Free Fire is absolutely the one most riddled with gunshots.
Free Fire, directed by Ben Wheatley. Screening at AMC Assembly Row 12, Tremont Street, Boston.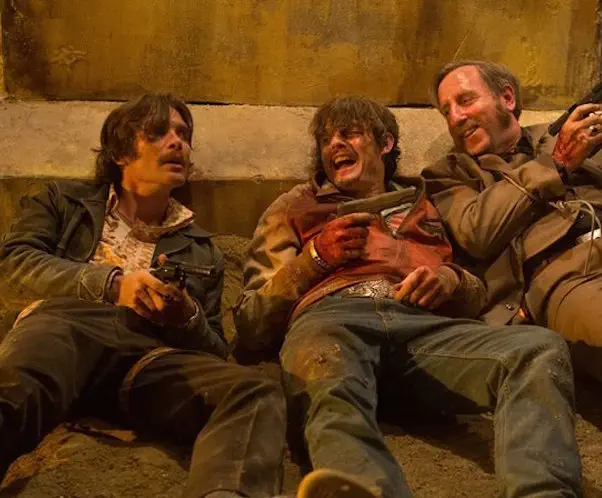 By Peg Aloi
Ben Wheatley's films reflect an aesthetic that straddles the crude and the beautiful and, as his productions garner larger budgets, his stylistic palette is becoming more refined. His signature strengths remain: the dark humor, unexpected behavior interrupting calm moments, the propensity for sudden violence, the way even huge open spaces can be made to feel closed in. Wheatley's frequent co-writer and editor (and life partner) Amy Jump has collaborated with him on nearly every film (aside from his debut, Down Terrace) and will work with him on the forthcoming Freakshift, a violent thriller about aliens. Free Fire marks the first Wheatley film set in the United States (ostensibly Boston, although the city's name is never mentioned), and while calling it his most violent film may be debatable, it is absolutely the one most riddled with gunshots.
A backdoor arms deal takes place in an abandoned factory between two IRA mercenaries (Cillian Murphy and frequent Wheatley denizen Michael Smiley) and an assortment of dealers, including Brie Larson (Room), Armie Hammer (The Birth of a Nation and Nocturnal Animals), Babou Ceesay (Eye in the Sky) and Sharlto Copley (The Hollars and Maleficent). Henchmen doing the driving and heavy lifting are played by ne-er-do-wells Sam Riley (Control) and Enzo Cilenti (The Martian). There are a few more members of the cast, which is mind-bendingly good. They need to be: they're stuck in a damp, dirty factory for the entire film. The choice to use only one set may seem odd; the decision is often driven by budgetary constraints. But the numerous Executive Producers on this film suggest otherwise. What Wheatley does with this conceit is surprisingly dynamic and suspenseful, as the deal-making breaks down rather quickly and a personal beef between the helpers on both sides erupts into random gunfire and angry chaos.
Wheatley was present at the Brattle Theatre for a special premiere of Free Fire this week and said that the film is not dominated by the characters one would expect: the "intelligent, beautiful people" like Brie Larson and Cillian Murphy (who have a few awkwardly flirtatious moments) end up being no more significant than the bumbling grunt workers, the "minions" as Wheatley calls them, Riley and Cilenti (also Jack Reynor, Noah Taylor, Patrick Bergin, and Mark Monero). Despite being low on the gangster totem pole, these "minor" characters end up being lynchpins of the plot and action. Their indelible stupidity and reckless, emotion-driven actions lend a good deal of humor and suspense to the story.
And the story? We have no idea what might have happened had the trade been made, aside from the fact that money would change hands and the violent resistance in Ireland would be aided by American guns. There comes a point when you dimly become aware that these people may never get out of this room. The guns in question (semi-automatic machine guns, handguns, a carbine used by a sniper, and more) are terrifyingly loud; viewers are subject to startling bursts of deafening sound. For me, this made the film authentic, but also somewhat stress-inducing. The endgame situation was made all the more suspenseful given that there seemed to be few potential outcomes beyond everyone dying of gunshot wounds in that dank industrial space. That's not precisely what happens, but if you're expecting a glossy crime thriller tinged with romance and sardonic humor, let me remind you, this is Ben Wheatley, and he takes no prisoners.
I asked Wheatley about the sound design and the intensity of the sound of constant gunfire:
I wanted to make it feel terrifying, and to be more like my own experience of what firing guns sounds like. I think cinema tends to mix the gun shot sounds down until it's almost as loud as a punch, so people can talk over it. The silencer (or suppressor, which is the technical name for it) has a sort of 'tick tick tick' sound, but in finished films it's very loud. But throughout the evolution of cinema, the sound of the guns has become quieter and quieter.
To prepare for this film I went to a rifle range to test the weapons and to see what it was like to fire them, and I found they were dangerously loud, ear-splittingly loud. In cinema the bandwidth of sound isn't as loud as it is with our own hearing; so you can't really replicate that sound of gunfire. It's not unlike how darkness is represented in film; it's blue, which is not really how we see darkness. Our real perception of the dark is that it's grey and fizzy, but in film you can't really replicate the eye's perception of it, it's atmospheric. It's the same with the microphone, the sound ends up having a slightly abstract feeling. So we played with a few tricks, like with the levels of sound, making the general sound level lower just before the gunshots occurred so they'd sound slightly louder, which will drive people nuts when they see it on DVD. The thing is, inside the sound of the gunfire you also have other sounds, and usually in the movies the gunshots are the sound of blanks firing, so we recorded live rounds being fired. That's how it was done in Saving Private Ryan.
The sound of gunfire in film in the traditional sense, like in 1950s or '60 war movies or cowboy movies, can become quite tiring on the ear because it's all the same sound and on the same level. We tried to make every different gun sound unique, within that 3D space. We wanted it to really sound like it would if it was happening near you, not just how it sounded being recorded into a microphone. Again, it's one reason I loved that they did this in Saving Private Ryan, you felt like there was metal in the air, it was dangerous and painful. People described it like bees buzzing over them, it's why you feel so scared listening to movies in enclosed spaces, that sense of claustrophobia.
Claustrophobic is a very appropriate way to describe Free Fire; the factory location feels spacey yet finite at the same time. The casting of Larson seemed an inside joke, given her Oscar-winning turn in Room, but Wheatley told me she'd been cast in this project first (replacing Olivia Wilde who was not able to do it). High Rise's Luke Evans was originally meant for the Sharlto Copley role (Evans would have been American; Copley inspired Wheatley to make the character a South African).
The actors work like a well-oiled machine machine here, sustaining the terror through sleek applications of grace and clumsiness, depending on the demands of the moment. The factory begins to feel like a terrifying Gothic repository of horrors, its hallways and stairwells dripping with mildew and full of oily, ancient ghosts. The sound is vast within the high ceilinged space, a harrowing tsunami of gunshots designed to make viewers very, very uncomfortable. The pace is energetic and the badinage among characters often hilarious and absurd. Free Fire isn't terribly subtle or layered; I'm not sure I want to re-watch it any time soon (something I often look forward to with Wheatley and Jump's films). But it's an impressive display of innovation and shift in form for this talented, well-established filmmaking team.
---
Peg Aloi is a former film critic for The Boston Phoenix. She has taught film studies for a number of years at Emerson College and is currently teaching media studies at SUNY New Paltz. Her reviews have appeared in Art New England and Cinefantastique Online.