By Sarah Osman
For those looking for a humane alternative to the media panic, to steady themselves during a period of uncertainty, Station Eleven comes along at the right time.
Station Eleven Streaming on HBO Max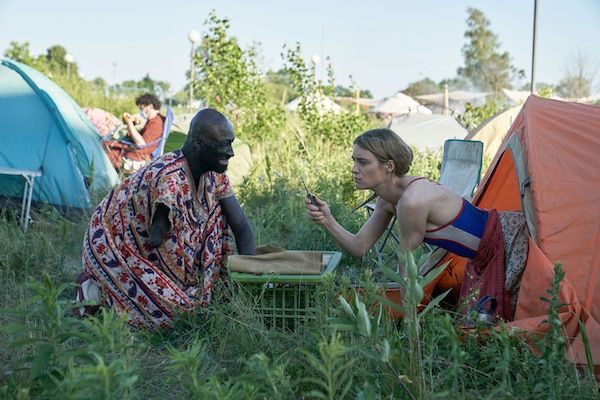 During the height of the ongoing pandemic, I read Emily St. John Mandel's Station Eleven, a novel that takes place during and after a deadly flu kills most of the world's population. Reading about a deadly global catastrophe while living through a deadly global catastrophe was, to say the least, a surreal experience. And I am sure that many viewers will feel the same dadaesque déjà vu as they watch HBO Max's miniseries adaptation of Station Eleven. Some may (understandably) not wish to deal with a drama about another pandemic; others may find an odd comfort in the effort. Like the book it's based on, Station Eleven takes an in-depth look at the aftermath of a pandemic, with particular emphasis on how society functions after experiencing catastrophic disruption.
Station Eleven begins in the same way as the novel. During a production of King Lear in Chicago, lead actor Arthur Leander (Gael Garcia Bernal, who gives a strong performance but is woefully miscast) has a heart attack. The only audience member who takes action is Jeevan (Himesh Patel), but he has no medical background and is unable to save Leander. In the midst of the chaos, Jeevan ends up taking under his wing a young actress, Kristen (Matilda Lawler), a bond that becomes increasingly important with the arrival of a massive virus that kills at rapid speed and spreads throughout the globe.
Fast forward years into the future. Kristen (convincingly played by Mackenzie Davis as a spirit of endurance) has joined up with the "traveling symphony," a troupe of artists who perform Shakespeare for the ragtag communities still standing. The group's mantra is "survival is insufficient": its members believe that there needs to be more to life than survival — art's value is that it reminds us that life is indeed worth living. This inspiring vision of creativity is explored throughout the series. Why are they staging Shakespeare? Because it is what the company has always done? Could it be time to give up on the habits of the past and concentrate on building a new society? This conflict about how to shape the future post-Covid is becoming increasingly relevant as the real-life pandemic surges on: changes need to be made and there is pressure on societies (in the developed world and elsewhere) to adapt to them. Will low-wage employees go back to working for mere peanuts? Or will they demand living wage increases? Will offices become a relic of the past as more and more employees work from home? What will be the enduring spiritual and mental effects of the disease? This series explores these issues and questions, albeit in a parallel world. Seen as a sort of entertaining lab experiment, Station Eleven may be the most timely series on television at the moment.
There are some distinct differences between the novel and the series, but the show generally follows the nonlinear structure of Mandel's book, jumping between different times and perspectives. Will the series be able to balance these time jumps? That is debatable. Novels have an easier time following a nontraditional structure than film, especially those that expect to appeal to a broad popular audience. The constant shifts will no doubt be confusing to those who are unfamiliar with the book. Still, at the moment, each episode focuses on a specific time and character(s), so this may not become a problem.
Like Mandel's novel, Station Eleven doesn't depend on working out an intricate plot. The series examines the nature of relationships, particularly the inexplicable connections that bring us together. Don't expect the shocking twists and turns that fuel other dystopian series, such as The Walking Dead or The Hunger Games. Domestic links drive Station Eleven, as it taps into the realization (at least among non–Fox TV viewers) that a sense of togetherness (of protecting others) was (and is) key to enduring the pandemic. In this sense, Station Eleven explores the disease's psychological trauma, perhaps the greatest to rock America and its sense of well being since World War II. For those who are looking for a humane alternative to the media panic, to steady themselves during a period of uncertainty, Station Eleven comes along at the right time.
---
Sarah Mina Osman is a writer residing in Wilmington, NC. In addition to writing for the Arts Fuse, she has written for Watercooler HQ, Huffington Post, HelloGiggles, Young Hollywood, and Matador Network, among other sites. Her work was included in the anthology Fury: Women's Lived Experiences in the Trump Era. She is currently a first year fiction MFA candidate at the University of North Carolina Wilmington. When she's not writing, she's dancing, watching movies, traveling, or eating. She has a deep appreciation for sloths and tacos. You can keep up with her on Twitter and Instagram: @SarahMinaOsman