By Jonathan Blumhofer
Thanks to a blend of compositional technique and solid musical grounding in each of the works, "Flames to Ashes" exceeded easy categorization.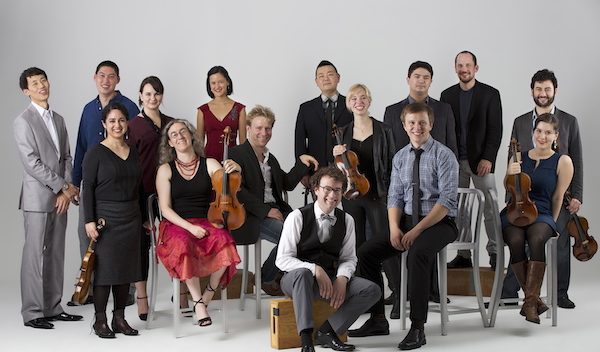 Leave it to A Far Cry to present a December concert that, rather than focusing on feel-good holiday fare, instead looked back on the year just ending. That they did — uncompromisingly — with "Flames to Ashes," the ensemble's final program of 2021, presented Sunday afternoon at Jamaica Plain's St. John's Episcopal Church.
Each of the concert's offerings, all of them string quartets or quintets written in the last 15-or-so years, could be heard, on the one hand, as commentaries on pressing social issues: racism, anti-Asian violence, gun violence, and the like. To be sure, the music did, sometimes viscerally, respond to these themes.
Yet, thanks to a blend of compositional technique and solid musical grounding in each of the works, these selections also exceeded easy categorization. The result wasn't political music, exactly; rather, it was music drawn from the everyday stuff that defines our lives and our society (and, through that, our political discourse), for good and ill.
Yaz Lancaster's quintet our streets, a Crier commission, was composed to mark the centenary of the 1921 Tulsa Race Massacre. According to the composer's note, neither an elegy nor aiming for a sense of generic uplift, our streets is largely reflective, its 20-minute duration involving much in the way of repetition and embellishment of its several melodic motives. Its two most striking episodes — the first a kind of jam session for low strings with scratch tones and bent notes, the other a driving pizzicato bass solo — are well placed and stand out for the contrasts they provide.
Sunday's performance was rhythmically taut and terrifically colored, both the agitated moments and during our streets' quiet coda, in which members of the ensemble hum while accompanied by a solo violin. Further hearings will help determine whether or not Lancaster's score is, indeed, too long — spots in this premiere felt discursive. Nevertheless, it's music that holds the attention and, afterwards, casts a long shadow.
Vocal — as well as percussive — interjections were likewise found in Jungyoon Wie's Han. A string quartet meditation on the eponymous Korean concept relating to repressed grief and anger, Han's five movements alternate lyrical episodes with improvisatory-like ones, as well as moments of slashing violence.
The Criers imbued all of it with a winning fervency on Sunday, from the first movement's mournful solos and intense climaxes to the third's dancing lines (which called for violinist Gabriella Diaz to play an hourglass drum, at which she proved remarkably adept) and the finale's purgative chants.
Granted, by the end of the last, those sung gestures felt a bit gimmicky. Even so, the larger piece held together well.
Unique, then, among the afternoon's offerings was Kevin Puts's Credo: all of its musical conflicts were presented and resolved just by stringed instruments.
Heard in a quintet arrangement, this 2007 essay dates from the aftermath of the Virginia Tech shooting. While the composer's pessimism at the political response to the event provides some extramusical context, the piece itself draws on people and places with whom Puts "found solace": an instrument maker's workshop in New York, on a jogging path in Pittsburgh, watching a mother teach her daughter to dance.
Accordingly, its four movements are plenty evocative. The first draws forth some wonderfully rich and idiomatic solo violin writing. In the second, athletic leaps and gestures emerge out of a motoric ensemble texture. The third floats gently, while the finale acts as a sort of summation of all that's come before.
Taken together, Credo is a beautiful piece and was played accordingly on Sunday afternoon. Violinist Diaz's first-movement solos and duets with violist Loewi Lin were serenely done. The "jogging music" was vigorous but lithe, and the third-movement's delicate phrases sweetly shaped. Everything came together at the end in a cathartic series of dialogues between the whole ensemble.
Granted, 2021 won't end as smoothly. Still, for a moment at least, Credo's repose — hard but honestly won — carried the day.
---
Jonathan Blumhofer is a composer and violist who has been active in the greater Boston area since 2004. His music has received numerous awards and been performed by various ensembles, including the American Composers Orchestra, Kiev Philharmonic, Camerata Chicago, Xanthos Ensemble, and Juventas New Music Group. Since receiving his doctorate from Boston University in 2010, Jon has taught at Clark University, Worcester Polytechnic Institute, and online for the University of Phoenix, in addition to writing music criticism for the Worcester Telegram & Gazette.