By Jason M. Rubin
This seven-song, hour-long release, drawn from three nights at the fabled 1369 Jazz Club, is, in a word, sensational.
Going for It,  Harvie S Trio (Savant Records)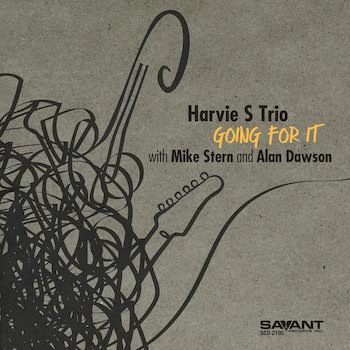 It's always of interest when tapes of old live performances that no one knew existed are discovered and released. When the tapes in question were recorded at the long-gone, still-missed 1369 Jazz Club in Cambridge, the curiosity increases exponentially. And when the band that had been surreptitiously taped was a trio led by first-call jazz bassist Harvie S (Swartz), guitarist Mike Stern, and late local legend Alan Dawson on drums — all with Berklee College of Music pedigrees — then it takes on the aura of a truly historic document. That's what we are now fortunate to behold: Going for It is a seven-song, hour-long release from the Harvie S Trio, drawn from three nights at the fabled club in 1985, and it is, in a word, sensational.
The story about how this came about can be heard on this YouTube preview video, but the short version is that Harvie S was playing some gigs at the 1369 and it was suggested to him that he bring a band in. Stern had been on some of the bassist's recordings and was asked to join; then, instead of bringing in a New York-based drummer, the leader had the divine inspiration to call in Dawson, a mainstay at local clubs like the 1369, who would have been a big star had he not decided to stay in Boston and teach instead of tour the world, as he had earlier in his career with the likes of Sonny Rollins, Jaki Byard, and Dave Brubeck. Outside of Boston and the worldwide drum community, he is best known as Tony Williams's teacher, but anyone frequenting the local jazz scene in the decades before his untimely death from leukemia in 1996 knew that with Dawson on stage, the band was going to swing and swing hard.
Unbeknownst to the band at the time, jazz drummer David Lee was in the crowd for all three nights and recorded the entirety of their stay. Described in the liner notes as "a high-quality cassette recorder with two microphones," Lee's rig was obviously not up to modern recording standards — and, in fact, you do hear audience members talking during the course of the program, but the immediacy and intimacy actually adds to the excitement of the CD. And when the solos are getting very hot (as happens track after track), the hoots and hollers make you feel that you're actually in the club listening.
Stern is best known as a fusion guitarist, though at his best — as here — he is often on the jazz side of fusion. He plays with a cool fire in a program that is largely made up of standards like "On Green Dolphin Street," "Softly, As in a Morning Sunrise" (on which Dawson demonstrates his legendary brush technique), Horace Silver's "Peace" (which everyone in the club would have recognized as being the theme song of Eric Jackson's popular jazz show on WGBH Radio, Eric in the Evening), and "Like Someone in Love." While it's easy to assume that the gig is Mike Stern in front of a rhythm section, the three players are equals and the rapport among them is at an astonishingly high level. Stern and Dawson, in particular, are so in sync they seem to be a single octopod-like creature. This is particularly noticeable on the John Coltrane composition, "Moment's Notice," from his classic Blue Train. Here, Stern plays long, fluid lines at an assertive tempo with Dawson anticipating where the guitarist is going and providing the grease to get him there, until the drummer unleashes a torrid solo of his own to the delight of the appreciative crowd.
Chick Corea's "Windows" begins with Stern strumming chords as Harvie S steps out with his tasty, melodic playing. Eventually Stern takes up the mantle, though he seems in no rush to chart a course. No matter, the three are all in this tub together and, by the four-minute mark of this 10-minute performance, they're well on their way. The CD concludes with its only original composition, Stern's "Bruze," which absolutely burns for more than 14 minutes (the track length is 15:15, the audience's rabid applause constituting the final solo). Here, after a fairly staid introduction, Stern finally allows himself to walk on the rock side of fusion — and all the while he's wailing with electric power, Dawson hangs on like a hungry dog on a shank bone, pushing him forward and putting a bruising on his drum kit as well.
Despite the bootleg-like nature of the recording, the sound is wonderful; the only quibble being that "On Green Dolphin Street" fades out instead of ending. Surely with three nights of performances, a suitable full take could have been found. Beyond that, this CD is a treasure, certainly among the hottest dates any of the three ever put down on tape. Hearing a young Stern, fresh off drug rehab, playing strong, is a treat. For fans of the 1369, this is an important addition to their vault of memories. With Dawson gone 25 years now, a new recording that displays him in full possession of his prodigious talents is like hitting the lottery, an unexpected and enormously rewarding gift. David Lee is to be thanked for recording these shows and Harvie S deserves full credit for putting this band together and assembling this release. Suffice to say, Going for It is an essential jazz recording.
---
Jason M. Rubin has been a professional writer for more than 35 years, the last 20 as senior creative associate at Libretto Inc., a Boston-based strategic communications agency where he has won awards for his copywriting. He has written for Arts Fuse since 2012. Jason's first novel, The Grave & The Gay, based on a 17th-century English folk ballad, was published in September 2012. His current book, Ancient Tales Newly Told, released in March 2019, includes an updated version of his first novel along with a new work of historical fiction, King of Kings, about King Solomon and the Queen of Sheba. Jason is a member of the New England Indie Authors Collective and holds a BA in Journalism from the University of Massachusetts Amherst.