By Peg Aloi
These are people behaving badly, even while they struggle to retain their dignity.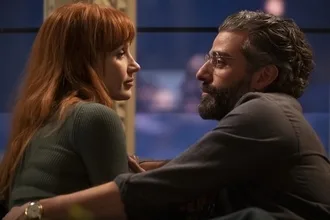 Based on Ingmar Bergman's experimental 1973 television mini-series of the same name, this recent HBO series feels very American and contemporary, but artfully echoes the original's freshness and intensity. Indeed, the original series was also recently invoked in the film Bergman Island (which I saw as part of this year's London Film Festival), which featured a bucolic location where the director filmed the episodes. Starring Liv Ullman and Erland Josephson, Scenes from a Marriage was critically acclaimed and became a milestone for Bergman, whose work produced for television was as fine as any of his best known feature length films. Bergman revisits the couple thirty years later in Saraband. The main publicity image for that 2003 film is identical to the one for Hagai Levi's 2021 adaptation: the couple stands close together in a near embrace, eyes closed, heads bowed forward and touching. The suggestion is that, thirty years hence, perhaps Jonathan and Mira (Oscar Isaac and Jessica Chastain) will find themselves similarly reunited after their divorce?
The five part series (Bergman's was six) spans ten years, but the first half takes place over a series of months. In the first episode, Mira and Jonathan, who have a young daughter, seem to be in a therapy session (a nod to creator Levi's excellent series In Treatment, adapted from his Israeli series Be'Tipul). It turns out they are being interviewed by a graduate student studying gender roles in marriage, and discover how they define themselves, or don't. Articulating their expectations of "husband" or "wife" opens up questions about how the marriage is doing. Mira, who works for a prominent tech company, is the primary breadwinner, while Jonathan, an academic, plays stay-at-home dad. They seem somewhat self-conscious when asked to talk about their relationship to a stranger.
This dovetails into an intense scene in which another couple (Nicole Beharie and Corey Stoll, both fine actors who make the most of this brief sequence) has come to dinner and are hashing out a difficult development in their polyamorous relationship. This scene mirrors a theme in Bergman's series but there the context is the newly-popular "open marriage" model many couples explored in the '70s. The question hangs in the air: is this an experiment that Jonathan and Mira want to try? Perhaps not, seeing the strife it causes for their friends. There is also a sense that they consider such a lifestyle slightly beneath them, too bohemian, not suited to their busy lives. In a later scene, Mira announces to Jonathan that she's pregnant, and their discussion runs the gamut from ecstatic to pragmatic, ultimately testing the waters of their future.
In the second episode, Mira delivers a bombshell announcement that fractures the marriage and leaves Jonathan in shock. He wants to work at solving their problems, Mira is determined to leave. The resulting emotional confrontation puts them both through a gauntlet of repercussions and resentments. This event puts in motion the couple's eventual decision to split. But the trajectory is not straightforward: the scenes where they wrestle with decisions they're not necessarily ready or willing to make are gut wrenching in their raw emotion. Chastain and Isaac are both astonishingly good here, beautifully matched in their ability to make written dialogue sound utterly natural. It helps that the script is beautifully adapted from Bergman's for a contemporary audience, by Levi and Amy Herzog. The drama rests on the strong shoulders of these two actors, who master a stunning range of emotional states, from raw desire and brittle indifference to white hot anger, often in the course of one episode.
But, in addition to all the relationship drama and physicality, there is a great deal of conversation; indeed that is mainly how the story plays out. Both Jonathan and Mira are intellectual, mercurial, and fairly knowledgeable about psychology. Their efforts to navigate the journey of their marriage are fraught with the lexicons of couples counseling, yet their interactions also reflect their uniquely expressive connection to one another. Statistically, divorce may be a common experience, but that doesn't make it any less deeply stressful and often painful. It's hard to think of a film or series in which this hellish experience has been laid bare with such exquisite nuance and richness.These are people behaving badly, even while they struggle to retain their dignity. The emotional carousel is accompanied by a masterful score by Evgueni and Sacha Galperine, who also composed the score for one of my favorite films of 2019, Loveless: a brutal, stunning film about divorce.
The action takes place almost entirely in the couple's home. We see frequent shots of the outside of the house, which is referred to often because of their plans for renovations. The life of the marriage seems inextricably tied to the house and, as their relationship evolves, the house mirrors these transformations. The original series was shot by cinematographer Sven Nykvist (who worked with Bergman on a number of films including Cries and Whispers, as well as American films like Star 80 and Crimes and Misdemeanors) and his work was intimate, almost painfully so at times. Cinematographer Andrij Parekh, who has photographed and directed episodes of HBO's Succession and whose feature film work includes Blue Valentine, shoots this retelling with a similar intimacy, but he infuses more warmth than what the 1973 series allowed: the color palettes are softer, the interiors more shadowy. The look of the series is naturalistic, the house very lived in, the sense of detail beautifully rendered.
We know, for example, that Mira brushes her teeth quickly and aggressively, while Jonathan uses a softly whirring electric toothbrush, and takes his time. A nicely-observed bit of character business? Or a window into the vastly different ways that these two people move through the world? The end credits are shown over stunning visual sequences that picture the natural world right outside the house: birds, insects, leaves dripping with rain. These images suggest that they are part of a mystery to be decoded. Are they a metaphor for marriage as an ecosystem? This eminently watchable series is a searing portrait of a relationship that seems strong enough to survive anything, yet turns out to be so changeable that it breaks apart unexpectedly, like a stormcloud, or a seedpod, or a murmuration — solid, and yet strangely ethereal.
---
Peg Aloi is a former film critic for the Boston Phoenix and member of the Boston Society of Film Critics. She taught film studies in Boston for over a decade. She writes on film, TV, and culture for web publications like Vice, Polygon, Bustle, Mic, Orlando Weekly, Crooked Marquee, and Bloody Disgusting. Her blog "The Witching Hour" can be found at themediawitch.com.