By Sarah Osman
The sophomore season of the Apple TV + hit comedy is even more winning than its first.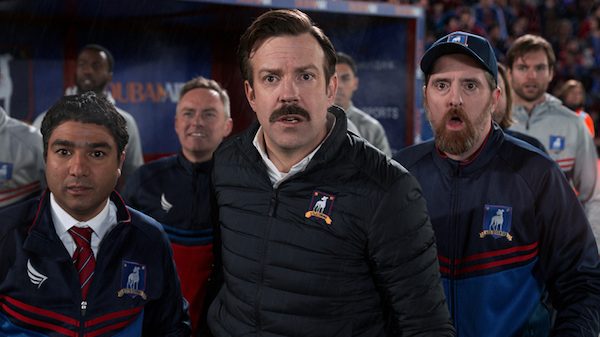 When Apple TV + first announced it was creating a TV show that would revolve around a character created to promote the scheduling of the English Premier League on NBC, few expected that it would become a huge success. The initial commercials for Ted Lasso (Jason Sudeikis) were pretty irritating: an American football coach with no knowledge of how soccer is played is hired to coach the Tottenham Hotspur club. Each sketch featured a rather obnoxious Lasso attempting to learn about football, and the focus was on easy comic pickin's: there were allusions to American pop culture (one team is dubbed "Jennifer Lawrence") and players were advised to tackle one another. Once the Premier League became a regular part of NBC's programming, Ted Lasso was quickly pushed to the sidelines.
Last year, Apple TV + premiered a sitcom based around the titular character and it was a turnaround. Not only was the show hilarious as it tried to explain the Premier League to Americans, but it was full of heart. As an English Premier League fan, I appreciate many of the jabs directed at the organization, but the core of the show is the endearing bonds that the characters form with one another. Also important, this Ted Lasso, unlike his original incarnation, is so darn likable you can't help but cheer for him. The show's multiple Emmy nominations have been well earned.
Much like the winner of the FA cup, the second season of Ted Lasso had a lot to live up to. Thankfully, the series avoids the dreaded sophomore slump. It is headed toward taking yet another championship; in fact, the second season is even better than the first.
Season two picks up with the AFC Richmond team, now in a lower division, holding their own. They have had seven straight draws (ties). Because of an unfortunate incident involving a dog on the field, the team hires sports psychologist Dr. Sharon Fieldstone (Sarah Niles) to help traumatized player Dani Rojas (Cristo Fernandez, whose delivery of "football is life!" is enough to earn him an Emmy). Since Dr. Fieldstone (or "Doc," as Lasso calls her) helps Rojas so quickly, she's hired to stay on and assist other players for the rest of the season. Watching Dr. Fieldstone, who has a no-nonsense attitude, casually diagnoses Lasso's over-friendliness is interesting as well as intriguing. Obviously, the series is going to delve into Lasso's psyche. Underneath his bright smile lurk dark demons, his distrust of therapists no doubt driven by the fallout from his divorce. Examining Lasso's constant cheeriness is a wise move for the series, if only because revealing his deeper anxieties will make him an even more sympathetic protagonist.
Season two focuses on more than Lasso. Keeley (Juno Temple) and former star player Roy Kent (Brett Goldstein) continue their romance as Kent tries to assemble a post-football life. Even when he's off the field, Kent remains delightfully surly, though inside he is clearly full of fluff. Some of his most memorable moments come when he is hired as a pundit for Sky Sports news. (It's really a pity more sportscasters are not as blunt as he is.) Meanwhile, the owner of the team, Rebecca (Hannah Waddingham), begins her search for a soulmate, even though most of us are rooting for Lasso and Rebecca (or as I like to call them: Lasbecca). Watching Rebecca date other men hasn't been very entertaining, but a bit of brilliant advice from Kent is key for all of us to remember: you deserve to date someone who makes you feel as though you were struck by lightning (don't settle for less). Bad boy player Jamie Tart (Phil Dunster) also reappears, and his stint on an absurd reality dating show was another example of the satiric brilliance of Ted Lasso.
And it is good that this go-around expands on the endearing side characters introduced in season one. Newly appointed coach Nate (Nick Mohammed) is unnecessarily mean to his new underling. These interactions could be cringeworthy, but every time Nate yells at his subordinate you can't help but giggle. Higgins (Jeremy Swift) is kicked out of his office and attempts to find a new home. And we delve into the life of Nigerian player Sam (Tooheb Jimbo), who is taking on a much more substantial role in the series.
Quick-witted remarks continue to be exchanged between characters ("Don't you fret, Boba Fett!" is a particular standout) and, like any successful show about a sports team, the actors skillfully draw on camaraderie for emotional strength. Perhaps that is one key to the show's popularity in these polarized times: we see people of different temperaments and backgrounds working together for a common cause. But there is no reason to reach for political explanations. Even if one isn't an English Premier League fan or has no clue what a wanker is (it's a word not to be used in polite society), Ted Lasso fans will continue to find the show as charming as the biscuits Lasso serves Rebecca each morning.
---
Sarah Mina Osman is a writer residing in Wilmington, North Carolina. In addition to writing for The Arts Fuse, she has written for Watercooler HQ, The Huffington Post, HelloGiggles, Young Hollywood, and Matador Network, among other sites. Her work was included in the anthology Fury: Women's Lived Experiences in the Trump Era. She is currently a first year fiction MFA candidate at the University of North Carolina Wilmington. When she's not writing, she's dancing, watching movies, traveling, or eating. She has a deep appreciation for sloths and tacos.