Arts Fuse writers continue their countdown of great music celebrating its 50th anniversary this year. This month's diverse list includes Elton John, Paul and Linda McCartney, Humble Pie, Miles Davis, and Nick Drake.
Hits be damned. Sometimes you just have to crank up the volume and rock out, like John McLaughlin does on Miles Davis's Live Evil, or Peter Frampton does on Humble Pie's Rockin' the Fillmore. Other times, you have to say what you are compelled to say no matter what others may think, as Elton John and Bernie Taupin do on Madman Across the Water or Paul McCartney does on Ram. Then sometimes you reach for the elusive hit record, but your demons drag you down, like Nick Drake on Bryter Later. This month's selections of music celebrating its 50th anniversary this year demonstrate that Top 40 singles are by no means the only measure of lasting musical influence or fans' affection.
Because The Arts Fuse's 1971 Project got a late start, in February, we're going to have one more entry in January 2022 to bring the series up to an even 12. Stay tuned, and let us know what music from 1971 was, and remains, meaningful to you.
For those who missed them, here are the 1971 music entries for February, March, April, May, June, July, August, September, October, and November.
– Allen Michie
---
Madman Across the Water – Elton John (UNI)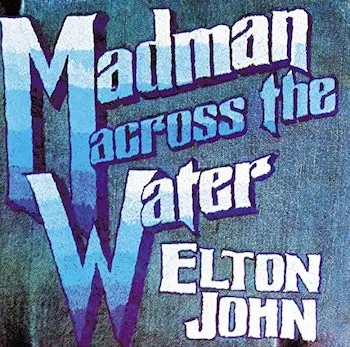 From a chart standpoint, Madman Across the Water was the biggest dud of Elton John's classic period. There were no hits, so the album stalled at #41 in the UK and "only" reached #8 in the US. The response is baffling, given that the singles selected from the record were the now-recognized-classics "Tiny Dancer" and "Levon." Despite this initial commercial failure, Madman and its no-hit tracklist has endured. The album finds Elton and lyricist Bernie Taupin at their epic best: six of the LP's nine songs clock in at over five minutes. Madman's secret weapon, though, is arranger Paul Buckmaster. His work on the title track alone justified his involvement — the strings to take your fucking head off. But the album isn't just over-the-top orchestral attacks. "Holiday Inn," a song about the boredom and overall sameness of life on the road, is a mandolin-fueled country/bluegrass/folk/singer-songwriter-pop gem, while "All the Nasties" is white gospel complete with a choir. Of course, you could argue that these are two different examples of being "over-the-top." The fact is, all of Madman Across the Water might be over-the-top. With Elton John, would we have it any other way?
-Adam Ellsworth
---
Ram – Paul and Linda McCartney (Apple)
Ever the egocentric, John Lennon really thought Ram was all about him. There was his former Beatle bandmate and songwriting partner Paul singing "Man I can smell your breath a mile away" on "Smile Away," and "I hope you never know, Dear Boy/How much you missed," on "Dear Boy," and "I thought you was my friend" on "3 Legs." And then there was "Too Many People," which was soooooo obvious with its chorus of "You took your lucky break and broke it in two." The nerve of that ungrateful bastard.
So John responded on his own 1971 album Imagine with "How Do You Sleep?," a song Philip Norman (biographer to both John and Paul) described as "violent and full-on, a nuclear missile answering a pinprick." It's hard to pick just one line that illustrates what an assault "How Do You Sleep?" was, because literally every line is meant to be a bludgeon, but "The only thing you done was 'Yesterday'" is probably the grandest insult, if for no other reason than it's so obviously not true. As if "How Do You Sleep?" wasn't enough, Imagine also featured a picture of John holding a pig by the ears, mocking and mimicking the cover of Ram, which pictured Paul holding the title animal by the horns.
Of course Ram is not all about John Lennon. "Dear Boy," for example, is actually a song about Linda McCartney's ex-husband Joseph Melville See. "Smile Away" is about really nothing in particular. And Paul has maintained that "3 Legs" is not at all about his former bandmate, though it's admittedly hard to hear the lines "My dog he got three legs/But he can't run," and not think of all three of the former Beatles. As for "Too Many People"… well, that one actually is about John.
"Too many people preaching practices/Don't let them tell you what you want to be," Paul sings on Ram's opening track. The "preaching practices" is a clear shot at John and his wife Yoko Ono's media-savvy peace campaigns. Not that Paul was prowar, it's just that gathering the press of the world into his bedroom to pontificate about peace (or anything else for that matter) was not what he was about. In fact, he says so in "Too Many People," when he contrasts himself with John and Yoko and sings, "And baby, it's not like me."
That's the crucial line in "Too Many People," and it's the lyric that best sums up Ram. Whatever John is doing, that's not Paul. Whatever George is doing, that's not Paul. Whatever even lovable Ringo is doing, that's not Paul. Paul is doing his own thing. He's living on a farm in Scotland, with Linda (who is co-credited on the album) and his children. He is quite happy to celebrate that domesticity in the songs "Heart of the Country" and "Eat At Home." He's making up gibberish, as illustrated by "Monkberry Moon Delight" and "Uncle Albert/Admiral Halsey" (which went to number one in the US by the way). Paul's thing might not be your thing, and as far as he is concerned, that's okay. That's why he finishes Ram with "The Back Seat of My Car," which is far and away the album's standout track. "Ooooooh, we believe that we can't be wrong," Paul repeats at the end of the song. We believe that we can't be wrong. These are the words of a man who no longer cares what the rest of us think about anything. Paul is happy. Nothing else matters.
-Adam Ellsworth
---
Live-Evil by Miles Davis (Columbia)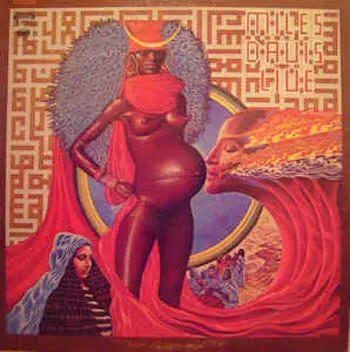 Like other musical genres in 1971, jazz was going through changes. The stakes were unusually high. Many jazz lovers, the people who adored Miles Davis's Kind of Blue (1959), listened with disappointment or even horror as jazz deconstructed itself throughout the '60s into freer forms, or no forms at all. Melody collapsed into uncontrolled screeching. In the late '60s, rock seemed to be consuming everything in its path and, while jazz was winning a new generation of young listeners, it was also merging with all the things that many jazz fans tried specifically to avoid. Free jazz seemed to have said all it could say in the late works of John Coltrane, and his death in 1967 left the avant-garde without a clear direction forward (insofar as direction was even relevant).
Of course, it is illusory to speak of jazz as a monolithic genre that moves in only one direction at a time (Paul Winter's Icarus and Carla Bley's Escalator Over the Hill also date from 1971). Still, in times of transition, jazz listeners instinctively looked to Miles Davis. In 1971, he definitively answered the question of whether the challenging jazz-rock gumbo Bitches Brew (1969), the biggest selling jazz album in history up to then, was a fluke or a harbinger of things to come. Davis saw his own bet, and he raised it by adding Sly Stone and Jimi Hendrix to the pot. If jazz-rock fusion was baptized in 1969, it was confirmed in 1971, when its mission began in earnest. On "Gemini/Double Image," guitarist John McLaughlin starts so strong it's as if he is throwing down a gauntlet to jazz fans. This is flat-out rock. In addition, Billy Cobham and bassist Dave Holland lay down a strange, off-kilter rhythm behind McLaughlin — it sounds like drunk Monk and it's in no particular hurry to get anywhere. The track is a little disturbing, even now. In 1971, it was the sound of the floor falling down and the ceiling rising up.
Words are treated as mirror images: the title is Live-Evil, and some tracks are named "Selim" (Miles) and "Sivad" (Davis). "That reversal was the concept of the album: good and bad, light and dark, funky and abstract, birth and death," Davis writes in his autobiography. The front album cover (by Mati Klarwein, who also did Bitches Brew) is Life with a fertile Mother Africa: powerful, serene, and endlessly mysterious. The back cover is an equally fertile Evil with an unforgettable nightmarish white monstrosity, a repulsive and unnatural reptilian fusion of Marie Antoinette and J. Edgar Hoover. The music delivers on the concept of fused contrasts, and it frustrates generalizations. It's at turns aggressive and meditative, funky and delicate, linear and broadly atmospheric, embedded in the ghetto streets and floating over a scorched post-apocalyptic desert.
The music was recorded live in December 1970 over four nights at the Washington, DC, club Cellar Door, and producer Teo Macero mixed in studio material recorded in February and June 1971. Live albums hold a special place in jazz, but Macero's heavy editing replaced the convention of the live album as a historical document with the vision of the live album as a kind of hallucinatory dreamscape blurring distinctions between time and place. Even if you were there, you aren't there now; and even if you're listening to it now, it takes you somewhere far away.
-Allen Michie
---
Rockin' the Fillmore – Humble Pie (A&M)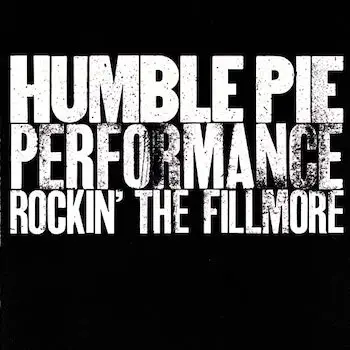 Ah, the Fillmore. I remember the place so well: the look and feel of the seats, the awesome sound, the otherworldly atmosphere. Never been there in my life.
But I feel like I have because like a lot of 12-year-olds, I devoured Humble Pie's Rockin' the Fillmore at the time of its release. And if you were too young for the real thing, this was the rock show you fantasized about — starting with a frontman, Steve Marriott, who came across as larger than life (though in reality, quite a bit shorter: they didn't call his previous band the Small Faces for nothing). Marriott gives this performance its scraggly soul and boozy camaraderie, and the rest of the band — including a pretty but tough guitarist named Peter Frampton — threw in the power and volume. As anyone who owned the vinyl will attest, Rockin' the Fillmore stretched just over an hour of music onto two LPs. As a result, it was one of the loudest albums you owned.
And this music called for it. While Led Zeppelin amped up the blues, Humble Pie did the same for soul/R&B. Only one of Fillmore's seven songs is original; the rest are American blues and soul nuggets. The opener "Four Day Creep"– allegedly by '20s blueswoman Ida Cox, but having almost nothing in common with hers — introduces the band's favorite trick of rotating vocals: Frampton and bassist Greg Ridley each get a verse before Marriott makes his grand entrance. Side four is back-to-back Ray Charles songs, "Hallelujah I Love Her So" and "I Don't Need No Doctor" — two of the most joyful things in his repertoire, so they work perfectly as arena-rock anthems. And they devote 25 minutes to Dr. John's "I Walk On Gilded Splinters," a song few bands were hip or daring enough to cover back then. It's less spooky than the original, but the song's about absorbing voodoo 'til you're invincible, and that's the way they play it.
Frampton gets some good licks in, and drummer Jerry Shirley is a solid rock, but it's Marriott who owns the album. Before "I'm Ready"– a tune that its original performer Muddy Waters would barely recognize — he takes a few moments to determine that each section of the crowd is in fact ready: "Cause this one song coming up — It's a long one! So are youuu…REEEAAADY!?" (At a mere eight minutes, it is in fact one of the shortest tracks here). During "Rollin' Stone"– another Muddy Waters redesign — he tells a long, ridiculous story about getting hit on by his girlfriend's mom; this sounded great when you were 12. And his improvised rap during "I Don't Need No Doctor" contains this irrefutable bit of reasoning: "I sho' feel good! Therefore, therefore, I don't need no doctor!"
Rockin' the Fillmore got the expanded reissue treatment a few years back, with a box set including all four sets they played over two nights. They did the same songs every time, but Marriott's raps vary wildly. You come away appreciating how hard the LP's original engineer must have worked to splice all the cuss words out. (And any set that includes nearly two hours' worth of "Gilded Splinters" can't fail to be essential.) Marriott's habits got the best of him in 1991, and we all know what became of Frampton (who went solo just after this release). But Rockin' the Fillmore is all its own moment, and Marriott as always gets the last word: "We ain't half had a GAS this time! It's really been a GAS!"
-Brett Milano
---
Bryter Later – Nick Drake (Island)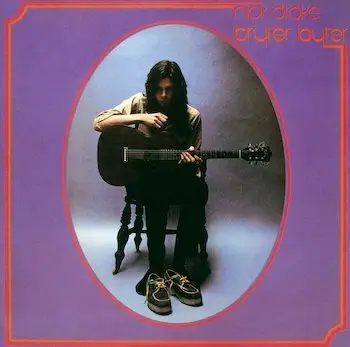 Nick Drake makes the ideal posthumous-discovery songwriter and musician. An Englishman born in 1946, he released just three albums in his lifetime: Five Leaves Left (1969), Bryter Later (1971), and Pink Moon (1972). None were a commercial success. Drake died of a medicine overdose (perhaps an accident, perhaps a suicide) in 1974 when he was only 26. His work seemed to have no future.
But Drake and his gently twirling guitar would not go away. He was cited as an influence by Pete Buck of R.E.M., Kate Bush, and Paul Weller, among others. Books and documentaries began to crop up. (My favorite film bio is A Skin Too Few: The Days of Nick Drake, highlighted by interviews with his haunting look-alike sister, Gabrielle.) By about 1999, when his songs began to appear in car commercials and movie soundtracks, Nick Drake had established a solid life after death. In a final perfect touch, physical copies of his albums have recently become a tiny bit tricky to find.
Bryter Later is the pick introduction here, not merely because it came out in 1971, but because it was intended to be his commercial breakthrough. The musical backup was plenty sumptuous – some strings, some sax, and hey, two tracks include contributions from John Cale on a number of instruments. "Hazy Jane II" sparkles with lead guitar by Richard Thompson.
The normal next step was to gather Drake's audience with a concert tour in small clubs. He had performed before, but depression had begun eating his personality. He was not a bandleader guy. Not even a live-performance guy. He could not get the crowds to stop talking and listen to the songs. The schedule was cut short, and that was it for Drake and the stage.
What remained was the spare, dark moods of Pink Moon. But Drake should not be picked up a piece at a time. If you fall into Bryter Later, you'll want everything, which means the box set Fruit Tree (Hannibal). This gathers the studio albums, plus a fourth disc, Time of No Reply, which includes early and final tracks. The essentials of the late work are "Black Eyed Dog" and "Voice from the Mountain," songs about death.
Nonfans tend to snort at identification with Drake's tightly wound nerves and shadowy outlooks. I respond that a satisfying relationship with Drake recalls how one encounters another off-the-charts Englishman, William Blake. You visit his worlds, consume the talents, and then pass back into regular reality, certain that the pleasures and fascination will always be there.
-Milo Miles