It's tempting to try and come up with a single reason why so much of the music from 50 years ago was influentially great. When we look back on the music from 100 years ago, or 500 years ago, it's easier to give it a label or describe the dominant style in just a few words. The music in this entry demonstrates how future musicologists may have a difficult time with 1971, unless they choose some label like "kaleidoscopic." In just five entries this month (with Rod Stewart covered twice), you'll read the words Sousa-esque marches, Broadway, folk, country, bluegrass, gospel, blues, R&B, lad rock, Kurt Weill-esque theater music, free jazz, big band, rock, classical, and Indian-like music. Perhaps the experimentation and diversity of the '60s was starting to consolidate into the more coherent (and commercial) rock and pop stylings of the '70s. We certainly see that in some of the previous entries in this 1971 Project series. But for other composers and musicians in 1971, brilliant careers in experimentation and diversity were only getting started.
For those who missed them, here are the 1971 music entries for February, March, April, and May.
-Allen Michie
---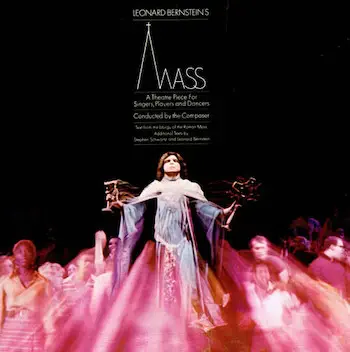 Leonard Bernstein, Mass: A Theater Piece for Singers, Players, and Dancers (Columbia)
It starts with a din of quadraphonic tapes and ends with a chorale. In between comes a parade of American musical genres — Sousa-esque marches, Broadway tunes, echoes of folk and country & western ballads, a singular take on rock stylings of the '50s and '60s — as well as some tightly crafted symphonic writing (including vogueish forays into the late-'60s avant-garde). There's also a huge cast of characters: multiple choirs, no fewer than 20 solo parts, a corps of dancers, and two orchestras — one onstage, the other in the pit.
What music could possibly warrant such extravagance?
50 years ago this September, Mass: A Theater Piece for Singers, Players, and Dancers opened the Kennedy Center for the Performing Arts in Washington, DC. Commissioned by Jacqueline Kennedy Onassis, Mass takes as its subject the struggle to maintain spiritual belief in the face of the complexities and contradictions of modern life. That's a tall order, certainly, but a subject about which Bernstein had thought deeply over much of the previous 30 years.
Mass is the culmination of that focus.
Setting the entirety of the Roman Catholic liturgy, Mass intersperses the Latin texts with English-language tropes that question the tenets of the faith, particularly God's seeming indifference to persistent injustice and violence. The plot follows the spiritual demise of the Celebrant leading the service in the face of these attacks; at the work's climax, he hurls the sacraments of Communion to the floor, suffers a breakdown, and leaves the congregation to its own devices. Ultimately, though, resolution and peace arrive subtly, and Mass ends on a hopeful note.
It's highly theatrical stuff — not to mention controversial — and Mass is further chock full of references to many of the causes in which Bernstein was engaged at the time, particularly the Civil Rights and anti-Vietnam War movements.
That combination was enough to send some of Bernstein's prominent critics (like the New York Times's insufferable Harold Schonberg) into fits. But they certainly didn't stop Mass from gaining a large popular following: the original cast recording was among CBS Masterworks' all-time best-selling albums, and subsequent runs drew big audiences (including sellouts of New York's cavernous Metropolitan Opera House).
Why should any of this be surprising? Bernstein's writing in Mass is fresh and, often enough, invigorating. If not quite structured like West Side Story, Mass offers plenty of great tunes, like the radiant "Simple Song," sardonic "Gospel Sermon," urgent "World without End," and jubilant "Sanctus." The culminating "Agnus Dei," with its driving blues-funk riffs and aleatoric improvisations, offers perhaps Bernstein's finest moment as a theater composer.
What's more, his musical eclecticism is matched by consciously ecumenical gestures in casting and lyrics (the latter are stronger now than in 1971, thanks to co-lyricist Stephen Schwartz's revisions of some of the initial production's more embarrassing turns of phrase). The whole thing, then, is both Bernstein's most original work and his most Beethovenian.
50 years on, Mass has lost none of its timeliness. Indeed, its ultimate message — that peace "must be practiced, pledged … lived, lived out, acted out … by all … [regardless of who] is next to you" — remains radical, compelling, and, tragically, unrealized.
– Jonathan Blumhofer
---
Leon Russell, Leon Russell and the Shelter People (Shelter Records)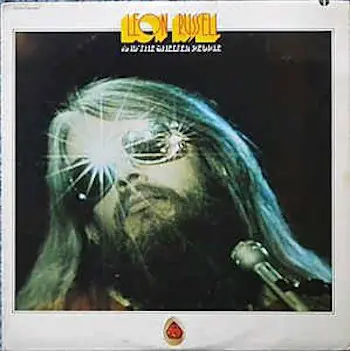 On the one hand Leon Russell is best known for his ballad writing — "A Song for You" (1970, perhaps the song most closely associated with Russell, but covered ubiquitously), "Bluebird" (a 1975 hit for Helen Reddy), and "Superstar" (written in 1969 with Bonnie Bramlett for Delaney & Bonnie, but a breakout hit for the Carpenters in 1971).
But Russell was a pop-music polymath, with broad experience as an L.A. studio musician and eclectic skills as a songwriter and arranger, working with everyone from Phil Spector (on multiple record dates) to Herb Alpert's Tijuana Brass, bluegrass outfit New Grass Revival, Glenn Campbell, Bob Dylan, Frank Sinatra, the Rolling Stones ("Shine a Light," from Exile on Main Street, comes from Russell's "Get a Line on You"), and Elton John (who credited Russell as a primary influence as singer, songwriter, and pianist).
In 1971, Russell was 29 and on the cusp of his ascent when Leon Russell and the Shelter People was released on May 3. His song "Delta Lady," from his homonymous debut solo album, had been a hit from 1969's Joe Cocker!, which Russell also co-produced, and he was the musical director on Cocker's 1970 tour "Mad Dogs and Englishmen." The Carpenters' "Superstar" would hit in August '71. Also in August, he performed in his friend George Harrison's "Concert for Bangladesh" (and became a swaggering, galvanizing presence in the concert film).
The follow-up to 1970's Leon Russell (which, in addition to "Delta Lady," featured "A Song for You" and "Hummingbird," covered by B.B. King later that year, on a session in which Russell conducted and played piano), Leon Russell and the Shelter People shows his full range, including string-arranged balladry ("The Ballad of Mad Dogs and Englishmen") and pedal-steel country strolls ("She Smiles Just Like a River"). You can also hear the full flowering of Russell's Tulsa R&B/gospel-drenched roots rock — percussive, riff-driving piano, testifying female backup chorus (Claudia Lennear, Kathi McDonald), slapping tambourine, swelling organ harmonies, and tart blues guitar (Jesse Ed Davis, Jimmy Johnson, and Eric Clapton are all credited).
But the glue is Russell's singing — a grainy, full-bodied, authoritative drawl, favoring broad consonants ("take caahre, bewaahre" on George Harrison's "Beware of Darkness," or "kiss my confeww-zhun away in the night" from "Stranger in Strange Land"). He can be tender on the ballads, but he never loses his rhythmic punch, especially in his shuffle-rhythm arrangements of Dylan's "A Hard Rain's a-Gonna Fall" and "It Takes a Lot to Laugh, It Takes a Train to Cry."
Maybe the most idiosyncratic take is Harrison's "Beware of Darkness," alternating fast raga figures of dulcimer-like piano and hand drums with slow exhales of the verse, and even including a signature Russell double-time gospel out-chorus.
"Beware of Darkness" is a beauty. But for a lot of Russell fans, the album's true standout is "The Ballad of Mad Dogs and Englishmen," from the Cocker tour, its title nicked from Noel Coward. The ode/elegy to jet-set rock-tour life, replete with jazz-standard piano chords and sighing strings, shows off Russell's lyric writing at its observational best, right from the opening details: "Kids, planes, runway strikes/flashy pimps and family fights/spotted dogs and bloodshot eyes," and referencing Russell's Space Captain persona. Resigned, ironic, wise even, Russell's song and voice render his truest self-portrait — the man in full.
-Jon Garelick
---
The Faces, Long Player and A Nod Is As Good As a Wink…To a Blind Horse (Warner Bros)
As an MTV-obsessed child in the early '80s, I never would have thought that an oddly coiffed peddler of unremarkable fluff was a major influence on the quintessential British punk band.
In his 2018 memoir, Sex Pistol guitarist Steve Jones (click for my Arts Fuse interview) described Rod Stewart's 1970 album Gasoline Alley as "so fucking good" and recalled buying 1971's Every Picture Tells A Story [see Clea Simon's entry later in this column] "as soon as it came out." He also "loved First Step and Long Player, the two Faces albums that came out either side of it" and concluded that the Faces' third LP, A Nod Is As Good As a Wink…To a Blind Horse, and Stewart's 1972 solo effort, Never A Dull Moment, added up to "five brilliant albums Rod released in the space of about two years." (Fellow (albeit briefly) Sex Pistol Glen Matlock joined a reunited version of Faces in 2010.)
Long Player, released in February 1971, plays like an attempt to cross a room while carrying a large puzzle assembled from incompatible pieces. This is primarily due to the presence of two live covers — of which keyboardist Ian McLagan (whom I interviewed in 2014) once uninspiringly said, "I never liked 'I Feel So Good.' 'Maybe I'm Amazed' is OK" – and an extraneous instrumental version of "Jerusalem."
Five steady, slow-to-mid-tempo band compositions occupy the remainder of Long Player's space. Bassist Ronnie Lane gets sole credit for "Tell Everyone" and "Richmond," where he more than capably sings lead. Stewart shines on "Bad 'n' Ruin," "Sweet Lady Mary," and "Had Me a Real Good Time." "On the Beach," meanwhile, sounds like the Faces overheard guitarist Ronnie Wood's — and, fleetingly, McLagan's — future employers the Rolling Stones' early sessions for Exile on Main St., which would not come out until May 1972. (Just so he doesn't go unmentioned, drummer Kenney Jones joined the Who after Keith Moon's death in 1978.)
November saw the release of the Monty Python-referencing A Nod Is As Good As a Wink…, the quintet's commercial and critical apex. Stewart himself said, "The Faces as a band never surpassed A Nod's Is As Good As a Wink. Incredible album." The band's boozy and disheveled charm was polished a bit by producer Glyn Johns, whom McLagan credits for having "pulled us together and kept us focused."
Like its predecessor, A Nod… only occasionally ventures into full-fledged up-tempo territory, most obviously on "Too Bad" and the Faces' biggest US hit, "Stay with Me." The Lane-written and sung "Debris," however, is both the album's best track and a slow, folky, rueful number that stands in contrast to the harder rock of the other inclusions.
The Stewart/Wood/Lane/McLagan/Jones lineup released four albums between March 1970 and March 1973. Long Player improved upon their debut and A Nod… surpassed Long Player. 1973's Ooh La La didn't top all that came before it, but its title track has been heard over the past 25 years in instances as diverse as the closing credits of Rushmore and commercials for Apple and Kohler. After Ooh La La, the center simply couldn't hold as Lane left, Wood recorded his own album before touring with the Stones, and Stewart fully prioritized solo stardom.
The Faces officially broke up in December 1975. In 2012, the lads became members of the Rock and Roll Hall of Fame.
-Blake Maddux
---
Carla Bley, Escalator Over the Hill (JCOA)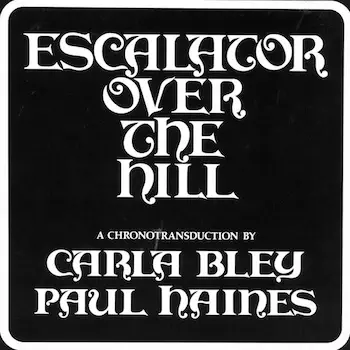 Escalator Over the Hill (EOTH) distills a corner of the counter-cultural energy of the early '70s. Politics is fodder for satire here, but the main theme is psychic disruption. This three-record set is a response to the question begged by the title: how effectual can any mundane machine be in o'ertopping the hill and reaching what lays beyond?
Jazz composer Carla Bley (see Steve Elman's homage) is the heart and soul of this recording. She describes the process of putting EOTH together as "run-and-gun" –a grassroots effort that took three years (1968 to 1971) to put together. No major label was interested, funding for the project was minimal, and participants included well-known musicians and people who, at the last minute, were literally pulled off the street.
EOTH is composed of a number of "scenes," with different groups of instrumentalists and vocalists representing overlapping (and sometimes completely disparate) genres, from Kurt Weill-esque theater music, to free jazz, big band, rock, classical vocalizing, and Indian-like music. The actress Viva, of Andy Warhol fame, narrates. Jack Bruce appears on bass and takes the biggest load of male vocals. Don Cherry, John McLaughlin, Linda Ronstadt, and many others all have parts to play.
Although Bley and lyricist Paul Haines initially called it a "jazz opera," there is no dramatic arc, per se. In the end, they labeled it a "chronotransduction." "Chrono" is time, and "transduction" is a biological process where a cell converts one kind of signal or stimulus into another. The organizing principal here is the way the words of Haines are transduced by Bley into music. To some degree, the lack of dramatic impetus makes EOTH chaotic. But it's sometimes a glorious chaos.
For my money, the composition works best when it doesn't take itself too seriously. A lot of the libretto feels pretentious, and Bley's responses sometimes follow in kind, weighing things down. However, when a lighter quality arrives and the libretto grows sparse, the results are enjoyable, sometimes even riveting. My favorite section is the "Desert Band," which manages to evoke shifting sands, mirages, and oases. The group includes Bley (organ), Cherry (pocket trumpet), Souren Baronian (clarinet), Leroy Jenkins (violin), Calo Scott (cello), Sam Brown (guitar), Ron McClure (bass), and Paul Motian (doumbec).
Most of the album was recorded in one location, but sometimes, when musicians couldn't make it to New York, audiotapes were shipped elsewhere for the dubbing of new tracks. It was a clunky process but, in a way, it presaged the coming digital era, when physical presence became unnecessary for international, even real-time musical collaboration.
Symbolic of the vibe of EOTH is that side six of the original LPs ends in a "locked groove." The final track "…And It's Again" continues infinitely on turntables. For the later CD reissue, the hum is allowed to play for almost 20 minutes before slowly fading out. Maybe that's cheesy, maybe it's not, but it is an artifact of the energy of the era.
-Steve Provizer
---
Rod Stewart, Every Picture Tells a Story (Mercury)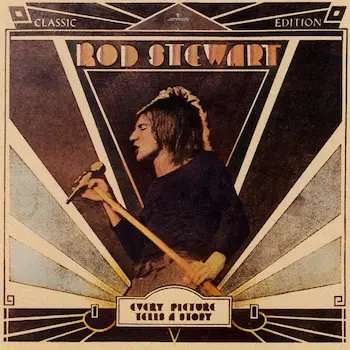 As the world reopens, I received one email notice that made me laugh. Rod Stewart would be playing the Xfinity Center in Mansfield in August 2022. Yes, of course he would.
Rod Stewart may not be immortal, but he's certainly a survivor. Even by 1971, he'd been and gone — Mod to rocker, blues fan to pop. Already a veteran of the Jeff Beck Group, following a muddled early solo career, the singer had joined Ronnie Wood, Ronnie Lane, Ian MacLagan, and Kenney Jones to form Faces before stepping out on his own once again — and Every Picture Tells a Story was his third solo album of that incarnation. A mix of rock and roll, gospel, covers — this should have been Stewart's "something borrowed, something blue." Did the world really need a cover of Dylan's "Tomorrow Is a Long Time" or the Temptations' "(I Know) I'm Losing You"? Another cover of Arthur Crudup's "That's Alright, Mama" — or "Amazing Grace" for that matter?
For this supposedly solo venture, Stewart was joined by the members of Faces in various configurations, and his gravelly interpretations are perked up further by Maggie Bell's exceptionally emotive backing — credited as "vocal abrasives" — on the title track and Madeline Bell's on "Seems Like a Long Time." Once you get to "Maggie May," though, it's all Rod, the frayed strain of a million lovers' quarrels, the melancholy, the love. This cut wasn't the first single (Remember those?). "Maggie May" was, in fact, the B-side to "Reason to Believe." It was also the pure adrenaline drip that drove the album up the charts on both sides of the Atlantic. And that Temptations cover? Soul stripped down to desperation. Stewart was never a bluesman, strictly speaking. He wasn't really a rocker, and he was certainly no longer a Mod. After this watershed album, Rod the Superstar would go on to disco fame, a gentlemanly approach to the Great American Songbook, and a senior's more respectful take on soul. Every Picture Tells a Story, though: that was the moment when Stewart threw all the disparate elements together, before they became homogenized, and sang the living hell out of them.
-Clea Simon