Four classic voices, ranging from Janis Joplin's whiskey to Karen Carpenter's honey, join the virtuoso banjo technique of Newgrass prophet John Hartford in this month's entry of the "1971 Project." As marvelously exemplified by the Temptations' "Just My Imagination" and Carole King's Tapestry, this is influential (and perhaps even life-saving) music that has touched people's hearts for the last 50 years.
For those who missed them, here are the entries for February, March, and April.
Also, what does this music mean to you? Let us know in the comments.
— Allen Michie has graduate degrees in English Literature from Oxford University and Emory University. He works in higher education administration in Austin, TX (home of Armadillo World Headquarters, which was just getting fired up in 1971).
---
The Temptations, "Just My Imagination" (Tamla Motown)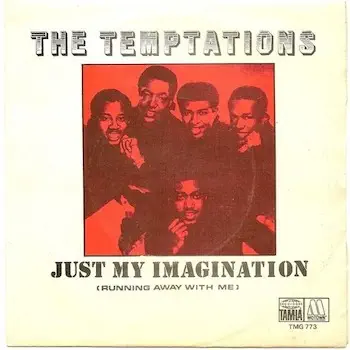 It's a tango. The tango is the most passionately romantic of dances, but slowed down and sweetened like this, it's the sound of dancing with a fantasy. Soon there's a gentle touch of marimba, like a tropical breeze coming through the window — a sigh for an imaginary Caribbean honeymoon.
Much of the main melody is in triplets. "Each DAY through my WINdow I WATCH her as SHE passes by." It's a sleepy feel, slightly off the beat, perfectly suited for the floating quality of Eddie Kendricks's alto voice. Those first lines are echoed with variation by a harp, suggesting an imaginary wedding. French horns appear in unison with the line "Is truly a dream come true," a foreshadowing of the classy Philadelphia Soul to come later in the '70s. The French horns are followed by an unfolding string section (members of the Detroit Symphony Orchestra): "Out of all the fellows in the world,/She belongs to me." All of these instruments are introduced in the first section of the first chorus, element by element, alternating the lead like dancers in a tango. The effect isn't one of crowding or pretentious overproduction, it's the effect of an expanding fantasy.
In the first chorus, after the line "running away with me," the cellos "run around" with a circular motif. Then with "It was just my imagination," the higher strings quote "Catch a Falling Star and Put It in Your Pocket," a lovely melody and a reminder of a childlike but unattainable daydream. The background singers then interject with "Soon," which sounds a bit like "Zoom," as if the falling star has streaked by, out of reach.
Kendricks sings the lines "a cozy little home out in the country,/With two children maybe three" in a freer rhythm, but the French horns are behind him with the "each day through my window" triplets, like an insistent reminder of reality. The French horn phrase doesn't end, it dissolves into the strings and harp while Kendricks sings "I can visualize it all," just as the dream dissolves with the reminder it all started with a look through the window. The cellos pick up the same melodic phrase and gently put it back down. It's a breathtakingly beautiful and ingenious chart from arranger Jerry Long. Then it gets even better.
There is an extraordinary bridge to the last chorus at 2:30. The tango rhythm is more pronounced, accented by the Argentinian feel in the strings and light percussion. The vocalist changes to Paul Williams for just one line (perhaps the one flaw in this otherwise perfect record): "Every night on my knees I pray." There is a masterful unity of melody and rhythm, a counterpoint between the high vocals and the low quiet sound of the timpani, in the lines "Her love is heavenly/When her arms enfold me/I hear a tender rhapsody."
Then at 3:05 comes a moment of sophisticated rhythmic phrasing that only a musician with a flawless sense of timing, feel, and drama would be able to pull off. I've never heard a cover of "Just My Imagination" that even attempts to match it. In the lyrics, it's the tragic emotional climax of the song: "But in reality/She doesn't even know me." It's a moment of regret, self-awareness, embarrassment, and perhaps just a hint of personal challenge. Kendricks underplays it, and he almost whispers it as a reluctant confession to the listener. He goes into something like half time for the words "She doesn't even," dragging gentle triplets across the stiff tango rhythm and the sternly judgmental timpani. "Know" slurs, rises up in the melody, and comes back down on the "me," just a fraction of a second behind the beat. This sets up a reentry of the drum kit with a rim shot that sounds like a clock ticking once again, taking us out of the hazy fantasy and back to mortal life. If the "me" had landed exactly on the beat, the effect would have been ruined. This was Kendricks's last recording session with the Temptations, and it is perhaps his finest moment.
Is it just my imagination, or is this the most elegantly written, arranged, and performed pop song of the last 50 years?
–Allen Michie
---
Janis Joplin, "Me and Bobby McGee" (Columbia)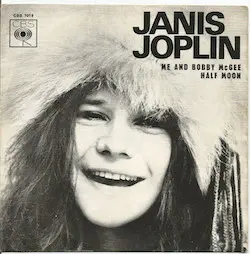 I knew nothing about the peculiar backstory of "Me and Bobby McGee," written by Kris Kristofferson and appearing on Joplin's album Pearl (read the 1971 Project entry for the album here). I had never heard the tune before 1971. It was the winter after high school and I was back visiting Livingston, MT. "Me and Bobby McGee" had become such a hit that it was inescapable, but in those days the car radio could still sneak up and whack you sometimes. I remember the exact block I was driving down when Janis whisper-moaned the line about "holdin' Bobby's body next to mine — ahhhh," and I tingled all over. I had never felt her immense sensuality, her longing, like that before. At the same instant came the thought that she was gone. There would be no more revelations like that. The enormous sadness was that this was the most apt posthumous hit ever, because it was as unfulfilled as Joplin herself. Bobby is gone, and the whole narrative yearns for him to come back and heal her world. So this is the bookend of that moment almost 50 years ago. Janis Joplin had passed away when I first really met her, but what I will take away forever is how much she was meant to be.
–Milo Miles
---
Carole King, Tapestry (Ode Records/A&M)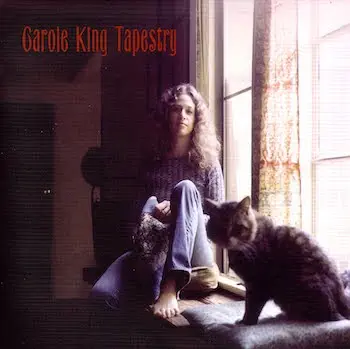 In 1971 Carole King, the composer half of the great Brill Building songwriting duo with former husband, lyricist Gerry Goffin, stepped out from behind the writing desk and into pop music history with her wildly successful solo album, Tapestry. It wasn't her first try at joining the parade of singer-songwriters spawned by Dylan and the Beatles in the mid-60s — that would have been the previous year's Writer, which didn't make much of an impact. But even in the midst of the genre's explosion — 1971 alone saw such landmark albums as Joni Mitchell's Blue and Marvin Gaye's What's Going On (1971 Project entries here and here), Carly Simon's debut, John Lennon's Imagine, Dolly Parton's Coat of Many Colors, and Cat Stevens's Teaser and the Firecat — Tapestry stood out with its multiple hit singles, terrific band and production, and astounding commercial success. (The album spent 15 weeks at no. 1 on the Billboard Top 200 chart — a record for female solo artists that held for 25 years; charted for nearly six years; and won Grammys for album, record, and song of the year and female pop vocal performance).
I was in my first year of college when Tapestry came out, but I had heard of King much earlier. Growing up with teenage aunts, I started listening to rock and roll by the time I was five, watched American Bandstand, and bought Hit Parader magazine to learn the lyrics to songs like Goffin and Barry Mann's "Who Put the Bomp." The byline "Goffin/King" was one I knew well. I sang along to "Will You Love Me Tomorrow" in its 1960 Shirelles version, the Drifters' "Up on the Roof," and of course, Aretha's iconic take on "(You Make Me Feel Like a) Natural Woman."
On Tapestry King proved herself a formidable solo writer. "Will You Love Me Tomorrow," "Natural Woman," and the shuffle "Smackwater Jack" were Goffin/King, and poet Toni Stern contributed lyrics to "It's Too Late" and "Where You Lead," but the remaining seven tracks were all King. The album famously featured background vocals from James Taylor and Joni Mitchell — a couple at the time — and all three were recording simultaneously, with King and Mitchell (Blue) at A&M's Studios B and C, and Taylor recording Mud Slide Slim and the Blue Horizon just blocks away. (King and Taylor played on one another's albums and also shared guitarist Danny Kortchmar and drummer Russ Kunkel.) The songs range from lively rockers "I Feel the Earth Move," kicking off the album with its thumping piano intro, and "Where You Lead"; to the gospel/bluesy "Way Over Yonder" (with ace background vocalists Merry Clayton and Julia Waters Tillman) and "Natural Woman"; to mid-tempo marvels "It's Too Late," with its hook-filled chorus, and the classic "You've Got a Friend."
Many of the tunes have distinctive, short piano intros that set up the feel; in contrast, King's vocal starts right in on "Beautiful," an earnest pep-talk set to a McCartneyesque music hall beat ("You're gonna find…that you're beautiful as you feel"). The tune later became the title of the hit 2014 Broadway show Beautiful: The Carole King Musical. The album ends with "Natural Woman." The lyrics may be by Goffin, and King herself calls Aretha's the "definitive version," but she makes the song her own with her heartfelt vocal and simple piano and bass arrangement, showcasing the song's soulful beauty. If, as she says in her memoir A Natural Woman, she "wasn't in the same league vocally as Aretha Franklin, Joni Mitchell, or Barbara Streisand (whom [she] considered real singers)," her gifts as a songwriter, musician, and singer of her own truth carried King onto the charts and into many hearts with Tapestry.
— Evelyn Rosenthal
---
John Hartford, Aereo-Plain (Warner Brothers)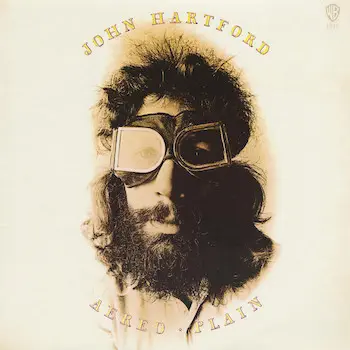 Lou Reed famously once said of the few initial buyers of the Velvet Underground's debut album, "I think everyone who bought one of those 30,000 copies started a band!"
John Hartford's 1971 Aereo-Plain album may have sold even worse. The Warner Brothers release never went higher than 193 on the Billboard Top 200, and it has never stayed consistently in print. But it often seems as if everyone who bought the disc started their own bluegrass band — or at least bought a fiddle or banjo and became a picker at festival campsite jam sessions.
Much of the praise bestowed on the album over the years has come from practitioners of the ill-defined subgenre known as "Newgrass" — from Newgrass Revival founder Sam Bush all the way to today's flatpicking hotshot Billy Strings, who eagerly encourages his young audience to seek out Hartford's music. Although Aereo-Plain has none of the lengthy rock or jazz jams that would become Newgrass staples, it's a perfect example of how bluegrass instrumentation can be used for music (and weed-referencing lyrics) that veer far from the boundaries set by Bill Monroe and his fellow pioneers.
An even vaguer concept, Steampunk, also owes a great debt to Aereo-Plain. At one point, future riverboat pilot Hartford imagines flying on a "Steam Powered Aereo Plane," going on to suggest that having the "Steamboat Whistle Blues" is a far better curse than dealing with the synthetic landscape and people of the modern era.
A staple of folk and bluegrass festivals until his death in 2001, Hartford was the very definition of a cult hero with a loyal following. But at the time he recorded Aereo-Plain, Hartford was still something of a mainstream celebrity. He'd won two Grammys for writing the Glen Campbell smash "Gentle On My Mind," and he could be seen on the Campbell, Smothers Brothers, and David Frost TV shows.
For Aereo-Plain, Hartford and producer David Bromberg assembled a dream string band. Hartford's own innovative banjo playing was complemented by guitarist and mandolinist Norman Blake, dobro player Tut Taylor, fiddler Vassar Clements, and bassist Randy Scruggs. Bromberg has said in interviews that Hartford refused to let anyone listen to playbacks in the studio, which encouraged the development of a truly spontaneous and organic sound.
A string of six late '60s records Hartford made for RCA now sound dated due to middling Nashville folk/rock production and inconsistent material. The performer's sharp wit was part of what made him special, but the '60s RCA albums were weighed down by novelty songs that didn't have much staying power. Producer Bromberg sequenced the songs on Aereo-Plain in a way that perfectly highlighted both Hartford's poignancy and his humor. "Back in the Goodle Days" celebrates nostalgia while it pokes fun at it, while "First Girl I Loved" embraces it full-on. And for the Dr. Demento crowd, there's the tripped-out mouth music of "Boogie" and the stoner gag "Holding." Completing the dive into Americana are the instrumentals "Presbyterian Guitar," "Symphony Hall Gag," and the banjo/fiddle duet "Leather Britches," the latter one of hundreds of fiddle tunes Hartford would write over his life.
While not quite a concept record, Aereo-Plain begins and ends with versions of the gospel standard "Turn Your Radio On," its second appearance prefaced by a "Station Break" that lampoons WSM-style country DJs. "Tear Down the Grand Ole Opry" is a Nashville-recorded country song that bemoans Nashville's disregard for its heritage, and it rings even truer today.
Because Warner Brothers was considered an artist-friendly haven with a roster full of idiosyncratic counterculture heroes like the Grateful Dead, Arlo Guthrie, Randy Newman, and Ry Cooder, its inability to successfully market such an artistically accomplished LP remains a puzzle. A year later a far blander act, the Nitty Gritty Dirt Band, hit pay dirt with another project that married a hippie aesthetic with Nashville session players, "Will the Circle Be Unbroken?"
The Aereo-Plain band toured briefly but disbanded when Hartford couldn't afford to keep the all-star membership on the road. The performer's subsequent Warner Brothers LP, Morning Bugle, was another commercial dud, and Hartford left major label life to spend time on the river before emerging as a prolific independent-label artist and undisputed godfather of what would eventually be called roots music and Americana. While commercial success was hardly his goal, Hartford ended up having the last laugh. One of his last recordings was for the soundtrack of O, Brother, Where Art Thou? The disc sold two million copies.
–Noah Schaffer
---
The Carpenters, Carpenters (A&M)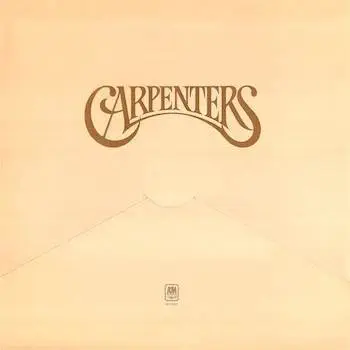 "Talking to myself and feeling old…" Yeah, that was 1971 for me. As a confused and melancholy kid, dealing with family disruption way beyond my comprehension, the opening lines of "Rainy Days and Mondays" hooked me immediately. And that sound — those first plaintive chords giving way to a voice like honey, translucent and sweet, with a touch of vibrato just where it hurt most. Even with the strings swelling beneath her, Karen Carpenter's take on the Nichols/Williams song had an intimacy that spoke to me — not down to me — acknowledging the reality of depression and, perhaps, showing a way through.
Perhaps I'm making too much of the context in retrospect. Carpenters was loved by millions, reaching no. 2 on the Billboard album charts and spanning multiple hits. And although "the tan album" is enshrined in my memory, it's not all gold. Tracks like "Druscilla Penny" and "Saturday" have aged badly, as much due to John Bettis's stupid sexist lyrics as Richard Carpenter's forgettable vocals. Even Karen misses the mark here. Despite her game efforts, the Burt Bacharach-Hal David medley is the kind of middle-of-the-road pablum that Bill Murray would soon be parodying on Saturday Night Live.
Certainly, Karen's crystalline voice provided more than emotional clarity, appealing to this then-burgeoning music fan on an aesthetic level. But the rippling "For All We Know," beautiful as it may be, is not what I remember. No, it's the heart-piercing power of "Rainy Days and Mondays," a theme brought home by the heartbreak of "Superstar," that stays with me. That latter track still takes my breath away. Bonnie Bramlett and Leon Russell had crafted a masterpiece. But as voiced by Karen Carpenter? This was loneliness turned into art. Poignant at any age, but to my 10-year-old self? Karen gave voice, literally, to my inarticulate isolation and, maybe, saved my life.
In the next decade, I'd find the same release in punk — discovering community in clubs (the setting for my novels World Enough and the upcoming Hold Me Down). But long before that, music helped me deal, giving voice to the inchoate emotions that threatened to overwhelm me. In 1971, Karen Carpenter was that voice.