By Alex Szeptycki
Few bands have shown themselves to be as infectious about their art — and for so long.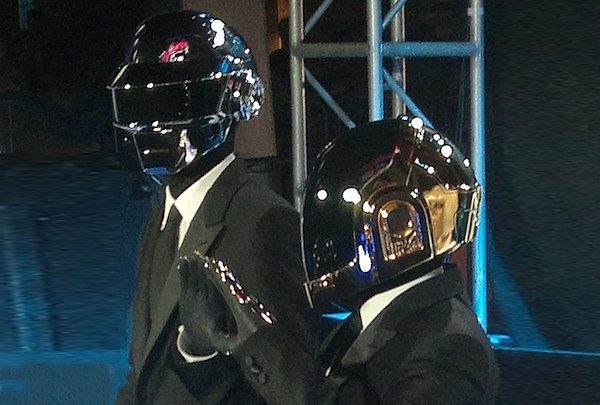 Recently, French house icons Guy-Manuel de Homem-Christo and Thomas Bangalter announced that, after 28 years of making music together, they were hanging up their robot helmets and disbanding Daft Punk. The duo started off making beats in sweaty Paris basements, and grew to become the most recognizable faces in electronic music. Their live show was a legendary spectacle; their 2007 live album remains a holy event in house music. Half a decade after that, they won Album of the Year at the Grammys for one of the most lovingly produced pop records in recent memory. Somewhere in that period they found time to score Tron's soundtrack and to make a movie of their own. The duo have retired on top, after almost three straight decades in  music. Most importantly, Daft Punk succeeded without ever succumbing to the cynicism of the industry.
Daft Punk's disbandment video resonated with the same futurist mystique that defined much of their career. We see the duo, wearing their signature leather jackets and robot helmets, walking together silently through a desert. One robot starts a timer, before stepping away, though still in sight. The countdown reaches zero, and the robot explodes. His now lonesome partner trudges home against a sunset background, as we hear "Touch," the cornerstone of Daft Punk's 2013 record Random Access Memories: "If love is the answer/You're Home/Hold on." An epitaph for the band is superimposed over the barren landscape. It's a bit confusing, and more than a little corny.
The mystery of Daft Punk's silent personae sits in ironic contrast to the entertaining accessibility of their music. Hits from their debut album, Homework, such as "Revolution 909" or "Da Funk," are symptomatic of their welcoming vision. The tracks fade in and out amid the ambient chatter of people in a crowded room or public place. It is almost as if Thomas and Guy-Manuel were lifting their music out of the rhythm of everyday life, and turning it into a dance party. The music itself is an organically danceable brand of house music, very much inspired by the Chicago DJs who pioneered the style. The duo's love for the Chicago scene is clear, highlighted by a spoken word catalogue of influences on "Teachers." Homage is a given in sample-based music, but Daft Punk embraced that affection for the past wholeheartedly. They wove their appreciation for their predecessors' work into their core identity.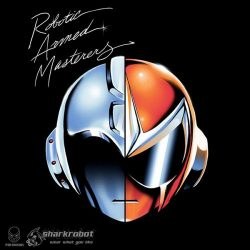 Of course, Daft Punk's most memorable quality, for many, is their voices. The duo distorted their vocals via vocoder pedals — they stripped out all the voice's human elements, except for its emotion. These passionate automatons made exciting music. Discovery, the group's second record, moves beyond the straightforward house of Homework into new and more eclectic terrain. "One More Time" epitomizes this dance-centric approach. The duo's strategy is masterful: they flip the hook of Eddie Johns's "More Spell on You" from a disco groove to a hypnotic dance beat. Over the loop, DJ Romanthony's twisted voice delivers an ecstatic sermon: "One more time/We're gonna celebrate/Oh yeah, all right/Don't stop the dancing."
Indeed, for many, "One More Time" represents the heart of Daft Punk's discography because it highlights an elemental part of the duo's appeal. They weren't afraid to hint that what they were doing had some deeper, grander significance. Yet the music was so simple and good that the meaning didn't need to be there for you to enjoy it. For some, "One More Time" has a quasi-religious meaning: it is an orgiastic and holy tribute to the act of moving your body. For others, it's just a compelling call to get up and dance. Either way, the pleasure is the same.
You can see this ambiguity play out in Interstella 5555, the animated movie that accompanies Discovery. It's an hour-long music video that takes the form of a grand space opera. A hitmaking alien band is kidnapped by an evil record producer and forced to make pop music for him to satisfy an ancient demonic ritual. The group is saved by an enigmatic astronaut and then return to their home world. It's a campy, lovingly animated bit of cosmic pop, one whose message of positivity through music would be hackneyed if it weren't so damn beautiful to watch and listen to.
Interstella 5555 illustrates the impossible musical highs that Daft Punk chased after and, on occasion, achieved. When they performed, masked and inscrutable, their light show refracting off their chrome heads, the performers came off as compellingly alien. Alive 2007, a recording of a Coney Island show from their last tour, reflects the near mythic power the duo achieved at its peak. The album plays as electronic music's Sermon on the Mount, and it is a rousing testament to the magnetism of the live DJ set. What strikes me most about the concert is how it displays the duo's improvisational strengths. They stretch their songs out with embellished passages, mash them up with other tracks, and entangle tunes together via clever transitions. The concert feels spontaneous: it almost comes off as a jam session.
Daft Punk's final album, Random Access Memories, expresses the heart of their musical philosophy. It's an opulent, meticulously constructed celebration of the music of the '70s and '80s, material they sampled extensively. The pair take on the role of curators who have brought in a small army of studio musicians and pop producers to assist them. The album flits between disco-inspired earworms, like "Get Lucky" and more experimental pop explorations, like "Giorgio by Moroder." The recording opens with clips from a Giovanni Giorgio interview; the progenitor of European Disco is the track's guiding spirit. Session musicians are introduced, weaving together virtuosic solos and layered grooves over a hypnotic, looped synth line. Daft Punk made an album that was about thanking their inspirations, and it makes for a giddy listening experience. Yes, it is depressing that this will stand as their last album — but it succeeds as a remarkably fitting end note.
Looking back on Daft Punk's career, it becomes clear just how unique this group was. They embraced the music of their forebears intensely, channeling that passion into their own distinctive creativity. Few bands have shown themselves to be as infectious in their art for so long. That's no doubt why the pair's performances never struck a false, contemptuous note. Sure, they produced mediocre albums, but none that made you grimace — or made you wonder how big their payout was. Most artists, at one point or another, seem to give way to business as usual. But no matter how celebrated the group became, Daft Punk never lost its giddy love for music.
---
Alex Szeptycki is a writer from Charlottesville, VA. He recently graduated from Stanford University, majoring in American Studies with a focus in contemporary art and pop culture. He's currently working as a freelance writer at the Arts Fuse while navigating post-grad life in a pandemic.