By Peg Aloi
This is a dazzling debut by filmmaker Rose Glass, who has made a powerful film that is grounded, first and foremost, in the monstrousness of daily living.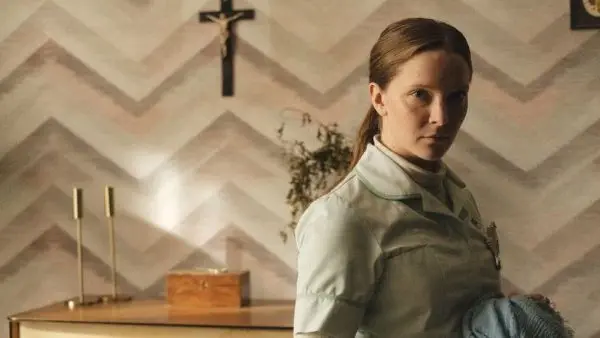 The release of Saint Maud generated many months of hype and excitement, particularly among those viewers who couldn't see it (that is, Americans). The film inspired enthusiastic praise after its premiere at the Toronto International Film Festival in September 2019. That same month it was saluted as part of the Fantastic Fest and then at the London Film Festival, where it won a special commendation award. Saint Maud was originally scheduled for an April 2020 release in the US; it was delayed to July because of the pandemic and then the film was pulled from the US theatrical release schedule entirely until further notice. Saint Maud hit screens in the UK in October 2020. So, while the movie continued to garner positive notices, American critics became increasingly frustrated. Then, very quietly, EPIX started streaming it on February 12 — and there was almost no critical response. But Saint Maud is well worth the wait.
Intimations of frenzy and dread infuse the film's opening frames. A young woman named Katie (played by Morfydd Clark), working as a nurse, is shown trying to save a patient through the use of CPR, but she accidentally cracks the person's sternum. Time goes by and Katie, now referring to herself as Maud, has become a stern follower of Catholicism. Her dingy flat has a small altar filled with Catholic statues and imagery, and we drop in on her prayers via voice-over. In an unnamed but rather drab seaside English town (one garish nightspot sports a huge neon sign that reads "Coney Island") Maud has found work as a private care nurse for a terminal cancer patient. Amanda (Jennifer Ehle), once a famous choreographer and dancer, lives alone in a grand but secluded house that overlooks the beach. Meeting the woman's former caregiver on her way into Amanda's house, Maud is warned that her new charge will be difficult.
At first, Amanda finds Maud's religious views quaint, but eventually finds solace in the nurse's descriptions of God's presence, which Amanda feels in waves of physical pleasure that come as they pray together. The new job appears to be a good fit: but the satisfaction Maud feels in her calling is soberly put in check when she runs into a former co-worker from the hospital, Joy (Lily Knight). She asks if Maud's current employer "knows about what happened," then kindly asks Maud to call her if she ever needs to talk. Soon after, Amanda gives Maud a book of William Blake's poems and paintings. Maud begins to behave in a strangely inappropriate manner: she pours Amanda's liquor down the sink and tells her companion Carol (Lily Frazer) that she should stay away. The pair's warm patient-caregiver rapport quickly sours after a disastrous birthday party for Amanda. A spurned, unemployed Maud takes to finding distraction in old hedonistic habits, drinking and sleeping with strangers, one of whom brutalizes her.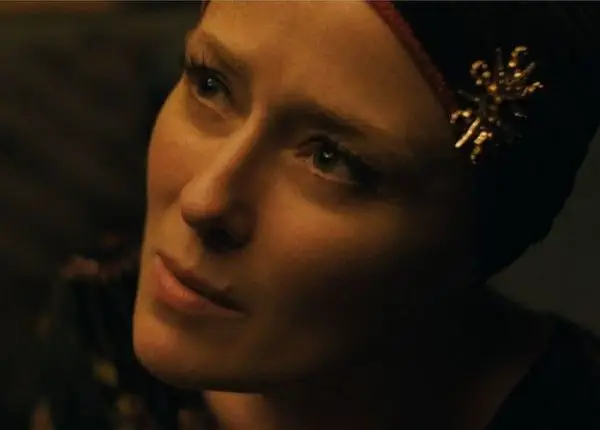 It's hard to pinpoint what's wrong with Maud: is she traumatized by memories of harming a patient, and/or by her ill treatment at the hands of men? Does she have a troubled past? Is she mentally ill? Or has carrying the weight of her loveless, colorless existence simply worn her down? Eventually we see that Maud is losing her grip on reality, helped along by her fervent religious beliefs. Saint Maud lightly skims the surface of the horror genre, with touches of the supernatural that seem to arise organically from Maud's gradual descent into delusion, disclosing to her (and us) things that aren't there — and she is propelled to commit evil acts. The last few moments of the film are an unsettling mix of the beautiful and the horrific.
This is a dazzling debut by filmmaker Rose Glass, who somehow crafts a distinctive sense of place in an anonymous town and plausibly portrays the breakdown of a disturbed young woman, a would-be mystic who loses her way. The cast is uniformly perfect; the cinematography of Ben Fordesman (The End of the F*cking World) creates a complex world that is somehow equal parts decrepit and beatific. There are some very brief, artful flourishes of magic realism and fantastical horror, but Glass has essentially made a powerful film that is grounded, first and foremost, in the monstrousness of daily living.
---
Peg Aloi is a former film critic for the Boston Phoenix and member of the Boston Society of Film Critics. She taught film studies in Boston for over a decade. She writes on film, TV, and culture for web publications like Vice, Polygon, Bustle, Mic, Orlando Weekly, Crooked Marquee, and Bloody Disgusting. Her blog "The Witching Hour" can be found at themediawitch.com.