The show is tightly put together, brilliantly balancing black humor with just the right amount of dramatic pathos.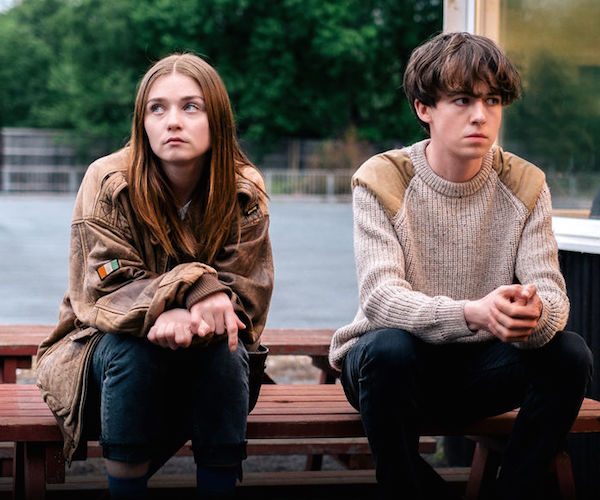 By Peg Aloi
You'd probably have to go back to 1970's Harold and Maude to come up with a coming-of-age black comedy whose protagonist is as compelling as James in The End of the F***ing World (new on Netflix). In the earlier film, Harold (Bud Cort) is a depressed, suicidal lad who wants nothing more than to die. (Though, given the movie's humorous, deadpan style, his desperation comes off more as affectation than mental illness). Then he meets whacky, free-spirited Maude (Ruth Gordon). A friendship develops and young Harold comes out of his shell, cajoled by Maude's indomitable optimism, unabashed sense of adventure, and sense of humor.
James (Alex Lawther, seen recently in the Black Mirror episode "Shut Up and Dance") also meets a muse, but, unlike the chipper Maude, Alyssa (Hanna's Jessica Barden) is nearly as anti-social as he is. Seventeen year old James, a middle class British student, introduces himself by confessing that he suspects he's a psychopath. The song "Laughing on the Outside," from a 1962 recording by Bernadette Carroll, plays as a stone-faced James walks down his street carrying a skateboard — the show's titles appear. This is the first of what turns out to be many cleverly-selected popular music cues from various eras.
James tells us that he used to kill small animals and now wants to move on to people. Alyssa smashes her phone in front of her friends in the school cafeteria and then walks over to James to calmly tell him his skateboarding is shit. He coolly tells her to fuck off. They start hanging out after school: James sees in Alyssa the potential victim of his bloody fantasies, Alyssa sees in James a shy pawn she can wheedle into assisting her rebellious schemes. The dual voiceover narration functions beautifully: we get to understand the inner workings of these two disaffected teens. Their showy nihilism turns out to be a compelling dramatic distraction from complex emotional traumas the two adolescents are not coping with.
The two bond over how much they hate their home lives. James thinks his mild-mannered father (Steve Oram, a veteran of Ben Wheatley's films) is a dickhead; Alyssa's mother is busy dealing with infant twins; she has remarried a man who is dominating towards his wife and condescending (complete with inappropriate touching) towards his stepdaughter. Alyssa idolizes her father, who left when she was a child. After making a date with James in order to perform a crudely-described sex act (James describes her as "kind of a nymphomaniac"), Alyssa is delayed when her mother insists she help serve guests at a party for her new stepbrothers. She walks out (Janis Ian's "At Seventeen" is heard, a choice that feels gloriously wise, ironically tender, and completely freaking perfect) and shows up at James' house, demanding that they take a road trip in his father's car. Their exhilaration at breaking free doesn't last long, however, as the car is smashed and the pair must figure out how to keep going.
As they work out where to go and what to do, James is, at first, still determined to find an opportunity to kill Alyssa. But he conveniently, via moments of voiceover hilarity, keeps finding excuses to delay the act. When a crisis situation forces him to attack a stranger, James's seeming penchant for violence transforms into disgust and horror. It is the first of many such discoveries, when both James and Alyssa, forced into survival mode having to navigate life away from home, confront the world's evils and must meet them head on with their own grit and ingenuity.
It wouldn't do to give away too many plot turns here. Let's just say every character is smartly written and well portrayed. After James and Alyssa run afoul of the law, the pair of detectives charged with investigating them (played by Wunmi Mosaku and Gemma Whelan) add an additional layer of intrigue when it becomes clear there's recently been an awkward and unintended one-night stand between them. Alyssa's father is a fascinating ne'er-do-well played by Barry Ward (currently seen in BBC's new historical series Britannia). Minor roles are likewise impressively filled. But Lawther and Barden are the standouts in the cast, the pair conveying a dizzying range of emotions: James's internalized fears and macabre pronouncements, Alyssa's exteriorized expressions of myriad hungers and impulses. Slowly but surely, James's nihilism and Alyssa's anger are tempered with a hard-won compassion — they learn to react with kindness to each act of brutality that comes along. Lawther's pale moon face is a wonder, conveying ennui with a wide-eyed glance and an agreeable half smile. Barden's natural beauty and brash physicality are formidable, nimbly manipulated to express Alyssa's frustration with being dominated and subdued by men.
The script is written by Charlie Covell, based on a comic series by Charles Forsman. The directing is split between two relative newcomers (Lucy Tcherniak and Jonathan Entwhistle). Despite that, the show is tightly put together, brilliantly balancing black humor with just the right amount of dramatic pathos. The dialogue is hilariously deadpan, as when Alyssa tells a stranger that his infant son in a photo looks like a potato then, realizing she's insulted him, she considers a moment and opines, "No, he looks like a ham." James and Alyssa are both whip smart, but find themselves continually thrown into situations that test their vaunted sophistication. Watching them mature so quickly feels as authentic as it does dramatic. The episodes are short (between eighteen and 23 minutes apiece), so it's possible to binge comfortably on this series in one night — think of The End of the F***ing World as a longish feature film. The clever tone of the series's writing, as well as the inspired use of music to set the mood, reminded me of 2010's British indie hit Submarine and, yes, of Harold and Maude. An ambiguous ending has fed rumors of a second season, which is fine by me — I'd be thrilled to keep traveling with these characters.
---
Peg Aloi is a former film critic for The Boston Phoenix. She taught film and TV studies for ten years at Emerson College, and currently teaches at SUNY New Paltz. Her reviews also appear regularly online for The Orlando Weekly, Cinemazine, and Diabolique. Her long-running media blog "The Witching Hour" can be found at themediawitch.com.