By Sarah Osman
 Love on the Spectrum U.S. generates the same joy as its Aussie version: all of the singletons are enormously likable.
Love on the Spectrum U.S. Netflix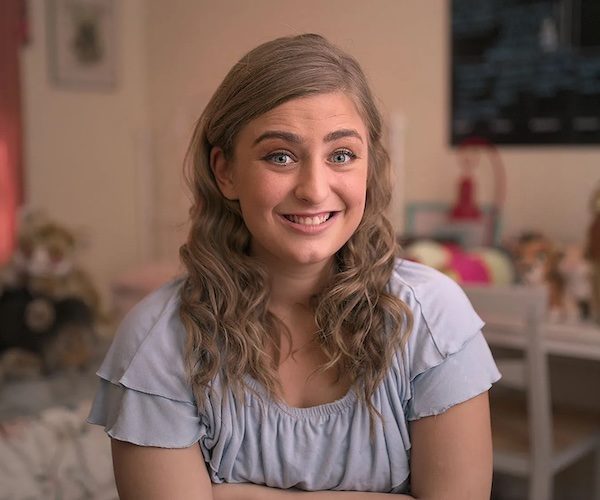 Smack in the middle of 2020, when all of us desperately needed some respite from the never-ending year of despair, Netflix dropped Love on the Spectrum. The charming Australian series followed young adults on the autism spectrum as they attempted to navigate the complex world of dating. The limited series helped to clear up many misconceptions about neurodivergent individuals, mainly that those on the spectrum have no interest in romance (not true) and that the spectrum is just that, a spectrum. It was hard not to root for adorable Michael, whose greatest goal in life is to find a wife to take care of, sweetheart Mark, who was determined to find a woman who shared his love of dinosaurs, and Jimmy & Sharnae, who happily tied the knot in season two. Considering how popular and heartwarming the series is, it's not surprising that a US version has since been released. Thankfully, it's as endearing as its counterpart from Down Under.
Love on the Spectrum U.S. follows nearly the same structure as the Aussie version (the only difference is a few subtle cultural differences). Cian O'Clery, who served as the executive producer for the initial Love on the Spectrum, returns behind the camera and, just as he did with his Australian subjects, treats his American ones with the same nuance and respect.
As for diversity, the American counterpart actually checks more boxes. O'Clery bounces between bachelors & bachelorettes in Los Angeles, Boston, San Francisco, and South Carolina. This decision was a smart one given that America's cultural differences range far and wide, more than in most countries. Still, the geographical differences aren't what makes the season interesting — it's the variety of individuals that are featured.
There's Dani, who started her own animation education company and wants to find a man as focused as she is; Abbey, who adores animals and Disney movies; James, who has a deep love of Renaissance Fairs and swords; Subodh, who hasn't been on a date in 33 years; Kaelynn, who is fed up with the guys she's met on Tinder, and Steve, who did not learn that he was on the spectrum until well into his 50s. Each one of these searchers for romance have their own intriguing backstories and families, and they are dissected throughout the series. They also offer illuminatingly different perspectives on what it's like to be atypical.
Steve's story is one of the standouts in the series, especially when he talks about how he was considered weird throughout his childhood. He struggled to fit in and find his way, having to deal with the challenge that few knew what autism was. That problem still persists today, though it is being alleviated as more neurotypical folks learn more about the condition. Steve also has to deal with dating at an older age, which is a considerable hurdle in itself. Subodh, who wants a lovely lady to travel the world with, struggles with dating. It is not only the fact that he is on the spectrum; his family is Indian, and that culture doesn't comfortably accept dating in the traditional American sense. This sets up a clash that the Australian series didn't explore. It shows that O'Clery isn't resting on his laurels but is willing to explore new territory. Subodh's story sits at the intersection of neurodiversity and the immigrant experience, a conflict that has not been covered much, if at all, in America.
Kaelynn might be the most sympathetic subject because of her jaded look at the ritual of courtship. After going to a speed dating event, she talks about the different guys she met to a friend, and describes one as just "no." When she's asked why she wants a relationship, her response is that "she doesn't want to die alone." She is also the most revealing about her personal reactions, such as the stubborn courage it takes to date while being on the spectrum (which turn out to be pretty much the same struggles everyone faces while dating).
Love on the Spectrum U.S. generates the same joy as its Aussie version: all of the singletons are enormously likable. On top of that, both versions share revelatory experiences that should be seen by a broad viewership. Let's hope that Netflix agrees to a second season, so we can see if Love on the Spectrum U.S. will prove that happily ever after still exists.
---
Sarah Mina Osman is a writer residing in Wilmington, NC. In addition to writing for the Arts Fuse, she has written for Watercooler HQ, Huffington Post, HelloGiggles, Young Hollywood, and Matador Network, among other sites. Her work was included in the anthology Fury: Women's Lived Experiences in the Trump Era. She is currently a first year fiction MFA candidate at the University of North Carolina Wilmington. When she's not writing, she's dancing, watching movies, traveling, or eating. She has a deep appreciation for sloths and tacos. You can keep up with her on Twitter and Instagram: @SarahMinaOsman