Complied by Bill Marx
Canadian singer/songwriter Allison Russell's Outside Child made two lists. And so did Little Simz's Sometime I Might Be Introvert.
Paul Robicheau
Concerts once actively fed my musical intake, but that largely fell by the wayside through another pandemic year (a minor realignment compared to others' true losses). I've settled on seven musical endeavors that most struck me in 2021: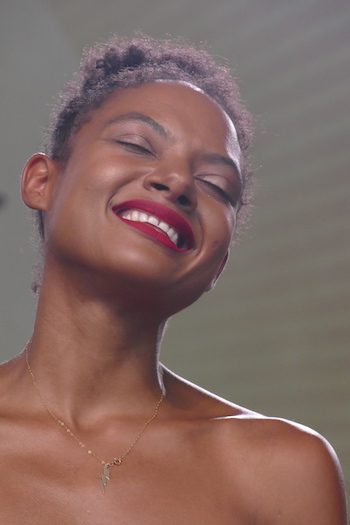 Outside Child, Allison Russell. This Canadian singer/songwriter comes into her own with a sublime solo debut that reflects her survival from childhood sexual abuse, navigated with uplifting resolve and melodic grace. She effortlessly glides through a sweet and haunting amalgam of folk, blues, and gospel, plus a touch of her clarinet. No surprise she was a leading light at this year's Newport Folk fest.
Cavalcade, Black Midi. Perhaps this eccentric maelstrom isn't much crazier than our fractured world. London's young rock experimentalists conjure the musical equivalent of a Bosch painting on a second album brimming with brash dynamics and increasingly immense range. My review.
Tone Poem, Charles Lloyd & the Marvels. While Pharoah Sanders got more kudos for Promises, his ambient collaboration with electronic artist Floating Points and the London Symphony Orchestra, I was more engaged by the meditative spirit of fellow sax guru Lloyd and his band featuring sonic-sculpting guitarists Bill Frisell and pedal steel ace Greg Leisz. My review.
Sometime I Might Be Introvert, Little Simz. An ambitious British-Nigerian rapper hits her groove with cinematic orchestration, seductive soul-jazz, sinewy Afropop and bouncy '80s electro-funk, accented by her autobiographic, empowered flow and fairy-tale whimsy. "The top of the mountain is nothing without the climb."
30, Adele. Five years later, another Adele album, another triumph. Sure, it could be the phone book. But this post-divorce jag takes heart-on-sleeve vulnerability to mainstream heights thanks to its crack production and her ever-marvelous voice.
Reissue: Mingus at Carnegie Hall (Deluxe Edition), Charles Mingus. I loved the original album as a guest-capped blowing session, but this stellar expanded set draws balance and power from the entire 1974 concert (including 72 minutes of previously unreleased music) that highlights the fabled jazz composer's regular band before the encore fireworks. My review.
Concert: King Crimson at Leader Bank Pavilion. Some may dismiss the legendary prog-rockers' three-drummer edition for its less-edgy repertory style, but guitar master Robert Fripp's septet (including historical holdovers Tony Levin and Mel Collins) recast the catalog with an orchestral approach that did justice to era-spanning material. And this September show was likely our last chance to ever see Crimson perform live. My review.
Paul Robicheau served more than 20 years as contributing editor for music at the Improper Bostonian in addition to writing and photography for the Boston Globe, Rolling Stone, and many other publications. He was also the founding arts editor of Boston Metro.
---
Daniel Gewertz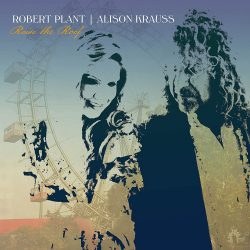 The biggest news on the Americana music front, for good reason, is Raising The Roof, the long-awaited follow-up album by Robert Plant & Allison Krauss, fully 14 years after the release of Raising Sand, their Album of the Year Grammy winner. But since I haven't listened to enough new releases to concoct a proper Top 10 list, let me, instead, mention one album and one single release of 2021 that have received less hoopla in the media.
The single: Diana Jones, "I Believe You," from the album Song to a Refugee (Proper Records)
Veteran folkie Jones took the title, "I Believe You," from the congressional testimony of Alexandria Ocasio-Cortez, speaking in support of border refugees and their petitions for life-saving asylum. Three roots music luminaries — Steve Earle, Richard Thompson, and Peggy Seeger — join Jones, each singing a verse. Issue-centered modern folk songs aren't uncommon, but they rarely deserve to join the ranks of the old standards, as this moving anthem surely does. Simple, elegant, emotive.
The album: Allison Russell, Outside Child (Fantasy Records)
Previously known as a member of Po' Girl, Birds of Chicago, and Our Native Daughters, this exorbitantly gifted singer, songwriter, banjoist, and clarinetist finally appears to be on the verge of renown. Outside Child, and the single "Nightflyer," have been nominated for three Grammys. After 20 years in music, this is the first solo effort for the Canadian. It is a joyous, sinuous album: a longtime in the germinating, but recorded in four days. It's undeniable that Russell's many years of childhood sexual abuse inform the lyrical core of this brave work, but it is no lie that the essence of Outside Child is the unfettered sound of rapture and release. Her videos show that this exquisite woman owns the stage in ways both quiet and forceful.
For 30 years, Daniel Gewertz wrote about music, theater and movies for the Boston Herald, among other periodicals. More recently, he's published personal essays, taught memoir writing, and participated in the local storytelling scene. In the 1970s, at Boston University, he was best known for his Elvis Presley imitation.
---
Alexander Szeptycki
After jumping between music throughout the year, these are the 10 albums I came back to the most at the end of the year.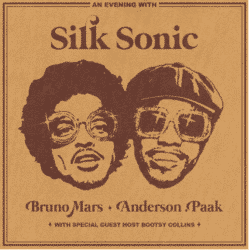 Bruno Mars and Anderson .Paak,  An Evening With Silk Sonic
Bruno Mars and Anderson .Paak, two old souls with a penchant for funk, were pretty much guaranteed to make good on their Silk Sonic collaboration. It is obvious that the two were fully committed to the project. An Evening With Silk Sonic is an exercise in lovingly crafted retro funk homage, chockablock with tongue-in-cheek innuendos, breakup melodrama, and sultry love jams.
Remi Wolf,  Juno
Remi Wolf's full-length debut is vibrant, overflowing with colorfully chameleonic music. Remi infuses futuristic pop with funky grooves that are put across by her impressive range and varied deliveries. This is an album that leans into the artist's eccentricities, and never stops being fun.
Japanese Breakfast, Jubilee
Jubilee is a disc about moving beyond pain. Michelle Zauner ruminates on the ways she can feel joy again, and each track is backed by breathless pop arrangements. This effort is delightfully soft and bright, though there are intimations of painful memories.
Arca, KicK iii
With each listen, the music on Arca's KicK iii becomes increasingly hypnotic. The producer inventively twists dance tracks through distortion, chopping up drum beats and melodies to the point that they are almost unrecognizable.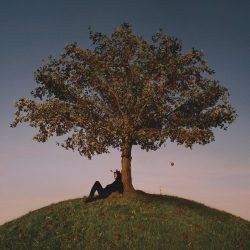 Slowthai, Tyron
Slowthai put a bit of the new and old on his sophomore album Tyron, mixing mellow introspection with his characteristic grimy and aggressive spitting. The fusion works well —  he is growing as an artist without moving too far away from what made him exciting in the first place.
BROCKHAMPTON, Roadrunner: New Light, New Machine

BROCKHAMPTON is a collective that offers a breathtaking range of talents, which makes their recordings so raucous and exciting. Lead signer Joba's devastating personal narrative is at the center of this project, giving it considerable edge.
Tyler the Creator, Call Me If You Get Lost
After a couple albums that showed the mellow side of this singer/songwriter, Tyler the Creator returned to his foul-mouthed renegade roots. His verses, which explore his past, are well-penned and confidently delivered, reflecting a more fully formed artistry.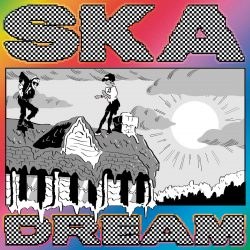 Jeff Rosenstock, Ska Dream
The concept behind Ska Dream is simple: Jeff Rosenstock rewrote his entire 2020 album No Dream, shifting its genre to third wave ska. The mordant pop punk jams translate into ska with ease, aided by the blaring horns and ramped-up musicianship.
Illuminati Hotties, Let Me Do One More
Music producer, mixer, and engineer Sarah Tudzin channels life problems into hits. After dropping a mixtape to free herself from a label contract, she founded her own imprint. This album is her debut, and it injects effervescent pop punk creativity into each track. It's a journey filled with joy and anger — and each is exhausted.
Little Simz, Sometimes I Might Be Introvert
On Sometimes I Might Be Introvert, Little Simz creates a world of her own. The instrumentals are lush and varied, ranging from tracks with operatic choirs and horns to breathy acoustic numbers. The UK rapper flows effortlessly over it all, weaving a captivating personal narrative.
Alex Szeptycki is a writer from Charlottesville, VA. He recently graduated from Stanford University, majoring in American Studies with a focus in contemporary art and pop culture. He's currently working as a freelance writer at the Arts Fuse while navigating post-grad life in a pandemic.
---
Scott McLennan
As I write this, Covid numbers are spiking, and live music is croaking. Announcements about concert postponements arrive daily and the battered live-music industry is scrambling to keep things afloat by ramping up safety protocols. It is impossible to not feel conflicted: large gatherings of strangers  — no guarantee that everyone is vaxxed coupled with lax enforcement of mask-wearing guidelines — seems to be a bad idea. In fact, it may very well have contributed to the persistence of the pandemic.  Then again, it was SO.DAMN.GOOD. to hear, see, feel and smell concerts as they returned to clubs, theaters, and outdoor amphitheaters. The general  willingness to do the right thing for the public is sometimes at odds with  the lure of that alchemical combustion of band and audience getting off on each other.
So, this look back on the music that sustained me during 2021 touches on records and live shows. It is not intentional, but it is heavy on artists that I have been into for years, if not decades. Believe me, I wasn't feeling particularly nostalgic. Frankly, the stuff on this list crackled with contemporary energy, whether it was by Ministry, Exodus, or a 33-year-old Frank Zappa recording.
Here are my 2021 musical oases: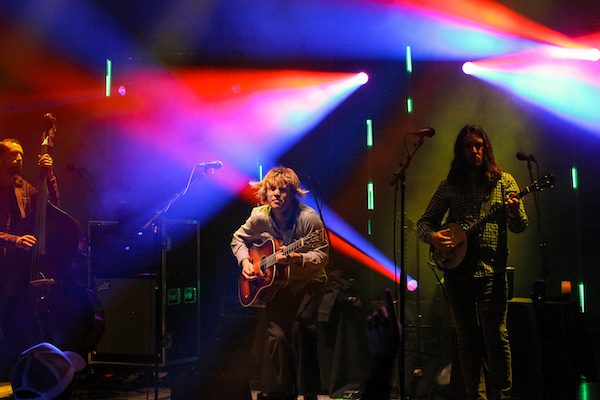 Renewal by Billy Strings. Strings and his band were unstoppable and everywhere in 2021. They delivered their distinctive bluegrass for the modern era to just about any festival, amphitheater, and concert hall that would have them. Guitar phenom Strings came armed with a stunning new record that blended high-lonesome tradition with restless urgency. His playing and writing have grown exponentially and, though bluegrass is his foundation, no single genre fully encapsulates his sound — both live and on record.
Shenanigans Nite Club by Goose. This Connecticut quintet is dynamite in concert, but don't write off the group's recorded material. Yes, records remain the soft spot for many jam-heavy bands, but from the get-go Goose has put a premium on solid, well-crafted songs. Shenanigans Nite Club is a sharply produced collection of tunes, including many that first popped up in live sets but are given fresh treatments in the studio. "Madhuvan" — love it live, love it on record.
Layla Revisited (Live at LOCKN") by Tedeschi Trucks Band with Trey Anastasio. The pandemic kept the hard-touring Tedeschi Trucks Band off of the road, so band leaders Derek Trucks and Susan Tedeschi found creative ways to stay connected to the audience and keep their creative juices flowing. One such endeavor was the release of the meticulously engineered recording of the band's front-to-back performance of Layla and Assorted Love Songs done at the 2019 LOCKN' Festival. Guitarists Trey Anastasio from Phish and Doyle Bramhall II, a longtime TTB collaborator, joined in to help recreate this orchestrated blues masterpiece, originally released by Derek and the Dominos in 1970. Layla Revisited is a brilliant re-rendering of a familiar piece of music.  TTB has been playing several of the album's songs for years as part of its regular concert repertoire. But, with the songs done in sequence, and with the band's vocal prowess, explosive horn section, and overall dynamic firepower, this return to a peerless original is fully justified.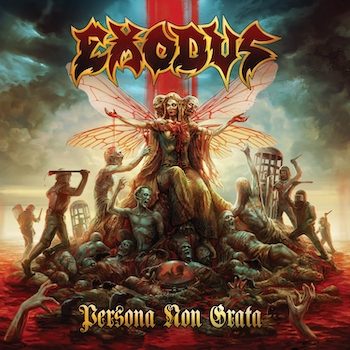 Persona Non Grata by Exodus. These veterans of the Bay Area thrash-metal scene sound as good as ever with guitar player Gary Holt giving this record his full attention. Holt had been busy with Slayer since 2011, first subbing for Jeff Hanneman then taking on the role permanently when the guitar great died in 2013.  Following Slayer's lengthy farewell tour, Holt jumped right back into Exodus, the band he joined in 1981 and ultimately took control of. Persona Non Grata is aggressive, angry, and unforgiving. A laser focus, however, shapes the raw fury for maximum effect.  A lot of young metal bands are circling back to a furious thrash sound, so it is gratifying to hear some architects of the style sounding so masterful.
Moral Hygiene by Ministry. Al Jourgensen is another godfather of heavy-music who is back kicking ass. The guiding light of Ministry was oddly MIA through much of the Trump era given how often he turned his vitriol for the comparatively "normal" bullshit of the Bush II era into a succession of career comeback albums. Jourgensen piqued fan interest, however, when he appeared in 2019 as the opener for the final leg of Slayer shows. He looked and sounded maniacally terrific through a powerful set of Ministry "hits." This follow-up of new music is manna from Ministry, full of sardonic humor, dire takes on current affairs, and cleverly arranged and layered music. You get everything from Greta Thunberg samples and a guest appearance from Jello Biafra to a woozy and boozy cover of The Stooges' "Search and Destroy."
Zappa '88: The Last U.S. Show by Frank Zappa. Frank Zappa's 1988 tour would be his last when this spectacular 12-piece ensemble fell apart. The March 25, 1988 show from Nassau Coliseum was Zappa's final U.S. concert. And what a concert it was: the full force of this group stuffed to the gills with horns, keys, guitars, and a Synclavier worked its way through an expansive program of songs that stretched back to Zappa's earliest work with the Mothers of Invention. Though this performance took place more than 30 years ago, it's emphasis on the amoral scuzz coating "trusted institutions" sounds as relevant today as it did then (and, interestingly enough, Zappa was making the point back in 1988 in part with a then 15 year old cautionary tale about Richard Nixon). The music hardly sounds dated, reminding us just how far ahead of the pack Zappa was. The only bummer here, and likely a byproduct of the in-fighting among the Zappa's offspring, is that the versions of "Whipping Post" and "Stairway to Heaven" performed on this date with Dweezil Zappa sitting in have been cut and replaced with versions of the songs from other dates.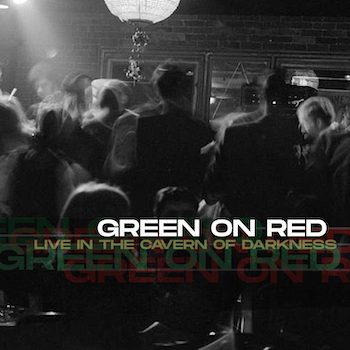 Live in the Cavern of Darkness and Live at Onkel Po's Carnegie Hall by Green on Red.  These purveyors of alt-desert-psych-Americana have not played together in years. But hopes arose when archival Green on Red concert recordings started popping up on Bandcamp. Even if this is the extent of what becomes of Green on Red's leading lights Dan Stuart and Chuck Prophet "teaming" again, it ain't so bad revisiting these sets, particularly the two culled from shows done in Hamburg, Germany, performed 21 years apart. Live at Onkel Po's comes from April 1985, just as Green on Red was teeing up its masterful Gas Food Lodging album. Live in the Cavern of Darkness comes from a 2006 reunion show that saw the band sticking to a repertoire of pre-1988 material. It's all smart, rustic punk takes on different facets of our battered national dream. Like the Zappa album, these Green on Red offerings stand up particularly (or perhaps alarmingly) well in today's landscape.
As for the live music front, I am grateful for every live note I heard. Still, I was particularly impressed by three reunion shows. The Black Crowes reunion tour hit the Xfinity Center in Mansfield on Sept. 15 and it far exceeded expectations. The show was well scripted, with brothers Rich and Chris Robinson running through their Crowes' debut, Shake Your Money Maker, plus an assortment of other concert faves from the band's catalog. The performance by the Brothers Robinson – they were teaming up with an almost entirely new lineup of musicians — made it clear that they drive the band, putting to rest any quibbles about which historical configuration of the Crowes best serves the music. The brothers' unpredictable and at times contradictory approaches to the band have somehow — over 30-plus years — worked to make the Black Crowes one of the truly great rock 'n' roll acts of our time. It is so good neither the Robinsons nor their detractors can kill off. This show also benefited from a guest appearance by singer Peter Wolf, who led the band through "Cry One More Tine" and "Looking for a Love"
The Slip's all-too-brief reunion tour hit The Sinclair in Cambridge on Nov. 13 and was every bit as probing and soaring as this band's shows from its late-'90s/early-'00s heyday. Guitarist and singer Brad Barr, drummer Andrew Barr, and bassist Marc Friedman played old gems, such as "The Weight of Solomon," as well as new pieces. It was a deeply transfixing performance that should lead to more work by this band.
Shadows Fall made The Palladium in Worcester the center of the heavy metal universe on Dec. 18 with a one-off reunion that was both glorious in execution and infuriating. It was a reminder that this band, for whatever reason, hasn't  gotten its proper due. Formed in 1996, the group led  a wave of brash young metal bands coming out of Massachusetts. The band released a string of strong albums and always delivered the goods live, whether that meant facing down a club crowd or charging up a festival audience. The band sounded completely on top of its game at the reunion. What's more, opening sets by Unearth and Darkest Hour resurrected the spirit of peak Palladium mayhem.
---
Scott McLennan covered music for the Worcester Telegram & Gazette from 1993 to 2008. He then contributed music reviews and features to the Boston Globe, Providence Journal, Portland Press Herald, and WGBH, as well as to the Arts Fuse. He also operated the NE Metal blog to provide in-depth coverage of the region's heavy metal scene.