By Paul Robicheau
This re-release features 72 minutes of unreleased music. Nearly every track on the two-hour set pushes the 20-minute range, with results more exhilarating than exhausting.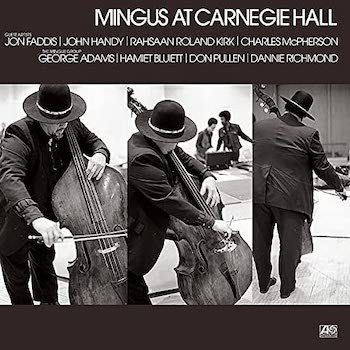 When I discovered the music of Charles Mingus in my youth, my jazz listening tilted to fast and furious players like John Coltrane and John McLaughlin. So perhaps it made sense that Mingus at Carnegie Hall was the disc that most grabbed me — thanks to an onstage "battle of the saxes" highlighted by the rambunctious, indefatigable Rahsaan Roland Kirk.
Each album side sported an Ellington standard, but both amounted to wall-to-wall soloing, glorious cutting sessions that boasted six saxophonists, including Mingus alumni Kirk, John Handy, and Charles McPherson. It didn't occur to me that this was just the guest-iced encore. What about the rest of this 1974 concert?
That was until this July's re-release of Mingus at Carnegie Hall as a deluxe edition (two CDs or three LPs) that features 72 minutes of unreleased music. It shares the entire concert in true running order, even correcting the original album to show that "C Jam Blues" followed  "Perdido" as the culmination of one historic evening.
The preceding music rightly turns the spotlight to the bassist's regular band at the time: saxophonists George Adams (tenor) and Hamiet Bluiett (baritone), pianist Don Pullen, trumpeter Jon Faddis and drummer Dannie Richmond. It also shifts the night's repertoire to Mingus' own iconic compositions, a rich and raucous blend of bop, blues, gospel and third stream, fusing jazz and classical music.
Mingus lent structure with his robust imprints of rhythm, melody, and harmony while letting the personalities of his players shine in free-minded improvisation. Nearly every track on the two-hour set pushes the 20-minute range, with results more exhilarating than exhausting. The sound mix is also surprisingly full and crisp, with mastering and editing by Boston musician/producer Pete Weiss.
The program opens with "Peggy's Blue Skylight," its woozy orchestrated intro soon swinging into short solo rounds, Bluiett widening the range of baritone sax and Faddis sending his brash, rounded trumpet tone to sky-high registers before Adams introduces his tenor in skittering waves and split tones. But it's not until the following "Celia" that the sextet truly stretches out and displays its ensemble familiarity over a 22-minute showpiece that's joyously rough around the edges yet spot on. Even after Faddis echoes the tonal busts of the saxes in interwound calamity, the band intuitively downshifts into its returns to the romantic theme.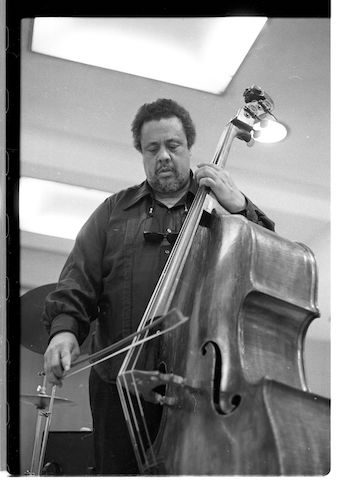 Bluiett's deep sax greases the launch into "Fables of Faubus" (named for a racist Arkansas governor) as the horns ascend in unison, jab the tune's melodic steps, and wind behind the soloists. The bedrock bandleader bends nimble notes in a rare bass turn as solos extend to the rhythm section. Richmond — Mingus' longest serving empath since 1957 — proves himself to be one of jazz's most underrated drummers, supplying a dynamic display of implied momentum, even leaning into his drumheads to induce pitch changes like Rototom rolls. Pullen's own "Big Alice" provides a set-closing changeup, an infectious Mardi Gras-style stomp anchored by the pianist's dancing chords (and astounding hand independence in his own solo) until the horns finally merge and trade off in funky conversation.
Then comes the main event, though it's hard in retrospect to value the encore throwdown without that magic that preceded it. Handy sweetens the sax battle with his opening alto ribbons in "Perdido," much like McPherson serves a silky, winding alto after Kirk's central tenor break — as if there was any other way to respond. Kirk spins a raw, continuous torrent of energy with circular breathing and adds his stritch (a straight alto) for a double-horn attack before he's done.
Kirk's even more overpowering on "C Jam Blues." He takes over that 24-minute vamp with a couple dozen choruses to match, injecting foghorn blasts, oscillating cycles, a quote from Coltrane's "A Love Supreme" and even a mimic of Adams' clenched intensity from the preceding round (the rivals later fingered each other's sax while blowing). When trumpeter Faddis — who surely gave reissue mixers a challenge with his brightly skyscraping volume throughout the set – plays through a mute for his final solo of the night, it's like a concession to Kirk's prowess.
Even with the fireworks winding down, ideas are still flowing in the coda, where Kirk pedals a long drone for the others to squeal against and Mingus creeps into ominous plucking that hints at an ending. At that point, the audience erupts in appreciation, letting the mood — and wondrous evening — finally resolve.
"Thank you!" Mingus booms to the crowd — and the same could be said to Rhino and its usually vinyl-only sister label Run Out Groove for getting this long-overdue reissue over the finish line. Jazz was waning back in the day, so Atlantic Records was apparently shy to release Mingus at Carnegie Hall as a double-album. But whether someone's a jazz neophyte or a Mingus aficionado, this full edition cements one of the most exciting examples of the art.
---
Paul Robicheau served more than 20 years as contributing editor for music at the Improper Bostonian in addition to writing and photography for the Boston Globe, Rolling Stone, and many other publications. He was also the founding arts editor of Boston Metro.