By Jonathan Blumhofer
This disc from the London-based Kaleidoscope Chamber Collective pairs piano quintets by Amy Beach and Florence Price with Samuel Barber's haunting "Dover Beach."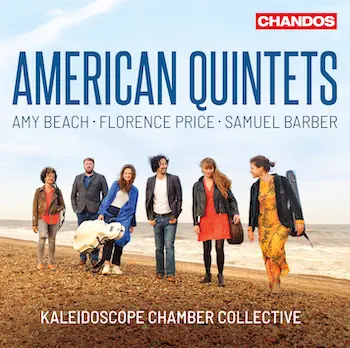 It's taken a long time — more than seventy years — but the chamber music (at least) of Amy Beach and Florence Price seems to be gaining a toehold in the repertoire. At least that's one takeaway from the debut recording of the London-based Kaleidoscope Chamber Collective (KCC), which pairs piano quintets by those two American women with Samuel Barber's haunting Dover Beach.
The most intriguing entry here is Price's Piano Quintet. Discovered in 2009 in a cache of scores in an abandoned house in Illinois, no one knows for certain when it was written (though scholarship suggests that it was likely composed around 1935). As in most of her large-scale compositions, the Quintet's four movements balance Price's late-Romantic stylistic sensibilities with musical influences from her African-American heritage.
To be sure, the latter inspire some of the Quintet's finest moments. The slow movement, for instance, with its fervent, spiritual-like harmonic progressions and melodic phrasings, is breathtaking. And the heavily syncopated, gamboling "Juba" movement wants nothing for drive, charm, or freewheeling energy.
In the outer movements, Price's writing is focused and Romantic. But it's also a bit strict and, by comparison to the central ones, formally stuffy. That's not to say the music lacks heart or passion — the first, in particular, offers both in spades — just that its debts to Brahms and Dvorak are more evident than not.
Either way, the Quintet is an inviting piece and this, its premiere recording, should win the score a robust following. The KCC digs into the music throughout, ably illuminating its busy textures and troves of tunes. Tom Poster's execution of the Quintet's intensely busy piano part is nothing short of epic. Indeed, this reading feels like just the type of "event" of which Price's music is so deserving.
Beach's 1907 Piano Quintet has been a bit better served this last half-century — though not by much. Like the Price, its three movements draw on the influence of Brahms; as in the Price, Beach's natural, lyrical voice ensures that the proceedings never devolve into mawkish imitation.
There's plenty to admire in the KCC's reading: the group's attention to details of dynamics and balances is keen; their playing technically accomplished; and their feel for some of Beach's tempestuous, intense writing is quite fine.
That said, this interpretation lacks a degree of the sweep and sustained brio of last year's recording of the same from Garrick Ohlsson and the Tákacs Quartet. This is most apparent in the outer movements, which come across, structurally, a bit slackly. Best is the KCC's take on the soaring central movement, which is smartly directed and shaped.
In between the Quintets comes Barber's 1931 setting of Matthew Arnold's famous poem.
Bass Matthew Rose sings with trueness of pitch, excellent diction, and absorbing tonal focus. The KCC's accompaniment is flowing, urgent, and bleak; in other words, it's excellent.
---
Jonathan Blumhofer is a composer and violist who has been active in the greater Boston area since 2004. His music has received numerous awards and been performed by various ensembles, including the American Composers Orchestra, Kiev Philharmonic, Camerata Chicago, Xanthos Ensemble, and Juventas New Music Group. Since receiving his doctorate from Boston University in 2010, Jon has taught at Clark University, Worcester Polytechnic Institute, and online for the University of Phoenix, in addition to writing music criticism for the Worcester Telegram & Gazette.