As the age of COVID-19 wanes, Arts Fuse critics have come up with a guide to film, dance, visual art, theater, and music. Please check with venues about whether the event is available by streaming or is in person. More offerings will be added as they come in.
Film
Val
Currently at the Kendall Square Cinema and The Coolidge Corner Theater
Val Kilmer (Batman, The Salton Sea, Top Gun, and any others) obsessively recorded himself on video through the years. Throat cancer has reduced his speaking voice to a croak, but he manages speech by holding a hole in his throat closed with his finger.  "It was a matter of eat or breathe," he says. Unashamed, and assisted by an excellent narration by his son, Jack, he holds forth on life, career choices, and the role of family and faith. His approach to acting was obsessive, which gave him a reputation for being difficult.  Kilmer claims he was merely trying to produce quality work often against the demands and constraints of stardom. A more distanced and less subjective approach would make this a better documentary.  Still, despite the solipsistic, woe-is-me perspective, Val offers an interesting perspective on the vicissitudes of fame and fate from a once celebrated performer.
If You See My Mother
Jewish Film Festival Summer Cinemateque
Available to watch for a 48 hour period from July 21 – 27
Max is a thirty-year-old, single, ophthalmologist who is very attached to his mother. When she suddenly dies, his attachment doesn't falter — he continues to talk to her (and she talks back), he sees her, and she tells him what to do. Her presence is comforting at first, but as Max begins falling for a psychiatrist, Ohiana, his dead mom becomes something of a third wheel. Romantic, funny, and sweet, the film is an honest look at family and relationships, punctuated by outstanding performances. Followed by a pre-recorded, captioned Q&A with Producer Véronique Zerdoun.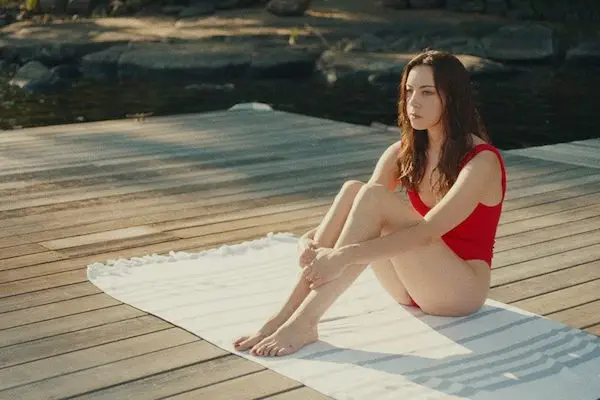 Black Bear
Opens July 26 at 4:30 pm and 7:30 pm
Brattle Theater in Cambridge
Sundance called this a "triumphantly disorienting work of meta filmmaking from Lawrence Michael Levine (Wild Canaries) . . .  Fueled by surprise and layered with an intoxicating dream logic, Black Bear is the kind of discovery you hope for at Sundance: wholly unexpected, compellingly demanding, and utterly unique … The writing is fizzy and delightful, the performances explosively committed. … Aubrey Plaza is the key to why Levine's experimental conceit not only works, but thrives, a pitch-black immersion into artistic process and fulfillment and disappointment that winds its way, somehow, toward a state of peace."
The 30th Woods Hole Film Festival
July 31 – August 7
This year the Woods Hole Film Festival features 52 features, 98 short films from 22 countries. More than half of the entries are directed by women. Some will screen in person at Redfield Auditorium in Woods Hole, the Simon Center for the Arts at Falmouth Academy, and the Cotuit Center for the Arts. All of the films will be available for streaming.
Full schedule to all films and workshops
There are a number of films with Boston or New England connections. Some suggestions: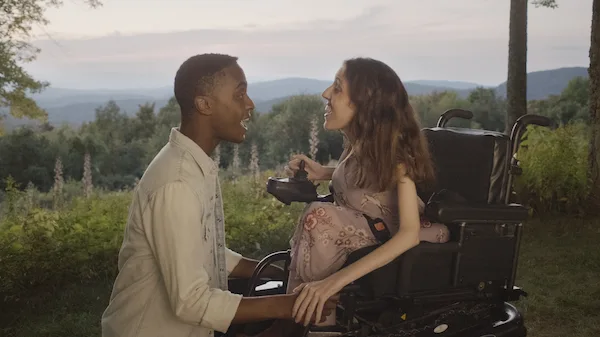 Best Summer Ever: This wonderfully uplifting summer film is a take-off on teen musicals. It was shot in Lincoln, VT at Zeno Mountain Farm, a retreat and camp for people with and without disabilities as well as participants from marginalized communities. There are eight sugary pop songs, each rife with genre tropes. There is no effort to call attention to the blending of disabled and abled performers. The result transcends plot clichés to create a joyous celebration of love and human difference. The lovebirds are played by Rickey Alexander Wilson, a charismatic and athletic young Black actor (This is Us) and Shannon DeVido, a singer and actress who uses a wheelchair. There are cameos by Maggie Gyllenhaal, Benjamin Bratt, and Peter Sarsgaard.
Sabaya: The film follows Mahmud Ziyad and a group of Yazidis who risk their lives trying to save Yazidi women and girls being held by ISIS as Sabaya, a term used for women abducted and forced into sexual slavery. They send in disguised female agents who, through surveillance, pinpoint locations of abductees at Al-Hol in Syria, the most dangerous camp in the Middle East. Arriving by car, armed with only a mobile phone and a gun, group members rescue the women, often one at a time. This a remarkable and brave work of documentary filmmaking.
Lily Topples The World: the winner of the SXSW 2021 Grand Jury Prize for Documentary follows 20-year-old Lily Hevesh of Sandown, NH, the world's greatest domino toppler — the only woman in her field. It's an unlikely American tale of a quiet Chinese adoptee who transforms herself into a global celebrity with over 1 billion YouTube views. Much of the film was shot in various areas around New England.
A Reckoning in Boston: Kafi Dixon dreams of starting a land cooperative for women of color in Boston who have experienced trauma and disenfranchisement. She drives a city bus by day and studies the humanities in a tuition-free course at night. Her classmate Carl Chandler, a community elder, is the seminar's intellectual leader. Documenting the students, white suburban filmmaker James Rutenbeck discovers the violence, racism, and gentrification that threaten Kafi and Carl's well-being in the city. Troubled by his failure to bring the film together, the director enlisted the pair as collaborators, who will be given a share of the documentary's revenues. Arts Fuse review
The Catch: This first time film by Matthew Ya-Hsiung Balzer is stuffed with plot details — it is part thriller, part relationship drama. The movie captures the uphill realities of a rural seaside Maine community where small independent fisherman are struggling against powerful industrial fishing interests.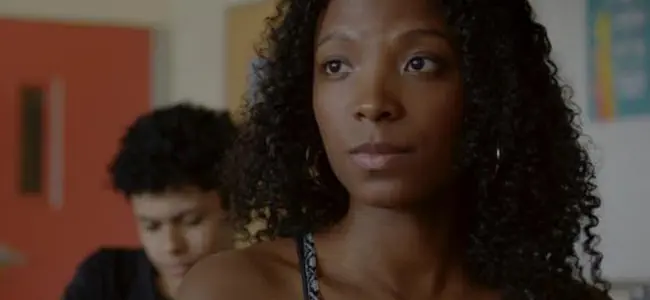 Memoirs of A Black Girl: Shot amidst Roxbury's murals, streets, signs, stores and boulevards, the film tells the story of  Aisha Johnson, an astute and bright student who has become one of the finalists for a coveted scholarship. Her life is spiraling out of control, which is putting her once-promising future in jeopardy. Aisha learns to overcome her difficulties, navigating life at school and on the unforgiving streets of Roxbury as she keeps her eyes on the prize.
Restart: Three artists from New Bedford, Massachusetts had big plans for 2020. Unbeknownst to them, the COVID-19 pandemic would challenge and then severely alter their efforts. Undaunted, these creative types worked through the pandemic, giving hope to the residents of the Whaling City during a dark time.
Jack London's Martin Eden: Not to be confused with the Italian adaptation from 2019, this was part of a Semester Cinema intensive film project. Director Jay Craven's experiential program works with 35 students from New York and New England who receive college credit to collaborate with professionals to produce quality independent films. Based on London's autobiographical novel, the film is a tad didactic, but the narrative is illuminating about class structure and the nature of ambition at the turn of the 20th century. Shot on Nantucket.
— Tim Jackson
---
Jazz
David Haas Group
July 25 at 9 p.m.
Lilypad, Cambridge
The freewheeling David Haas group has returned to their longstanding residency at the Lilypad. The players, with disparate backgrounds but a common purpose of exploration (see Charlie Kohlhase, July 24), include the leader on piano, guitarist Keven Frenette, trumpeter Scott Getchell, clarinetist Glenn Dickson, drummer Joe Musachia, and Kit Demos on bass and modular synthesizer.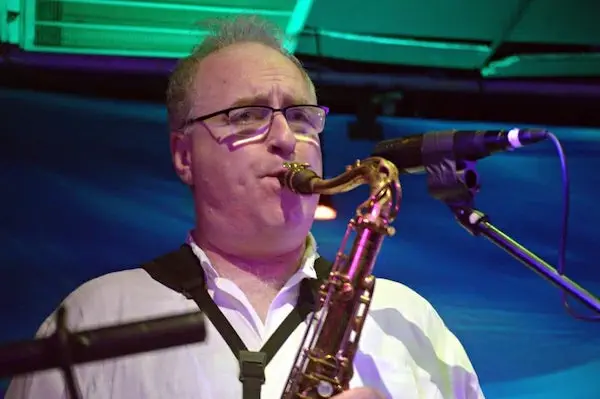 Russ Gershon Quartet
July 31 at 6 p.m.
Assembly Row at Assembly Square, Somerville, Mass.
Free
Saxophonist and composer Russ Gershon, probably best known as the leader the long-running 10-piece Either/Orchestra, leads this quartet date with longtime E/O members bassist Rick McLaughlin and drummer Brooke Sofferman, and tuba player Josiah Reibstein. It will be interesting to see what the always-inventive Gershon does with this unusual (for him) format. (After all, bass and tuba.) Presenter Alex Lemski stresses that this show is "NOT in the shopping Center," but at 355 Artisan Way, near the Mystic River walking and bike trail. This outdoor show is free, but donations are welcome.
Ayn Inserto Jazz Orchestra
August 5 at 8 p.m.
Virtuosity, 234 Hungtington Ave., Boston, Mass.
As a composer, Ayn Inserto draws a lot of inspiration from one of her teachers, the late, great Bob Brookmeyer. Her music is rich in harmonic color and detailed narrative development, with her own take on the pop, hip-hop, and funk she grew up with (and at least one salsa number). But time has passed. It will be interesting to see what Inserto has been writing during the pandemic. And her 17-piece band features some of the finest players in the Boston area.
Lookie Lookie
August 7 at 9 p.m.
Cambridge Community Center for the Arts, Cambridge, Mass.
The above-mentioned Russ Gershon (July 31) also serves as musical director of "Latin Bugalú revivalist" eight-piece band Lookie Lookie. The band features "two of the grand maestros of Boston's Latin music community," Vicente Lebron (congas) and Jorge Arce (bongo, cowbell), as well as trumpeter Eric Ortiz, alto saxophonist Andy Voelker, bassist Gregory Ryan, Rick Barry on timbales, and percussionist Ken Winokur. ("Everybody sings!") Take our word for it: the humor and dance-music drive of this music is irresistible. A salsa lesson precedes the band, at 9 p.m., with two sets by the band and DJ selections in the intervals.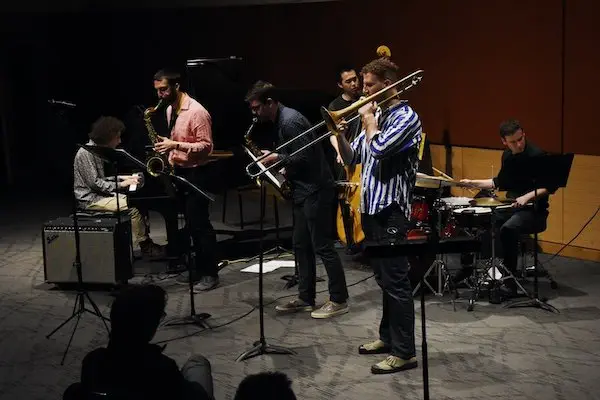 Walking Cliché Sextet
August 10 at 10:30 p.m.
Lilypad, Cambridge, Mass.
This New England Conservatory 2019-20 honors ensemble likes to explore "the line between polyphonic organization" and "chaotic noise," but what we hear in their 26-minute "Suite Chase Reflex" (their 2021 "single") is compositional rigor and engaged (and engaging) execution, with an appealing taste for free-form adventure. With a tour of South Korea under their belt, these guys sound like they're in it for the long haul. The players are alto saxophonist Aaron Dutton, tenor saxophonist Jacob Shulman, trombonist Michael Juba Prentky, pianist Erez Dessel, bassist Seajun Kwon, and drummer Avery Logan.
— Jon Garelick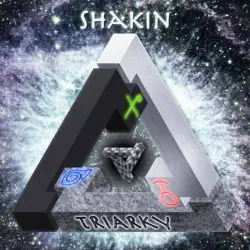 Triarky (Mimi Rabson, violin; David Harris, tuba; Phil Neighbors, drums)
August 7 at 2 p.m.
Outdoors at the Watertown Veterans' Memorial, on the southwest side of Watertown Square, near the corner of Galen Street and Charles River Road
Triarky makes infectious, exciting music, with an instrumentation that is probably unique – and has to be heard to be believed. Rabson's amplified violin can wail like Jimi Hendrix and reach back into violin history for hot playing à la Stuff Smith and Sugar Cane Harris. Harris may be better known as a trombonist, but his astonishing chops are applied to amplified tuba in this trio to give it bottom – and then some. Neighbors is a powerful drummer who roots the music in funk, but does a lot more when he gets his solo spots. They'll no doubt do tunes from their 2015 digital album, but new repertoire is promised — a tune inspired by Ethiopian music (a passion of Harris's) and some new Rabson compositions, which never fail to delight. Bring something to sit on, but be warned — the music will make you want to get up and dance.
— Steve Elman
---
Newport Music Festivals
Folk and jazz fans have long flocked to Newport's Fort Adams State Park in late July to bask in uniquely curated festival bills in a scenic seaside setting. But this year's Rhode Island fests are adjusting to still-not-quite-normal times, limiting capacity to half and requiring full vaccinations or negative Covid tests for all who attend. And the more intimate affairs will feature two stages rather than three.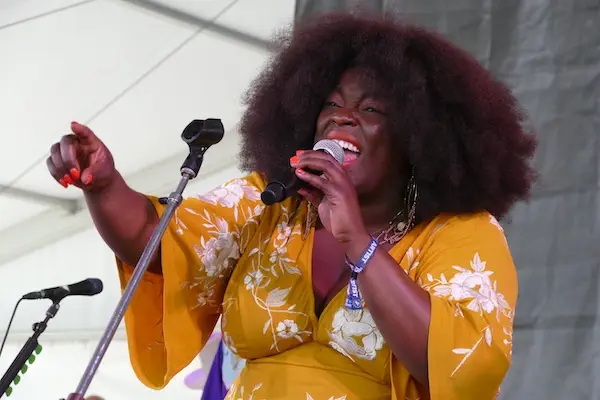 Folk On, July 25 through 28.
The Newport Folk Festival rebranded this summer's celebration in a nod to the different circumstances — and expands into two three-day sessions, the second flowing into weekdays (with all six days long sold out as usual). The festival's been confirming artists as they self-announce. The weekend slate started strong with Grace Potter, Jason Isbell (solo), Margo Price, the Marcus King Band, and Randy Newman, but the weekday run just boosted its stock with pop chameleon Beck now joining Sharon Van Etten, Lake Street Dive, Deer Tick (plus its collaborative offshoot Middle Brother), and Julien Baker. Some performers are bound to appear at both events, with bluegrass wunderkind Billy Strings the first to appear on both schedules. Whoever shows up and on what days, Newport Folk always delivers thrills and surprises (even with unknowns), and this year's tweaks aren't likely to change that.
Newport Jazz, July 30 to August 1
Newport's also-historic jazz festival is already sold out for Saturday, signaling the strength of this year's programming beyond just the attendance limits. Popular music cross-pollination comes into play, given that both gospel icon Mavis Staples and moody instrumentalists Khruangbin are Newport Folk alumni. Country-soul singer Yola will be performing at both festivals this year. The expansive fest ranges from funky New Orleans act Trombone Shorty and singer Andra Day (just lauded for her film portrayal of Billie Holiday) to Charles Lloyd and Kamasi Washington's spiritual jazz flights. Artistic director Christian McBride boosts the collaborative spirit in a "Jam Jawn" with John Scofield, Joe Russo, and Marco Benevento, while style-mashing pianist Robert Glasper plays all three days with different combos.
— Paul Robicheau
---
Dance
Newport Dance Festival
July 25
Great Friends Meeting House
Newport, RI
Newport Dance Festival provides six consecutive days of performances with different programs each evening on an outdoor stage. A special multi-ticket Flex Pass allows viewers to experience multiple shows. This year's resident company is San Diego-based Malaschock Dance, with additional appearances by Khambatta Dance, Boston Dance Theatre, East Coast Contemporary Ballet, Thomas/Ortiz Dance, and Revolve Dance.
Festival of Us, You, We, & Them
July 25
The Dance Complex
Cambridge, MA
Celebrating Cambridge's diverse and eclectic community, the Dance Complex presents its 8th annual Festival of Us, You, We, & Them. Engage in a variety of participatory classes, try a new movement style, or view one of the many performances in this dynamic yearly event.
Work in Process 
In-person showings: July 30-August 1
Virtual showing: August 7
Boston Center for the Arts' Plaza Black Box
Boston, MA
Don't miss this week's Boston Dancemakers Residency showcase, Work in Process, presented by Boston Center for the Arts and Boston Dance Alliance. Engage with Dancemaker Resident Jenna Pollack as she and her team explore materiality and sustainability in collaboration with designer Dr. Benjamin Linder. The focus in this performance piece is on control,  while working with construction, deconstruction, and reconstruction.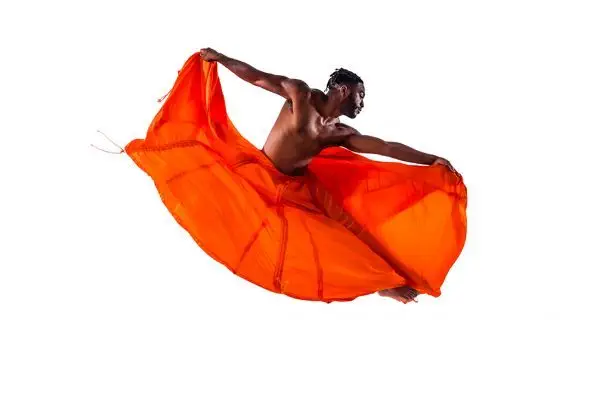 BoSoma Dance Company – Signature Works
Sunday, August 1 at 2 & 5 p.m.
Windhover Center for the Performing Arts
Rockport, MA
Praised for its dancers' athleticism and grace, BoSoma Dance Company performs at Windhover Center for the Performing Arts this weekend, in a lineup that includes signature repertory works Convergence and Parachute. Company member Tony Tucker premieres a new work that blends Contemporary, Hip Hop, and African dance. The performance will also feature Lindsey Leduc's Lost it to Trying, and two new works by Artistic Director Kathrine Hooper in collaboration with costume designer Greeke.
Dallas Black Dance Theatre
August 4-8
Jacob's Pillow's Leir Outdoor Stage
Becket, MA
Experience the depth of contemporary modern dance as performed by Dallas Black Dance Theatre. Making its Jacob's Pillow debut, Dallas Black Dance Theatre performs a Pillow-commissioned world premiere work by renowned choreographer Darrell Grand Moultrie, whose work with Alvin Ailey American Dance Theater, American Ballet Theatre, and Dance Theatre of Harlem has been widely celebrated.
Rachmaninoff to Ellington: Music & Healing
August 11
The Hatch Shell on the Charles River Esplanade
Boston, MA
Boston dancemakers collaborate with Boston Landmarks Orchestra in an evening of music and motion. Breathe in the outdoor air, while enjoying orchestral works by Sergei Rachmaninoff, Bedřich Smetana, Camille Saint-Saëns, Samuel Coleridge-Taylor, Duke Ellington, and Arturo Márquez, choreographically paired with Boston Ballet II, Jean Appolon Expressions, Peter DiMuro/Public Displays of Motion, and Urbanity Dance.
— Merli V Guerra
---
Rock & Pop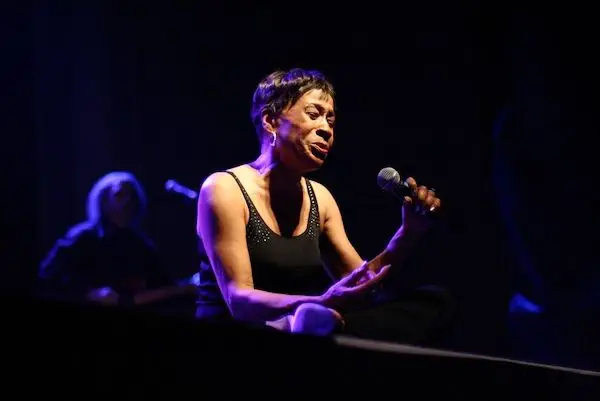 An Intimate Evening with Bettye LaVette
August 6
City Winery, Boston, Mass.
City Winery is billing this as "an intimate evening with," which means, based on the dynamic singer's last appearance, Bettye and a keyboardist (as opposed to a full band). Nonetheless, LaVette, who emerged in 1962 at age 16 with the hit "My Man — He's a Lovin' Man," is always worth hearing. After that early success, and some years on the R&B circuit and six on Broadway in the hit Bubbling Brown Sugar, she more or less disappeared for a number of years before reemerging as a distinctive interpreter of all manner of blues and pop with 2005's I've Got My Own Hell To Raise, an album of songs all written by women (the title comes from a Fiona Apple song), followed by a half-dozen notable discs since.
— Jon Garelick
---
Roots and World Music
Marty Stuart, July 31
Jamey Johnson, August 1
Indian Ranch
Nearly every other historic country music park closed decades ago, but the beautiful lakeside Indian Ranch in Webster has survived changing trends, and now it's made it through Covid-19. This weekend has a particularly enticing lineup for Americana and classic country lovers. Marty Stuart, country's biggest history buff, puts on an especially inspired show when he's on the hallowed stage of the Ranch. Gruff Jamey Johnson won't say much on stage, or anywhere, but he'll deliver hour after hour of exceptional songs.
Billy Novick and Guy Van Duser
August 7
Club Passim
Since reopening, Club Passim has been presenting a mix of emerging acts and old friends. The later category would include the duo of clarinetist Novick and guitarist Van Duser. Their swinging take on vintage jazz  has created a perfect partnership for over four decades.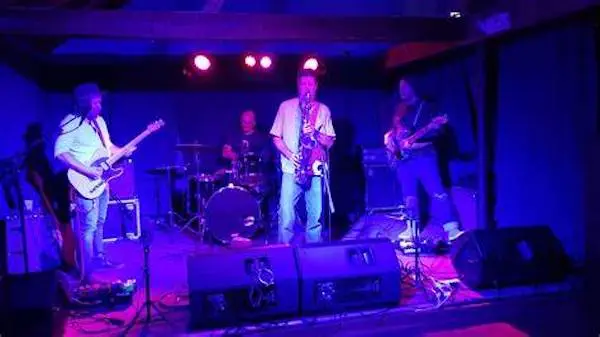 The Meditations, Addis Pablo, and Dub Apocalypse
August 8
La Fabrica, Cambridge
Jamaican music is heavily influenced by the vocal harmonies of American soul acts like the Impressions. There was a burst of Jamaican harmony groups during roots reggae's golden age: most of them are inactive now. But the Meditations are still standing. Ansel Cridland — better known simply as Ansel Meditation — has been with the group from its 1974 start and is still at the helm. This exceptionally good Reggae Takeova bill also includes Asdis Pablo, continuing the dub legacy of his father Augustus, and Boston's own Dub Apocalypse. And, in related DA news, later in August the group will be resuming its Sunday night residency. A longtime favorite at the late Bull McCabe's, their dub explorations will now take place at Sally O'Brien's.
— Noah Schaffer
---
Theater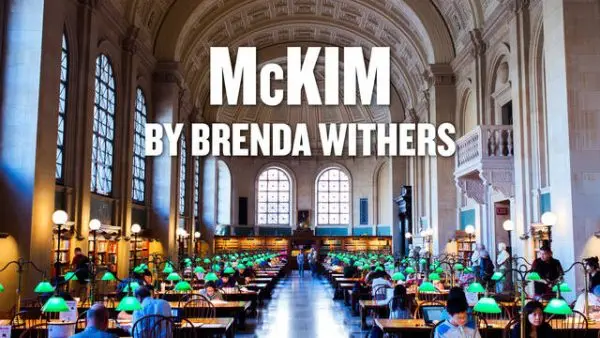 Dream Boston Plays, a new series of short audio plays (15 in number at the moment) produced by the Huntington Theatre Company. Each drama is set at a specific local landmark with one to three characters, and is about six minutes in length. All the productions are available on the Huntington's website, as well as on Apple, Spotify, Google Podcasts, and Stitcher.
The first four entries were By the Rude Bridge by Melinda Lopez; Overture by Kate Snodgrass; McKim by Brenda Withers; and The 54th in '22 by Kirsten Greenidge. "Conceived and commissioned by the Huntington artistic department, the company asked Huntington Playwriting Fellow alumni Greenidge, Snodgrass, Withers, and Lopez to imagine their favorite locations, landmarks, and friends in a future Boston, when people can once again meet and thrive in the city — a vision of a future Boston that is somewhere between dream and reality." Arts Fuse review of Episodes 1 through 5.
Seven additional titles were added to the lineup in July, which included works by local artists John Oluwole ADEkoje, Miranda ADEkoje, J. Sebastián Alberdi, Rosanna Yamagiwa Alfaro, Elle Borders, Patrick Gabridge, and John Kuntz. The local landmarks that serve as settings for this round of audio plays include Franklin Park, Harvard's Memorial Church, the Harvard Art Museums, the Old State House, the Fenway nightclub Machine, Harrison Avenue, and Malcolm X Boulevard.
The new quartet includes works by Pulitzer Prize winner David Lindsay-Abaire, Huntington Playwriting Fellows Masha Obolensky and Jacqui Parker, and writer and actor Kadahj Bennett. The settings for this round include Dorchester Heights in South Boston, Wally's Cafe Jazz Club on Massachusetts Avenue in the South End, Nantasket Beach, and the Minuteman Trail in Concord.
"These four plays think about the future from different vantage points than the previous Dream Boston plays," says Charles Haugland, the Huntington's Director of New Work, "amid the vaccine rollout, the return to in-person school, a rapid housing market, and the return to places in our city we haven't been in a long time."
Memories and Dreams, staged by Double Edge Theatre. Directed by Jeremy Louise Eaton and Stacy Klein. At the farm, 948 Conway Road, Ashfield, MA, through August 8.
The annual Summer Spectacular. "An outdoor traveling performance safely created in the times of COVID, with all of Double Edge's wonder-filled adventures and epic imagination. The spectacle invites visitors to journey through a mosaic of myths and imaginative flight on DE's Farm as we reinvigorate our memories and dream all possible futures together."
Becoming Othello: A Black Girl's Journey, written and performed by Debra Ann Byrd. Directed by Tina Packer. Staged by Shakespeare & Company at the Roman Garden Theatre, Lenox, MA, July 25.
"Described as a living memoir, Becoming Othello is a multimedia theatrical production with lyrical language, soulful songs, and the music that shaped the life of a resilient little girl growing up in Spanish Harlem. This choreopoem chronicles the life of classical actress Debra Ann Byrd."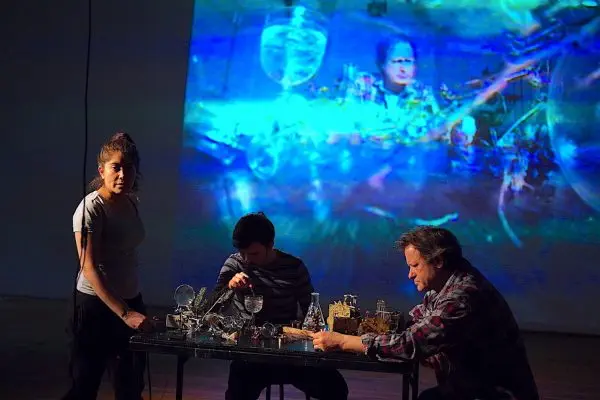 Moving Water, devised by Serious Play and written by Eric Henry Sanders. Directed by Sheryl Stoodley, with music by Jonny Rodger. A digital premiere collaboration between the Ko Festival of Performance and Serious Play Theatre Ensemble.  Online: July 30 and 31 at 8 p.m. and at 4 p.m, on August 1.
Sounds like a variation on Sartre's No Exit to me, with a climate crisis twist of the pitchfork: "3 apartment dwellers thrown together in an existential struggle hinging on their personal stances on climate change and a developing water crisis. Zara, Pakistani immigrant and friend to Sergei, the building's super, is missing. They've been designing a secret project to save their building from an impending flood. Luna, a Mexican oceanographic student and Drew, a climate change denier and son of the building's owner, are quickly embroiled in the search."
The Tempest by William Shakespeare. Directed By Steven Maler. Staged by the Commonwealth Shakespeare Company in the Parkman Bandstand in the Boston Common, Boston, MA, through August 8.
The CSC returns to live performance this summer with its 25th anniversary production of Free Shakespeare on the Common. "With the safety of our artists, staff, and audiences at the forefront of decision-making, there will be a number or adjustments to this year's offering. The production will be streamlined to allow for an intermission-less performance. In addition, audience size will be limited according to the most updated state and city guidelines on capacity and social distancing. In accordance with union guidelines, CSC invites and encourages patrons over the age of 2 to wear a mask until seated, while attending The Tempest. The production will remain free, but due to expected capacity constraints, advanced registration is recommended for ease of arrival and priority access to seating. Walk ups will be welcome the night of!"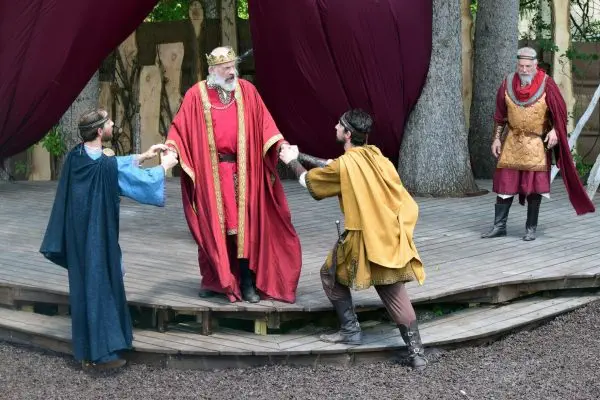 King Lear by William Shakespeare. Directed by Nicole Ricciardi. Staged by Shakespeare & Company at the (outdoor) New Spruce Theatre, through August 29.
Christopher Lloyd stars as the monarch who goes mad. W.H. Auden on the Bard's masterpiece: "King Lear, like Hamlet, is peculiarly modern because in both, nature is no longer a home. The sensuous visual world is realized in Aristotle as a universe of things in which man is only one more thing. Augustine's new insight was that man was despairing as just one more thing. The next seven centuries depicted man and nature in the familiar Augustinian Christian tradition. Copernicus set the walls of the house crumbling with a new realization of man's limitations. Pascal's thought is opposed to the early enthusiasm of scientific figures like Bruno and Kepler. There is no new house for man. Infinity must enter the image. In the nineteenth century, man's last home is music." It should be added that, now, via the climate crisis, we are poisoning what is "no longer a home."
Walking Plays: The Greenway Series. an audio play series presented by the Lyric Stage Company of Boston in collaboration with the Rose Kennedy Greenway Conservancy. The Greenway Series begins in July.
The new Greenway Series of Walking Plays will feature three 10-15 minute dramas. The first play, Rosanna Yamagiwa Alfaro's Walking It Off, will premiere in early July. It was directed by Michelle Aguillon. That will be joined mid-month by Hummingbird, written by Kirsten Greenidge and directed by Aguillon.
Outside on Main: Nine Solo Plays by Black Playwrights. Directed by Wardell Julius Clark, Candis C. Jones, and Awoye Timpo. Featuring plays by Ngozi Anyanwu, France‑Luce Benson, J. Nicole Brooks, Guadalís Del Carmen, Terry Guest, Ike Holter, Zora Howard, NSangou Njikam, and Charly Evon Simpson. Staged by the Williamstown Theater Festival on the Front Lawn of the '62 Center, Williamstown, MA, through July 25.
A world premiere production: "Discover the power and intimacy of the solo play with this series of three shows centering and celebrating Black artists and their voices through theatrical storytelling. Each show consists of three, 30-minute world premieres, created by Black writers and written for actors of color." Guest curated by Tony Award–nominated director and playwright Robert O'Hara.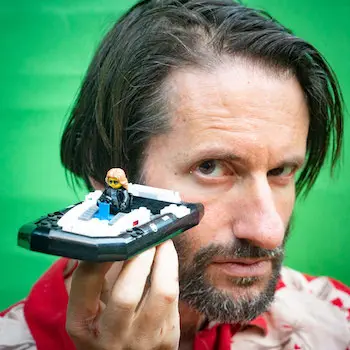 HAWAII FIVE-G: Canary in the Gold Mine, written and performed by Jonathan Mirin of Piti Theatre Company. Directed by Deanna Fleysher. Presented by the Ko Festival, screening online on August 6 and 7 at 8 p.m. and August 8 at 4 p.m. Live, online post-show discussions with collaborators & guest experts, hosted by Trenda Loftin, follow each online performance.
"Desperate to make theater during the pandemic, Mirin raids his son's Lego stash and creates a series of appropriately tiny Hawaii Five-O sets for his parody of the hit '70s crime series: an eco-justice drama he calls Hawaii Five-G. In his manic imagination, the pandemic Lego drama goes viral, bringing nations together to re-imagine a future where even Monsanto re-structures as a non-profit — begging the question 'When faced with impossible odds, can humor, love, and pieces of interlocking plastic prevent catastrophe?'"
Row, inspired by A Pearl in the Storm by Tori Murden McClure. Book by Daniel Goldstein. Music and Lyrics by Dawn Landes. Directed by Tyne Rafaeli. Staged by the Williamstown Theatre Festival at the Clark Art Institute (outdoors), through August 15.
"The Clark's serene reflecting pool becomes the stage for this uplifting world premiere musical that interrogates the resilience, fear, and ambition inside one individual as she aims to be the first woman to row solo across the Atlantic."
Please note: This production will be performed outdoors at the Clark Art Institute (chairs will be provided and sanitized between performances). Patrons are encouraged to dress appropriately for the weather and the elements: apply bug repellent before you arrive; wear visors, hats, and/or sunglasses for protection from the sun; bring a light sweater for cooler evenings and a poncho in the event of rain.
Seared by Theresa Rebeck. Directed by Victoria Gruenberg. Staged by the Gloucester Stage Company, outdoors, at the Windhover Center for Performing Arts, Rockport, MA, August 6 through 22.
The Boston area premiere of Rebeck's foodie-orientated comedy, which "explores the delicate balance between a creative spirit navigating success, recognition, and responsibility to a financial bottom line. In between the caramelized onions and sizzling garlic frying up in the onstage kitchen, tempers are boiling over. Brilliant, hot-headed chef Harry scores a mention in a food magazine with his signature scallops, and his business partner Mike finally sees profits within reach. The only problem is Harry refuses to recreate his masterpiece for the masses. … Audiences get up close to the action as the stage is transformed into the intimate kitchen of a New York City restaurant.
Our Town by Thornton Wilder. Directed by Tom Frey. Staged by the Peterborough Players in downtown Peterborough, New Hampshire, August 4 through 15.
To celebrate this company's restart, "there is no play more perfect than Thornton Wilder's Our Town, which looks at life through the eyes of the citizens of Grover's Corners, New Hampshire. The ownership of this Pulitzer Prize-winning American play is strongly felt by the residents of Peterborough, NH (long rumored to be the inspiration for Grover's Corners, whether confirmed or not…). The Players has a long and intimate connection to the script: since the company's first production in 1940, on which Thornton Wilder himself consulted, it has become the troupe's most produced play to date."
Much Ado About Nothing by William Shakespeare. Directed by Kyler Taustin. Staged by Brown Box Theatre throughout Massachusetts, August 6 through 29. All performance of Much Ado About Nothing are free, outdoors, and open to all audiences; no tickets are needed. Lawn seating, blankets, and lawn chairs welcome. Check website for locations and times.
"Upon their return from war, a group of soldiers are reminded that life and love are not so black and white. Trickery, jealousy, deceit, and masquerade each play a role in challenging Benedict and Beatrice's scorn for love (and each other) as well as the seemingly unassailable love of Claudio and Hero. Through witty banter and dastardly deception, Shakespeare's beloved comedy, Much Ado About Nothing debates the preconceived notion of how to love and the value of trust."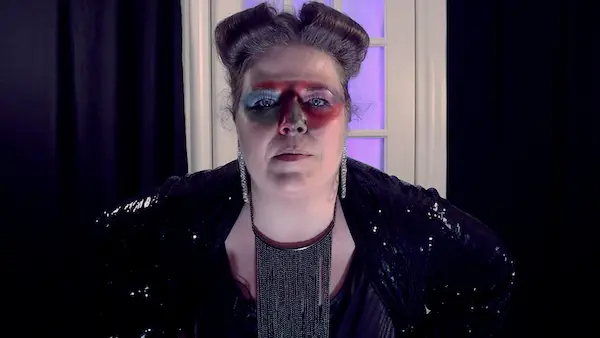 7 Rooms: The Masque of the Red Death, inspired by Edgar Allan Poe'sshort story, "The Masque of the Red Death." A Flat Earth production that features 7 playwrights (Sari Boren,Hortense Gerardo, Gabriel Graetz, MJ Halberstadt,Michal Lin, Cliff Odle,andKelly Smith), 7 directors(Jessica Ernst, David R. Gammons, Lee Mikeska Gardner,Shira Helena Gitlin, Johnny Nichols, Jr.,Elizabeth Yvette Ramirez,andLaToya T. Robinson), 15 actors, 5 stage managers, and a plethora of other theater artists. Screening online via Zoom from July 28 through Thursday 15.
This show is "an immersive virtual theater experience where audiences "choose their own adventure" as they navigate the eccentric noble Prospero's decadent end-of-the-world party while the Red Death devastates the world outside. Within Prospero's manor, where costumed revellers escape the plague, discover an evening of theater exploring isolation, connection, moral dilemmas, humor, humanity, and hope.
Exploding the Zoom theater genre, 7 Rooms offers seven glimpses through seven windows into seven fully staged new plays with fully realized designs and actors present in the physical space together."
Stand Up If You're Here Tonight by John Kolvenbach. Produced by the Harbor Stage Company, Wellfleet, MA, July 29 through August 20.
"A brand new solo piece (starring Robert Kropf) from the author of Sister Play. A celebration of people, presence, and how far we've come together."
— Bill Marx
---
Visual Arts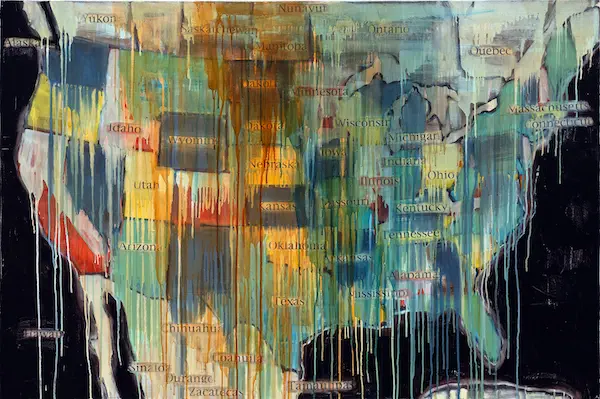 Dartmouth's Hood Museum reopens on August 4 after a long closure during the COVID-19 pandemic. At 12:30 pm, Curator of Indigenous Art Jami Powell joins artist Jaune Quick-to-See Smith in an on-line discussion of the work of this artist's life work and her fascination with storytelling. Free, but registration is required through the Hood website.
— Peter Walsh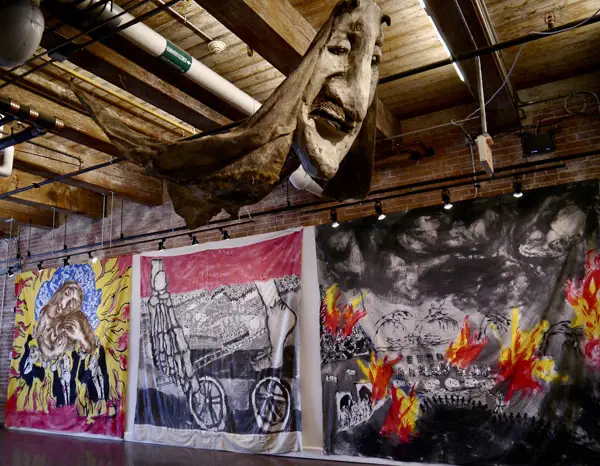 Peter Schumann's Bedsheet Mitigations: paintings on discarded bedsheets, created by the founder of Bread & Puppet Theater. Co-hosted by Midway Gallery and ARTSPEECH. Held at Midway Gallery, Fort Point, Boston, MA, through August 31.
"Dumpster-retrieved bedsheets contain quantities of secret life, sweet dreams and nightmares of anonymous sleepers' lives in relation to their history and planet." (Peter Schumann, 2021)
During this Covid-era "pause," the Vermont-based Bread & Puppet Theater was gifted a large pile of king-sized bedsheets, discarded by a hotel. Renowned visual and performing artist Peter Schumann, the political puppet theater's founder and artistic director, immediately seized upon this as an opportunity. Not only to paint a scene per day, on a dumped clean slate canvas, but also to take this on as a daily exercise, of freely slapping paint around while grappling with all the issues that have made the world a sh*tty mess."
The selections from Schumann's "Bedsheet Mitigations" series, specifically chosen for this exhibit at Midway, were first revealed at Bread & Puppet's "Insurrection — Lamentation — Resurrection Service" performances, held up in Vermont during their socially distant contact-traced 2020-21 season. Combined with these "mitigation" images will be several other bedsheet pieces on display at Midway, gleaned from Schumann's new "Crucifixion" series, which he started generating in earnest this past February-March.
— Bill Marx
---
Roots and World Music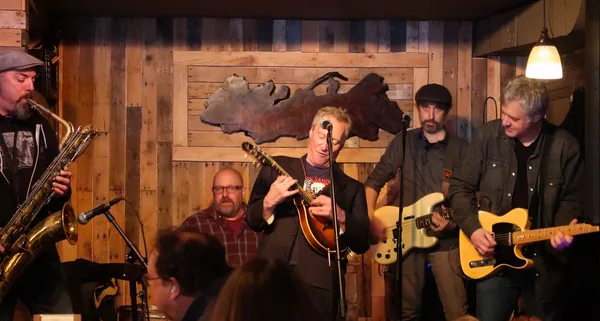 One of the most beloved local spaces for Americana music, Sally O'Brien's, has survived the shutdown and is up and roaring. On July 25 mandolin wizard Jimmy Ryan & Hayride arrives.
— Noah Schaffer
---
Classical Music
Festival of Contemporary Music
Presented by Tanglewood Music Festival
July 25-26, times vary
Tanglewood, Lenox
This year's FCM is condensed into just three concerts over two days; even so, they pack a lot in. Sunday morning's opener features chamber music by Sean Shepherd, Andrew Haig, Xinyang Wang, and Kaija Saariaho. On Monday, there's a matinee that includes works by Thomas Adès, Per Nørgård, and Andrew Norman; that evening Adès and Stefan Asbury lead the TMC Orchestra in Nørgård's Dream Play, Steve Reich's Reich/Richter, and György Ligeti's Violin Concerto.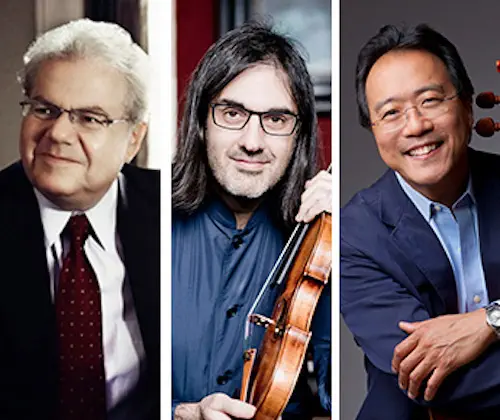 Ax-Kavakos-Ma Trio plays Beethoven
Presented by Tanglewood Music Festival
July 30, 8 p.m.
Tanglewood, Lenox, MA
Emanuel Ax, Leonidas Kavakos, and Yo-Yo Ma team up for an all-Beethoven evening, this consisting of the Piano Trio op. 1, no. 3 and a piano-trio arrangement of the Second Symphony.
TMCO plays Fauré, Still, and Sibelius
Presented by Tanglewood Music Festival
August 2, 8 p.m.
Tanglewood, Lenox, MA
Tanglewood Music Center fellows and Alan Gilbert combine to lead the Music Center Orchestra in a program of pieces by Gabriel Fauré, William Grant Still, and Jean Sibelius.
Beethoven's Fifth & American Icons
Presented by Boston Landmarks Orchestra
August 4, 7 p.m.
DCR Hatch Shell, Boston, MA
Christopher Wilkins leads BLO in a program that culminates in Beethoven's Symphony no. 5. Before that comes music by George Gershwin, Florence Price, William Grant Still, Nkeiru Okoye, James P. Johnson, and Jules Massenet.
Yo-Yo Ma plays Tchaikovsky
Presented by Tanglewood Music Festival
August 8, 2:30 p.m.
Tanglewood, Lenox
The acclaimed cellist joins the Boston Symphony Orchestra for Tchaikovsky's Variations on a Rococo Theme. Karina Canellakis also conducts Missy Mazzoli's Sinfonia (from Orbiting Spheres) and Tchaikovsky's Fourth Symphony.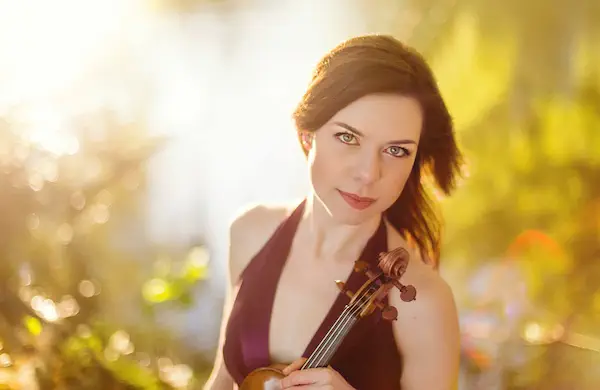 Tessa Lark in recital
Presented by Rockport Chamber Music Festival
August 8, 5 p.m. & 8 p.m.
Shalin Liu Performance Center, Rockport, MA
Violinist Lark presents a concert of violin-piano repertoire by Belá Bartók, Eugene Ysaÿe, Franz Schubert, Antonin Dvorak, and Fritz Kreisler. Amy Yang accompanies.
— Jonathan Blumhofer
---
Author Events
Virtual Event: Identity and the Internet: Debut Authors Panel featuring Jackie Ess, Joss Lake, Alex McElroy and Beth Morgan – Porter Square Books
July 26 at 7 p.m.
Free with $5 suggested donation
"Join Porter Square Books for a virtual panel featuring debut authors Jackie Ess (Darryl), Joss Lake, (Future Feeling), Alex McElroy (The Atmospherians) and Beth Morgan (A Touch of Jen)!" These fledgling authors will discuss the shared themes of the internet and identity in their first novels. This event is virtual and free to all — hosted on Crowdcast.
Virtual Event: Noah Hurowitz, author of El Chapo, with Jesús Esquivel – Porter Square Books
July 27 at 7 p.m.
Free with $5 suggested donation
"This unputdownable book, written by a great new talent, brings El Chapo's exploits into a focus that previous profiles have failed to capture. Noah Hurowitz digs in deep beyond the legends and delves into El Chapo's life and legacy — not just the hunt for him — revealing some of the most dramatic and often horrifying moments of his notorious career, including the infamous prison escapes, brutal murders, multi-million-dollar government payoffs, and the paranoia and narcissism that led to his downfall. From the evolution of organized crime in Mexico to the militarization of the drug war to the devastation wrought on both sides of the border by the introduction of synthetic opioids like fentanyl, this book is a gripping and comprehensive work of investigative, on-the-ground reporting."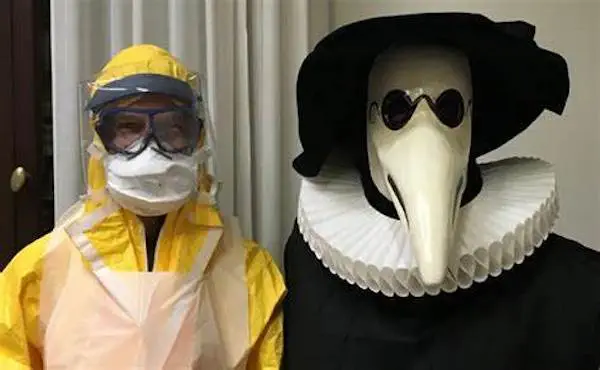 Virtual Event: Geoff Manaugh and Nicola Twilley – Harvard Book Store
Until Proven Safe: The History and Future of Quarantine
July 29 at 7 p.m.
Free with $5 suggested donation
"Until Proven Safe tracks the history and future of quarantine around the globe, chasing the story of emergency isolation through time and space—from the crumbling lazarettos of the Mediterranean, built to contain the Black Death, to an experimental Ebola unit in London, and from the hallways of the CDC to closed-door simulations where pharmaceutical execs and epidemiologists prepare for the outbreak of a novel coronavirus."
Virtual Event: Laura Silverman, Marieke Nijkamp and Francesca Zappia – Porter Square Books
Up All Night: 13 Stories Between Sunset and Sunrise
July 31 at 4 p.m.
Tickets are Free with $5 suggested donation
"When everyone else goes to bed, the ones who stay up feel like they're the only people in the world. As the hours tick by deeper into the night, the familiar drops away and the unfamiliar beckons. Adults are asleep, and a hush falls over the hum of daily life. Anything is possible. It's a time for romance and adventure. For prom night and ghost hunts. It's a time for breaking up, for falling in love—for finding yourself. Stay up all night with these thirteen short stories from bestselling and award-winning YA authors as they take readers deep into these rarely seen, magical hours."
Elinor Lipman with Stacy Schiff – brookline booksmith
Rachel to the Rescue: A Novel
August 2 at 7 p.m.
Free
"Rachel Klein is sacked from her job at the White House after she sends an email criticizing Donald Trump. As she is escorted off the premises she is hit by a speeding car, driven by what the press will discreetly call "a personal friend of the President." Rachel's recovery is soothed by comically doting parents, matchmaking room-mates, a new job as aide to a journalist whose books aim to defame the President, and unexpected love at the local wine store. But secrets leak, and Rachel's new-found happiness has to make room for more than a little chaos. Will she bring down the President? Or will he manage to do that all by himself?"
Virtual Event: Nature & Memory: Lisa Wells and Helen Macdonald – brookline booksmith
Believers & Vesper Flights
August 4 at 6 p.m.
Free
"Blending memoir and nature writing, Helen Macdonald (Vesper Flights) and Lisa Wells (Believers) discuss their books, human experience, and a natural world threatened by climate change."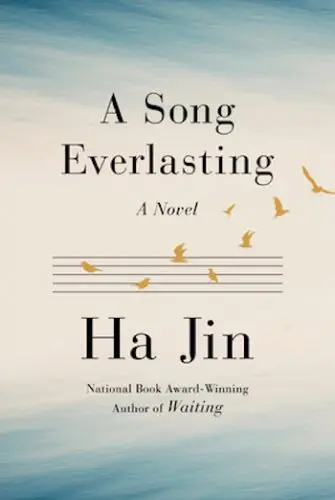 Virtual Event: Ha Jin – Porter Square Books
A Song Everlasting
August 10 at 7 p.m.
Free
"At the end of a U.S. tour with his state-supported choir, popular singer Yao Tian takes a private gig in New York to pick up some extra cash for his daughter's tuition fund, but the consequences of his choice spiral out of control. On his return to China, Tian is informed that the sponsors of the event were supporters of Taiwan's secession, and that he must deliver a formal self-criticism. When he is asked to forfeit his passport to his employer, Tian impulsively decides instead to return to New York to protest the government's threat to his artistic integrity."
Virtual Event: Cecily Strong – Harvard Book Store
This Will All Be Over Soon: A Memoir 
August 10 at 8 p.m.
Tickets are $32, include copy of book
"Cecily Strong had a special bond with her cousin Owen. And so she was devastated when, in early 2020, he passed away at age thirty from the brain cancer glioblastoma. Before Strong could attempt to process her grief, another tragedy struck: the coronavirus pandemic. Following a few harrowing weeks in the virus epicenter of New York City, Strong relocated to an isolated house in the woods upstate. Here, trying to make sense of Owen's death and the upended world, she spent much of the ensuing months writing. The result is This Will All Be Over Soon—a raw, unflinching memoir about loss, love, laughter, and hope."
Virtual Event: Mary Jo Bang and Maria Dahvana Headley – Porter Square Books
Purgatorio & Beowulf
August 12 at 7 p.m.
Tickets are Free with $5 suggested donation
Two important parts of the western literary canon in new translations alternately called "erudite, straight talking, and joyful" and "brash and belligerent."
— Matt Hanson