Compiled by Bill Marx
As the age of Covid-19 wanes (or waxes?), Arts Fuse critics supply a guide to film, dance, visual art, theater, and music. Please check with venues about whether the event is available by streaming or is in person. More offerings will be added as they come in.
Film
The Arts Fuse film critics' picks for the year's best offer plenty of theater viewing, several choices available via cable subscription. Additionally, here is a list of 10 underappreciated or overlooked films and 6 must-see series from 2021 to wrap up the year. Readers should feel free to add their own suggestions in the comments section below.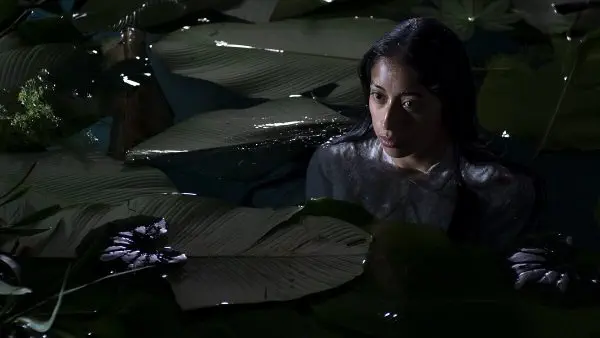 La Llorona
Apple, AMC, Shudder
Ghosts gather at the edges of director Jayro Bustamante's exquisitely ominous La Llorona, a postcolonial parable that reimagines the Latin-American myth of the weeping woman as a force for truth and reconciliation in post–Civil War Guatemala. Arts Fuse review
Sweat
Mubu, Apple
Sweat dramatizes the overwhelming emotional toll on a performer charged with marketing optimism in the face of the real world. From Sweden and directed by Magnus von Horn
Tick Tick… Boom
Netflix
Lin-Manuel Miranda was at the helm of this sharply edited film adaptation of Jonathan Larson's autobiographical stage musical. Stars Andrew Garfield.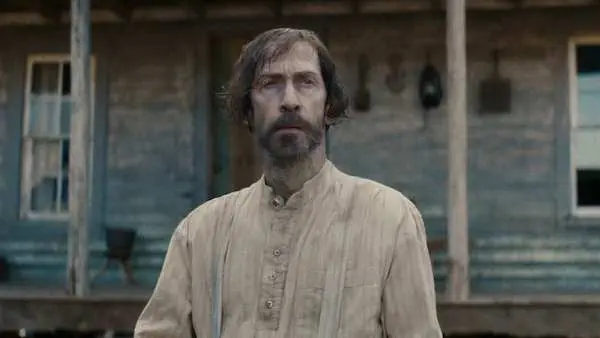 Old Henry
A magnificent performance by Tim Blake Nelson as a farmer defending a siege of his homestead from bandits with surprising expertise. A colorful, beautifully put together modern western that comes with a killer ending.
Can You Bring It: Bill T. Jones and D-Man in the Waters
Apple TV
Guided by Jones and veteran troupe member Rosalynde LeBlanc, university students revive a classic Bill T. Jones/Arnie Zane Company piece. In the process, the performers learn deeper  lessons about artistic commitment and how AIDS impacted the dance community. Zane died of AIDS in 1988.
Beginning
Apple TV
Inspired by true events: A Jehovah's Witness undergoes a crisis of faith with dramatic and devastating results in this unflinching character study. The film's bold and meticulous compositions "recall the work of directors Michael Haneke, Carlos Reygadas and Chantal Akerman."
All Light Everywhere
Hulu, Amazon
Surveillance technologies have become a fixture in everyday life. The film examines what this means to our understanding of ourselves and the world, particularly what it means to have an "objective" point of view by looking at the biases inherent in human perception. The focus also turns to what the omnipresence of cameras does to policing and the possibility of justice. (Arts Fuse review)
In the Same Breath
HBO max
Nanfu Wang (One Child Nation) follows the virus from China to Washington, contextualizing the pandemic and, through voiceover, demonstrates how the truth is manipulated in the official account in order to uphold a facade of positivity. "Heartbreaking and shocking."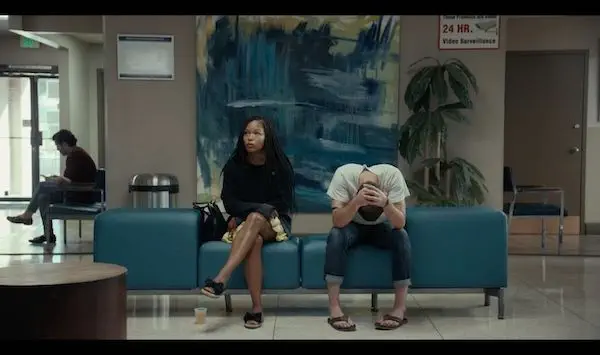 Test Pattern
Starz, Amazon AppleTV, and Kino Marquee
Health care and policing, the #metoo movement, and race in America are examined in this wonderfully acted, surprising thriller, a first film by Shatara Michelle Ford. Arts Fuse review
Bad Trip
Netflix
This outrageous, nervy comedy that falls between the Jackass franchise and Borat is not for everybody, but the comedy elicits laughs for the sheer nerve of the actors and producers.
MUST-SEE LIMITED SERIES
The Maid
Netflix
Stephanie Land's troubling memoir of a domestic house cleaner features excellent performances by real life mother-daughter duo Margaret Qualley and Andie MacDowell. (10 episodes) (Arts Fuse review)
Landscapers
HBO
A seemingly ordinary British couple become the focus of an extraordinary investigation when two dead bodies are discovered in the back garden of their house in England. With Olivia Colman and David Thewlis. (4 episodes)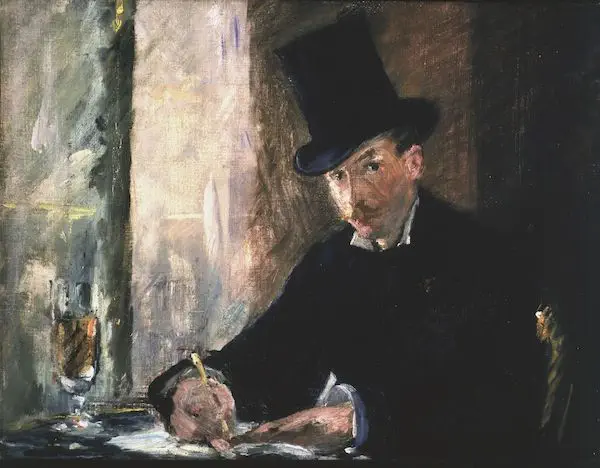 This Is a Robbery: The World's Biggest Art Heist 
HBO
The biggest art heist in history happened at the Isabella Stewart Gardner Museum in Boston over St. Patrick's Day weekend in 1990. A treat for Bostonians. (4 episodes) Arts Fuse review
Dopesick
Hulu
More troubled Boston history: Purdue Pharma's effort to "turbocharge" opioid prescriptions and the Sackler family's complicity in the plague of OxyContin. The look at addiction is sometimes overly dramatized, but the series features an excellent cast, with Michael Keaton, Michael Stuhlbarg (as Richard Sackler), Peter Sarsgaard, Kaitlyn Dever, and Rosario Dawson. (8 episodes)
The Underground Railroad
Amazon Prime
From earlier in the year came Barry Jenkins's (Moonlight) superb and provocative adaptation of Colon Whitehead's best-selling novel.  (10 episodes)
White Lotus
HBO
Mike White's (Enlightened) satire of white privilege at a Hawaiian resort is as nasty as it is deliriously entertaining. Jennifer Coolidge alone is worth the price of admission. (6 episodes)
Also Reviewed on The Arts Fuse and Currently Playing
C'Mon C'Mon reviewed by Erica Abeel
Belfast reviewed by Ezra Haber Glenn
The Power of the Dog reviewed by Tim Jackson
France reviewed by Betsy Sherman
Encounter reviewed Ezra Haber Glenn
Brooklyn Inshallah reviewed by Sarah Osman
Parallel Mothers reviewed by Erica Abeel
— Tim Jackson
---
Theater
COVID PROTOCOLS: Check with specific theaters; requirements often include proof of vaccination or a negative Covid-19 rapid test. Also, companies are requiring masks at indoor performances.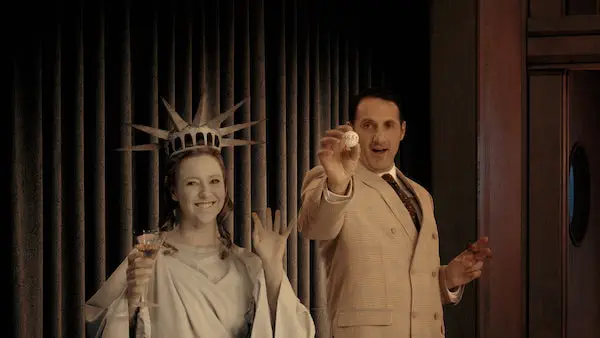 Witness by Nana Grinstein with Blair Cadden & Igor Golyak. Conceived and directed by Igor Golyak . Scenography & costume design by Anna Fedorova. Produced by Sara Stackhouse Featuring the Arlekin Acting Company. Staged by Arlekin Players Theatre and Zero Gravity (zero-G) Virtual Theater Lab, a live virtual offering that will include a postshow talkback with members of the cast and creative team, through January 23, 2022.
The world premiere of "a new documentary theater piece about Jewish immigration in the face of antisemitism." The play "brings actors and audience together from around the world for a shared immersive experience set on a boat in digital space. The piece is inspired by the journey of the MS St. Louis, which left Hamburg in 1939 with over 900 Jewish people on board and headed to Cuba only to be turned away, leaving the passengers stranded with nowhere to go and no escape." The play "shares stories of Jewish immigrants from around the globe through an interactive virtual theater experience at the nexus of film, theater and video games." Arts Fuse review

Teenage Dick by Mike Lew. Directed by Moritz von Stuelpnagel. Staged by the Huntington Theatre Company at the Calderwood Pavilion at the BCA, Boston,  digital access to the filmed performance through January 16. The production is produced in association with Woolly Mammoth Theatre Company (Washington, DC) and Pasadena Playhouse (Pasadena, CA). The play originated at Ma-Yi Theatre Company in association with The Public Theater (both in New York).

This adaption of Shakespeare Richard III "centers on a high school outsider named Richard. Bullied because of his cerebral palsy, Richard decides to exact revenge on his class enemies by becoming the senior class president. But all the scheming, manipulation, and revenge plots force him to ask the age-old question: is it better to be loved or feared?"
The Christmas Revels: In Celebration of the Winter Solstice. Directed by Patrick Swanson. George Emlen is music director. Dramaturg is Benny Sato Ambush. At Harvard University's Sanders Theatre, Cambridge. Virtual edition available December 30 through January 9 only.
"The 51st annual Christmas Revels takes place in present day England, at the George and Dragon, a 17th-century English pub famous for its annual Christmas carol party and saved from economic extinction by an American couple. Sadly for the carolers, last year's celebration had to be canceled due to the pandemic. The regulars are looking forward to reestablishing the traditional sing-along but the hiccup in tradition has disturbed the space/time continuum and triggered an audit by a fussy Revels bureaucrat from the 17th century. Along with his Elizabethan entourage he will be making an official visit to the 21st century to put things back in order."
"The cast includes musician and longtime Christmas Revels song leader David Coffin, actors William Forchion and Regie Gibson, Happenstance Theater's Mark Jaster and Sabrina Selma Mandell, Revels favorites Paula Plum and Richard Snee, and vocalist extraordinaire Carolyn Saxon." Arts Fuse review
Mr. Parent by Melinda Lopez with Maurice Emmanuel Parent. Conceived with and directed by Megan Sandberg-Zakian. Staged by the Lyric Stage Company of Boston at 140 Clarendon Street, 2nd Floor, Boston, January 13 through February 6.
World premiere production of "a one-man performance based on actor Maurice Emmanuel Parent's real-life adventures teaching in an urban public school system."
People, Places & Things by Duncan Macmillan. Directed by David. R. Gammons. Staged by SpeakEasy Stage Company at the Stanford Calderwood Pavilion at the Boston Center for the Arts, 527 Tremont Street, Boston, February 11 through March 5.
The New England premiere of a play that  "tells the story of Emma, a 30-something actress who thinks she is having the time of her life, until she finds herself in rehab. Though her first step is to admit she has a problem, Emma just wants to escape — through drugs, alcohol, performing — anything that allows her to avoid her own reality. To fight for her recovery, though, Emma will need to face the truth; yet she's smart enough to know that there's no such thing. And when intoxication feels like the only way to survive, how can she ever sober up?"
Content Warning: contains depictions of drug and alcohol use, and discussion of self-harm.
— Bill Marx
---
Visual Arts
First Night Hartford returns on December 31 and the Wadsworth Atheneum Museum of Art will be in the geographic center of a dozen downtown venues with both in-person and online activities from 2 to 5 p.m. Among the highlights: visitors can create paper lanterns to use during the First Night celebration's 6:00 pm Peoples' Parade and a Nutcracker Suite and Spicy performance at 3:10 p.m.
On January 8, the Wadsworth's Second Saturdays for Families program will feature illustrator Bonnie Rose Sullivan in a program that explores how artists use the elements of art to catch the attention of everyone and anyone within viewing distance. Participants will design a superhero cape with a local spin and will be able to go home with a free copy of Susan Mangero's book, The Big Squeeze: Hugs & Inspirations for Every Grown-up Who Loves Teddy Bears (while supplies last). The program starts at 2 p.m. and is free; admission to the museum is free all day.
Opening January 5 at Dartmouth College's Hood Museum in Hanover is This Land: American Engagement with the Natural World. It is the first installation of the museum's American collections to be organized thematically instead of chronologically. Ranging in date from the early 19th century to the present, the exhibition will explore how a diverse group of American artists respond to the natural world, reconfiguring the various mythologies of the American landscape in the light of current political understanding. The work on view will include Euro-American, African American, Latin American, and Asian American artists and also, for the first time, both traditional and contemporary Native American work hung alongside the rest. The collaboratively organized show presents some 100 works that explore how American ideas of place, land, nature and home have changed both historically and during our own lifetimes.
Boston's Institute of Contemporary Art features a Free Thursday Night on December 30  when the museum will be free to all from 5:00 pm to 9:00 pm. Tickets (required) will be available on line starting at 10 a.m. on the day of the event on the museum's website.
On January 5 at 2 to 4 p.m., the New Britain Museum of American Art will begin a "Weekly Watercolor" series with teaching artist Mary Smeallie. The program, designed for all levels of watercolor experience, will explore all the mysteries of the medium from paper, pigments, color mixing, glazing, and the tricks and techniques known only to experienced watercolor artists. The series continues on Wednesdays through January 26. Materials not included, registration is required. Members are $45, nonmembers $60.
— Peter Walsh
---
Jazz
Bruce Gertz
December 28 at 7:30 p.m.
Lilypad, Cambridge
The wonderful bassist and bandleader Bruce Gertz leads a terrific band of post-bop adepts: saxophonist George Garzone (The Fringe), trumpeter Phil Grenadier (Jerry Bergonzi), and drummer Luther Gray (The Fringe, Bergonzi).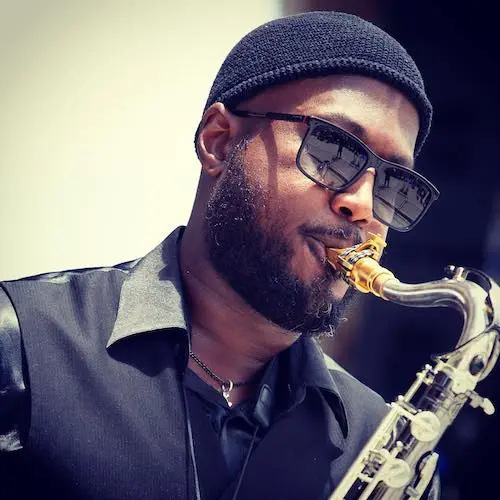 Elan Trotman
December 31 at 8:30 p.m. and 11 p.m.
Scullers Jazz Club, Boston
Scullers New Year's Eve brings in saxophonist Elan Trotman. The Barbados-born Trotman crosses jazz and pop with his take on Caribbean rhythms (and the occasional steel drums). Scullers is offering package deals that include dinner as well as the requisite champagne toast for the 11 p.m. show, plus hotel-room packages for those who don't want to venture back out on the roads after the New Year.
Warren Wolf
January 7 at 8 p.m.
Scullers Jazz Club, Boston
The dynamic vibraphonist Warren Wolf, who emerged as a member of Christian McBride's Inside Straight band in the late aughts, can be depended on to bring a bright, hard-bop-infused sense of tunefulness, swing, and improvisational derring-do to his performances.
Loston Harris
January 8 at 8 p.m.
Scullers Jazz Club, Boston
Pianist and singer Loston Harris's teachers include Ellis Marsalis, Billy Taylor, and Geri Allen, and he has held forth in the tony surround of the New York Carlyle Hotel's Bemelman's Bar with a Great American Songbook repertoire.
— Jon Garelick
---
Dance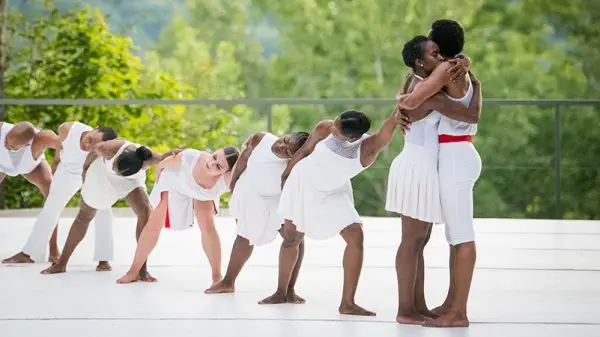 Like Water
Now through January 8th
Online viewing
Password: pillowfamily
Now through January 8th, enjoy an online viewing of Like Water, one of Jacob's Pillow Dance Festival's most acclaimed world premieres in 2021. This is a 14-minute work choreographed by Darrell Grand Moultrie and danced by Dallas Black Dance Theatre, made possible by the Joan B. Hunter New Work Commission.
The Gift
Now through January 9th
Online viewing
Boston Ballet presents a virtual production set to the electrifying jazz compositions of Duke Ellington's Nutcracker Suite. Experience the production from home, as Boston Ballet's dancers choreograph unique works inspired by one of America's greatest jazz musicians.
The Time Traveler's Lens
Ongoing, online viewing
Hailed as "groundbreaking" (MidJersey News) and a "unique interdisciplinary work" (Town Topics), The Time Traveler's Lens combines dance, film, technology, and history to engage viewers in a 360-degree virtual reality performance that is amazingly intimate — the viewer is placed in the center of the action. Experience five virtual reality works unfolding spherically around you on your own mobile device. You are the time traveler, you control the lens — Luminarium Dance Company provides five worlds of illusion.
Season Twenty One
January 8 & 9
Capitol Theatre
Arlington, MA
OnStage Dance Company presents an eclectic mix of dance styles in its January production Season Twenty One. There is something for everyone in this medley of screendance, contemporary, tap, jazz, pop, Afro-Caribbean, and modern dance.
— Merli V. Guerra
---
Author Events
Skip the Small Talk at Trident Books: LGBTQIA Speed-Friending | Trident Booksellers & Cafe
December 29 from 7 to 8:45 p.m.
"Do you wish you could have more of the kinds of conversations you have late at night where for some reason, you feel safe talking about the things you actually care about? Bring your friends (or come by yourself) and spend your Thursday night at an event where you know everyone else is there for the same reason.
"We'll be offering 'big talk' conversation prompts to get you started, and we'll have lots of structure to make sure that you actually talk to people and that it's not awkward. Not feeling like answering a particular question? No worries, we'll have plenty to choose from, like, 'When are you the happiest?' and, 'If you were going to become close friends with me, what would I need to know about you?' We'll give you ground rules to make sure you feel comfortable and safe sharing as much of yourself as possible while still feeling in complete control of how much you divulge.
"There will be food and drinks for sale! Check-in for this event will begin around 6:45 p.m. Please do your best to arrive before 7 p.m. so we can begin as close to on time as possible."
— Matt Hanson