By Betsy Sherman
Léa Seydoux claims the spotlight as the title character in Bruno Dumont's pithy and entertaining France, giving a performance that's cunningly calibrated to mesmerize.
France, directed and written by Bruno Dumont.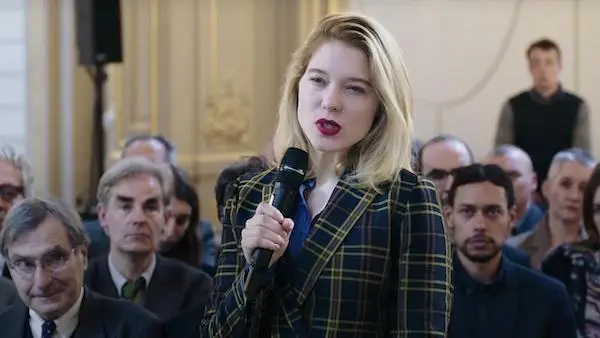 It's Léa Seydoux's world, we just live in it.
So far this season, the slinky French actress has done a sensitive turn as James Bond's love in No Time to Die and a deadpan-funny one as artist Benicio Del Toro's prison-guard muse in The French Dispatch. Seydoux claims the spotlight as the title character in Bruno Dumont's pithy and entertaining France, giving a performance that's cunningly calibrated to mesmerize. Her character is a siren; but, being as she's a narcissistic, ethically challenged host on a 24-hour news network, it's reality that gets dashed against the rocks.
France aims its barbs at the shallowness of contemporary journalism, where the messengers have become bigger than the events they report on. Egregiously, protagonist France de Meurs exploits life-and-death world conflicts for her own personal aggrandizement. Dumont took inspiration for his screenplay from the work of poet-essayist Charles Péguy (1873-1914), a critic of modernity. The movie feels a bit dated, with its focus on TV and only tangentially the Internet and social media, but the versatile Seydoux makes it work as a comic drama.
As my colleague David D'Arcy pointed out in his Arts Fuse piece on the 2021 New York Film Festival, France is a fairly common woman's name, and the name France de Meurs is a play on "moeurs de France," the manners or morals of the nation. Dumont's last two movies were about the paragon of French heroines, Joan of Arc; as usual, he cast non-actors in those films. It's hard to imagine that practice working for the role of France, which benefits not only from Seydoux's having lived with fame, but also from her ability to control every muscle in her face when under the scrutiny of a close-up. She pulses with life underneath France's mask of make-up and armor of designer clothes.
The movie starts off as a brash farce. France's right-hand woman Lou (Blanche Gardin) gives her a profane pep-talk as they stride into the Elysée Palace for an Emmanuel Macron press conference (the scene was put together using archival footage). France is pumped up like a boxer, her opponents being Macron and her competitors in the media.
France is coolly in control of the pundits who spar on her show A View on the World. The fireworks are all theater, done for ratings and brand endorsement. When the camera's off, everyone kisses everyone else on the cheek. The price of fame is giving autographs and posing for selfies with fans.
The anchorwoman turns her jaunts as a war correspondent into a different kind of theater. In one North African hotspot, wearing a stylishly arranged headscarf, she stage-manages a group of local soldiers fighting against ISIS to get the shots and sound bites she wants. The French troops who escorted her there look on approvingly. She's always covering another "martyred city," delivering reports that affirm that La France (the nation) is doing right by its former colonies.
As for her personal life, France, her dour writer husband Frederick (actor Benjamin Biolay, with his slicked-back black hair, looks like an eel in human form), and the pampered young son who resents them, live in a somber apartment decked out like a museum, in a wealthy neighborhood.
The incident that kicks the plot into gear is when France distractedly drives into a motorcyclist (there's always someone around to snap a cellphone picture that ends up on a tabloid cover). The victim, Baptiste, is from an immigrant family in the Paris suburbs—they could have come from one of those "martyred" cities. France is distraught, visiting the injured young man in the hospital and later at the family home in the suburbs. Teary-eyed, she vows to take responsibility for her actions. She gives Baptiste gifts including a new motorcycle, and starts writing checks for the family (another jab at the colonizer mentality).
In a shocker, France announces she's leaving television "for a new life." She dips a toe into charity work, which does not go well. Frederick sends her on a rest cure in the Alps at the chi-chi-est of retreats, one attended by movie stars and world leaders. The snowy mountains stretch in front of her recliner on the terrace as if on an Imax screen.
Heartache, another breakdown, a triumphant comeback, a scandal, a personal tragedy, another comeback—France fights through her tears to find a way she can live with herself while doing her job. The film ends with her witnessing an act of irrational violence on the street; it illustrates a coarsening of society, yes, but Dumont doesn't convincingly draw a line of cause and effect from media irresponsibility to it. Then again, he isn't a filmmaker who does catharsis, and this is low-key compared to some of his what-just-happened??? endings.
As France moves from comedy towards drama, Dumont and Seydoux explore the language of emotion. France has become so comfortable with deception, are even her sincerely felt tears a lie? France's war paint is pale facial makeup and intense red or magenta lips—this movie does amazing things with magenta—so that her mouth suggests an oracle. Seydoux makes frequent wardrobe changes from fabulous outfit to fabulous outfit, usually wearing spike heels.
After the accident, tears trace new pathways down France's face. At key moments composer Christophe drops in passages of eerie, anguished vocalizing. Dumont mockingly plays with the slow push-in of the camera to Seydoux's face; it's a technique that once may have been effective in suggesting the inner life of a character, but which has long since become a cheesy, empty cliché.
In a performance that's a comic highlight of this year, Blanche Gardin plays Lou, France's colleague. Ever monitoring social media, Lou salves the star's wounds and bucks up her spirits whenever France is under attack (if the movie were really savvy, Lou would be manipulating opinions, not just tracking them). Her reassurances bring to mind those slow-motion videos of cats that twist in the air and land on their feet. "What seems like the worst moment in your career will turn out to be the best," Lou insists. "You'll rise again as a heroine because you'll rise from the mud … that's what icons are made of, mud." And when other members of the press hound France after a scandal, Lou spits, "Leeches!"
---
Betsy Sherman has written about movies, old and new, for the Boston Globe, Boston Phoenix, and Improper Bostonian, among others. She holds a degree in archives management from Simmons Graduate School of Library and Information Science. When she grows up, she wants to be Barbara Stanwyck.