By Jonathan Blumhofer
If you're looking for instrumental music that grapples with tumultuous events, times, and circumstances, this may well be the disc for you.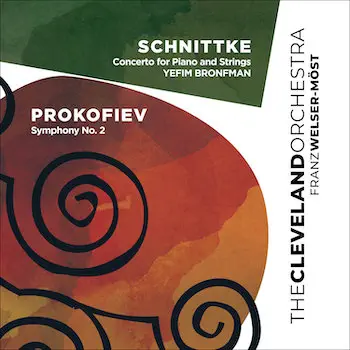 You've got to hand it to the Cleveland Orchestra: their latest release, which pairs pieces by Alfred Schnittke and Sergei Prokofiev, certainly has a niche quality. Surely neither work on it – Schnittke's 1979 Concerto for Piano and Strings or Prokofiev's knotty 1925 Symphony no. 2 – lives anywhere near the musical mainstream.
Yet, in their fundamental restlessness, irony, and lack of pretension, both scores sound remarkably timely.
The Schnittke, for one, is a revelation. Just about 20 minutes long and not overtly virtuosic, it's music of powerful contrasts of mood and sonority.
A searching, pungent opening resolves (after a fashion) into an Alberti-like piano figure that's punctuated by dissonances. Things become increasingly dense as the orchestra joins in. Storms of sound — led by a wailing, glissando–ish gesture — emerge and recede; eventually an Allegro section ensues as the music hurtles impishly to a surprisingly consonant climax. That respite is short: some jazzy passagework (replete with pizzicato walking bass) comes out of nowhere and, before long, a waltz strikes up. This grows increasingly sinister as it proceeds to the Concerto's dizzying apex. Something like a cosmic battle between the forces of consonance and dissonance then unfolds before the piece resolves in a quiet, nervous coda.
What does it all mean? Well, that's anyone's guess. Is it music of nihilism? Honesty? Pessimism? Hope? All of the above? None? Regardless: the piece is a wild ride.
It certainly is a treat to have Yefim Bronfman playing the solo part. The Russian pianist is firmly in his element throughout, delivering a mix of muscular purpose — the keyboard part never wants for presence — and tonal refinement (his articulation of the music's early arpeggiated figures, for instance, sound like they were taken, wholesale, from a Mozart recital).
The strings of the Cleveland Orchestra and music director Franz Welser-Möst deliver an account of the orchestral writing that's plenty intense — the music's violent explosions don't hold back — but also periodically whimsical (in the evocations of jazz, particularly) and spirited (the contrapuntal aura of the sequence leading into the climactic waltz comes through vividly).
Many of these same qualities are also evident in their reading of Prokofiev's Second Symphony. To be sure, this is a tough piece to love. Its first movement is unrelentingly loud and mechanistic. The theme-and-variations second, though a mite less bristly, periodically meanders — though it doesn't want for some attractive turns of phrase.
Here, Welser-Möst and his forces make the best of it.
True, their playing in the first movement is sometimes a hair too velvety, and occasionally the strings are buried in an avalanche of pummeling brasses and percussion. But it's rhythmically tight, lyrical, and always well-directed, especially during the seething development.
The ensemble capably highlights the second movement's subtleties — like the unpredictably swirling textures in the first variation and the lovely, discreet shadings of color in the fourth — while never stinting on character (the second's unsettling transition from weirdly playful to savage is conspicuously well done). All six of the variations are framed by Frank Rosenwein's luminous accounts of the movement's oboe-solo theme.
Like the Schnittke, the Prokofiev isn't a piece that supplies any easy answers. But maybe we shouldn't be looking for those in this repertoire to begin with. After all, at its most basic, music reflects lived experience. These works surely do; perhaps the fact that they continue to speak so well should suffice. Accordingly, if you're looking for instrumental music that grapples with tumultuous events, times, and circumstances, this may well be the disc for you.
---
Jonathan Blumhofer is a composer and violist who has been active in the greater Boston area since 2004. His music has received numerous awards and been performed by various ensembles, including the American Composers Orchestra, Kiev Philharmonic, Camerata Chicago, Xanthos Ensemble, and Juventas New Music Group. Since receiving his doctorate from Boston University in 2010, Jon has taught at Clark University, Worcester Polytechnic Institute, and online for the University of Phoenix, in addition to writing music criticism for the Worcester Telegram & Gazette.