By Ezra Haber Glenn
Belfast is overly sentimental and drenched, if not drowned, in nostalgia, but it's also very sweet, uplifting, well-paced, beautifully shot, and competently assembled.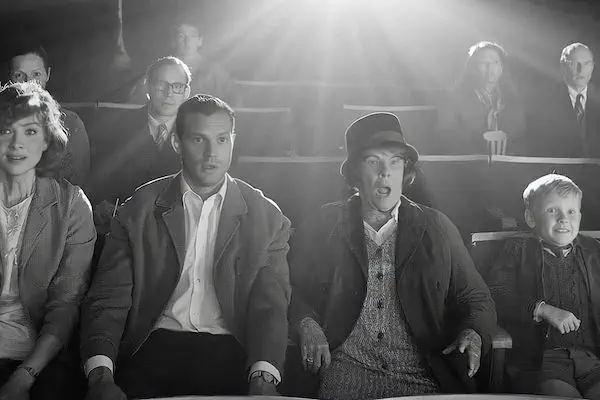 To be clear from the start, before the critical takes and backlashes and games of contrarian one-upmanship begin: Kenneth Branagh's Belfast is a super movie. Yes, it's overly sentimental and drenched, if not drowned, in nostalgia, but it's also very sweet, uplifting, well-paced, beautifully shot, and competently assembled. And on top of all that, it's got great performances by both veteran old folks (including the Great Dame of Acting, Judi Dench — after Meryl Streep, perhaps the closest thing Hollywood has to a female "made man") and emerging child actors — two generally beloved types on screen. In short, this is precisely the sort of movie that makes audiences (i.e., real people) turn out to theaters and tune out to film critics (i.e., judgmental pricks with sticks up our arses), who too often confuse "critical" with "cynical."
So let me begin, prophylactically, by stating what viewers are already deciding for themselves: this is a wonderful movie, and it shares that wonder — that sense of the magic of childhood and the rosy glow of memory — with those who watch it in the spirit in which it was made, with bright eyes and an open heart. It's got what we might call an infectious warmth.  And this emotional pull is so strong that you'd need to be a robot not to feel it. We don't need a critic to understand the appeal of this film, just a human.
Set in the summer of 1969 in Belfast, the story centers around the blond-tousled Buddy (Jude Hill — keep your eye on this one), living an every-boy's dream childhood on a collision course with the realities of an adult world. The sharp contrast is brought home quickly in the opening scene when Buddy's cheerful frolic through his idyllic working class neighborhood is interrupted and upended by a violent mob rumbling around the corner: "the troubles" of Northern Ireland have come to his street.
Although the community is close-knit, half of the families are Protestant and the other half are Catholic, and the divisive politics of religion and nationalism are drilling down to turn difference into tension and tension into destruction. Before long the paving stones of the sidewalk have been ripped up to construct a makeshift barricade, local sentries monitor the checkpoints at the end of the street, and a posse — really little more than a gang of hooligans running a protection racket — has been organized to maintain order and "cleanse" the neighborhood.
Politics are not the only troubles colliding with Buddy's childhood. Unable to find work in Belfast — the daily news on the telly reminds us of rising unemployment and economic hardship — his father (Jamie Dornan) spends most of his time in London, or traveling back and forth, just as his father (Ciarán Hinds) once left family to work the coal mines in England. In addition to setting up the intergenerational themes of migration and loss — "the Irish were born for leaving," we are reminded — this sojourn across the waves has left the elder Pop with a nagging cough that hints of black lung. For the next generation, Buddy's father's trips leave his mother (Caitríona Balfe) to manage the household alone, juggling two growing boys, aging parents, a cramped flat, a persistent rent-collector, and never enough time or money.
And yet against this backdrop, Buddy's life is rich and full of the childish dreams of the possible. He's not untroubled by the danger around him: the threats of political violence, fears of economic uncertainty, existential worries over eternal damnation, and a gnawing awareness of sickness and death, but for the most part, his days are filled with visions of Robin Hood and astronauts (remember, this is 1969), the hunt for chocolate bars, and the promise of a Saturday matinee. His biggest concern is how to score high enough on his maths to be be moved closer to the cute girl who sits near the head of his class.
In short: it's a timeless story, a delightful and well-told coming-of-age tale, blending the bitter and the sweet to bring out both through the contrast. It's celebratory of all things Irish with enough of a brogue to be colorful but not too much to be incomprehensible; it's cleverly self-deprecating, so as to avoid coming off as arrogant or offensive to others; and it steers clear of the stickier political implications of the story. It's like the after-school special version of Northern Ireland. A soundtrack featuring the soulful songs of hometown hero Van Morrison, traditional but forever fresh, pulls it all together. It'll make you laugh, it'll make you cry: the whole package — what's not to like?
At the risk of undermining my lede and being accused of a lack of sentiment, I'll put it out there: enjoyable as it is, this film is far from perfect. But the criticism it needs is not cynicism, but simply more attention to the details of craft and the need for deeper reflection to avoid the pitfalls of a too easy, and therefore uncareful, nostalgia.
Branagh had already established himself as a great actor and director, capable of both sweeping emotion on the grand stage and the more subtle play of interpersonal dynamics and less emotive acting. In essence, the movie he chose to make here is too easy for him: given his stature, ability, and the resources at his disposal, he should be challenging himself more. Branagh making this film is like Philip Roth writing a three-paragraph essay for high school English class.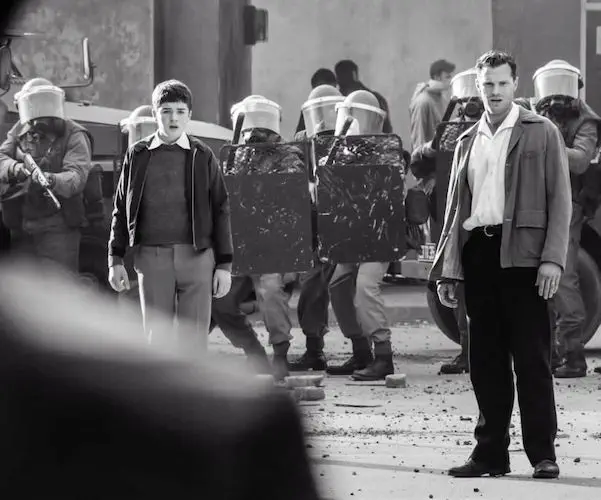 Unlike many writer-directors, who began with the autobiographical and then branched out, Branagh's taken the opposite path, which is exciting. After a long and distinguished career, he's chosen to return to his roots, to remember and explain where he came from. If done right, this approach holds potential for the rich rewards that come with meditating on one's past with the benefit of time and distance, and ideally perspective and wisdom. Although the story is presented as loosely based on the director's own childhood, it's universal enough to resonate across the generations, Irish or not. We all might be invited in to think and learn. Here, though, rather than thoughtfully exploring the past, we are largely treated to uncritical adoration. (And again: it is a treat — but a better film might be more difficult and deliver more.)
When the term "nostalgia" was first coined, it was considered to be a psychological condition, not a mode of artistic production: a powerful and debilitating admixture of depression and homesickness. The importance of our connections to place — and the effect of severing these ties — provides a lot for an artist to work with. Branagh's film serves up a double dose of these feelings, combining the memories of a left-behind home with the longing for a lost time. But, instead of using this as a powerful point of probing departure, the director chose a sweet but bland recreation, more cartoon than real. Everything — even the tension, the pain, and the deprivation — is presented with a warm and rosy glow. The rough edges of the past have been softened rather than sharpened.
Other films, from Carol Reed's 1947 Odd Man Out to the 1993 In the Name of the Father, used the backdrop of divided Belfast to probe the human struggles behind the troubles. We cared about the characters while being made aware of the complexity of the political situation. It's possible for a film to work on multiple levels, using a child's magical perspective to explore the more serious world surrounding (and threatening) childhood. (Both To Kill a Mockingbird and The Florida Project come to mind: a story can be child-centered without being childish.) And other cinematic trips down memory lane — say, Peggy Sue Got Married, or the more recent Last Night in SoHo — present nostalgia for the '60s as a topic to be complexified, not blindly celebrated.
In contrast, Branagh, like his childish protagonist, is content to merely skirt across the surface of these issues, unwilling to engage with the difficult history, broken politics, problematic gender roles, the pains of aging, and other adult topics it touches on. At one point in the narrative, Buddy's grandfather gives him some arithmetic advice, coaching him to make a "7" look like a "1": that way, he explains, you hedge your bet a little, increasing your odds of getting the right answer. It's possible that Branagh is employing the same technique to the challenging issues he's forced to touch on here — he's learned how to sound thoughtful without saying anything specific.
Or perhaps this is the point: nostalgia works specifically because it is nonspecific; and the only smart resolution to the tensions depicted might be to hedge your bets and not commit…?  Poor little Buddy does fret quite a lot throughout the film about which path to take as he confronts the forks in life's roads: Catholic or Protestant, England or Ireland, childhood or growing up. In each case, hedging has a certain attraction. If this is Branagh's takeaway message, it's a potentially clever tack. But its value evaporates on closer inspection: if that is where the film is supposed to take us, that's a pretty short journey.
As a result, rather than grappling with introspection, Branagh relies overmuch on craft rather than art, making a film that is as easy on the brain as it is pleasant for the eye. At its worst, Belfast even relies on film gimmicks, those cheap tricks in the screenwriter's toolkit, including two of my least favorite techniques: a character telling an actual joke — and an old one at that — for no reason other than a quick laugh from the audience: and a swelling musical number in a nonmusical, where one of the characters sings from a stage, presumably to deliver the required rousing clips for the arms-wide-open, heart-warming party of a trailer.
In a similar vein, although Branagh's use of black and white is beautiful, it's too pat. It provides an easy way to signal the "retro" story — as well as the director's artistic aspirations à la Manhattan and Roma — but here the choice undermines the story. The magical period of childhood — and especially the wild years of the late '60s — should be rendered in glorious or gaudy technicolor, not black and white. Despite being set in psychedelic 1969, Branagh's Belfast looks closer to a spare location for the BBC's Foyle's War. (The film actually begins and ends using color for present-day Belfast, which makes it feel almost like a backwards Wizard of Oz, where Dorothy would leave colorful Kansas behind and step into a strangely drab magical wonderland.)
Throughout the film, we are meant to understand Buddy to be infatuated with a Catholic girl in his class named Catherine (Olive Tennant), but as a nervous and shy nine-year-old he can never summon the courage to actually speak with her for any length of time. Not surprisingly, given this kid is our proxy for Branagh, the same awkwardness afflicts our director and the bygone city that holds his fascination: like Buddy, he too is clearly infatuated, but seems unable — or unwilling — to do the hard work of leaning in, opening a potentially painful or difficult conversation, and using his film to work toward a real adult relationship with his past.
---
Ezra Haber Glenn is a lecturer in MIT's Department of Urban Studies & Planning, where he teaches a special subject on "The City in Film." His essays, criticism, and reviews have been published in the Arts Fuse, CityLab, the Journal of the American Planning Association, Bright Lights Film Journal, WBUR's ARTery, Experience Magazine, the New York Observer, and Next City. He is the regular film reviewer for Planning magazine, and a member of the Boston Society of Film Critics. Follow him on https://www.urbanfilm.org and https://twitter.com/UrbanFilmOrg.