By Paul Robicheau
It's rare to find a band that so naturally assimilates its individual voices to strike a collective palette.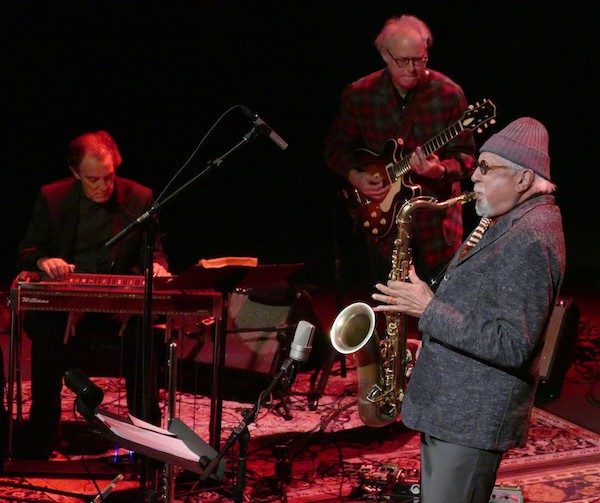 Charles Lloyd & the Marvels reconvene to bring hope to the new year with their third outing, the aptly titled Tone Poem. After two albums that dabbled with guest vocalists (Lucinda Williams, Willie Nelson, and Norah Jones), sage sax/flute elder Lloyd trusts only the distinctive instrumental voices of his core quintet to convey genre-blurring stories through poetic tone and earthy spirituality.
Highlighted by Lloyd's pensive tenor and the intuitive sonic dance of guitarist Bill Frisell and pedal-steel colorist Greg Leisz, the group largely refines a lighter, more relaxed approach, honing subtleties that belie the musicians' sly adventurism.
While their stellar 2016 debut I Long to See You began with a smoldering take on Bob Dylan's "Masters of War," Tone Poem opens with a double-shot of tunes from Ornette Coleman, one of Lloyd's jamming mates in '50s L.A. After the slight warmup of "Peace," the Marvels kick into "Ramblin'" with a shout and shuffle, drummer Eric Harland's second-line march cuing the thrumbed bass of Rueben Rogers and train-whistle whines of Leisz's pedal steel. Led by Lloyd's chattery sax, instruments bob and weave in a virtual harmolodic buzz before Leonard Cohen's "Anthem" slips into a doleful Americana feel that's right in Frisell's wheelhouse.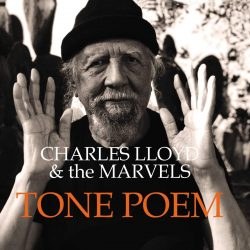 A similar ebb-and-flow carries through a pair of Lloyd originals. The misleadingly named "Dismal Swamp" provides a platform for his sprightly alto flute. And for the centering title track, the leader winds tenor threads into a playful melody, then ripples like a cascading brook, his reed popping around imaginary rocks.
The second half of the album favors tracks in the 10-minute range that let the group stretch out with its seamless musicianship. Lloyd revisits "Monk's Mood" (also covered on 2009's Mirror with the same rhythm section and pianist Jason Moran), and the saxophonist gives the tune a romantic reading with creamy tenor that gives way to a gorgeous Frisell solo neatly cushioned by Leisz's pedal steel.
That mood continues through "Ay Amor," with Frisell and Leisz each emerging from their sublime ether for conversational turns. Although it was recorded live in a Madrid botanical garden in 2018, the track pristinely blends with the rest of the studio album. Taking a different direction, "Lady Gabor" — a second flute vehicle written by former Lloyd guitar foil Gabor Szabo — recurrently builds a churning African groove that showcases the versatility of Rogers and Harland.
Perhaps it's not surprising for Lloyd, a musician ever seeking enlightenment, to close the record with a piece called "Prayer." However, rather than simply deliver a quiet coda, he takes the opportunity to briefly get lost in the sound of his tenor, from fluid high notes to hoarse split tones, before the track rounds into a group meditation graced by Rogers's bowed bass and Harland's conclusive pulse.
It's rare to find a band that so naturally assimilates its individual voices to strike a collective palette — and a "jazz" album that can seduce listeners of all stripes (like Kind of Blue in that way). It's also understandable why Blue Note Records made this the first new release in its Tone Poet Audiophile Vinyl Series, supervised by producer Joe Harley. Lloyd dubbed him the "tone poet." Takes one to know one.
---
Paul Robicheau served more than 20 years as contributing editor for music at the Improper Bostonian in addition to writing and photography for the Boston Globe, Rolling Stone, and many other publications. He was also the founding arts editor of Boston Metro.