By Tim Jackson
Throughout her career, Joan Walsh Anglund remained humbled and amazed by her success, maintaining a quiet and private life.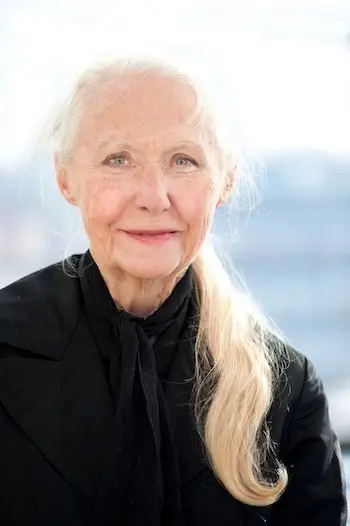 Joan Walsh Anglund, whose words and delicate pen-and-ink illustrations of dot-eyed waifs were the source of poetic observations on love, nature, family, friendship, and faith for children and adults around the world for 60 years, died of natural causes on March 9 at home in Connecticut, surrounded by three generations of family. She was 95. Her gentle drawings were filled with small details. She often wove the names of children of friends and family into the leaves and branches of trees. Beyond children, she had legions of admirers, from Queen Elizabeth to Midwestern housewives. Beyond her artistic achievements, Joan possessed an inner light that inspired all who met her. I knew her and the family for 60 years and, in 2015, produced a documentary of her life called Joan Walsh Anglund: Life in Story and Poem.
As the daughter of Chicago artist Thomas Francis Walsh, Anglund learned her craft from watching her father illustrate for advertisements. "I would sit and watch. I remember him telling me that with billboards you only have six seconds to get your message across, so, with my first book, I illustrated in a circle and 'a friend is someone who likes you' was the message. I then the drew the pictures of the children." Her mother, Mildred Pfiefer, was also an artist. "She went to convent school and was brought up by the nuns, but it didn't take." Her maternal grandmother took her to early mass every morning, which instilled in her an abiding sense of love and compassion, or "true religion" as she called it. She recalled her father's mother saying, "If I was very good she would read to us the Lives of the Great Saints." From those stories Joan developed a passion for language that led her to become a writer. Her love of drawing and poetic language, of spirituality and family remained central to her life and an inspiration for her art. Prior to the success of her own books she had been a literary illustrator, most memorably for The Golden Treasury of Poetry by Louis Untermeyer.
For more than 50 years she was married to producer and actor Bob Anglund, who passed away in 2009. They met when Joan was a student at the Art Institute of Chicago and he was a student at the Goodman Theater. In the film she recalls, "He was so funny and when he first kissed me, I just swooned. I had to sit down. I fell in love in that moment. And that was it." They had a radio show together in Los Angeles in 1948. In 1959, after moving to Connecticut, unbeknownst to her, Bob brought the manuscript for her first book to Harcourt, Brace, and World. She later read in the newspapers that the book, A Friend is Someone Who Likes You, had sold over one million copies. Her career was born.
 The wind can be a friend, too.
It sings soft songs to you at night
When you are sleepy and feeling lonely
Sometimes it calls to you to play
It pushes you from behind
As you walk it makes the leaves dance for you.
from A Friend Is Someone Who Likes You
When her children were young, they scrambled about under her father's original drawing board as she worked on illustrations, just as she had done with her father. Her 120 books went on to sell 50 million copies around the world in multiple languages. With the books came an array of figurines, calendars, dolls, and Joan Walsh Anglund accessories. She and her husband had numerous friendships in the theater and literary world but she remained humbled and amazed by her success, maintaining a quiet and private life.
Success is a garden
with too much sun
Be careful it does not dry your roots
Family was her constant source of inspiration. In her later years she would wake up and, as she put it, "transcribe" poems that came to her in the night. Her original manuscripts, letters, and unpublished poetry reside at the Howard Gotlieb Archival Research Center at Boston University.
In the film she confides, "I realize I can't stay here forever, but I feel that I can. I don't have any sense of being old and sensible. Because every day the world is so new to me." She spent 60 idyllic summers with the extended family at her small beach house on Nantucket. Days before she passed she said to her daughter Joy, "I'm going into the deep, deep waves. I'm going to a homecoming."
She was predeceased by her husband Bob and son, Todd. She is survived by her daughter Joy Anglund and husband Seth Harvey, her grandson Thaddeus Harvey, her granddaughter Emily Anglund-Nellen and her husband, Gregory Martin, and their twin daughters, Rose and Elizabeth, known to all as Peach.
"Mother World"
Why did you make me
If not to find the beauty
And tell to the others
~
There should be words
to build a bridge across loneliness
There should be words
to heal broken hope
There should be words
To weave a shawl of understanding
. . .  but no one's written any down
. . .  or are they not yet here?
Unpublished Poetry from the Archives
---
The family requests any donations be made in the form of a children's book to:
The Jonestown Family Center
PO Box 248
401 Main Street
Jonestown, Mississippi 38369
---
Tim Jackson was an assistant professor of Digital Film and Video for 20 years. His music career in Boston began in the 1970s and includes some 20 groups, recordings, national and international tours, and contributions to film soundtracks. He studied theater and English as an undergraduate, and has also has worked helter skelter as an actor and member of SAG and AFTRA since the 1980s. He has directed four feature documentaries: Chaos and Order: Making American Theater about the American Repertory Theater; Radical Jesters, which profiles the practices of 11 interventionist artists and agit-prop performance groups; When Things Go Wrong: The Robin Lane Story; Joan Walsh Anglund: Life in Story and Poem; and the short film The American Gurner. He is a member of the Boston Society of Film Critics. You can read more of his work on his blog.