By Jonathan Blumhofer
This is a disc that begs for a sequel (or a whole series).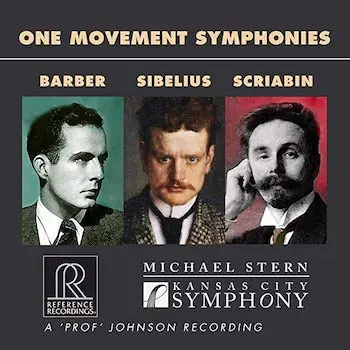 Michael Stern's new recording with the Kansas City Symphony (KCS) celebrates a subgenre one probably doesn't think about all that much: the single-movement symphony. Given the rewards of this album, which showcases symphonic works by Samuel Barber, Jean Sibelius, and Alexander Scriabin, perhaps one should.
Of course, there's no single way to write a one-movement symphony.
Barber's 1936 Symphony no. 1, for instance, is split into four roughly clear-cut divisions that are effectively — if not quite seamlessly — fused together. A mighty opening section leads to a quicksilver, fugal scherzo. After that comes a lush slow movement and, to close, a grand passacaglia-finale.
Stern and his forces clearly have internalized this wonderful music. Its first part is broad, muscular, dramatic, and well-balanced: not only do the Symphony's contrapuntal lines speak but so do the decorative, swirling woodwind figurations just before the beginning of the Scherzo. Textures in the latter are lean, the KSC's playing is nimble and spry. The radiant slow movement is strongly shaped and the driving passacaglia provides a potent, cathartic exhalation.
Granted, one might lean a bit more heavily into the piece: Leonard Slatkin's thirty-plus-year-old benchmark recording with the cross-state St. Louis Symphony Orchestra is more epic, boldly underlining the score's extremes and taking more time in spots (like the Adagio). That said, cooler Barber (like this) pays dividends, too.
The Sibelius Seventh Symphony, on the other hand, is, at once, better known and, compositionally, a bit more subtle, moving fluently between a half-dozen themes and motives that seem to be undergoing near-constant transformation.
Stern and the KSC never get lost in the music's thickets.
Indeed, the orchestra's attention to the score's dynamics and articulations is superb. One hears, as a result, all sorts of little details, from echoes of melodic lines across the ensemble to heterophonic gestures and nuances of scoring (Sibelius's widely-spaced clarinet writing, for instance, comes across magnificently). Taken together with Stern's rhythmically tight, texturally clear, bracingly unfussy approach to the larger piece, and this is one dynamic Sibelius Seven.
The Scriabin Symphony no. 4 that rounds out the album proves likewise thrilling. True, the piece may not technically be a symphony — Scriabin's official title for it is The Poem of Ecstasy — but the music's immense expressive scope (and huge, colorful orchestration) certainly feel symphonic.
The KSC's performance blends delicacy and bombast with equal vigor. The Poem's opening sequence of solos (particularly those for clarinet, oboe, piccolo, and cello) are beautifully done. Dense as some of Scriabin's orchestrations may be, Stern ensures they're all lucidly balanced. What's more, the stratospheric trumpet writing over the work's second half is spectacularly executed, the music's fast sections are rhythmically tight, and the final apotheosis is iridescent.
In other words: this is a Scriabin Fourth Symphony brimming with character and color; you're in expert hands throughout.
Reference Recording's sonics are, by and large, warm and natural. Indeed, this is a disc that begs for a sequel (or a whole series): one-movement symphonies by Lutoslawski, Roy Harris, Steven Stucky, Christopher Rouse, William Schuman, Havergal Brian, Rued Langgaard — throw in a sinfonia or two by Mozart, if you'd like, for good measure. The possibilities would be, if not endless, at least riveting.
---
Jonathan Blumhofer is a composer and violist who has been active in the greater Boston area since 2004. His music has received numerous awards and been performed by various ensembles, including the American Composers Orchestra, Kiev Philharmonic, Camerata Chicago, Xanthos Ensemble, and Juventas New Music Group. Since receiving his doctorate from Boston University in 2010, Jon has taught at Clark University, Worcester Polytechnic Institute, and online for the University of Phoenix, in addition to writing music criticism for the Worcester Telegram & Gazette.