By Sarah Osman
Schmigadoon! is both an enjoyable love letter to classic Broadway musicals and a good-natured spoof of their now antique conventions.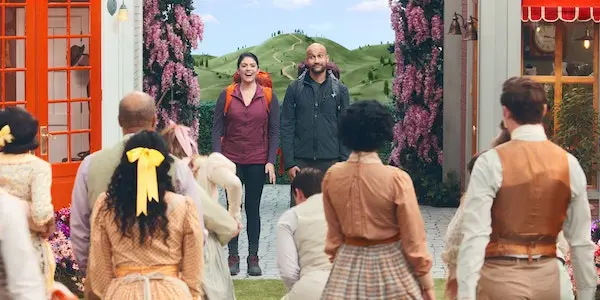 I recently read a Twitter thread that pointed out that the plots of the vast majority of popular musicals are insane. Because of  catchy songs, lively choreography, and charismatic performances from talented artists — including splashy turns by stars — it is easy to forget the narrative senselessness. The thumbnail summaries of various musicals sound like a succession of fever dreams:
*A deformed guy who lives underneath the opera house in Paris teaches a teenage girl how to sing.
*Woman marries a man with six disgusting brothers. She teaches them how to function like proper human beings. They then kidnap six different women to marry the brothers, whose families are not happy, but then everyone gets married and parties at the end.
*Pajama factory union member fights for a raise, falls in love with factory club owner, and there's a shady nightclub involved.
And that's just a sampling. Let's not even get into the absurdity that is Cats.
Given how ridiculous they are, musicals are ripe for parody, though it is difficult to pull that off well. They practically lampoon themselves. Still, over the past years a number of films, TV shows, and musicals have tried to satirize the genre, with middling success. Schmigadoon!, Apple TV's latest sitcom, succeeds at sending up classic musicals by being as delightfully preposterous as its source material. The songful craziness is sure to delight not only musical theater fans but nonmusical lovers as well.
Starring Cecily Strong and Keegan Michael-Key, Schmigadoon! follows Melissa and Josh, a New York City couple who have hit a rough patch in their relationship. In an attempt to work out their differences, the pair embark on a backpacking trip. They end up in Schmigadoon!, a town that exists in a '40s musical time warp. Melissa, a musical theater lover, is overjoyed by the elaborate opening number the townspeople perform for the pair. Josh is horrified, and for good reason: the couple soon discovers it can't leave the village of song-and-dance until they find true love.
The cast is filled with Broadway veterans, including Alan Cumming, cast as the town's mayor; Kristen Chenoweth plays your stereotypical snooty biddy, Ariana DeBose is the respectable school teacher, and Aaron Tevit is the town's bad boy. The impressive ensemble is given a herculean task; each large-scale musical number inevitably calls for complex choreography. The show's non-Broadway stars are equally adept: Strong has a fine voice, as does Jamie Camil, who eventually plays her love interest.
Much of the show's charm lies in its eye-popping production and costume design. Ironically, director Barry Sonnenfeld isn't a fan of musicals, but the show's backdrop mimics the vibrantly artificial sets of the Golden Age MGM variety. (The show's central conceit is a rip off of 1947's Brigadoon.) Sonnenfeld has created other highly stylized shows, such as Pushing Daisies and A Series of Unfortunate Events, and he has the right chops to create the technicolor cookie-cutter world of Schmigadoon! Showrunner Cinco Paul came up with the idea for the series 25 years ago and that preparation is evident in the sitcom's nearly two dozen songs. Unlike other musical parodies, the songs here are not about scoring hammer blows or wallowing in tongue-in-cheek sniggers: well-known musicals are the inspirations, and the creative attitude is affectionate. That means the numbers are not only hilarious but, at times, genuinely moving. Standouts include a burlesque of "Ya Got Trouble" from The Music Man and a song about childbirth that mimics "Do-Re-Mi" from The Sound of Music.
Like the plots of (too) many musicals, Schmigadoon!'s conflict centers on the dangers of repression. Melissa laments how undeveloped female characters were in early musicals. (The townspeople won't accept that she's a doctor!) Josh's refusal to warble confuses the townspeople at an existential level — to be is to sing. Devotees of  musical theater will appreciate the subtle jabs at the genre. Non-musical fans may not get all of the in-jokes, but the doings are goofy enough to be entertaining.
Sadly, the series is only six episodes. Here's hoping it is given a second season. Schmigadoon! is both an enjoyable love letter to classic Broadway musicals and a good-natured spoof of their now antique conventions. Thankfully, musicals have never stopped evolving (female characters now have story arcs!), so it's fun to go back and remember the early days of the genre.
---
Sarah Mina Osman is a writer living in Los Angeles. She has written for Young Hollywood and High Voltage Magazine. She will be featured in the upcoming anthology Fury: Women's Lived Experiences under the Trump Era.