By Gabe Sherman
Disco! feels like the culmination of what will be seen as an early stage in MIKE's career –– stylistic mastery achieved, a mountain summit reached.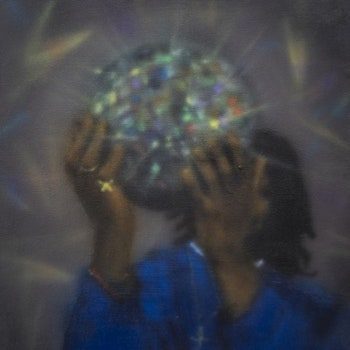 For the last few years, MIKE has been carrying the torch for a certain vein of underground New York rap. When May God Bless Your Hustle earned him broader recognition in 2017, it came with a glut of credits from influential producers, including Adé Hakim (fka Sixpress), Navy Blue, and Tony Seltzer. Relatively new to producing at the time, MIKE made some of the beats on that album himself, and by 2018 he had developed an alias: dj blackpower.
Since then, MIKE has been moving toward total creative control of his work, fine-tuning his style and delivery with each release. Still, though the producer and rapper has tinkered with the details, the essential anatomy of a MIKE song remains the same. His introspective stories are often told in an opaque way and spiked with memorable one-liners, his words flowing comfortably over a sample loop taken from some eclectic corner of the music universe. More guiding structure than formula, "the loop" has come to define a subgenre within which MIKE continues to innovate. His newest project, Disco!, feels like the culmination of this early stage in MIKE's career –– stylistic mastery achieved, a mountain summit reached.
His previous two full-length releases, Weight of the World and Tears of Joy, reflected the death of MIKE's mom — they were penned from a place of mourning. Those projects were vulnerable, candid depictions of grief, written from the inside. On Weight of the World, MIKE hinted he was turning a corner, searching for the necessary resilience and hope to move forward. Disco! is where MIKE imagined he might be in Weight. On "Aww (Zaza)," you can hear him grinning as he raps "Stuck in the mist of it all/Struggling? Mm, nah/But I'm recovering." It's one of my favorite songs on the album — a balanced understanding of loss, an acceptance that while we never truly move past loss, grief is a testimony to a life well loved. He's forging ahead stubbornly, shoving away sadness or disregarding the past. He's just finding a way to properly live with, and honor, the memory of his mother.
Reflective of this new, more birds-eye perspective, MIKE mixes his vocals forward across much of Disco! They were previously obscured, such as on the track "Coat of Many Colors" from Weight. Before, his lyrics were just another component in the sonic landscape. Now they stand out. And that means we can more easily appreciate his intricate writing. Who else rhymes "balsamic vinaigrette" with "cough from a cigarette"? This greater emphasis on language ends up strengthening the creativity of his flows, the way his voice locates pockets in the beat and how this symbiotic merge improves each song's head-nodding factor. It's a skill he self-consciously acknowledges on "Endgame" when he raps "My obligation to the rhythm 'til my chest break."
MIKE also moves with a confidence here, and occasional braggadocio. "Endgame" proffers a chest-puffed boast: "They be checkin' for the drip, we the template." "Crystal Ball" embraces a Jay-Z allusion — "It's M to the izz-I, don't forget the K-E" — as well as a request to get paid "The money where I reside, you should come and pay me." This is one of MIKE's most celebratory songs, but he's not peddling fake optimism; he follows up "Bet I'ma slizz-ide, fresher than a AC" with "So death by my sizz-ide, why I gotta/Pay respects to the skizz-i, paranoia chase me."
Disco! doesn't reveal a new MIKE. He has not become more enlightened or undergone a transformation. Disco! is part of what looks to be an evolution — an artist's incremental, nonlinear journey to a brighter tomorrow. Listening to MIKE's music used to make you feel like you were sitting in a dark room — occasionally, sunlight would peek through cracks in the shades. His perspective is more even-handed now: the room can still be dark, but sometimes MIKE is soaking in the sun.
---
Gabe Sherman is a freelance writer who focuses on music and culture. You can find him on Twitter @_gabrielsherman.