By Jonathan Blumhofer
Violinist Randall Goosby's Roots tells a singular story, one that grows and deepens on repeated listening.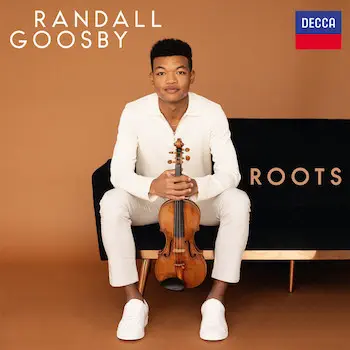 Violinist Randall Goosby had managed, in his debut album, Roots, to accomplish what many artists spend lifetimes attempting: to be at once profound and accessible, illuminating and entertaining; balancing, in his performance, intelligence and craft with heart and soul. In other words, Roots tells a singular story, one that grows and deepens on repeated listening.
How does Goosby do it?
Well, smart programming for one. His recital celebrates both the Black American classical music experience as well as the broader influence of African American musics on classical composers. It's terrain that yields rich rewards.
His selections range widely, from Xavier Dubois Foley's soulful Shelter Island and Coleridge-Taylor Perkinson's snazzy Blues Forms to Jascha Heifetz's arrangements of four songs from George Gershwin's Porgy & Bess and William Grant Still's Suite for Violin and Piano. Add to that some Florence Price, Samuel Coleridge-Taylor, and Antonin Dvorak, and you've got yourself a winning mix.
Of course, there's more to it than that. Goosby, an Itzhak Perlman protégé, is a phenomenal musician. And he's accompanied (in most of the selections) by the excellent pianist Zhu Wang. Between them, the pair impressively tie these disparate musics and composers together.
Their take on the Gershwin, for instance, is as unpretentious, natural, and inviting as they come. "Summertime" is fresh and light, its inner lines speaking beautifully. "A Woman Is a Sometime Thing" and "It Ain't Necessarily So" similarly demonstrate a great sense of musical character. The sweetness of Goosby's tone in "Bess, You Is My Woman Now" recalls early Perlman.
In Still's Suite, Goosby and Wang channel that same mellifluousness in the stunning central movement, "Mother and Child," with its intimations of hymns, lullabies, and folk songs. The outer ones — "African Dancer" and "Garmin," respectively — brim with spunk, agility, and color.
Price is represented by a trio of pieces: a violin-piano adaptation of her song "Adoration" and a pair of Fantasies in their premiere recordings.
All three receive full-blooded, thoroughly convincing performances: suffice it to say, you won't hear this music played better by anyone else. "Adoration" is simply beautiful. The Fantasies are decidedly rhapsodic and Romantic in tone — Price knew her Dvorak and Brahms. But neither piece is derivative: they're each flecked with singular gestures of rhythm and melody (including some spiritual-like phrases in the second Fantasie).
Goosby and Wang's account of Coleridge-Taylor's Deep River is prayerful, their exchanges of accompaniment roles in the piece done with conspicuous delicacy.
The duo's take on Antonin Dvorak's Sonatina — a devastating charmer, if ever there was one — is lively, if not as exciting or freewheeling a reading of the score as Gil and Orli Shaham gave us in the late '90s.
Opening the album is Foley's thoroughly ingratiating Shelter Island, a bluesy jam session for violin and double bass. Goosby is joined by the composer on the latter instrument and the pair engage in a lovely, easygoing dialogue that's both cleverly varied and thoroughly idiomatic. It's an auspicious start to a superb release, and, for Goosby, a recorded career.
---
Jonathan Blumhofer is a composer and violist who has been active in the greater Boston area since 2004. His music has received numerous awards and been performed by various ensembles, including the American Composers Orchestra, Kiev Philharmonic, Camerata Chicago, Xanthos Ensemble, and Juventas New Music Group. Since receiving his doctorate from Boston University in 2010, Jon has taught at Clark University, Worcester Polytechnic Institute, and online for the University of Phoenix, in addition to writing music criticism for the Worcester Telegram & Gazette.