By Peg Aloi
The Pale Door, directed by Aaron B. Koontz. Streaming on Amazon Prime, iTunes, and GooglePlay.
The Pale Door, following in the steps of so many horror films these days, spoils a promising premise via a contrived and uneven story line.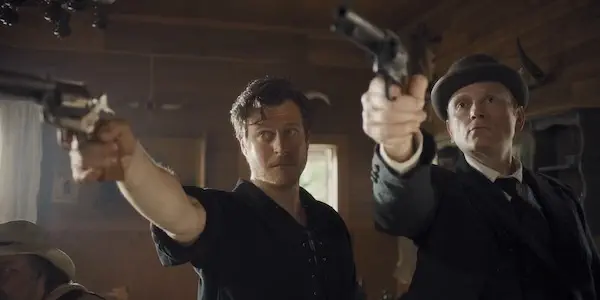 I wanted to adore this film. A gang of train thieves in the Old West comes upon a ghost town controlled by a coven of witches living in a brothel? Sign me up! I'm also one of those people who enjoys unusual exercises in genre-splicing, particularly fusing westerns and horror (such as Dead Man, Wild at Heart, Near Dark, The Devil's Rejects, Bone Tomahawk, and so many others). But, following in the steps of so many horror films these days, a promising premise is spoiled via a contrived and uneven story line.
The film opens with a ragtag group of men known as the Dalton Gang. If that sounds familiar it is because they were indeed an actual band of outlaws back in the day who generated a bit of folklore. The screenplay fictionalizes the crew, in the process creating some strong characters, played by a solid cast, including such great indie horror actors like Bill Sage (We Are What We Are), Pat Healy (The Innkeepers), and the wonderful Melora Walters, seen recently in PEN15 and Robert the Bruce. Zachary Knighton (Santa Clarita Diet) plays Duncan, the ringleader who plans the train robbery. Forced to beef up the group after a gang member dies in a holdup, Duncan loops in his straitlaced younger brother Jake (13 Reasons Why's Devin Druid). The train is rumored to be carrying plenty of loot, but the thieves wind up botching the job, ending up with a battered trunk that contains a young woman rather than gold and jewels. Pearl (Natasha Basset) is beautiful and persuasive: she tells the men that if they return her safely to her town they will have their wounds tended and receive a reward. There are not many other options — Duncan suffered a bad gunshot wound — so the men decide to do her bidding.
The town turns out to be a drab little place right out of a classic western. The only business establishment in operation is the brothel. It's run by Maria (Walters), who invites the men to enjoy some complimentary refreshments. Duncan is too hurt and Jake too shy to partake of the pleasures offered, but the other men happily allow the ladies working there to lead them off into various rooms. Jake is, in fact, a virgin, a detail he reveals somewhat reluctantly. But this turns out to be a key plot point. For the brothel is a coven, and the witches need the blood of a virgin to keep them young and comely.
As the men get frisky with the wenches, things grow ugly fast. It's kind of fun for a while, viewing this no-holds-barred brothel of horrors. There are some great make-up effects, but it is not clear why the visuals need to be so gruesome. Apparently, Maria is a witch who was burned at the stake by Cotton Mather, the Massachusetts preacher whose writings inspired the Salem Witch Trials. The thing is, witches at Salem were hung, not burned. But, in a movie hellbent on melding various horror tropes together (the witches also appear to be zombies), clinging to historical verisimilitude is a fool's errand. But if witches are out for virgin blood, why do they waste so much time with the older men? Some intriguing feminist memes might have been explored: the women/witches remain young by consuming the men, but only after enjoying them sexually. Sadly, these juicy possibilities are ignored
This is director Aaron B. Koontz's second collaboration with writer Cameron Burns (their first feature was 2017's Camera Obscura). The script's extreme vibe is admirable and the film's aesthetic of reveling in mayhem fits the material well. But the end product fails to satisfy. The actors do their best to transcend the narrative's weak points, but ultimately the writer and director — because they decided to borrow from so many rich tropes and traditions — were overwhelmed by their own complex ambition. This urge to overstuff is becoming a problem with attempts to meld genres and leapfrog over established lore; yet for reasons mostly having to do with a voracious and forgiving fan base, contemporary horror gets away with this narrative sloppiness more often than it should. The madcap strangeness of The Pale Door starts out looking and sounding intriguing, but the mix-and-match inevitably works against tighter and better- realized storytelling. Call it the horror virus, one that is afflicting more and more films: overkill overshadows restraint.
---
Peg Aloi is a former film critic for the Boston Phoenix and member of the Boston Society of Film Critics. She taught film studies in Boston for over a decade. She writes on film, TV, and culture for web publications like Vice, Polygon, Bustle, Mic, Orlando Weekly, Crooked Marquee, and Bloody Disgusting. Her blog "The Witching Hour" can be found at themediawitch.com.