By Jessica Lockhart
Did Jacob's Pillow want to remind us, now more than ever, of a famous phrase from a 1848 Shaker song: "Tis the gift to be simple, tis the gift to be free."
Tero Saarinen Company, Jacob's Pillow Virtual Festival, presented in association with Hancock Shaker Village, on August 20.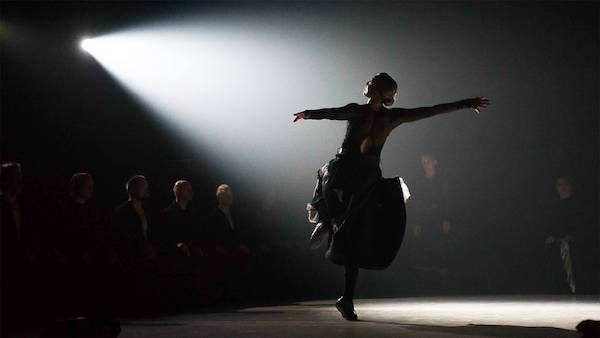 Jacob's Pillow Virtual Festival has offered many renowned dance companies this summer over its 8-week online series. The lineup featured traditional dance, from Jose Limon and The Danish Ballet, as well as more contemporary work  from Ron K. Brown (on the African diaspora) as well as Seoul's Bereishit company's exquisite look at South Korean sports.
The end of the series approaches. Last week, Tero Saarinen Company from Helsinki was the headline event. Watching Borrowed Light, their 2012 Shaker inspired dance performance provides a glorious distraction from the gloom that has been hovering over our world during the pandemic.  The Shakers were celebrated for their elegantly elemental simplicity, for living clean lives without ornamentation. Ironically, this is the kind of life we have been discovering while dealing with the deadly virus. People around the globe have been staying home, reducing their contact with others, and (possibly) rethinking their overly busy lives and consumer excesses. Was this an intentional programming choice by Jacob's Pillow? Did they want to remind us, now more than ever, of a famous phrase from a 1848 Shaker song: "Tis the gift to be simple, tis the gift to be free."
Borrowed Light debuted in 2004. We watched a 2012 performance from the Pillow that included an onstage collaboration with the Boston Comerata singers. The unadorned stage was kept dark, nearly black — rays of light streamed into the space, as if they were emanating from single windows. By installing windows in interior walls between rooms, Shakers opened space for what they called "borrowed" light. This production's black and white lighting design, with its stark chiaroscuro, highlighted this effect. All eight dancers wore long black dresses or robes. The eight singers also dressed in simple black garb and they moved gracefully around the stage, making them an integral part of the dance.
A lone dancer began in silence with arms scooping and waving. She continued, soundlessly, and then began to clap her hands and stomp her feet.  The other dancers joined her in a rhythmic dirge. The movement was big and open and traveled across the stage. The dancers swirled and repeated their motions as they began to work themselves into a hypnotic state. One interesting sequence had two dancers moving together as another man circled them, running around the stage backwards. They continued for quite a while until the backwards runner started to slow; he continued but his upper body was sagging. He kept moving, though more and more slowly until he was exhausted and had to sit down.
Later the entire cast picked their movements back up, increasing their speed until they whipped themselves into a trance as they frantically danced. Then, one by one, each sat down, but only temporarily, because they were then compelled to get up and go through the process again. This demanding cycle was a nod to the ecstasy of the Shakers, who would dance until they shook from hours of devotional singing and dancing. The women and men took turns dancing — the Shakers did not believe in mixing the sexes together.
The Boston Camerata alternated between emitting rhythmic sounds and vocalizations and singing traditional Shaker songs, sometimes calling on a solo voice or on the entire ensemble. Some of the lyrics of the tunes — "I want to feel a godly sorrow" and "to feed on carnal pleasure my soul would surely sink in hell" articulated the spiritual and practical value of celibacy to the Shakers. They were obsessed with being chaste.
The Boston Camerata is an early American and European musical ensemble. They first formed in 1954, making them one of the longest-lived groups that perform historical repertories. The singing was wonderful, and the vocalists were striking presences on stage. The haunting solo on "Gift to be Simple" was, for me,  a highlight — it sounded so brilliantly different from other versions I've heard.  The voice sang mournfully; a dancer performed the most intimate and quiet movements of the evening. It was a beautiful vision  of introspection..
Tero Saarinen says that he is interested in learning about age-old dance cultures, and that his choreography strives to understand friendship, love, and the strength of the human spirit. Borrowed Light achieves this admirable mission memorably.
---
Jessica Lockhart is a National Endowment for the Arts Fellow in Dance Criticism and has a BA in Communication from the University of Southern Maine. Lockhart is a Maine Association of Broadcasters award-winning independent journalist. Currently, she also works as program director at WMPG Community radio.