By Deanna Costa
Doja Cat offers a glaring example of why the music industry's new (albeit Big Brother-inspired) way of doing digital business is here to stay.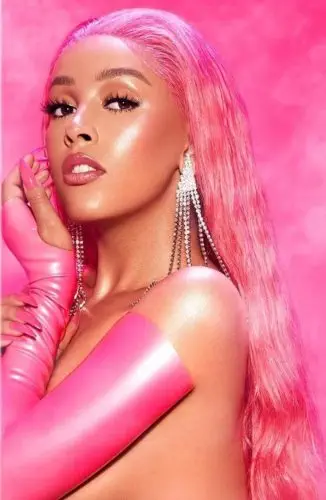 This summer, the fledgling career of 24-year-old, L.A. native Doja Cat has been skyrocketing, quietly. Doja has spent almost a decade priming herself to become the Queen of Millennial Music, her persona, covered in cartoonish makeup and bright colors, inspired by '90s skaters and rappers, 2000s punk rockers and R&B singers, as well as Japan's Harajuku culture. She's already achieved prominence among her own age group, but it is a given that a quick rise to full-on stardom will come in the next year or two. Analyzing her rapid rise to success will serve as a telling case study for future musicians who are looking for a DIY way to break into the music industry. The Gen Z and Millennial generations are aging their way into top buying power in the U.S. So Doja's calculated social media moves will become standard practices in the near future. Case in point: older and presumably wiser audiences are on record disdaining subliminal advertising tactics like internet Guerilla Marketing. But this artist offers a glaring example of why our new (albeit Big Brother-inspired) way of doing digital business is here to stay.
Doja Cat (aka Amala Ratna Zandile Dlamini) stands out from her peers in many ways, but her most unique trait is her ability to transform herself from hit to hit. She started out with a small following on SoundCloud that gained traction in 2013, but she didn't achieve much notoriety until the 2018 viral hit "Mooo!" This "meme music," as Doja described the track, took the form of an absurdist, low-budget music YouTube video. The song's point of view is that of a pop culture-loving cow who wants to party. Dropping references to classic rap hits (such as Wu-Tang Clan's "C.R.E.A.M." and "Move Bitch" by Ludacris), she shifts between her cow persona and a southern farm girl repeated eating a hamburger. Fans have praised, at length, how unadorned the project was. And that explains why "Mooo!" took off – the production was so terrible, any young person watching could think of a goofy friend who could come up with an outrageous song just like it.
For listeners, Doja's personality is real and approachable. She is just the e-Girl next door. This characterization, however, is off-the-mark because it misses her innovative approach, her metamorphic talents. She changes her style up with every single. No flow is the same, each performance is reminiscent of a different R&B and/or Hip-Hop legend of the past. Further, the aesthetic/atmosphere of each music video matches the song's themes and vibe. Some of the tunes play to her love for exaggerated physical features and anime style; others reach back to the 2000s for their Rap video imagery. What unites her visual style? Each video is wildly different from the others.
Doja has been a vocal chameleon for some time now, but her new label-backed budget has enabled her to ramp up her diverse collection of outfits and wigs. All of her videos feature two or three looks, each distinctly original. In "Rules," for example, Doja displays her confidently humerous performing personality: she parodies rumors about her ever-changing appearance and mocks her critics. The conspiracy theories she references in the song and in accompanying video posit that the young artist is a reptilian, an alien-human hybrid who is out to conquer humanity. In interviews promoting the release of her second album, Hot Pink (2019), she suggests that hostile comments come from internet trolls who aren't ready for her ambitious creativity. Despite the presence of skeptics, whose suspicions fill the comment sections, the latter are filled with homages to Doja from  a loyal following that has been with the performer since she was a high school dropout workshopping freestyles on Instagram Live.
Like many modern artists, most of Doja's singles released without videos have garnered much less traction. If video killed the radio star over 40 years ago, it's safe to say that the video star has been vanquished by the social media influencer. But with triumphs come setbacks, and young artists like Doja are learning that the hard way. She's already overcome several controversies that put her at odds with Gen Z's quick-triggered cancel culture. Recently, celebrities such as Ellen DeGeneres, Jeffree Star, Shane Dawson, and Lana Del Rey have all taken major hits to their careers because of attacks from Twitter Warriors. Countless others have gone down — rightfully so – because of the MeToo movement. Detractors have called out Doja for past bigoted tweets in which she used a homophobic slur, while others went even further, accusing her of participating in white supremacist chat rooms. Her responses were met with further criticism, partly because she insensitively attempted to dismiss the claims early this year. Ultimately, she admitted the error of her ways in a series of tweets that seems to have put the issue to rest.
As time goes on, it'll be interesting to see what form acceptable Twitter apologies will take for public figures. Audiences must have forgiven Doja, at least to some degree; no doubt they'll be watching her vie for three Moon Men trophies at the upcoming MTV Music Video Awards next week. In an additional effort to keep pace with au courant marketing strategies, one of her reps created an interactive website (https://www.thickiepops.com/#/sayso) that connects with Spotify to generate playlists based on the user's streaming trends. The site also subtly suggests that users vote for the singer for Best New Artist and Song of the Year. This summer may be the start of the Decade of Doja. Though if she stumbles, there is no question that a younger digital native is ready to step immediately into her place.
---
Deanna Costa is a recent graduate of Boston University's College of Communication, where she earned a B.S. in Journalism with a focus on Magazine Design. During her time at BU, she covered local concerts for on-campus publications in multiple formats. Outside of writing, she routinely interviewed artists and reviewed albums live on her weekly radio show, DJ-ed on campus events, and held the Studio Productions Director position in 2017. Currently, she is a full-time administrative assistant, a freelance music journalist, and host of the Arts Fuse Podcast: The Short Fuse.